'Yellowjackets' Is Just As Wild, Weird and Wonderful in the Survival Thriller's Second Season
This lost-in-the-woods hit ramps up the eeriness, chills, gore and questions in season two — and it's still one of the best shows around.
In 1996, Independence Day topped the worldwide box office. In music, Los del Rio's 'Macarena' did the same on America's Billboard chart. And, on television, 3rd Rock From the Sun and Sabrina the Teenage Witch made their debuts. Get nostalgic for that year, no matter whether you lived through it or not, and you'll likely think about all or some of the above — plus everything from fellow movie hits Twister and Scream through to tunes such as 'Ironic' and '1979'. Well, unless you're the women of returning 2021–2022 standout Yellowjackets, that is.
For Shauna (Melanie Lynskey, The Last of Us), Natalie (Juliette Lewis, Welcome to Chippendales), Taissa (Tawny Cypress, Billions), Misty (Christina Ricci, Wednesday), Lottie (Simone Kessell, Muru) and Van (Lauren Ambrose, Servant), 1996 will always be the year that their plane plunged into the Canadian wilderness, stranding them for 19 tough months. As teenagers (as played by The Kid Detective's Sophie Nélisse, The Book of Boba Fett's Sophie Thatcher, Scream VI's Jasmin Savoy, Shameless' Samantha Hanratty, Mad Max: Fury Road's Courtney Eaton and Santa Clarita Diet's Liv Hewson), they were members of the show's titular high-school soccer squad, travelling from their New Jersey home town to Seattle for a national tournament, when the worst eventuated. Films, songs and shows couldn't be more trivial when an incident like that sears itself in your history.
Afterwards, life would never be the same — not during the time they spent fending for themselves in the forest, and not a quarter-century later as well. In both its instantly addictive Emmy-nominated debut season and just-arrived second go-around, which streams weekly via Australia's Paramount+ and Aotearoa's Neon from Friday, March 24, Yellowjackets flits between these two time frames. Hailing from creators Ashley Lyle and Bart Nickerson (Dispatches From Elsewhere), it openly courts nostalgia itself in the process. References abound to pop-culture touchstones of the era, the soundtrack is a dark and grungy 90s dream, and the show's theme tune 'No Return' echoes with killer throwback vibes (even if Shrill's Craig Wedren and Anna Waronker, the program's resident composers, created it anew for the series). All that looking back cuts deep, though, with Yellowjackets pondering what happens when someone's yearning for days long passed is forever tainted by trauma.
There's far more than wistfulness lost, robbed and infected at the heart of this survivalist thriller, of course; when it premiered, it was understandably pegged as Lost-meets-Lord of the Flies with an Alive twist, a neat but accurate-enough basic summary. All isn't always what it seems as Shauna and company endeavour to endure in the elements. Also, tearing into each other occurs more than just metaphorically. Plus, literally sinking one's teeth in has been teased and flirted with since episode one, too. But Yellowjackets will always be about what it means to face something so difficult that it forever colours and changes who you are — and constantly leaves a reminder of who you might've been. That's where the series' jumping back and forth remains so crucial, exploring shattering turns of events and the choices they spark, then watching their ripples keep biting hard decades later.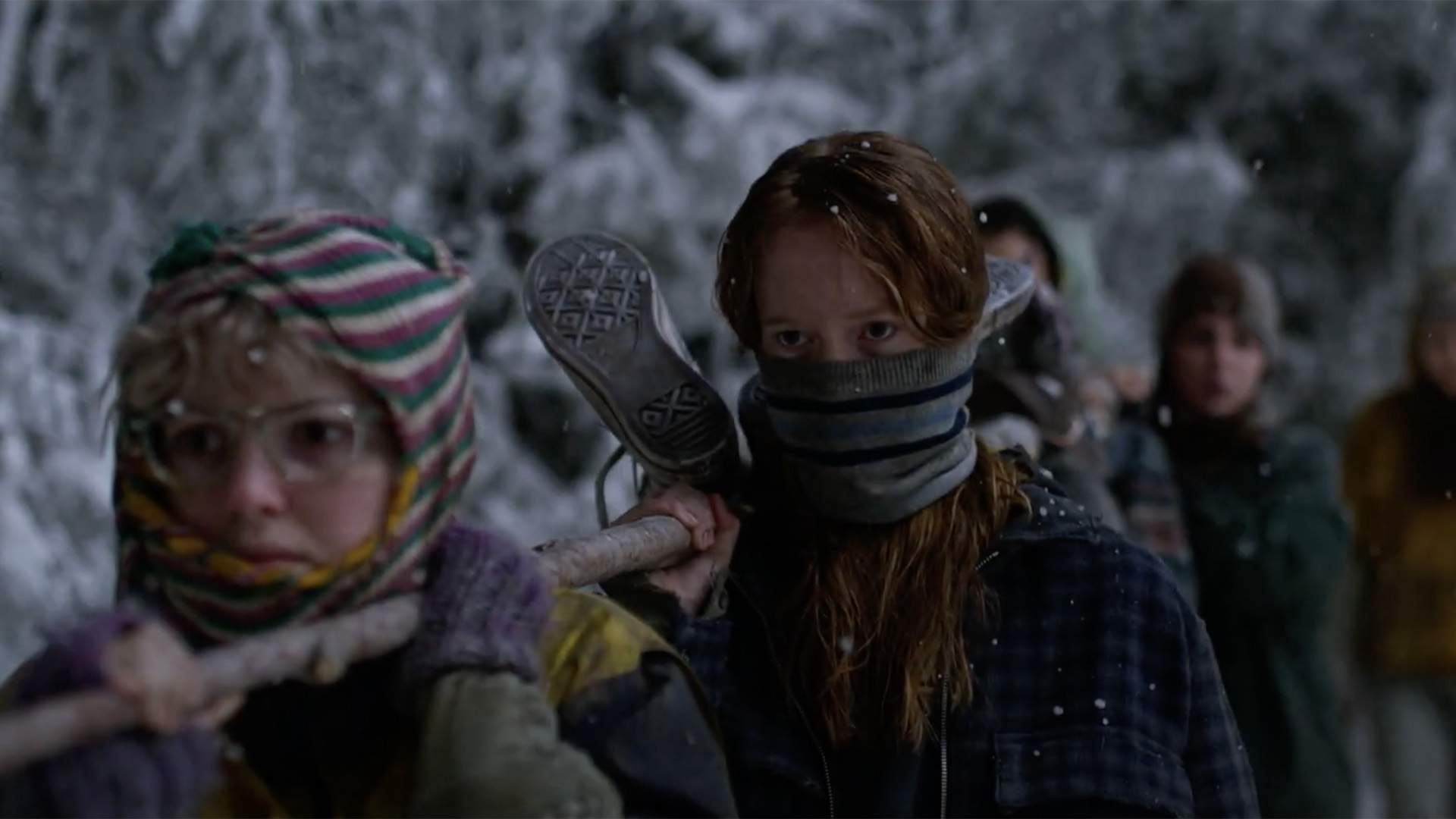 When Yellowjackets ended its first season, it was with as many questions as answers. Naturally, it starts season two in the same way. In the present, mere days have elapsed — and Shauna and her husband Jeff (Warren Kole, Shades of Blue), who was also her best friend Jackie's (Ella Purnell, Sweetbitter) boyfriend before the crash, are trying to avoid drawing any attention over the disappearance of Shauna's artist lover Adam (Peter Gadiot, Queen of the South). Tai has been elected as a state senator, but her nocturnal activities have seen her wife Simone (Rukiya Bernard, Van Helsing) move out with their son Sammy (Aiden Stoxx, Supergirl). Thanks to purple-wearing kidnappers, Nat has been spirited off, leaving Misty desperate to find her — even enlisting fellow citizen detective Walter (Elijah Wood, Come to Daddy) to help.
These narrative threads each connect backwards, where two months have gone by since season one wrapped up. There, as winter makes searching for food and staying warm an immense feat, Shauna is heavily pregnant and also severely grief-stricken. Van thinks that she has a solution for Tai's nighttime departures, but they're stubborn. Nat spends her days scouring the woods with Travis (Kevin Alves, Locke & Key), one of their coach's sons, for his missing brother Javi (Luciano Leroux, A Million Little Things) — and her nights attempting to counter Lottie's "witch-doctor messiah" turn. And Misty has a new pal there, too, courtesy of theatre devotee (and fellow survivor and soccer-team member) Crystal (Nuha Jes Izman, FBI).
Prepare to get meaty: where the rightly buzzed-about initial season was happy mostly hinting at its wilderness secrets, season two ramps up the eeriness, chills and gore. Seeing still isn't always believing in Yellowjackets, but the pivotal crash keeps unleashing vicious consequences — and savagery not only festers but grows the longer that the 90s team is on its own in the cold, lacking a secure source of sustenance, and fraying mentally and as a group. Their predicament never stops being visceral; however, Yellowjackets has always known that the troubles firing up in everyone's hearts and heads are just ferocious. Indeed, cue a bigger dose of fantasy sequences, hallucinations and the supernatural, as the series retains its commitment to examining how the bleakest and most brutal twists of fate, and the options they inspire, turn coping into a lifelong struggle.
In Yellowjackets' two timelines, it couldn't have assembled a better cast to slice into trauma, coping, yearning and ripping apart nostalgia — and anchor a series that's a psychological horror show, black comedy and teen drama as well. While its mysteries and cliffhangers made the first season make-a-date weekly viewing, Yellowjackets doesn't merely survive but thoroughly thrives because it feels so acutely human. Its women, then and now, navigate messy situations that no one should face in their worst nightmares. And yet, how these ladies process that fact, and persist — even how they fracture and fight, escape into whatever assists, latch onto the tiniest slivers of hope, and make devastating decisions, right and wrong alike — remains intensely relatable thanks to both complex writing and stunning performances. Lynskey, Lewis and Ricci on the same bill is another of the show's 90s dreams, and that trio is well-paired with Cypress, Ambrose and Kessell, not to mention well-matched by their younger counterparts.
This ravenous TV feast will continue, too, with Yellowjackets unsurprisingly renewed for season three in advance of season two.
Check out the full trailer for Yellowjackets season two below:
Season two of Yellowjackets streams weekly from Friday, March 24 via Paramount+ in Australia and Neon in New Zealand. Read our review of season one.
Top image: Kailey Schwerman/Showtime.
Concrete Playground Trips
Book unique getaways and adventures dreamed up by our editors