ARTS & ENTERTAINMENT
Femflix Is the New Streaming Service Dedicated to Films and Shows Made By, Starring and About Women
It's available Down Under now, featuring films such as '52 Tuesdays', 'Tracks', 'Suffragette' and 'Julieta'.
Across the 92-year history of the Oscars, only five women have ever been nominated for the Best Director award. Only one has won, too, with Kathryn Bigelow emerging victorious in 2009 for The Hurt Locker. Indeed, if anyone needs a reminder that gender inequality is still a big issue in the film industry, the situation at the Academy Awards paints a strong picture.
When it comes to what viewers watch, one new streaming service is attempting to push more female filmmakers to the fore — and more movies and shows both starring and about women, too. Called Femflix, it has just launched in Australia and New Zealand with a growing catalogue of titles, all of which feature a female-identifying creative as its director, producer, writer, cinematographer or lead protagonist.
The aim, obviously, is to support and champion stories about women and made by women — with Femflix developed to promote gender balance, tear down stereotypes and showcase a wide variety of female characters on-screen. And if you think that the timing is perfect for a women-focused streaming platform following the emergence of the #MeToo and #TimesUp movements, that's exactly what helped inspired the service.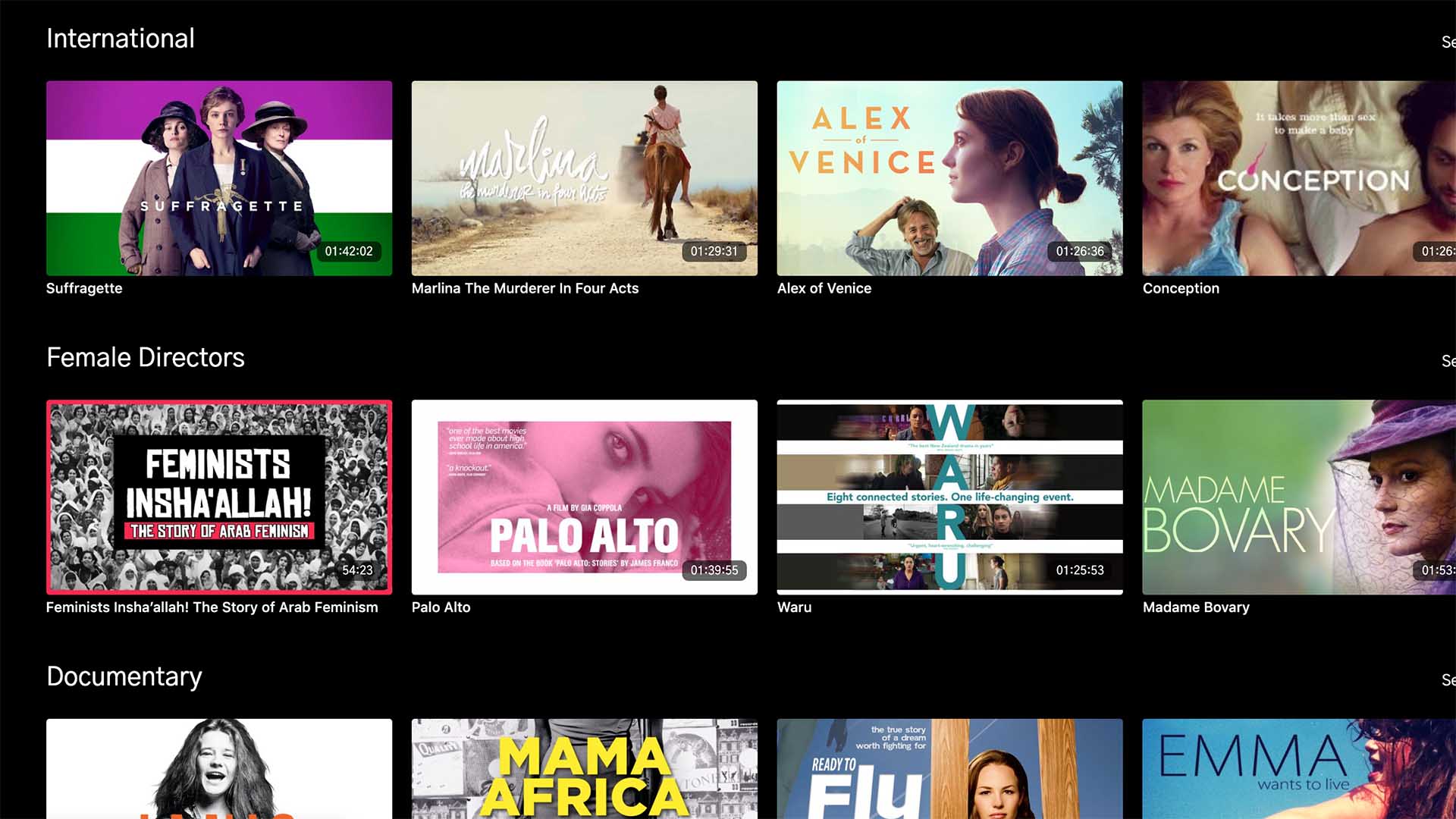 Among its launch catalogue, audiences Down Under can watch local films such as 52 Tuesdays, Strangerland, Tracks, Strange Colours and Waru, international flicks including Julieta, The Third Wife and Marlina the Murderer in Four Acts, plus star-studded cinema releases from the past few years like Suffragette, Madame Bovary and Testament of Youth. Or, you check out thrillers such as Compliance, sci-fi films like Before We Vanish and documentaries including I Am No Bird, Janis: Little Girl Blue and The Song Keepers.
Offering free 3o-day trials, and costing $8.99 per month afterwards, Femflix can be streamed online, including via Chromecast and Airplay, with video apps for smart TVs under development.
The new service arrives at a busy time for new streaming and online viewing services, with 2020 not only seeing everyone spend more time watching things at home, but giving viewers more to watch — including the launch of horror streamer Shudder Down Under, the global launch of short-form platform Quibi, the debut of architecture and design-focused platform Shelter, and cinemas including Palace in Australia and Roxy in New Zealand releasing their own pay-per-view options.
For more information about Femflix — and to sign up — visit the streaming platform's website.
Published on October 18, 2020 by Sarah Ward