ARTS & ENTERTAINMENT
Ten New Films You Can Look Forward to Seeing on the Big Screen in 2020
Get ready for Christopher Nolan's latest mind-bender, the creepy new 'Candyman' movie and Timothée Chalamet going sci-fi in 'Dune'.
If 2020 has taught us anything, it's that a lot can happen in six months. Around this time half a year ago, we were getting mighty excited about all the new movies set to reach Australian cinemas in 2020. Then, the COVID-19 pandemic hit.
Now, after months spent at home, indoors, giving our streaming queues one helluva workout, it's reset time. Aussie picture palaces are slowly reopening — albeit at different rates across Sydney, Melbourne and Brisbane — and this year's big-screen releases are kicking off again. In great news for cinephiles, that means there are plenty of new flicks vying for your eyeballs.
Some are big-budget blockbusters that've had everyone talking since last year. Others are long-awaited sequels and eagerly anticipated remakes. From the return of familiar faces to exceptional intimate dramas, we've rounded up ten new movies to look forward to seeing in a cinema throughout the rest of 2020.

BABYTEETH
Usually, cancer movies aren't just terrible, generic and cliched — they're insulting. Often focusing on pretty young things succumbing slowly to the insidious disease, they generally tug at the heartstrings with shameless abandon, treating their protagonists and their plights as a mechanism to wring weepy tears out of the audience. But while Babyteeth also hones in on a cancer-afflicted teenager, it could never be mistaken for the usual illness drama. As directed by feature first-timer Shannon Murphy, this lively, vibrant, insightful and genuinely moving film truly sees its main character, Milla (Little Women's Eliza Scanlen), as a person first and foremost. Story-wise, the movie charts Milla's unexpected romance with enigmatic Sydney drug dealer Moses (Acute Misfortune's Toby Wallace), as well as the reaction of her struggling parents. Also starring Essie Davis and Ben Mendelsohn as Milla's mum and dad, this is a raw, sensitive, astute and arresting addition to a genre that rarely (if ever) earns any of those terms. It's also visually striking and, unsurprisingly given the cast, boasts fantastic performances — and it's one of the best Australian movies that'll hit cinemas in 2020.
Babyteeth releases in Australian cinemas on July 23.

NEVER RARELY SOMETIMES ALWAYS
The third film from talented American writer/director Eliza Hittman (It Felt Like Love, Beach Rats), Never Rarely Sometimes Always took home Berlinale's Silver Bear Grand Jury Prize this year — the festival's second most prestigious award — but it would've been a more than worthy overall winner. First premiering at Sundance, where it also nabbed a jury prize, this a heart-wrenching gut-punch of a movie that's about an ordinary teenager in an everyday situation, while simultaneously focused on a crucial topic. When small-town Pennsylvanian 17-year-old Autumn (Sidney Flanigan) discovers that she's pregnant, she only really has one option. She's certain her family (including Sharon Van Etten as her mother) won't help, and the local women's clinic advocates having the baby, so with her cousin Skylar (Talia Ryder) she hops on a bus to New York. Their experiences in the Big Apple are tense and devastating, as is this potent, compassionate and naturalistic entire film.
Never Rarely Sometimes Always releases in Australian cinemas on August 6.

TENET
Is it a follow-up to Inception? Does Christopher Nolan just like getting twisty every ten years? Or does the acclaimed director simply enjoy messing with everyone's heads? When the first trailer for Tenet dropped in 2019, it inspired all of the above questions — and keen moviegoers have been waiting for answers. For now, we do know that Nolan's latest will involve time travel, the afterlife and stopping World War III. Also: spies, boats, sensing things before they happen and objects running in reverse. Throw in an active attempt to bend viewers' minds, plus many a superbly shot and staged spectacle, and Nolan is back in the territory that has served him so well since Memento. BlacKkKlansman's John David Washington leads the cast, alongside Robert Pattinson, Nolan regular Michael Caine, Aussie actor Elizabeth Debicki and Kenneth Branagh.
Tenet releases in Australian cinemas on August 13.

BILL & TED FACE THE MUSIC
It was first uttered more than three decades ago, but the world could always use Bill & Ted's main nugget of wisdom. "Be excellent to each other," Bill & Ted's Excellent Adventure first told us in 1989, before continuing the message in 1991's Bill & Ted's Bogus Journey — and the series will do so again in the long-awaited Bill & Ted Face the Music. Alex Winter and Keanu Reeves are back as everyone's favourite high school slackers and wannabe rockers, who initially started travelling through time in a phone booth to pass a history report and secure the world's future. They're middle-aged now and they even have daughters (played by Ready or Not's Samara Weaving and Bombshell's Brigette Lundy-Paine), but when you're told as a teen that your music is going to change the entire universe, that responsibility doesn't just fade because you get older.
Bill & Ted Face the Music releases in Australian cinemas on August 27.

A QUIET PLACE PART II
In 2018, A Quiet Place tasked a young family with staying soundless, lest they be heard and then killed by giant spider-like monsters. As a result, audiences keenly listened out for any noise that could put Lee (John Krasinski), Evelyn (Emily Blunt), Regan (Millicent Simmonds) and Marcus (Noah Jupe) Abbott in jeopardy, with the film serving up a mighty tense — and noise-free — time at the cinemas. Now, two years later, the frightful aliens and the hushed tones are back. So is Blunt in kick-ass mode, too. Like the first film, A Quiet Place Part II is directed and written by Krasinski, with this follow-up picking up where its predecessor left off. Certain to serve up plenty of bumps, jumps and — naturally — silence, the sequel also welcomes franchise newcomers Cillian Murphy (Peaky Blinders) and Djimon Hounsou (Guardians of the Galaxy).
A Quiet Place Part II opens in Australian cinemas on September 3.

CANDYMAN
For nearly three decades, horror movie lovers have fallen into two categories: those who've dared to say the word 'candyman' five times while staring into a mirror, and those who haven't. If you fall into the first group, then you'll be making a date with this unnerving sequel, which revives the Candyman franchise and boasts a few tricks up its sleeves. Firstly, Candyman circa 2020 is produced and co-written by Jordan Peele, who adds another frightfest to his resume alongside Get Out and Us. Secondly, it's directed by Nia DaCosta, whose Tessa Thompson-starring 2018 film Little Woods deserved more attention. And last but by no means least, it features the OG Candyman, Tony Todd, among its cast. Plot-wise, the new flick focuses on artist Anthony McCoy (Aquaman and Watchmen's Yahya Abdul-Mateen II), who decides to start exploring the Candyman legend through his art. His girlfriend Brianna (If Beale Street Could Talk's Teyonah Parris) thinks the story is just that, but then the bee-covered figure starts wreaking havoc again. That's what happens when folks say his name while looking at their own reflection, after all.
Candyman opens in Australian cinemas on September 24.

WONDER WOMAN 1984
New Order's 'Blue Monday'. A giant mall. Women exercising in bright leotards and leg warmers. All of the above inspire instant visions of the 80s, which is where Wonder Woman is heading in her next big-screen outing. Yes, the fierce female superhero with the bullet-deflecting bracelets and Lasso of Truth is finally back, thanks to Wonder Woman 1984. This time around, she's navigating the Cold War era and facing off against Kristen Wiig. The sequel's story pits Gal Gadot's Amazon demigoddess against Wiig's Cheetah — also known as archaeologist Barbara Ann Minerva. While the franchise newcomer is looking rather meek and mild at the beginning of the just-dropped Wonder Woman 1984 trailer, she's not likely to stay that way for long in this eagerly awaited sequel. Game of Thrones, Narcos and The Mandalorian star Pedro Pascal also joins the cast as Maxwell Lord, a powerful businessman, and Chris Pine returns as American pilot Steve Trevor — despite the tragic events of the first film. And, behind the camera, writer/director Patty Jenkins is also back — as she should be given that Wonder Woman is currently the highest-grossing film ever directed solo by a woman.
Wonder Woman 1984 releases in Australian cinemas on October 1.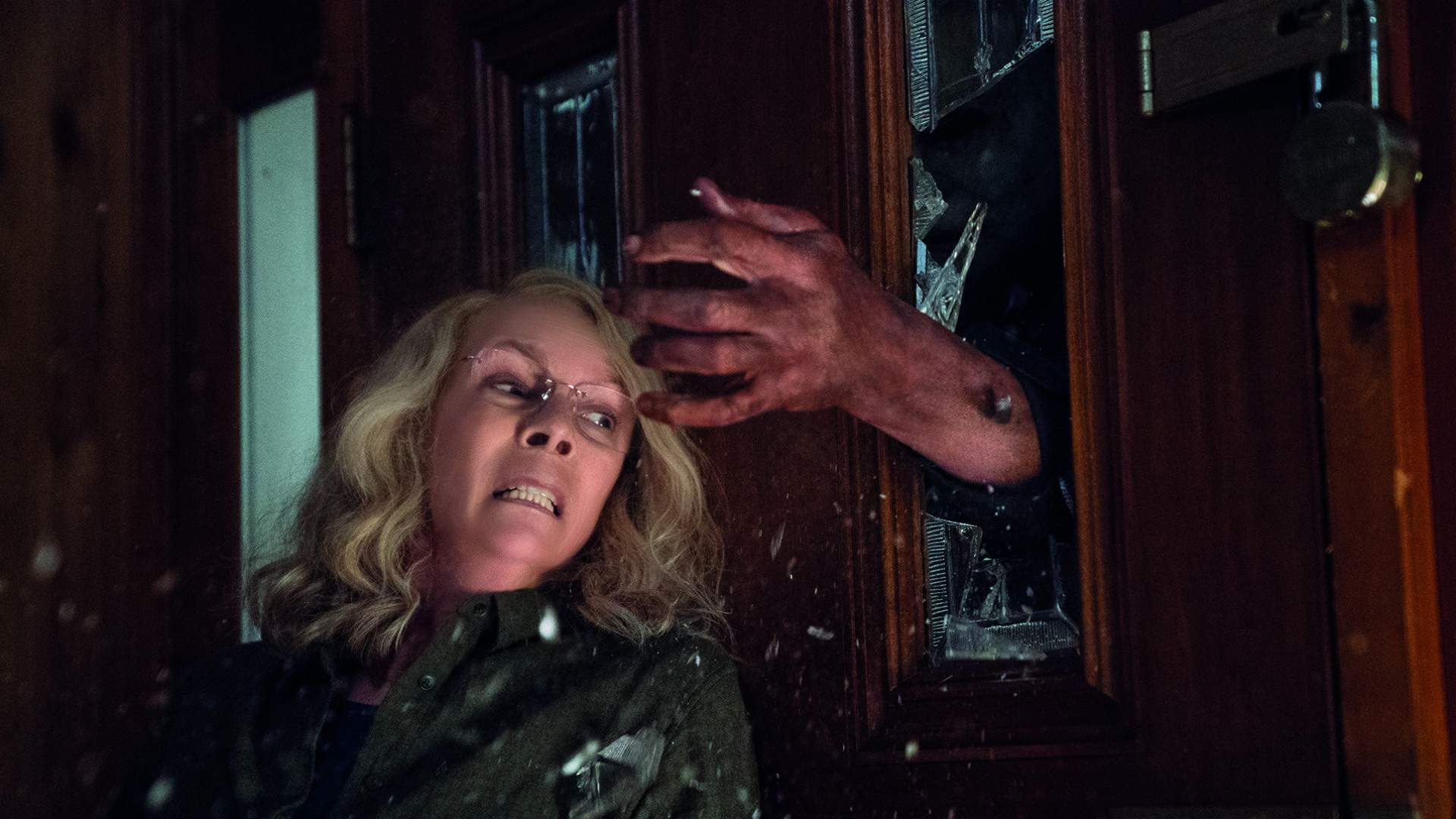 HALLOWEEN KILLS
For 42 years, the Halloween franchise has been delivering stone-cold horror masterpieces, weird and wonderful detours, and entries that deserve to be locked away for all eternity with Michael Myers. The difference between the series' John Carpenter-directed best and its trashy worst is enormous, but when David Gordon Green (Prince Avalanche, Pineapple Express) took the reins for 2018's Halloween — a direct sequel to the 1978 original that ignores the seven other follow-ups and two remakes in-between — he served up one of the saga's best chapters. It helped that Jamie Lee Curtis was back, of course. Also beneficial: a meaty story that grapples with trauma, a skill for slasher thrills, a new score by Carpenter himself, and producer Jason Blum's support. So it was great news when two more movies were announced, including 2020's Halloween Kills, which brings the whole gang back to Haddonfield for another encounter with the town's masked menace.
Halloween Kills releases in Australian cinemas on October 15.

THE FRENCH DISPATCH
An offbeat storyline. Mesmerisingly symmetrical frames. A cast that includes Bill Murray, Tilda Swinton, Owen Wilson, Saoirse Ronan, Willem Dafoe, Jason Schwartzman, Edward Norton, Bob Balaban and Anjelica Houston. Yep, it must be a new Wes Anderson film — and The French Dispatch looks like Wes Anderson at his most Wes Anderson-esque yet. The premise: in the fictional French town of Ennui-sur-Blasé sometime in the mid-20th century, Arthur Howitzer Jr. (Murray) has turned a series of travelogue columns into a weekly American magazine. A supplement to the Liberty, Kansas Evening Sun, The French Dispatch resembles The New Yorker, is staffed by top expatriate journalists, and covers life in France, world politics, high and low art, and diverse stories of human interest. As for the film that shares its name, it focuses on three tales printed in the publication's pages.
The French Dispatch releases in Australian cinemas on November 26.

DUNE
David Lynch's Dune is one of the most unfairly maligned sci-fi films ever made. It's not the version that Alejandro Jodorowsky would've whipped up — as explored in excellent documentary Jodorowsky's Dune — but the 1984 movie still has its surreal delights. Just how Denis Villeneuve's new adaptation of Frank Herbert's 1965 novel will fare is still yet to be seen, but the French Canadian director has already revived another 80s sci-fi property to stunning effect with Blade Runner 2049. Once again, he has amassed a stellar cast, including Timothée Chalamet, Oscar Isaac, Josh Brolin, Stellan Skarsgård, Dave Bautista, Zendaya, Charlotte Rampling, Jason Momoa, Javier Bardem and Doctor Sleep's Rebecca Ferguson. They'll all fight over 'the spice', the most valuable substance in the universe.
Dune releases in Australian cinemas on December 26.

Top images: Dune: Copyright: © 2020 Warner Bros. Entertainment Inc. All Rights Reserved. Photo Credit: Courtesy of Warner Bros. Pictures and Legendary Pictures. Babyteeth: Lisa Tomasetti. Wonder Woman 1984: Clay Enos/ ™ & © DC Comics. © 2018 WARNER BROS. ENTERTAINMENT INC.
Published on June 24, 2020 by Sarah Ward