Australia Is Set to Swelter Through a Warmer-Than-Average End to 2019
A particularly warm spell is expected in September, with hotter-than-usual temperates set to continue across spring and into summer.
Warm. Dry. Temperatures above average, and rainfall below usual levels. That's been the trend across 2019 so far, thanks to a record-breaking summer, a hotter-than-standard autumn and a toastier-than-normal winter, so it should come as no surprise that the Bureau of Meteorology expects the pattern to continue for the rest of the year.
Releasing its latest climate outlooks — which focus on spring, while also looking ahead to December and January, too — BOM doesn't have great news if you were hoping for an average end to 2019. Well, as average as this traditional warmer period can be. Instead, below average rainfall is forecast around most of the country, as well as above average temps.
In other words, if you call mainland Australia home, there's a very good chance that you'll experience spring and summer temperatures that are toastier than the median. Apart from Tasmania and the absolute lower edges of South Australia and Victoria, the whole country is tipped to endure maximums at least 80 percent higher than normal. That includes the entirety of Queensland and New South Wales.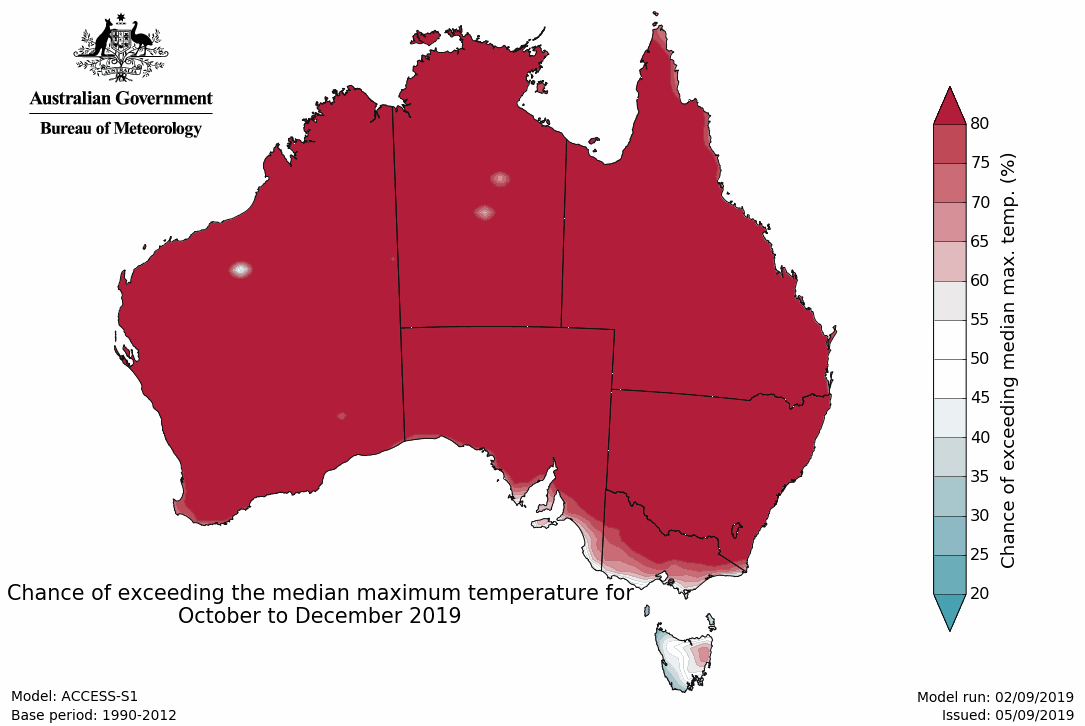 While the peak time for particularly hot temperatures will kick in from October onwards, September is also expected to weather an extended warm spell, with the mercury reaching two–to–three degrees above where it usually sits at this time of year in central and eastern Australia. If you're wondering exactly what's in store, then it's worth keeping the usual daily temps across the period in mind — and remembering that they'll be exceeded. In Sydney, that means the mercury will soar above a 20.1-degree maximum in September, a 22.2 top in October, a 23.7 max in November and a 25.2 high in December, while Melbourne can expect temps above 16.8, 19.4, 21.9 and 24.6 in the same months. In Brisbane, the standard tops range between 25.6–29.5, and in Perth it spans 20.3–29.1.
Yet again, farmers are in for not-so-great news. The rest of the year is predicted to be drier than average everywhere other than northern Western Australian and western Tasmania.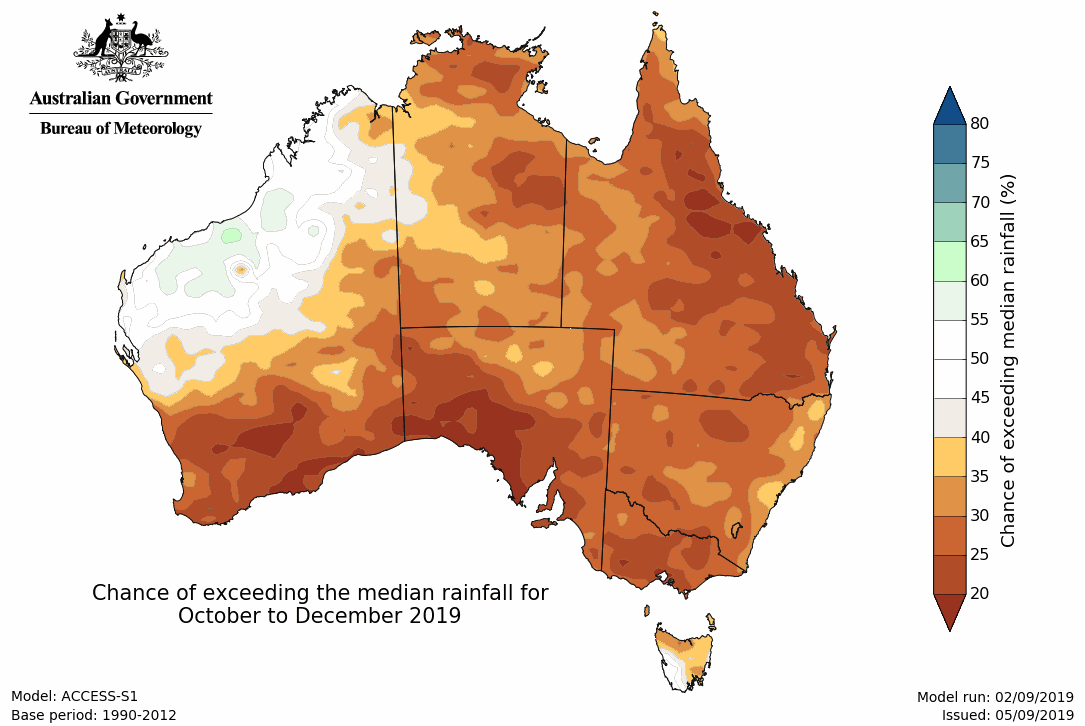 Yes, it's a familiar story. Let's not forget that in 2018, overall, Australia copped its third-warmest year ever. If it isn't part of your end-of-year routine already, we suggest planning plenty of time in the coolest places you can find — beaches, pools, rivers or anywhere with a refreshing swimming spot — this spring and summer.
Images: Bureau of Meteorology.
Introducing Concrete Playground Trips
Book unique getaways and adventures dreamed up by our editors