Christmas in Brisbane 2022
Brisbane's month-long Christmas celebrations across the CBD and South Bank include a tinsel tavern and festive jazz lounge.
It's beginning to look a lot like Christmas around Brisbane, as happens each year once Halloween ends and November arrives. But from Friday, November 25, for a whole month leading up to the big day, the Brisbane CBD and South Bank will be brimming with festive cheer — whether you're keen on shopping your way through markets, peering at dazzling lights or getting comfy (and merry) with a drink in your hand.
The lineup of Christmas events that'll be decking out the city's two major inner-city precincts is as stuffed as a stocking, and filled with both beloved returning highlights and new reasons to get merry. Some, like the Enchanted Garden in Roma Street, are popular favourites set to dazzle again. Others, like the 'Tinsel Tavern' and Christmas jazz lounge, are fresh additions to your seasonal itinerary.
It all kicks off on Friday, November 25 with the annual lighting of King George Square's 22-metre-tall Christmas tree, as well as the Enchanted Garden's launch. But, mark most of December in your diary, as that's when the bulk of the rest of the events take place.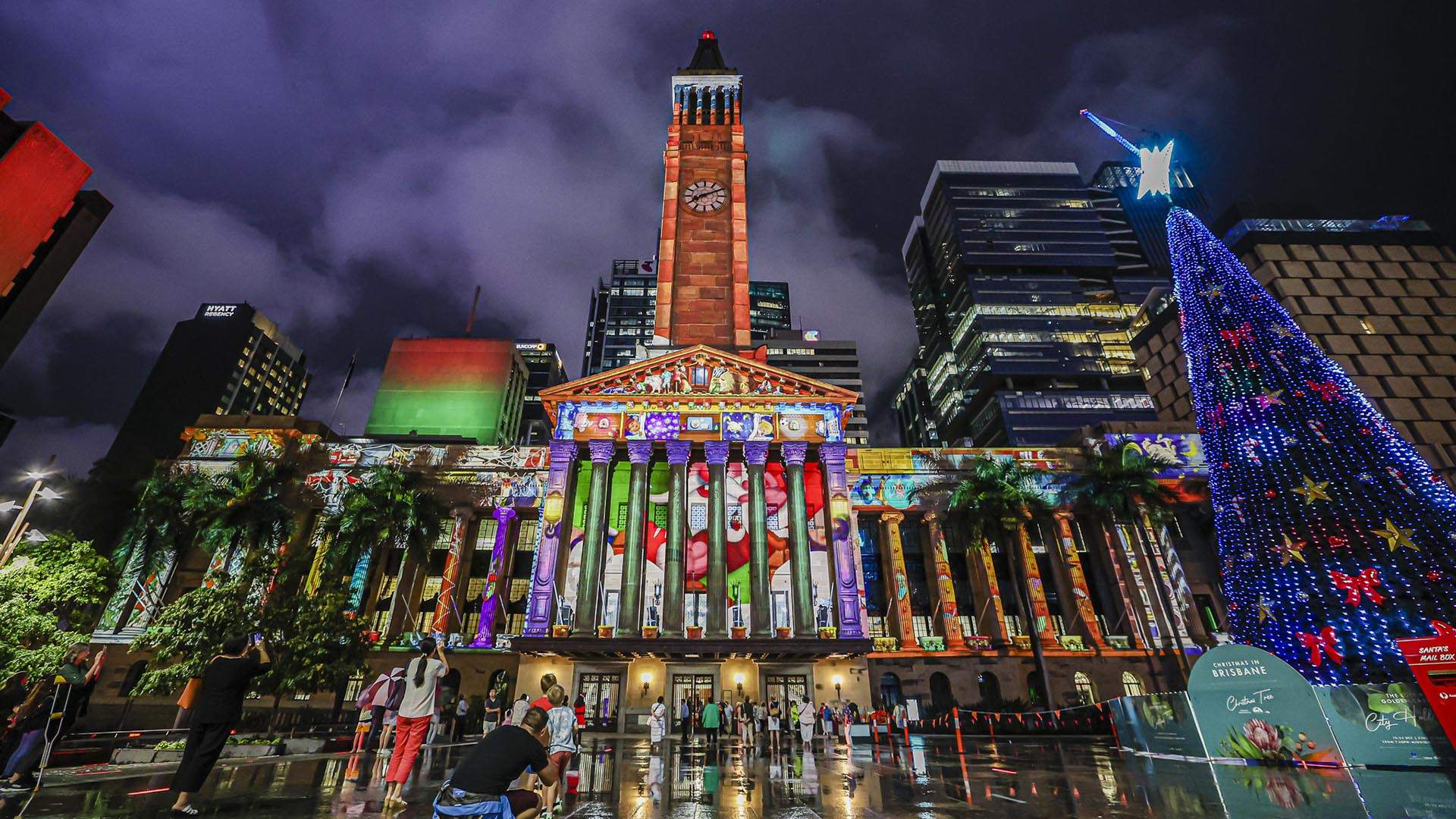 For nabbing gifts, Brisbane Arcade's two-day Christmas markets, the BrisStyle twilight Christmas markets in King George Square and The Collective Markets' six-day Christmas edition at South Bank all return, joining the city's hefty list of places to browse and buy beyond shopping centres.
In the CBD, there'll also be nightly light shows at City Hall, running from 7.30pm–12am from Friday, December 9–Saturday, December 24; daily roving performances in the mall across the same dates; and the Lord Mayor's Christmas Carols on Saturday, December 10 at the Riverstage. Or, kick back at the jazz lounge around the Queen Street Mall's stage, with performances by Scat Jazz.
South Bank will concentrate its festive fun between Saturday, December 17–Thursday, December 22, including daily pantomime shows, a free Santa photo station at Flowstate, and the return of Christmas Cinema by the river — complete with free double features, with Elf, Last Christmas, Arthur Christmas, National Lampoon's Christmas Vacation, The Holiday, How the Grinch Stole Christmas and Happiest Season among the flicks on the bill.
And, the Tinsel Tavern will set up on Little Stanley Street Lawn, serving tipples nightly from 4.30–10pm — and thoroughly saying cheers to the silly season.