Announcing Concrete Playground's Best of 2018 Brisbane Award Winners
The very best new Brisbane bars, restaurants, cafes, events and spaces of the year.
Seven new hotels. Two new food precincts. A new European-style market (complete with personal shoppers). Two permanent large-scale light installations. Dozens of new bars, restaurants, cafes. Brisbane has had a big year, and it's the most fun and animated it has ever been.
And we have, in part, these eight venues to thank. The following restaurants, bars, cafes, spaces and events have gone above and beyond. They combine originality, innovation, creativity and sustainability to bring something a little different to our city. Something that pushes us to keep being better and braver. Something that we love — and so do you.
That's why they're the winners of Concrete Playground's Best of 2018 Awards. This year, we have awarded both a reader voted People's Choice and Overall award in each of the following six categories:
Best New Restaurant
Best New Bar
Best New Cafe
Best New Space
Best New Event
So, with no further ado, the winners for 2018 are...
BEST NEW EVENT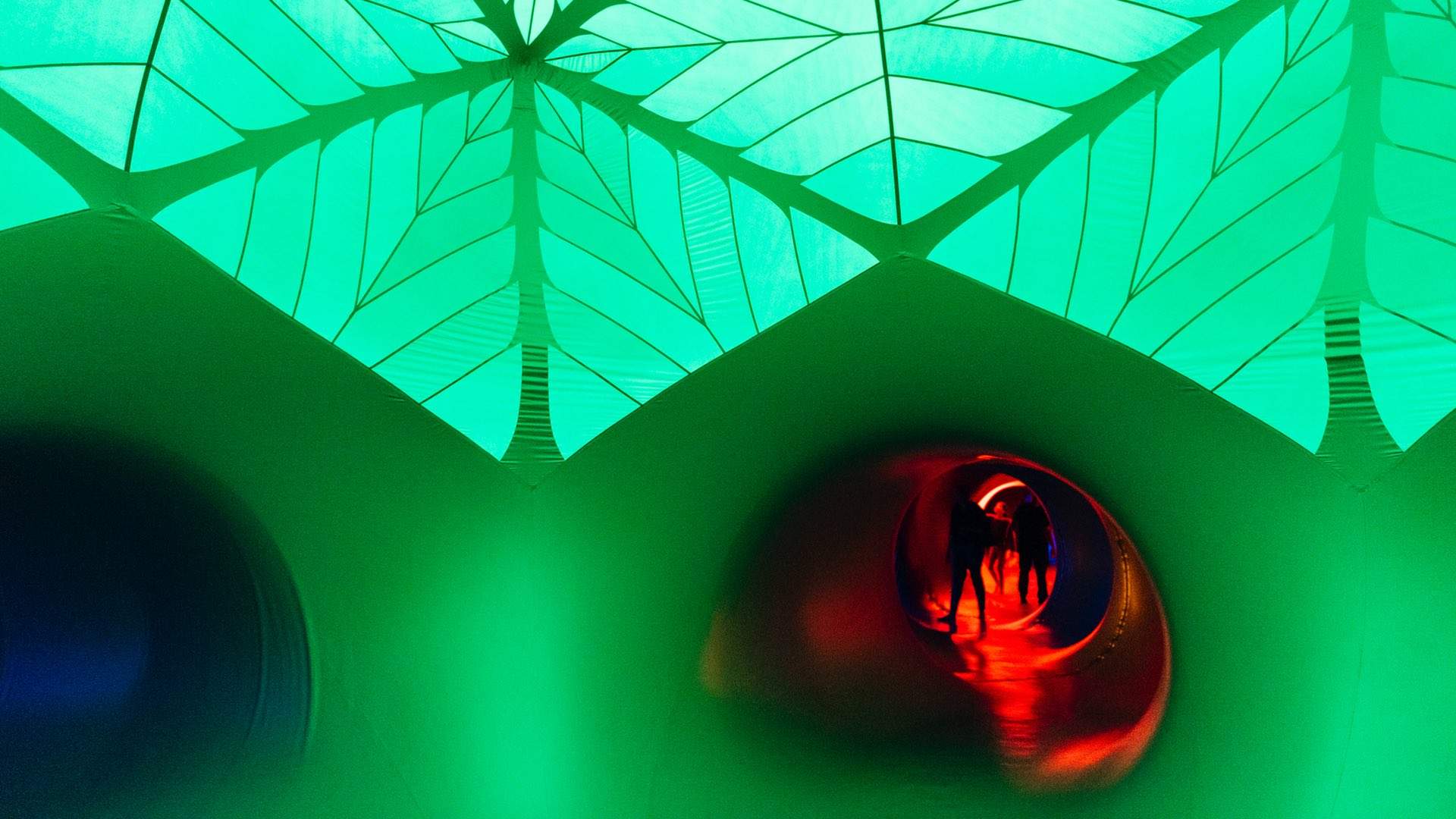 OVERALL WINNER: ARBORIA
In April, Broadbeach on the Gold Coast played host to a fun new addition in Arboria — a huge, blow-up sculpture that featured a walk-through labyrinth of winding tunnels and lofty domes. On exhibition at Kurrawa Park as part of southeast Queensland's arts festival running alongside the Commonwealth Games, the inflatable structure took its inspiration from the forest. Incorporating tree-like spaces, stylised leaf patterns and a soundscape from Ecuador's Mindo cloud forest, it created an immersive, multi-sensory experience for visitors young and old. A maze of pods and domes lead to a stunning central space, where massive columns and soaring Gothic-style windows mirrored those of Chapter House at the UK's York Minster cathedral. It was the work of world-renowned group Architects of Air, who've created and exhibited a whole series of these 'luminaria' structures across the globe.
A giant gumball machine that you could climb inside. An adult-sized ballpit in bubblegum-pink hues. A dedicated fairy floss room with its own swing. Throw in ice cream, sweet and snack tastings, plus the ability to jump out of a giant birthday cake — and Brisbane's pop-up dessert museum sounds like the kind of place that Willy Wonka might own. The Sugar Republic pop-up brought sugary delights to folks with a sweet tooth, boasting an array of spaces filled with all things chocolate, confectionery and dessert-oriented. If you weren't making yourself a soft serve and showering it in sprinkles, you were spinning a wheel o' treats. Other highlights included a sherbet-filled rainbow bridge, a 'press for confetti' button, an interactive sprinkles wall, a neon art wall and other dessert-centric art.
BEST NEW SPACE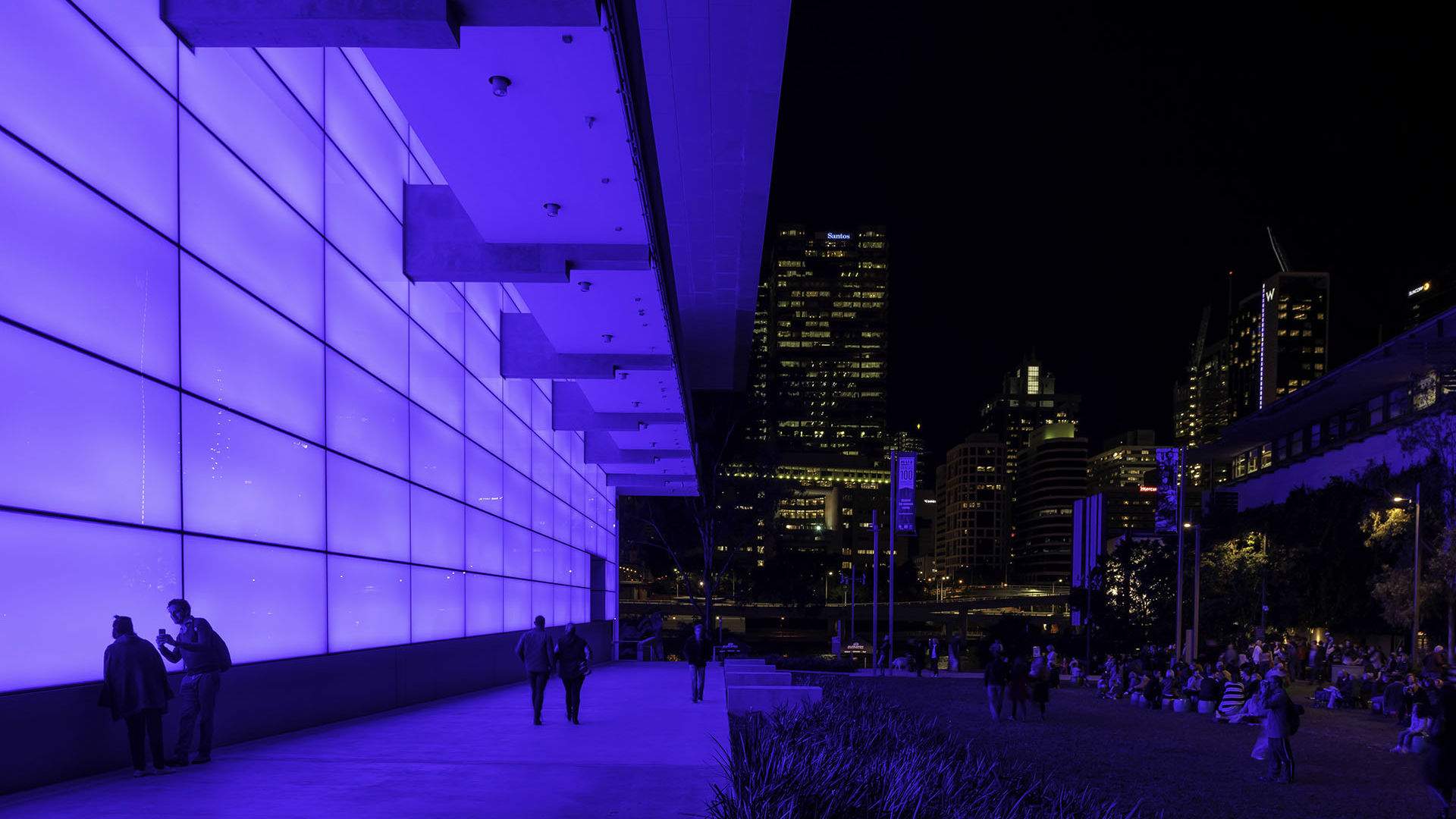 It has been 11 art-filled years since Brisbane's Gallery of Modern Art first opened its doors, and the creative riverside hub just keeps going from strength to strength. As unveiled in July, GOMA is now home to an illuminating new permanent work: Night Life, a brand light installation by artist James Turrell. Brisbane's Turrell piece isn't a standalone structure like his other two Australian works. Instead, Night Life lights up GOMA's eastern and southern white façades from within the building, using an 88-minute-long shifting pattern of vibrant coloured light developed by Turrell especially for the location. When illuminated — which it will be from sunset to midnight each and every night from this point onwards — the gallery is visible from across the river and around South Bank's cultural precinct.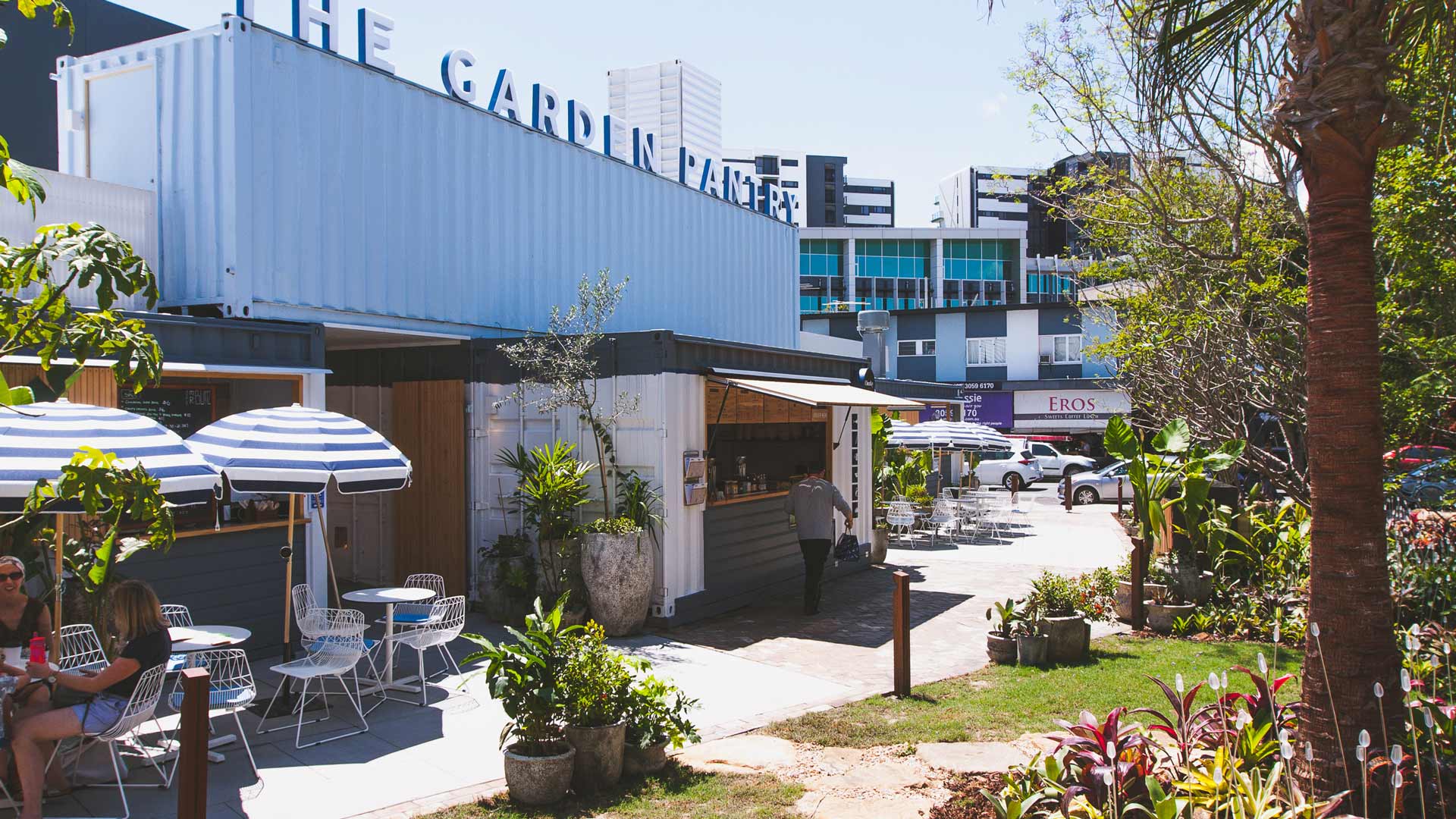 West End's massive West Village precinct continues to get bigger and bigger. While the project is still in development, it has held everything from ice cream festivals to weekend providore markets since it was approved in 2016. And, as of October, the $800 million project had some hefty new additions. The former Peters Ice Cream Factory site is now home to The Garden Pantry and The Common. The former is a casual dining precinct featuring multiple eateries, plus indoor and outdoor seating, while the latter is a 24-hour public space brimming with grass, trees, plants, a water installation and a field of light. In short, the inner-city development has gained a heap of new dining options and a lush place to hang out. Unsurprisingly, in terms of decor, the new spaces play up the garden theme — both in The Garden Pantry space, which is decked out tropical-style, and in The Commons' greenery-filled garden area. Later this year, West Village will open Factory Lane, and add a new arts and events studio called The Bromley Room #2.
BEST NEW CAFE
OVERALL WINNER: DICKI'S
Vegan eats can't be hit and miss. You want a kitchen that sources fresh, high-quality ingredients and isn't afraid to experiment with taste combinations. In this, Dicki's certainly delivers. From an understated New Farm nook of sleek white wood with indoor and footpath seating, it offers plant-based meals bursting with flavour. Once you've had smashed avo with macadamia 'feta', you'll never look back. Bad memories of buckwheat? Try them as waffles with stewed apples, cinnamon crumble and salted caramel. Bright and fresh dishes like the Nurture Bowl and maple-roasted granola with seasonal fruit and coconut yoghurt are picture perfect, as is the decadent cake selection. Then, on Friday and Saturday nights, dinner and drinks are available till 5pm. Prosecco, local beers and refreshing cocktails are paired with tasty plates like tofu scramble, as well as the big house-made mushroom burger with fries. Trust us: you won't even miss the meat.
PEOPLE'S CHOICE: FREJA'S
Owning her own café had been a dream since childhood for Freja Rasmussen, but it took a move across the equator for this Danish pastry chef's dream to finally be realised. Together with her partner Nathan Dunnell (formerly of Stokehouse Q), Rasmussan created the Scandi-styled Freja's Café. After nine months spent looking for the perfect site, a former Indian restaurant in the heart of Wilston was secured, and lovingly transformed into a bright and spacious, 35-seat cafe. Rasmussan's meticulous handmade sweet treats can be seen on the front counter, alongside perfectly flaky croissants (flown in from France). The Strada coffee machine is one of only ten in Australia and is stamped with a stylised leaf pattern to match the dove grey takeaway cups. The summer menu is a deftly curated combination of decadent (pulled beef cheek croissant) and saintly (matcha pancakes with macadamia), with a sweet nod to Freja's Danish heritage also snuck in (smoked salmon and sous vide egg on light rye). With representation from some of our local liquid faves (Seven Miles Coffee Roasters and Mayde Tea), this inner-north brunch spot has had a very bright year.
BEST NEW BAR
OVERALL WINNER AND PEOPLE'S CHOICE: THE MALECON BAR
Milton might be the unofficial beer capital of Brisbane, but in the shadow of the giant XXXX factory and just up the road from Newstead Brewing Co, another type of tipple is fermenting. That'd be rum, courtesy of Castlemaine Street watering hole The Malecón. As well as serving up plenty of it thanks to the 100-plus bottles lining its walls, the craft spirit and cocktail bar also turns sugarcane byproducts into booze onsite. As well as the bar's own tipples — including an aperitif made from organic waste — patrons are greeted by 105 different types of rum on the bar's shelves. Rum cocktails are also on offer, think daiquiris, piña coladas, the Malecón Treacle (with rum, some more rum and apple) and the Malecón Zombie (a house rum-blend with citrus, passionfruit, pineapple, orgeat spice and grenadine). And, a small selection of beer and wine is available as well. That relaxed atmosphere is by design, with The Malecón aiming to give Brisbane a cruisy, boozy hangout dedicated to a spirit that doesn't always get its time to shine.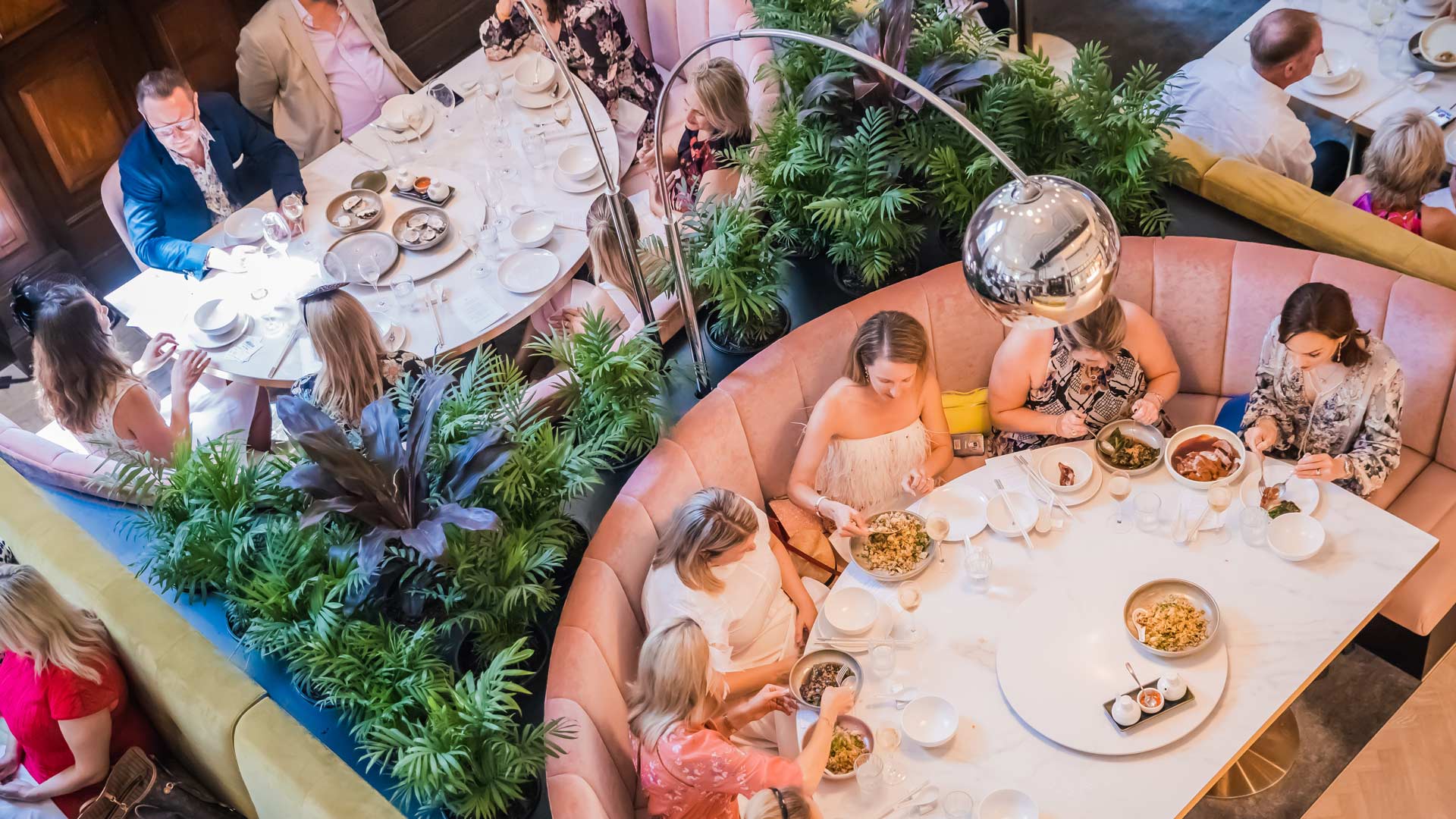 OVERALL WINNER AND PEOPLE'S CHOICE: DONNA CHANG
The sandstone building on the corner of George and Elizabeth streets has been home to many things over the years, including Queensland's first radio station, government departments, offices, cafes and a bank. It's now the site of Brisbane's two newest places to eat, drink and hang out — a luxe underground bar and a new Chinese restaurant. Called the Boom Boom Room and Donna Chang, the duo are the latest ventures from the Ghanem Group, the folks behind Blackbird Bar & Grill on Eagle Street, Byblos Bar & Restaurant at Portside and chicken chain Lord of the Wings. Head upstairs to find Donna. Spread across both the ground floor and the mezzanine level, the Chinese fine diner fills its open space with pink, green and neutral-toned furniture, while group executive chef Jake Nicholson, head chef Jason Margaritis and head dim sum chef Sam Lie all endeavour to fill your stomach. Their focus: Chinese dishes with Sichuan and Cantonese flavours and influences, as they aim for that highly sought-after blend of the old and the new. As you're picking from the menu, you can stare at the live grouper and shellfish tank — and yes, you can order fish, crab and crayfish. Other food options range from crispy pork bao and roast duck dumplings in goose broth, to barbecue Peking duck, suckling pig and char sui pork. The list goes on for both lunch and dinner, as does the wine selection.
Congratulations to all the winners. Our city is a better place with you in them.
Top image: Donna Chang.
Concrete Playground Trips
Book unique getaways and adventures dreamed up by our editors