FOOD & DRINK
Ten Food Trends That Have Shaped Australia's Dining Scene
From edible insects to ferments and a famous Snow Egg-shaped dessert.
Ten Food Trends That Have Shaped Australia's Dining Scene
From edible insects to ferments and a famous Snow Egg-shaped dessert.
---
in partnership with

Australia has a penchant for good food, an adventurous spirit and a willingness to try the new and exciting. It's a combination that makes for a pretty stand-out culinary scene, as local chefs continue to push boundaries, flex creative muscle and hit reset on the latest and greatest food finds.
Shifting philosophies and changing attitudes have spawned a whole wealth of food trends across the past decade, from the fun, to the health-focused, to the wildly inventive. Some of them were even started by TV shows — specifically MasterChef Australia, which is celebrating ten successful, and influential, years on the screen.
Together, we've pulled together a list of the top ten trends that have shaped Australia's dining scene in the past decade, covering everything from diet trends and insects to one very special (Snow Egg-shaped) dessert.


RIFFS ON OLD-SCHOOL FAVOURITES
A healthy dose of nostalgia, mixed with a splash of creativity and a dash of daring attitude. It became the recipe for success as chefs began to revamp the classics and rejig those childhood favourites into modern masterpieces.
Sydney cafe Dutch Smuggler had people scrambling for its new-school jaffle creations, rocking an unlikely, but addictive filling of Mi Goreng noodles. Bad Frankie led Melbourne's jaffle renaissance with its now iconic lamington version.
Guy Grossi's Pezzo brought the pizza pocket back into our lives, and Matt Wilkinson took on an Aussie staple with his Brunswick East spot, The Pie Shop. And no one could forget Bar Liberty's opening attraction — a white bread, chicken-skin crackling, tomato and lettuce homage to the classic BLT.

INSECTS
In the name of sustainability, insects, bugs and creepy crawlies have marched their way into the culinary world, appearing on menus and embraced by top chefs the country over. Kylie Kwong showed her love for insect dining back in 2013, adding creations like cricket and prawn wontons, and stir-fried crickets to the lineup at her acclaimed Sydney restaurant Billy Kwong.
Melbourne's now closed zero-waste cafe Silo also flew the flag for edible crickets, with chef Matt Stone enlisting the help of a horticulturist to grow and harvest the venue's own supply. And the trend's stuck around — famed Melbourne restaurant Attica turned heads with a black ant lamington, and today, you'll even spy roast crickets sprinkled onto a noodle salad at Richmond's Jethro Canteen.


SEA URCHIN
It might be considered a pest of the ocean, but the humble sea urchin has become a hero of the fine dining scene, dressed to impress, in elegant dishes at some of the country's hottest restaurants.
The sea urchin's (this little creature) popularity in Japanese cooking lent plenty of influence here on Aussie shores — we saw it teamed with wasabi and caviar, atop rice crackers at Chris Lucas's Kisumé, and regularly crafted into stunning creations by acclaimed sushi master Koichi Minamishima at his namesake Richmond restaurant.
But leave it to our own seafood king Josh Niland to plate up urchin with an Aussie twist — the chef's beloved Saint Peter serves the delicacy cradled in its spine, teamed with a warm, house-made crumpet.


DIET TRENDS
As diners embraced a whole plethora of modern-day diets, the wellness craze trickled beyond gyms and home kitchens, onto menus, and even spawning a new breed of healthed-up, diet-centric eateries.
One second veggies were king, and the next the paleo movement had us all getting back in touch with our prehistoric selves, heroing meat and celebrating fats. Mjølner — in both Melbourne and Sydney — puts meat front and centre. Patch Cafe landed in Melbourne's Richmond with an entire offering dedicated to the primal-style diet, from 'bulletproof' coffee jazzed up with coconut oil and butter, to pasta crafted from zucchini. And Sydney haunts like Proteini also painted healthy eating fun, with colourful, flavour-packed dishes centred around nature's best.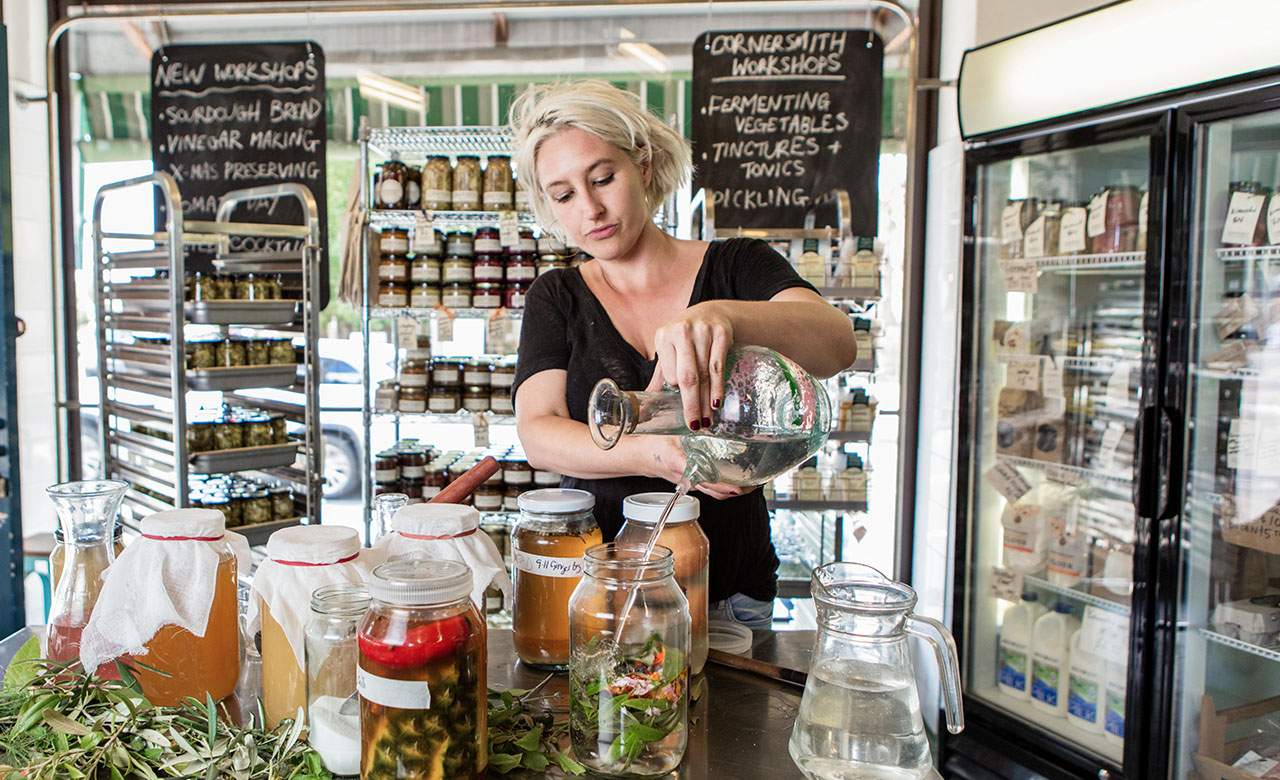 Cornersmith, Steve Woodburn
FERMENTS
As pickles, cultures and funky ferments made their way into the collective consciousness, they inspired chefs across the country to have a crack themselves, incorporating those gut-healing powers and that microbial magic into all kinds of dishes. Fine dining degustations and cafe menus alike began to incorporate house-fermented goodies, from sourdoughs and sauerkraut, to Korean-style kimchi.
As with lots of other foodie trends, this craze also sparked plenty of DIY action, as everyday home cooks clambered aboard the fermentation train. Experts have been more than happy to share their secrets, with a host of classes offered by the likes of Marrickville's Cornersmith, The Craft & Co in Collingwood, and the Melbourne-based Wild Ferments.

CHARCOAL
Black became the new black as the culinary world embraced all things charcoal, as much for the purported health benefits as for that dramatic, head-turning colour. Kitchens everywhere got creative with the chemical-absorbing ingredient. Port Melbourne cafe Long Story Short made waves when it added activated charcoal fish and chips to the menu, though the presentation of black logs on a plate raised its fair share of eyebrows. Ink-coloured charcoal tarts starred in the adventurous lineup at Carlton cafe's now-closed Nora, and Brisbane punters went nuts for the Black Elvis charcoal soft serve at Eat Street's Double Good.

STAND-OUT DESSERTS
These days, the dessert game is all about leaving a lasting impression — not just on the person holding the spoon, but on our whole food-obsessed country.
Wow factor became the go-to ingredient in this battle of the sweets, with each new creation vying to become the stuff of legend. Simplicity got the boot in favour of memorable extravagance. Peter Gilmore's famed Snow Egg stole the show in the Season Two finale of MasterChef Australia, and at Gilmore's restaurant Quay. Punters were happy to queue for an age to get their hands on one of Rustica Sourdough's famed cronuts, and Dan Hunter created an unlikely smash-hit with his oyster ice cream at Brae.

STREET FOOD
Tucking into street food overseas can be a gamble, so we'll be forever grateful for Australia's multiculturalism and the young gun chefs bringing incredible street eats from all corners of the globe, to our own backyard.
Fast, fun, and creative, street food has become a staple of our casual dining scene, even inspiring home-grown versions of international casual dining experiences.
In Melbourne, the neon-drenched HWKR is delivering a modernised riff on the hawker centres of Southeast Asia, its four kitchens playing host to a globe-trotting rotation of buzz-worthy eateries, including Chanteen by Diana Chan. Chan is the winner of MasterChef Australia Season 9 and her pop-up eatery is currently serving up a slew of Singaporean and Malaysian street foods such as char kuey teow and soft shell crab sliders.
You'll also find Michelin-starred Singaporean street food at Hawker Chan. Meanwhile, Sydneysiders have scored a swag of cuisine-specific street food restaurants, offering authentic flavours straight from the likes of Bangladesh (Bang) and India (Delhi Streets).


SMOKE & FIRE
Another hot foodie trend saw a barrage of chefs getting back to basics, turning to fire and smoke to bring their dishes to life. The wood-fire grill became star of many a high-end kitchen.
Geelong fine diner Igni, fittingly named for the Latin word for 'fire', has quickly built a shining reputation on its devotion to the humble flame, as chef Aaron Turner's sharp technique and beloved wood grill put the tiny regional restaurant on the map. Fire's also been the force behind Adelaide's famed Africola, where Duncan Welgemoed is grilling and smoking in homage to the flavours of his homeland, South Africa, and at Sydney's Fred's where Chez Panisse alumnus Danielle Alvarez cooks most ingredients on an open hearth.


VEGETARIANISM
Slowly but surely, vegetarianism has shed its dowdy, ugly duckling image and became one of the cool kids, as folks everywhere started to pay a little more attention to the planet. Menus across the globe came to the party and it opened up the door to some seriously creative plant-based dining offerings, the international charge led by the likes of Israeli-British chef Yotam Ottolenghi and his stunning cookbooks. Closer to home, Melbourne's Transformer matches a vegetarian menu to fine dining sensibilities, and vegan-friendly pasta bar Mark + Vinny's became Sydney's new millennial hotspot.

Catch the latest season of MasterChef Australia from Sunday to Thursday at 7.30pm on Channel Ten.
Published on June 07, 2018 by Libby Curran