El Camino Cantina Surfers Paradise
The Tex Mex chain's 250-seat Surfers Paradise joint is its first with beach views — and a breakfast menu.
It's true when you're on holidays, kicking back in far-flung locations with a drink in your hand. It's true if you're a Brisbanite heading down the coast for a day, weekend or short getaway, or if you're a Gold Coast local as well. That unfaltering reality? That everything tastes better when it's paired with beach views — including lively Tex-Mex brand El Camino Cantina's OTT margaritas.
The chain's Surfers Paradise outpost marks its 13th nationwide and sixth in Queensland, including at Bowen Hills, Chermside and South Bank in Brisbane, and also Robina on the GC since 2020. If you've been to one of its venues, you know what to expect menu- and vibe-wise, but this is the only Sunshine State spot with that beachy backdrop.
For newcomers to the chain, think loud, bright and filled with giant cocktails, rock 'n' roll jukeboxes, free sombreros and other Tex-Mex fare. Skulls, crosses, cacti and lightning bolts also feature heavily, alongside a corrugated iron bar decorated with flame graffiti — and the new joint will also boast a custom-designed mural by Ben Brown featuring a surfing skeleton.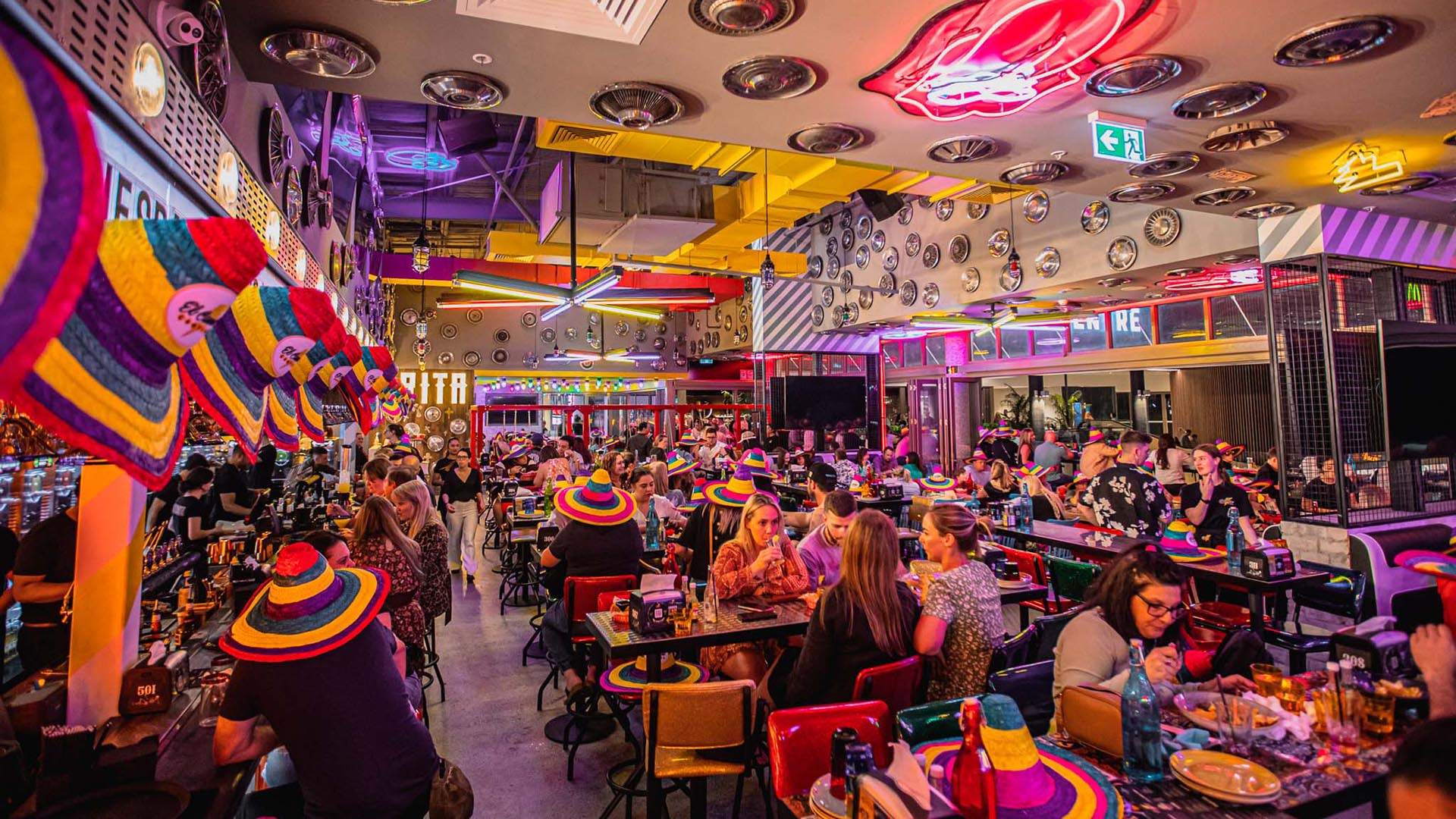 El Camino's Surfers Paradise digs seats 250 patrons, including the 30-seat al fresco dining space, with booths, high-top tables for large groups and swing-style seats all available — the latter playing up the beachfront angle.
Slushie machines, a big feature at the chain's other venues, are part of the fitout as well. Cue big nights and brain freezes. El Camino's margaritas come in multiple sizes and renditions — such as a tropical Red Bull flavour, which really says it all. Other options include a host of beers from near and far, and a sizeable collection of mezcals and tequilas.
The food lineup is as fun and casual as the drinks, spanning fiery buffalo wings, sizzling fajitas, plump burritos, and soft shell tacos loaded with punchy flavour combinations. The Surfers Paradise joint also boasts El Camino's signature specials, including $2 tacos on Tuesdays and ten-cent wings on Wednesdays.
And, it's also the brand's first spot to also serve up breakfast, with brekkie tacos coming packed with grilled sirloin and scrambled egg, refried black beans and queso fresco, and streaky bacon with jalapeno and cheddar.