Slim's Quality Burger Kippa-Ring
This 50s-inspired burger chain has arrived in Brisbane with its first retro-themed drive-thru diner.
When it first launched in New South Wales back 2022, Slim's Quality Burger combined two trends in one: Australia's undying love of burgers and the current affection for all things nostalgic. Started by a trio with knowledge of the burg business, with Michael Tripp, Nik Rollison and David Hales all boasting past ties to the Noosa-born Betty's Burgers and Concrete Co, this chain adores kicking it old school. Think: 50s- and 60s-inspired decor, a throwback vibe like it's operating in America seven decades back, plus classic meat-and-bread combos paired with ice cream sundaes.
While Queensland isn't short on places to enjoy burgers, this Aussie brand was always planning on going national — and now it's Brisbane's turn. Head to Kippa-Ring and you'll find the chain's Sunshine State debut, its first drive-in and drive-thru diner, and its first to offer a breakfast menu.
Adding a meals-on-wheels component is the latest step in Slim's ode to Americana, as already splashed through its vintage-leaning aesthetic, with features banquettes in cherry read, neon signage, chequerboard flooring and classic light fixtures. On Elizabeth Avenue, customers will find nose-in parking surrounding the eateries — and views into the open kitchen from your vehicle, too. You can also order from behind the wheel via QR code. Hanging out in the carpark afterwards like this is Grease? That's up to you.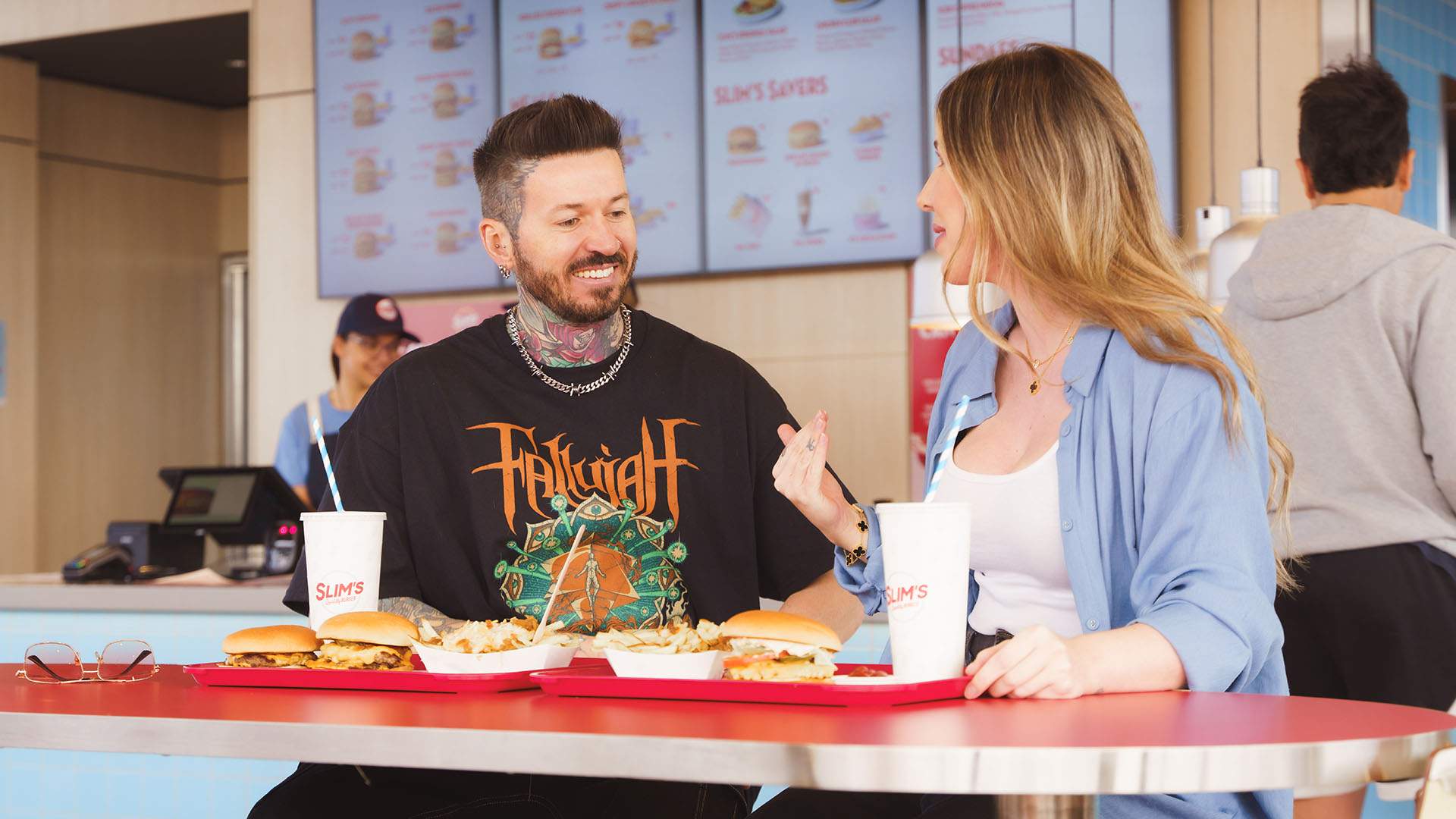 This chain is all about a lean menu of options made with simple but quality ingredients. Burger-wise, customers can choose between original, cheeseburger, a double and a triple, plus 'the works' burgs, all made with angus beef — and variations of the above with bacon. There's also four different chicken varieties, including with crispy fried or grilled chook, and a veggie option using a plant-based patty.
Sides focus on fries either with sea salt, loaded with cheese and grilled onion, or also featuring maple-smoked bacon. As for those sundaes, they come in hot fudge, salted caramel and strawberry flavours. And to wash it all down, there are spiders — because plonking a scoop of ice cream in some soft drink never gets old — plus post-mix soda from the fountain, and chocolate, vanilla and strawberry thickshakes.
For those keen on an early-morning Slim's fix, the breakfast offering spans bacon and sausage burgs, steak and egg burgs, fried chicken burgs, works burgs, veggie egg and cheese burgs, hash browns, chia pudding with strawberries and nut-free granola, a full coffee lineup, freshly squeezed orange juice and more.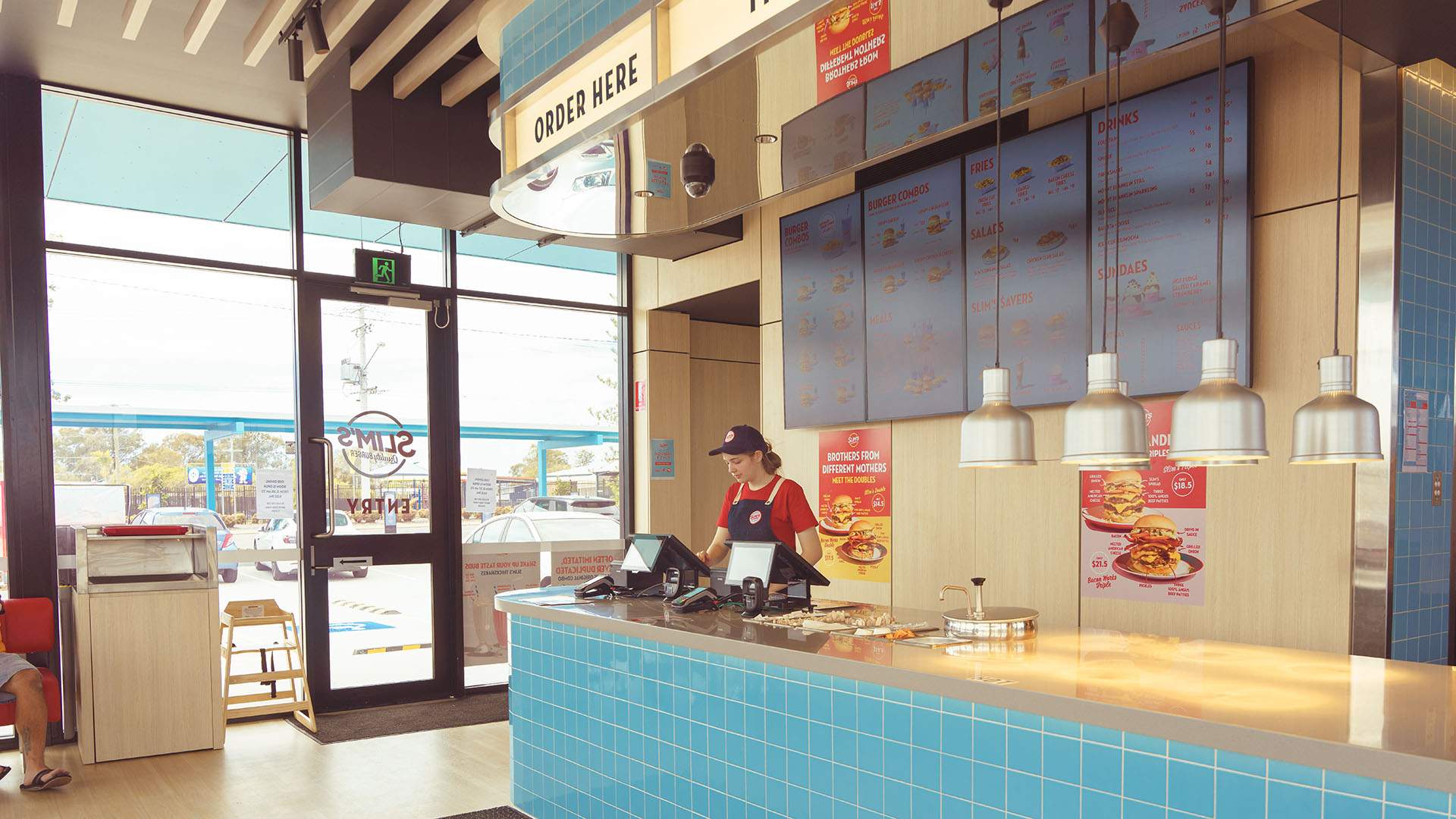 Concrete Playground Trips
Book unique getaways and adventures dreamed up by our editors