TRAVEL & LEISURE
Four Spontaneous Adventures to Have in Brisbane's Great Outdoors This Summer
Make this the season of last-minute day trips and outdoor games.
Four Spontaneous Adventures to Have in Brisbane's Great Outdoors This Summer
Make this the season of last-minute day trips and outdoor games.
in partnership with

Nowhere does summer quite like subtropical Brissie. It's the steady sunshine you can rely on day-in and day-out and the warm, fragrant nights. Apart from an afternoon storm here or there, you're basically guaranteed a good few months of heat, humidity and glorious blue skies, making it the perfect city for spontaneous adventures all summer long. The only problem is figuring out what you and your gang want to do with all those days of splendid weather.
Luckily, this town is full to the brim with last-minute activities. Whether you and your mates are the outdoorsy types, adventurous daytrippers, picnickers or lovers of low-key, low-stress suburban sport, in partnership with Jacob's Creek, we're making sure you all have a summer to remember. So throw on your finest tropical shirt, gather the crew and get ready to make the most of every golden hour.

TRY BIRDSPOTTING AT ROMA STREET PARKLANDS
Love nature, but don't have time to head to the bush? Jump on the urban birdwatching bandwagon with the Big City Birds app. Researchers are calling on 'citizen scientists' to track sightings of key species, including the infamous white ibis. Gather your fellow bird-nerds and head into Roma Street Parklands for a bit of twitching in this 16-hectare city oasis. If your crew has a competitive streak, you could even make it a contest — the loser pays for the wine. When you're twitched out, set up camp (aka a picnic) on the Celebration Lawn. Kick back sundowner-safari-style and toast a glass of Jacob's Creek Better by Half Sparkling to a job well done.

RIDE THE FERRY TO NEW FARM PARK
If you ask us, ferries are always the most fun way to get around town, and a city view from the water never gets old. Top up your Go Card and bounce around the Citycat route before jumping off at New Farm Park Ferry Terminal. Tucked away from the city, New Farm Park is the perfect spot to take in the sunshine and river breeze with a BYO picnic. You don't even have to pack the food yourself — just pop a bottle of vino in your bag, then nip to nearby New Farm Deli for some supplies. Just picture it: a bottle of Jacob's Creek Le Petit Rosé, a loaf of bread, fancy charcuterie and your best mates. And, no dramas if you miss the ferry. Just take the scenic Riverwalk back to town.

ENJOY A GAME OF GOOD OL' FASHIONED BAREFOOT BOWLS
Day for it? You bet. If by it, you mean barefoot bowls, the ultimate last-minute plan for a summer afternoon. Leave hipster irony at the door: this pensioner's pastime is pure ol' fashioned fun. We're talking cold beer, your mates and a low-stakes sport so casual you don't even need footwear. The rules are simple enough to pick up on the fly, making this less stressful than your average board game night. Best of all, you can find a local venue pretty much anywhere in Brissie — some of our favourites can be found here. Some have barbecues or full club bistro feeds on offer, too, and booking a session is easy peasy. Matching white uniforms are optional, but don't forget to bring along sunscreen, a hat and sunnies.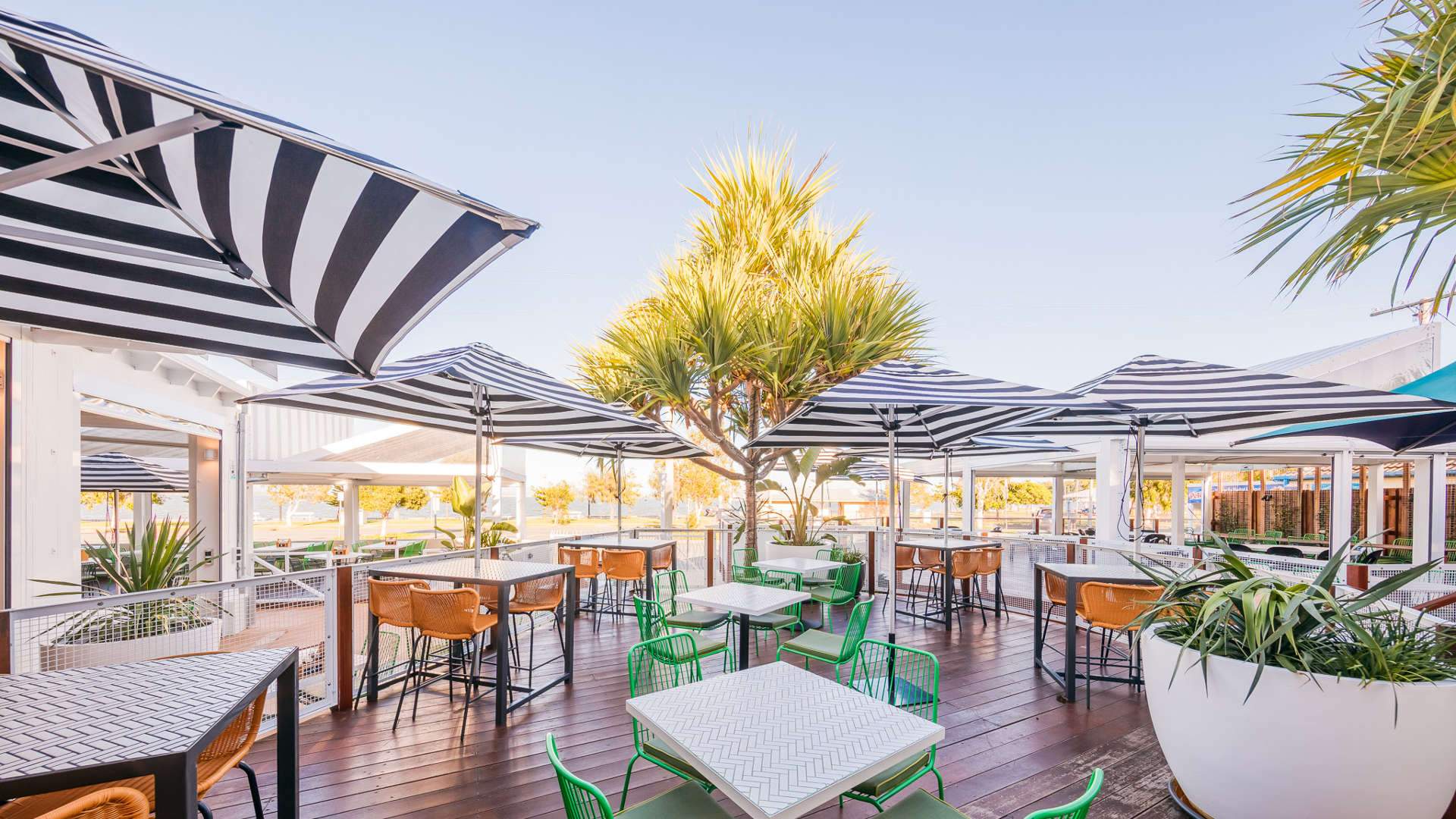 RIDE THE MORETON BAY CYCLEWAY AND FINISH AT THIS SEASIDE PUB
Keen to fit as much seaside into one day as possible? Bike it. Running from Clontarf Beach to Scarborough via Redcliffe, this cycle trail will give your crew a coastline tour of northern Moreton Bay. It's a long ride, but there's no rush. Cruise along by the sea, hop off when a sandy beach or local market calls and check out the odd curio that is Bee Gees Way. This 70-metre openair museum commemorates the proud local history of these disco bros — complete with life-size bronze statues. Make your cycle journey into a round trip finishing up at The Belvedere for a cocktail and bite to eat. Bookings are recommended for groups of seven or more.

Reconnect with your friends and family this summer with a bottle of Jacob's Creek. Discover the Jacob's Creek range and purchase a bottle today from all good liquor retailers. 
Top image: Norman Park Bowls Club
Please drink responsibly.
Published on January 12, 2021 by Stephanie Monteith