The Best Picnic Spots in Brisbane
Wait till the weather is just right, then fill your esky with cold beer, natural wine and an oversupply of snacks and get picnicking.
If and when you do go outside for exercise or recreation, have a look at the latest COVID-19 advice and social-distancing guidelines from the Department of Health.
If there's one thing Brisbanites can count on almost all year round, it's a sunny day begging to be spent outdoors. Whatever the season, the chances of nice weather are high — as are the chances you'll want to make the most of it. Though the beach is a drive away, the city abounds in the next best places to while away a fine afternoon: picnic spots.
With greener pastures aplenty dotting the expanse of the CBD and the surrounding suburbs, there are many wide-open spaces to head to with your trusty rug and a basket filled with snacks and cold bevs.

KANGAROO POINT CLIFFS
Whether it is from the top or the bottom of the Kangaroo Point Cliffs, this just might be the best spot for a picnic in Brisbane. On any given day, locals and tourists flock to the area to soak up the sunshine and admire the city. Up high, the view spans from the CBD to the mountains of the Great Dividing Range, while those down below can gaze out over the river. Regardless of your preference, you'll find gazebos, seats and tables, barbecues and enough grassy areas to lay down a picnic spread — plus cafes for those sans food, as well as rock climbing and cycleways for the more adventurous.

NEW FARM PARK
Everyone has enjoyed a beer in New Farm Park at least once. You've most likely strolled around markets, seen a movie and participated in some kind of sport, too, but it's the simple joy of chilling and sipping on something soothing that sticks in your mind and keeps you coming back. It is the only outdoor area in Brisbane where you can have a drink anywhere you like, after all. As a result, there's no such thing as a bad spot here, whether you're keen on looking out over the river, sitting near the rose garden or enjoying the sea of green that's around you. Among its many merits is New Farm Park's proximity to nearby shops, ensuring that even if you spend all day laying around, you're never going to run out of supplies.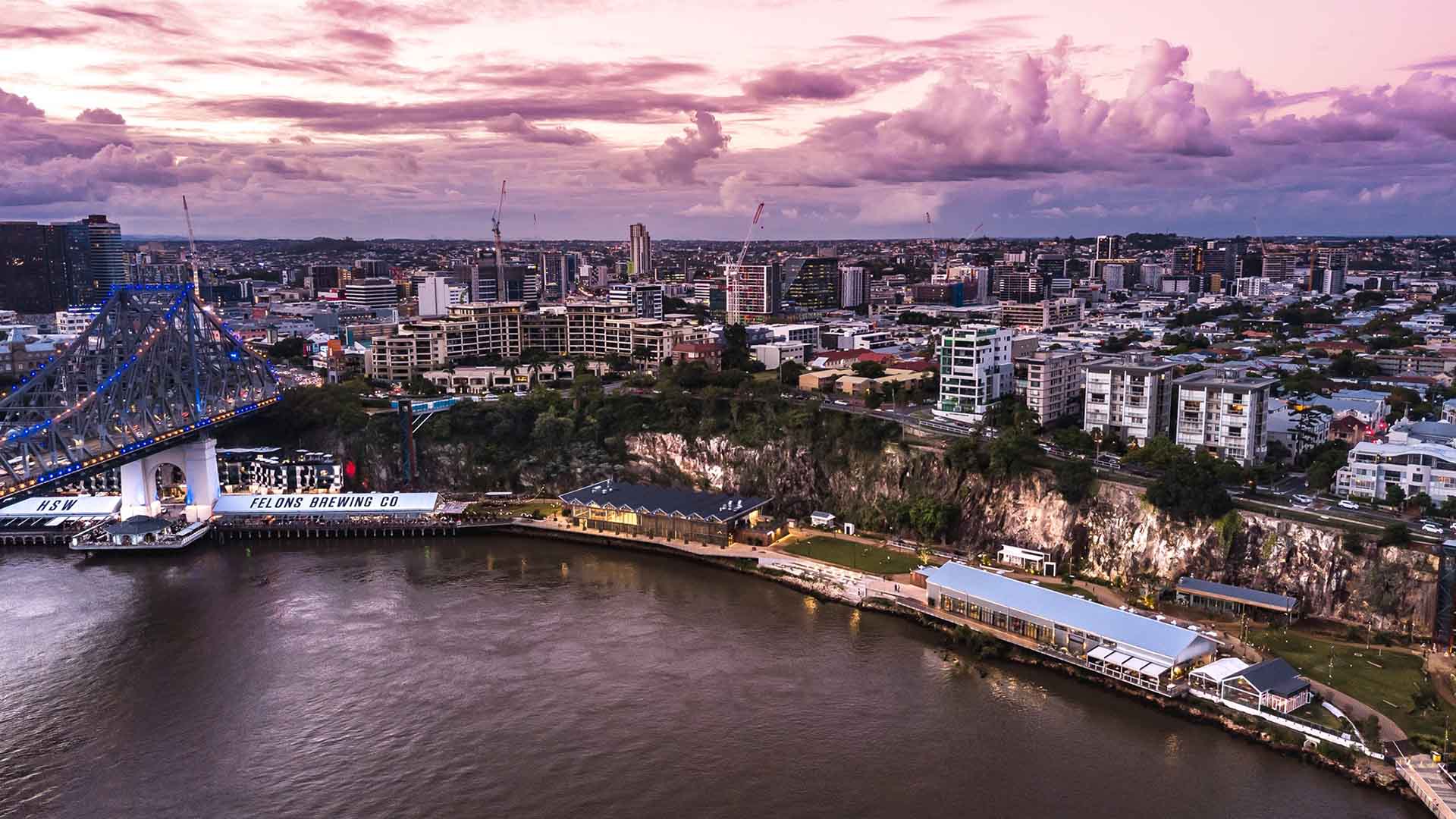 HOWARD SMITH WHARVES
Brisbane's newest precinct is bustling with bars, restaurants and eateries, and it's only going to add more. The area also offers up views from underneath the Story Bridge where you can bring along some snacks for the full picnic effect. Public green space is a huge part of this freshly redeveloped area, giving Brisbanites access to a vantage point that we haven't been able to enjoy in many a year. And there's no need to BYO — you can grab a six-pack from Felons Brewing Co, and some fish and chips, too. Dogs and families are welcome.

CITY BOTANIC GARDENS
Since opening in 1855, the 45-acre City Botanic Gardens has remained the jewel in Queensland's horticultural landscape. Neither flood nor drought has wearied the symbolic heart of the city, with its array of national and international flora plentiful all year-round. It's not just beautiful and accessible — nestled between the river on one side and QUT and Government house on the other as it is — but a sanctuary from the hustle and bustle of inner city life. Where else can you sit on secluded benches scribbled with lover's notes, gaze at ponds housing birds, fish and turtles, and stroll around unique sculptures and themed walkways, all while on your lunch break?

WYNNUM-MANLY FORESHORE
Kilometres of coastline, a lengthy jetty and a pool by the ocean aren't the only attractions located along the Wynnum-Manly foreshore. There's also an abundance of grass, seats and tables perfect for enjoying the view over a meal, as well as a small beach for those eager to sit on the sand. If the weather is nice, expect to have more than a little company; however, this spot to the city's east has plenty of room for  picnickers. You're also in the ideal place for a leisurely post-meal stroll — pick a direction, start walking and instantly soak in the delightful and calming scenery.

PICNIC ISLAND IN SOUTH BANK PARKLANDS
A whole island just for picnics? We'd like to say "yes, really", but this is more a "well, kind of" affair. The South Bank Parklands Picnic Island isn't actually a land mass surrounded by water, as anyone who has been to South Bank before knows, but it is a space dedicated to feasting, knocking back a few beers and enjoying Brisbane's (usually) glorious weather. Don't worry: even if the sky opens here, the barbecues are undercover (and they're free, too). We recommend having your own sausage sizzle with a few beverages in hand, lazing about on the grass and even indulging in some inner-city wildlife spotting thanks to the surrounding foliage and the neighbouring fish-filled pond.

SHORNCLIFFE PIER
Brisbane isn't a beach city. We're not really considered a coastal city either. Still, all you need to do is mosey in the right direction and you'll hit the sea in almost no time at all. For northsiders, or anyone keen on heading that way for their sunny summer outing, the Shorncliffe-Sandgate region has more than its fair share of picnic spots right next to the ocean — plus, the largest timber pier in the city to casually stroll along. The super green Sandgate Foreshores Park is one such place and has exactly what everyone here is after: a killer vista.

MT COOT-THA BOTANICAL GARDENS
The Mt Coot-tha Botanical Gardens are similar to their city counterpart in name only. Just west of the city, you'll find a sprawling wonderland of themed areas, including the Japanese gardens, bonsai house, arid zone, herb garden, and purpose-built, nine-metre-high biosphere slash prized tropical display dome. Wandering around wandering and being wowed by the perfectly manicured showcase of natural beauty is the perfect way to spend a day, but there's more on offer for those wanting to look to the heavens. Here, you'll also find the Sir Thomas Brisbane Planetarium, too.

SHERWOOD ARBORETUM
This heritage-listed gem to the CBD's west has been welcoming the public and its picnics for nearly a century. Here, you'll sit under leafy trees — more than a thousand, in fact — while looking out over your choice of man-made freshwater wetlands or the Brisbane River. Whichever you choose, you're in for both a green and glistening sight — although the plant life is as much of a drawcard as the proximity to water. As the name makes plain, Sherwood Arboretum is all about amassing different species of trees (or collecting them, in a sense), so make time during your picnic to go for a wander.
Introducing Concrete Playground Trips
Book unique getaways and adventures dreamed up by our editors