How to Stay at QT Falls Creek and Royally Dominate Your First Skiing Experience
Balcony jacuzzis, thermal massages, spiked white hot chocolates and pizza-slicing like a pro.
The afternoon before I'm due to hop on a plane for my first ever skiing experience, I decide to be a little more organised than usual and make a list of things to pack. After all, I'd never even seen proper powder before — it couldn't hurt to make sure I was prepared. The QT Falls Creek, where I'd be staying, assured me I could hire everything I needed, but I checked in with Facebook anyway.
"You need a facewarmer!" "THIN woollen socks under your boots!" "No cotton!" "You'll need goggles, you can't hire them!" "SERIOUSLY I'M NOT KIDDING ABOUT THE FACEWARMER."
The Snow had always been something other people did; I am not outdoorsy, my family holidays tending towards reading and puzzles rather than adventure sports, and the whole skiing-snowboarding thing seemed to me to be an expensive, bro-y pastime that required wearing more neon manmade fabrics than I cared to think about. QT Falls Creek had three days and two nights to convert me.
DO
If you're a nervous flyer like me, you might need to take a moment after the flight to Albury in a propeller plane. We were shuttled to the casually glam Atura Hotel in Albury, where we enjoyed a very good breakfast buffet in the huge open-plan lobby/dining area,which looks a little like a Typo exploded in it (lots of dark industrial textures, whimsical mismatching and pastel ceramic pineapples). You've got a long drive out to Falls Creek ahead of you, so it's a great option to stay or at least rest in Albury first. It's slowly building a rep as a great foodie regional centre, and the low-lying, hill-fringed farmland just outside the city is an extremely pretty place to drive through — read our Weekender's Guide to Albury for tips.
The family-owned Falls Creek Coach Services will drive you and up to three mates the hour and a half from Albury to the door of your hotel or lodge and then back again, all for a bit over $700 — which, compared to wrangling a hire car up snowy mountain roads only for it to sit covered in snow for three days, is solid value. After being driven out through vast, hilly countryside and up the mountain in a super-comfy new Land Rover (while I made squee noises as the size of the ACTUAL SNOW snowdrifts on the side of the road increased the higher we climbed), we were checked into the QT Falls Creek, fitted for gear at the hire shop, and booked into a private ski lesson.
QT Falls Creek is a ski-in-ski-out resort — this means it's right there where the slopes and lifts are, so you can come and go as you please, instead of having to schlep to where the skiing is with all your gear and then schlep back. This is perfect for the newbie skier; it was hard enough working out how I was supposed to walk in my rented boots (tip: don't do them all the way up until you're at the lift) as I clumped the ten metres from the door of the QT to the Cloud Nine lift for my lesson.
As the lift scooped us up I squeaked in surprise at the speed, trying to hold onto all my skis and poles and bits as the ground dropped away, but then suddenly it was quiet, and all there was was a white sky dropping flecks of itself into the wind, dark trees with white-laden branches, skiers weaving silently beneath us, and it was the prettiest damn thing ever. Those interludes between the hubbub at each end were easily my favourite way to appreciate this new landscape.
Also, guys, skiing is hard. You'd think that there wouldn't be much more to it than just letting gravity win in a controlled fashion — kids can do it! — but that control is hard to get. Snow is slippery, it turns out, particularly when it's packed down, and rented boots aren't ideal when you need to have both comfort and control (thick socks are your enemy); but they're very welcoming to adult newbies, and a couple of ruddy, polite young men had me pizza-slicing like a pro (that's how you stop) and edging up tiny snowdrifts sideways with a sure-footedness that would make mountain goats jealous. Despite taking multiple breaks to get the feeling back in my feet, on the second day I managed to slide, terrified, and fall, confidently, down a gently sloping 100m strip of mountain, while being overtaken by literal toddlers. You go downhill a lot faster than you'd think, but the first time I tucked in my elbows and picked up a teeny bit of speed, I felt like Bond.
After copping my first ever windburn that first afternoon, I was a little nervous about the facial treatment booked in for me at the cosy SpaQ. But, duh, they're used to dealing with skin that's been out in the weather all day, and therapist Tara worked mandarin-scented scrubby aloe vera magic on my poor face. (I'm not a massage person, but if you're ski-sore, the thermal massage with warming oils got rave reviews from my dinner companions.) A couple of days later, when the ruddiness was completely gone, my skin looked better than it has in years — I'll be paying a visit to the SpaQ in the Sydney CBD soon to try and replicate the magic.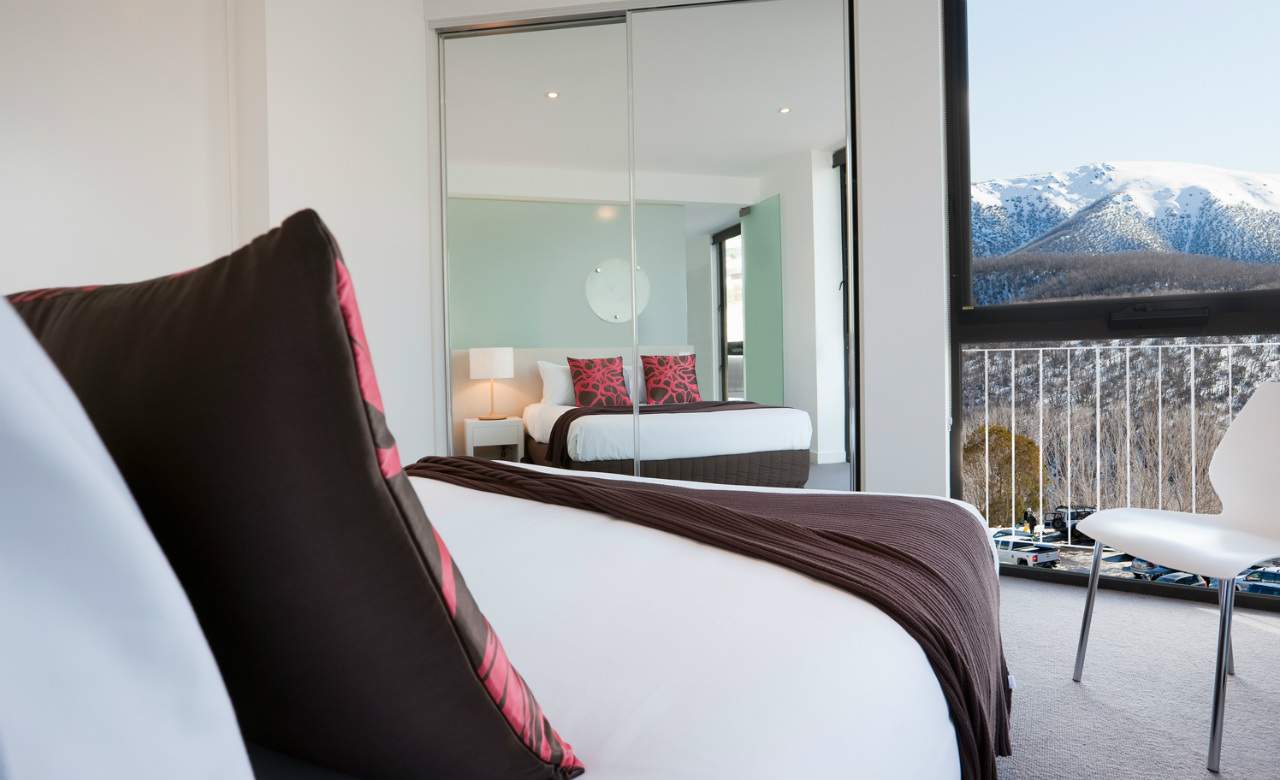 STAY
The QT consists of a couple of discrete angular buildings along the main road; if you drive up yourself, you can park further down the mountain and catch shuttles up to the resort. Our three-bedroom apartment was large and surprisingly airy, with a tiled living area (all the better for shedding snowy layers, but still somehow warm underfoot), a decent kitchen with a well-stocked minibar and free tea and Nespresso, sleek bathrooms supplied with extremely stealable unisex Malin + Goetz toiletries, and a fairly neutral colour scheme (rather than locking themselves into a style, QT wisely kept the trendy decorative touches to easily swapped-out things like textiles).
There was also our very own hot tub outside, which seemed hilarious to me, given how exposed the balcony was, jutting out from the corner of the building. But the view from there, and from the tall windows inside, allowed for both people-watching and snow-watching, and even glimpses of the valley below during short gaps in the whiteout. There are heaps of activities at Falls Creek outside the snow season, like mountain biking and bushwalking, and I figured you could certainly do worse than to hole up in front of that view with a beer on a balmy afternoon, all for seriously bargain off-peak rates.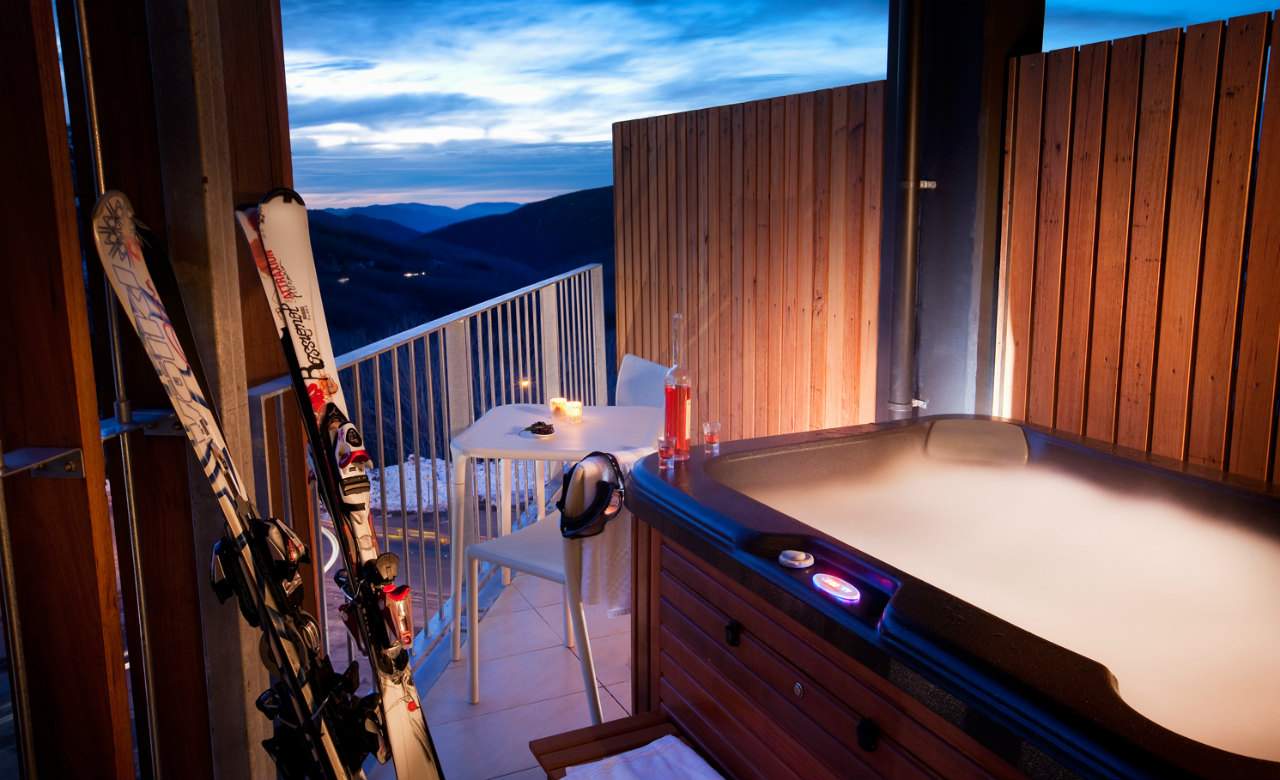 As well as the gear hire shop, which also functions as a souvenir and apparel shop, there's a well-stocked Foodworks and even a little boutique selling drapey knits and locally made jewellery — and that's just around the QT buildings. You can go for a walk to the other resorts and lodges, but there's no need to leave the QT area at all if you just want to chill.
Tucking into the full-sized bottle of extremely decent Cab Sav from the minibar before bed, we debated trying out the jacuzzi; but the wind was whipping sleet against the windows, and extremely comfortable beds with crisp white sheets called to our tired newbie bones.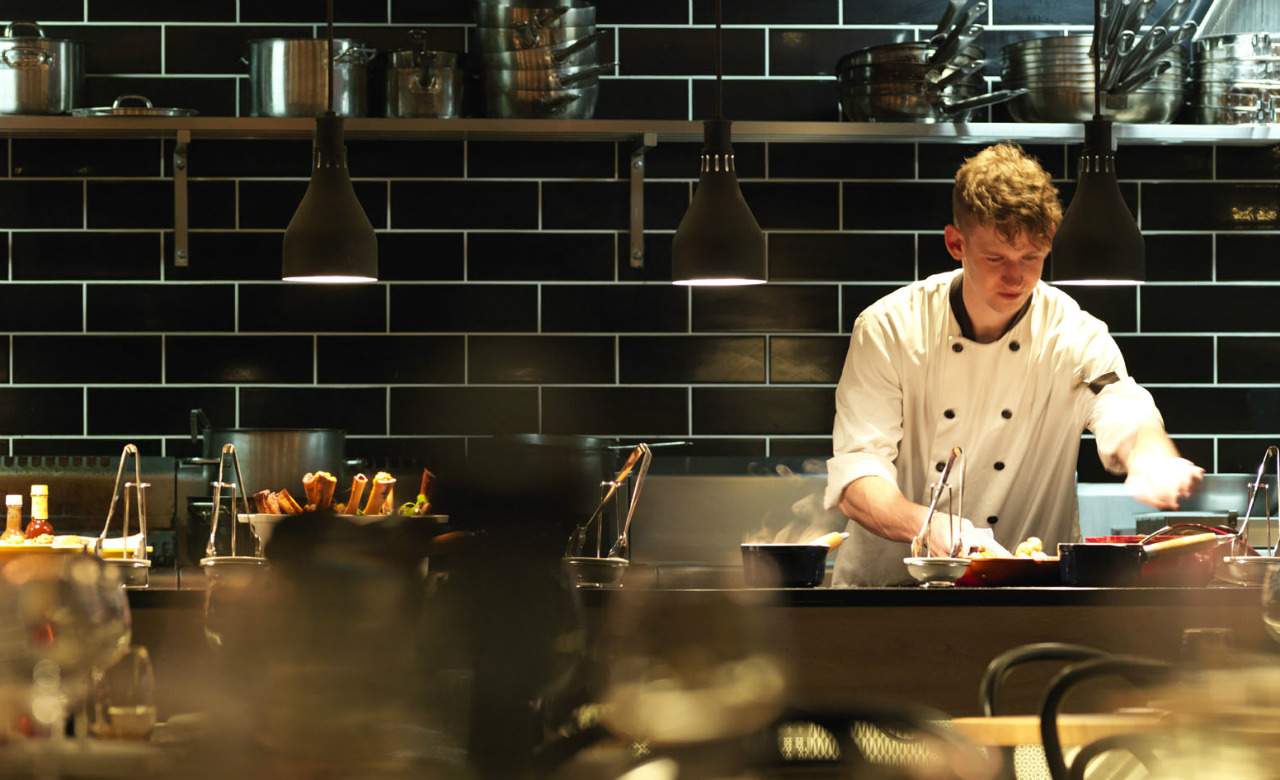 EAT AND DRINK
The breakfast and dinner buffets at QT's main restaurant, Bazaar, were so good-looking that I found myself cackling with glee under my breath as I surveyed my options, much the same way I once did as I planned tactical assaults on the Sizzler all-you-can-eat dessert bar. There are no cubes of jelly and tubs of smarties here, though; the desserts include bijoux bites of panna cotta or crèmes in tiny jars sprinkled with crushed pistachios or brownie crumbs, pleasingly rustic eclairs in various flavours, and heavy dishes full of homey puddings (a rhubarb crumble one night, choc-espresso bread and butter pudding the next). The savoury options — grouped loosely into cuisines, ranging from East and South Asian to Italian and Just Give Me All The Cheese You Have — vary every day, making every meal an adventure in avoiding food FOMO. I managed to remember to order from the chefs standing patiently behind the counters a couple of times (a slim but juicy rump steak on my first night, and an omelette with everything the next morning) but mostly got distracted piling my plate up with bright noodle salad and clouds of bacon risotto, and gazing wistfully at regimented rows of shellfish on ice that were so cartoonishly beautiful I considered trying to just talk myself into liking the taste of seafood.
Breakfast is similarly generous: whether you want a full English, a bowl of porridge to sustain you through the day, or one of every flavour of milk and juice in tiny bottles with striped paper straws, you're sorted.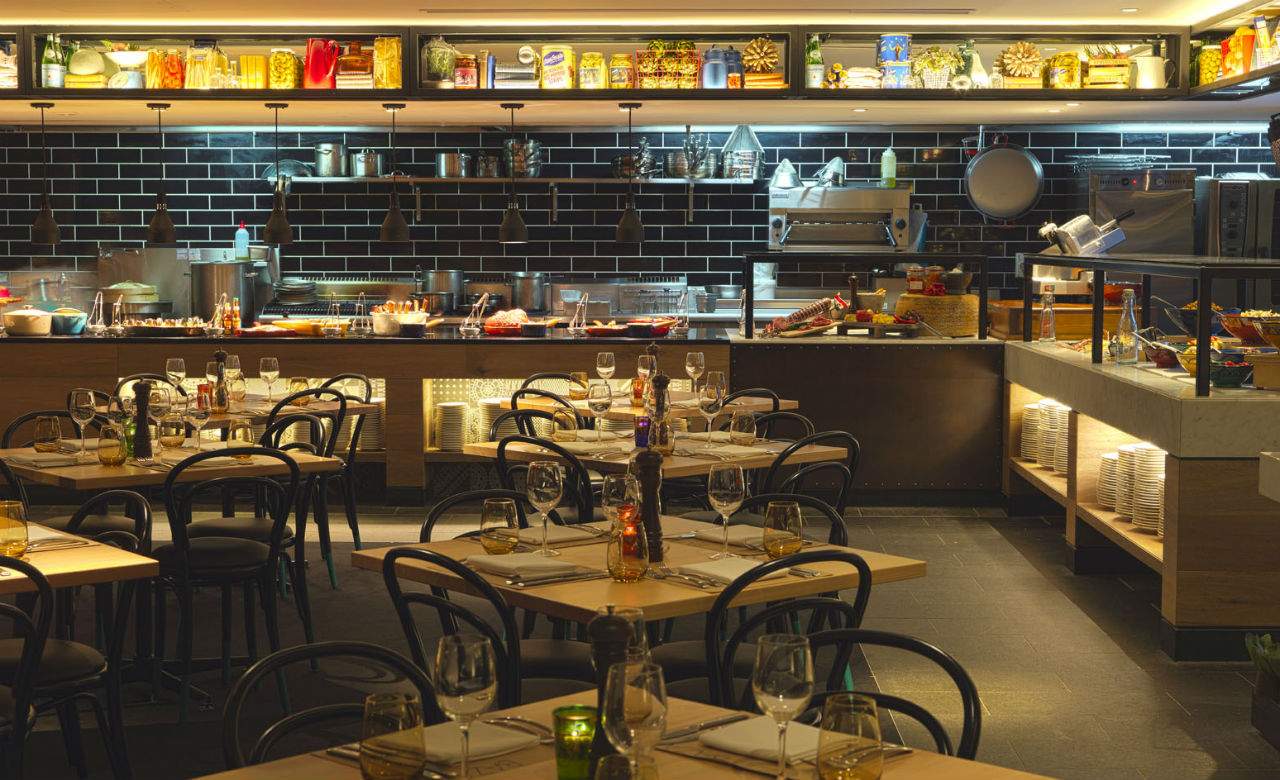 The Stingray Lounge offers a range of things for lunch that are fried and/or covered in cheese; it's a little half-hearted, but after a morning of getting your cheeks ruddy up on the big hill, you'll want to fold that basic fried chicken burger in half and swallow it whole, so there's no need to overthink it. Cocktail-wise, keeping to the classics pays off: a spot-on espresso martini here, a brightening rum toddy there.
As I hopped off the lift after an ill-fated snowboarding lesson on my last morning (two points of contact with the ground are definitely better than one), I spotted the hole-in-the-wall coffee shop tucked away near the SpaQ entrance. One of the hire shop staff recommended their coffee as the best on the mountain, but I found myself ordering a Polar Bear — a white hot chocolate with peppermint schnapps and Baileys — as I was convinced that my ski-bunny initiation was incomplete without warmed alcohol.
Then, back in the apartment, I eyed off the icicles on the balcony railing and the gentle waft of the snowflakes, and decided it was now or never. Beanie on head, still-warm Polar Bear in hand, I placed my towel within arm's reach and slid into the welcoming embrace of the hot tub. I sat there for a good 20 minutes, gazing out at the flashes of dark-ridged mountains visible through the mist on the other side of the valley, cosier than a joey in a jumper, not even thinking about what I might be missing on the internet, thinking about nothing at all except how nice it was.
Drinking hot, boozy milk in my balcony hot tub, with the sounds of kids laughing and lift machinery clanking and Feist on the Stingray sound system, all damped by that canopy of white that went forever — I can see myself doing The Snow again, but boy, did this place set the bar high.
Dylan French stayed as a guest of Falls Creek QT.