Teamlab's Latest Eye-Popping Site Combines Historic Ruins, Dazzling Digital Art and a Sauna
The folks behind Japan's vibrant digital art museum just keep opening must-visit venues.
Whether it's opening a sprawling art museum, taking over a 400-year-old castle, turning old oil tanks into a digital waterfall, bringing waves of light to Melbourne or planning its first permanent European site, Teamlab's digital installations are never less than impressive. The term definitely applies to the interdisciplinary collective's latest venture, too. And if you find its work soothing, those feelings are bound to kick in with gusto when you're wandering around historic ruins and getting steamy in a sauna.
In its latest dazzling permanent attraction, Teamlab has paired up with Japan's Mifuneyama Rakuen Park. If that sounds familiar, that's because the two have collaborated before. From July–November each year, an installation called Teamlab: A Forest Where Gods Live transforms the site into an interactive playground; however, if you'd like to check out the collective's wonders in the same area throughout the rest of the year, now you can.
This time around, Teamlab has specifically joined forces with Mifuneyama Rakuen Hotel Rakan Bath — so you can head to the latter, then check out the former's works (or vice versa). It's calling the new venture Teamlab: Ruins and Heritage: Rinkan Spa and Tea Ceremony, and describes it as an "art and sauna experience within history and the forest", even though its projections within the tree-lined part of the site are only on offer for five months of the year.
No matter when you head by — when international travel resumes, of course — you'll be able to head to Mifuneyama Rakuen Takeo's bath house ruins to see Teamlab efforts. Glowing, colour-changing lanterns have been on display since the new attraction opened in November 2020, and digital flowers have been blooming over the bathhouse walls since December. Visitors can also watch flowers, people and water particles dance across huge megaliths, and feel like they're wandering through a place where time has stopped in the process. Or, you can check out butterflies fluttering through underground ruins.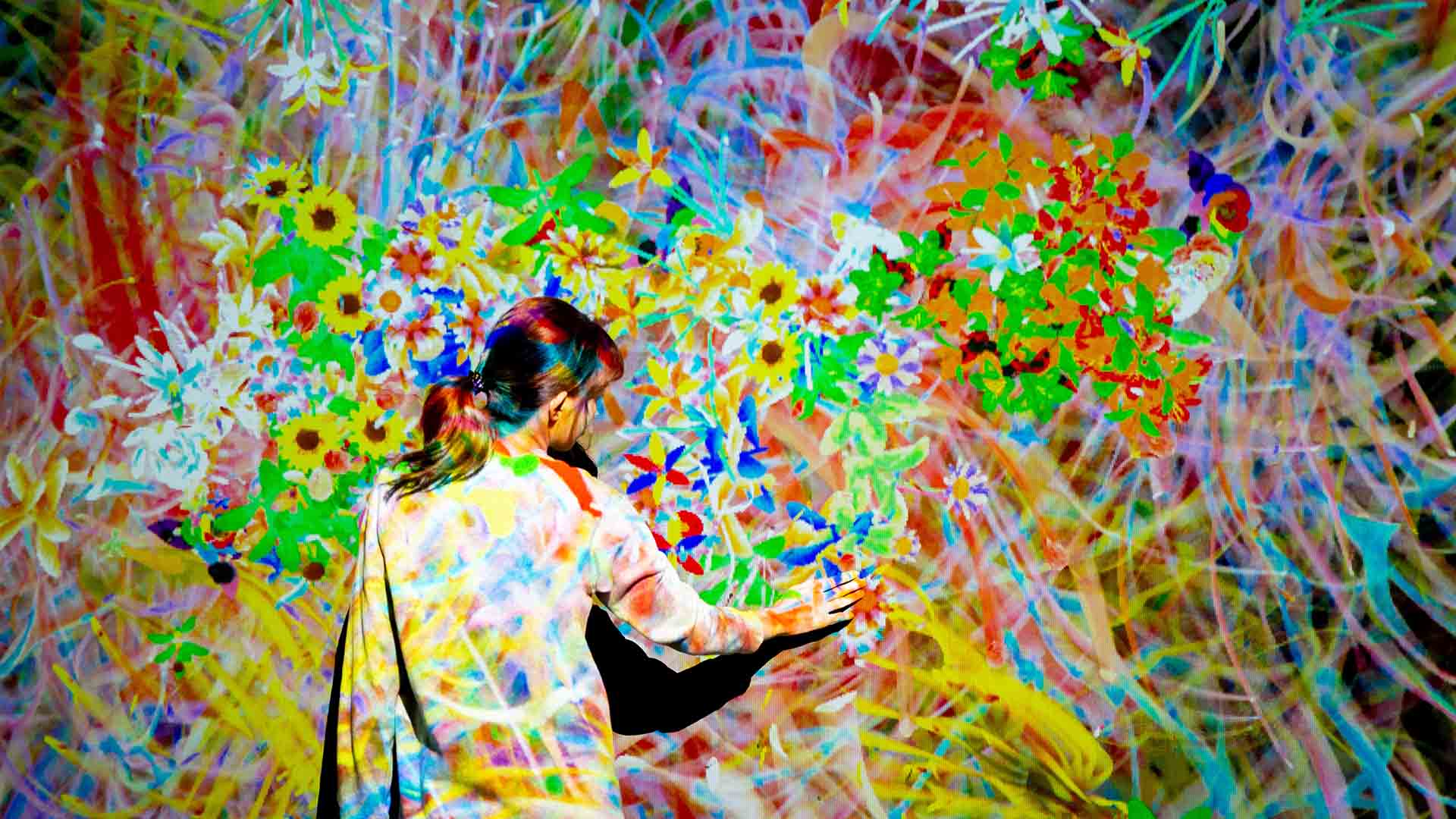 There's also a tea house, Mifuneyama Rakuen Park's usual features — including carvings thought to date back 1300 years, Japan's seventh-largest tree and the stone gate to a castle — plus the spa facilities. Normally, some of these sites are only available to hotel guests; however, Teamlab is selling combo tickets to let patrons enjoy them as part of the new venture.
To check out all of the above, you'll need to head to Kyushu, the third largest and most southern of Japan's islands. And, when you're next able to make overseas travel plans, you'll want to book your visit to Teamlab: Ruins and Heritage: Rinkan Spa and Tea Ceremony in advance. That's sound advice for every Teamlab venue anyway, but capacity for the Rakan Bath sessions is limited to ten men and ten women at a time.
Teamlab: Ruins and Heritage: Rinkan Spa and Tea Ceremony is permanently on display at Mifuneyama Rakuen. Takeo City, Kyushu, Japan. For more information, visit the exhibition website.
Images: teamLab.
Introducing Concrete Playground Trips
Book unique getaways and adventures dreamed up by our editors