Remixing Culture: A History of the Best Modern Theatrical Revisions of Classic Texts
Here's all the intel on the origins of some of your favourite musical stage productions.
in partnership with

These are the stories that we have read and adored — but what happens when they take a turn in a different direction? Over the years, we have seen books turned into television shows, movies and musicals, and which iteration is better is always a hotly contended topic. So now, with reboots being one of the biggest cultural moments, many of us are enjoying the experience of meeting different sides of our favoured characters and potentially finding out who they really are.
There's more than a few classic texts we could delve into, but these seven are spectacular. By being shown an alternative angle, we uncover the events that have shaped who certain characters are and discover the reasons why we have learned to love them or love to hate them. Some may say our theatrical creatives are running out of ideas but musicals like & Juliet prove otherwise.
The romantic production is based on one of Shakespeare's best-known plays (Romeo and Juliet, obviously) and while we have seen many movies creating and recreating the story, it's always played out the same way. So, what happens when the characters break the mould and stay true to who they are? What happens when they ditch the script of words that have been written for them? Let's dive into the history of modern takes on classic texts.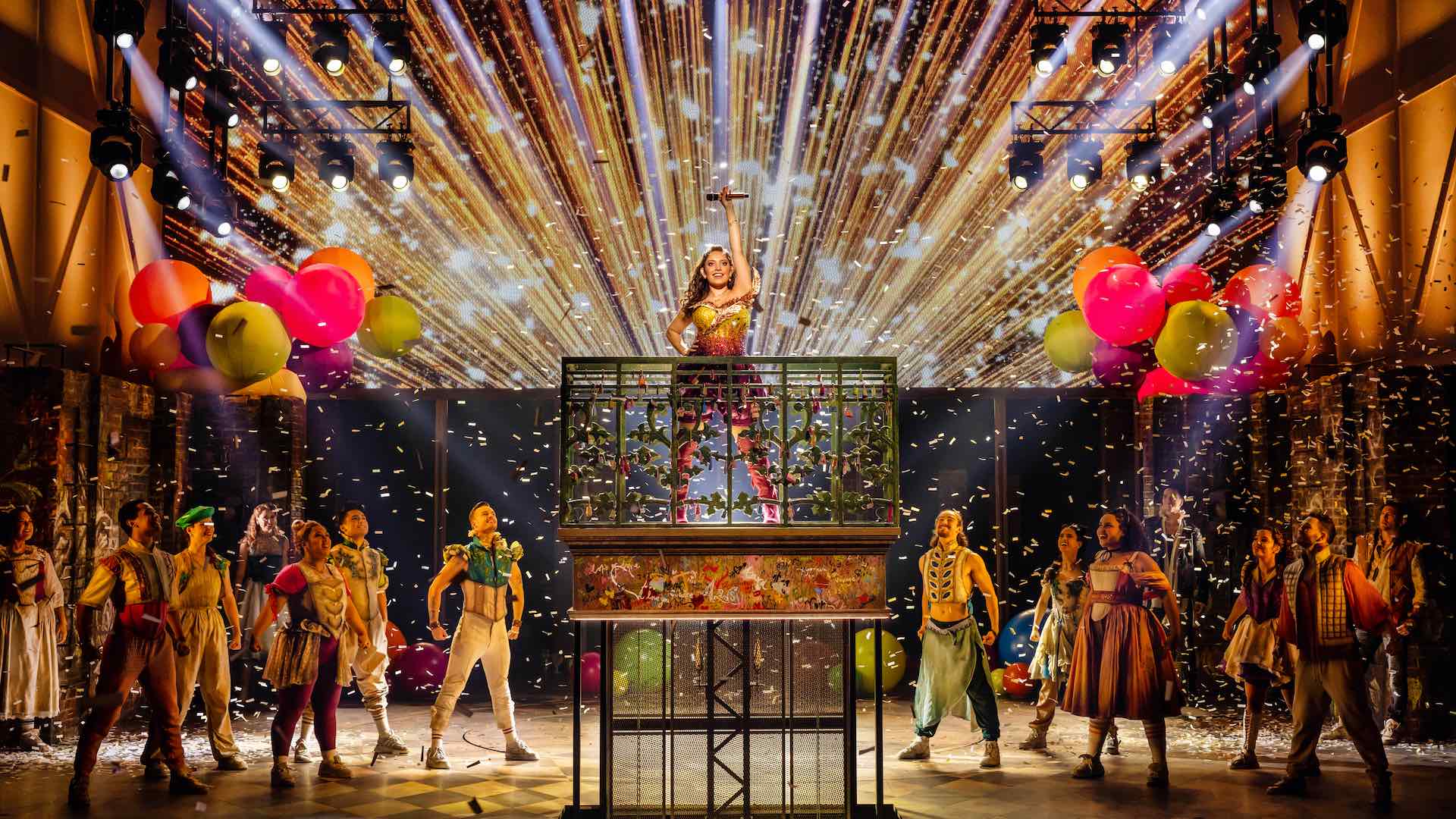 & JULIET
A war between families, a story of love and a tragedy: these are the themes you automatically go to when pondering Romeo and Juliet. The fate of two star-crossed lovers can only end one devastating way... or so we think. With music by pop master Max Martin and dialogue and story by Schitt's Creek writer David West Read, & Juliet tells what could have happened had Juliet had another chance at life.
Unlike the histories you're about to read, this powerful production takes remixing to a new level by expanding and giving more agency to its romantic lead — enabling her to embrace her own identity, while introducing new characters and elements, along the way. The superstar team has successfully — with proof in the awards — turned a classic tragedy into an exceptionally moving and joyful new legacy.
This particular piece of theatre is showing until Saturday, July 29 at Melbourne's Regent Theatre (so nab your tickets, stat, if you want to experience the twisted take).
HAMILTON
As a founding father of the United States, Alexander Hamilton has firmly cemented his place in American history. And the global sensation Hamilton — based on the founding father's life — has done the same. Impressively, Lin-Manuel Miranda both wrote and starred in the electric historical reproduction — a musical that infused hip hop, rap, R&B and soul to create a reimagined history. With a diverse multicultural cast, this musical explores love, loss, forgiveness and ambition, delivering threads of story we can all relate to. Miranda stayed true to what was written in the history books about Hamilton, but in a spark of creative genius, turned the moment that ended his life into a beginning.
LES MISÉRABLES
Written by Victor Hugo and published in French in 1862, Les Misérables is the novel telling the story of Jean Valjean. Valjean is a man who was imprisoned for 19 years and was able to turn his life around all the while being scapegoated by obsessed police inspector Javert. In 1980, a musical with the same name was created, adored and subsequently inspired multiple cinematic renditions. In the modern makings, some characters differ from who they are in the book and some are forgotten completely. Using songs and stage, the message of the story comes to life vividly — though with time constraints, the strength of some characters are never as known as they are in the book.
SUNDAY IN THE PARK WITH GEORGE
This one's a fun one: Sunday in the Park with George is based on a brightly hued painting by post-Impressionist artist Georges Suerat — "A Sunday Afternoon on the Island of Grande Jatte" — completed between 1884 and 1886. Written by James Lapine and with music by theatre legend Stephen Sondheim, the musical tells a fictional tale exploring the artist's journey. It's a truly original piece, with most of the painted characters appearing on stage. Inspired by the brush strokes, costumes come to life and characters flow over the stage in homage to the artwork. This musical only enhances the interest in this painting by offering each person a story that is truly their own.

MATILDA
Written by Roald Dahl and first published in 1988, Matilda began as the charming-yet-terrifying novel telling of Matilda's childhood. We had the sugar sweetness of Miss Honey, Matilda's kindergarten teacher, the cold dismissiveness of her parents and the terror of Miss Trunchbull, the headmistress. It was brought to the screen in 1996, delightfully following the hero's journey of the precocious child as she discovers her magical powers. In 2010, the musical co-written by Australia's own Tim Minchin was born. Going almost full circle, and based off the success of this stage adaptation, another movie was released in 2022 — that kept clear of any twists, staying true to Minchin's clever text.
OLIVER!
A true classic text, Oliver Twist was written by Charles Dickens in 1838. Originally published in monthly instalments, the book depicts the gruelling (and gruel-filled) life led by orphans living in the 1830s. Specifically: an antics-filled life with exposure to criminal masterminds, forced into child labour and without education. Since its release, the story has been retold in various forms as silent movies and films and, of course, musically on stage. Most have kept the story as it was originally intended, but there are versions that tell the story from different points of view, too. As we know, Disney must make its mark on great cultural works and it did with the release of Oliver & Company in 1988, an animated feature about a homeless kitten.
THE LION KING
Shakespeare's works have been adapted countless times. Here, it happens yet again in Disney's film The Lion King. Taking narrative cues from Hamlet, The Lion King introduces us to Simba, a cub that's grappling with the loss of his dad. Running away from his broken heart, we follow the furry protagonist on his journey of self-discovery, which ultimately leads him back to *spoiler alert* save the day for his pride.
A movie with music written by the inspired pairing of Elton John and Tim Rice, the masterpiece was turned into a Broadway spectacle in 1997 — and has stayed on stage pretty much ever since. There have been musical changes and whole new songs, Rafiki now being played by a female lead and a special dedication to highlighting the richness of African culture. In 2019, a photorealistic computer-animated remake was created, bridging the gap between the Disney movie and the musical by focusing on African culture in both its casting and music choices.
If you're after a musical theatre experience that fantastically reimagines a classic text, look no further than '& Juliet'. The show is now playing at the Regent Theatre until Saturday, July 29. To nab your tickets, head to the website.
Concrete Playground Trips
Book unique getaways and adventures dreamed up by our editors