DESIGN & STYLE
Australia's Warmer and Drier Than Average Weather Is Set to Continue Well Into 2020
To the surprise of no one, 2019's toastier-than-usual conditions will keep going until autumn.
The summer of 2018–2019 wasn't just hot. According to the Bureau of Meteorology, it was Australia's warmest on record. And the rest of the year has followed a toastier-than-normal pattern, with the record-breaking summer followed by a hotter-than-standard autumn, a warmer-than-usual winter and a sweltering spring as well.
To the surprise of no one, the next few months look set to continue the trend, with BOM releasing its latest climate outlook. It spans December 2019–March 2020, and includes all of the usual terms we've all become accustomed to hearing: warm, dry, temperatures above average and rainfall below usual levels.
Of course the period in BOM's new outlook does cover summer and the beginning of autumn, so weather across the country was never going to be chilly. Still, if you were hoping for bearable heat — or prolonged rain on the east coast — there's little in the way of good news.
As seen in spring, below average rainfall is forecast around most of the country, as well as above average temps — and the mercury is set to rocket both during the day and at night. In other words, if you call most of mainland Australia home, there's a very good chance that you'll experience summer and early autumn temperatures that are toastier than the median. The far west coast is expected to receive more rain, and the nation's southeast may experience slightly cooler nights in December, but it's anticipated that everything else will go up, figures-wise.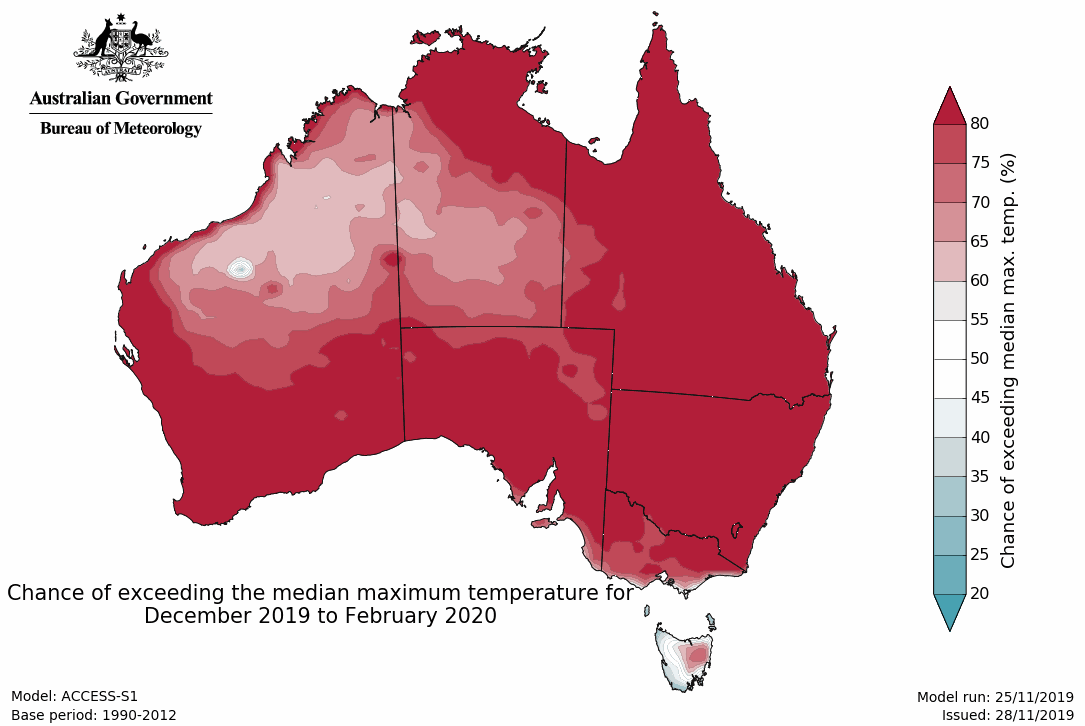 Apart from Tasmania, the absolute lower edges of South Australia and Victoria, and parts of inland Western Australia and the Northern Territory, the whole country is tipped to endure maximums higher than usual — at least 70 percent more likely. That includes the entirety of Queensland and New South Wales.
If you're wondering exactly what's in store, it's always worth keeping the usual daily temps across the period in mind — and remembering that they'll be exceeded. In Sydney, that means the mercury will soar above a 25.2-degree maximum in December, a 26 top in January, a 25.8 max in February and a 24.8 high in March, while Melbourne can expect temps above 24.2, 26, 25.8 and 23.9 in the same months. In Brisbane, the standard tops range between 29.2–30.5, and in Perth it spans 29.1–30.6.
When it comes to rainfall, the news is similar — after what's already been a catastrophic bushfire season for regional areas, not to mention the ongoing drought conditions that farmers have been enduring. Indeed, BOM notes that "the outlook for drier and warmer than average conditions will maintain that heightened [bushfire] risk over the coming months", and that "the risk of heatwaves is increased" as well.
Yes, the rest of the year is predicted to be drier than average, with only the western WA coastline (stretching from the Midwest to the Kimberley) rating any chance of receiving more rain than usual. BOM also notes that, "while outlooks for drier than average conditions may ease for some areas heading into 2020, several months of above average rainfall would be needed to see a recovery from current long-term rainfall deficiencies".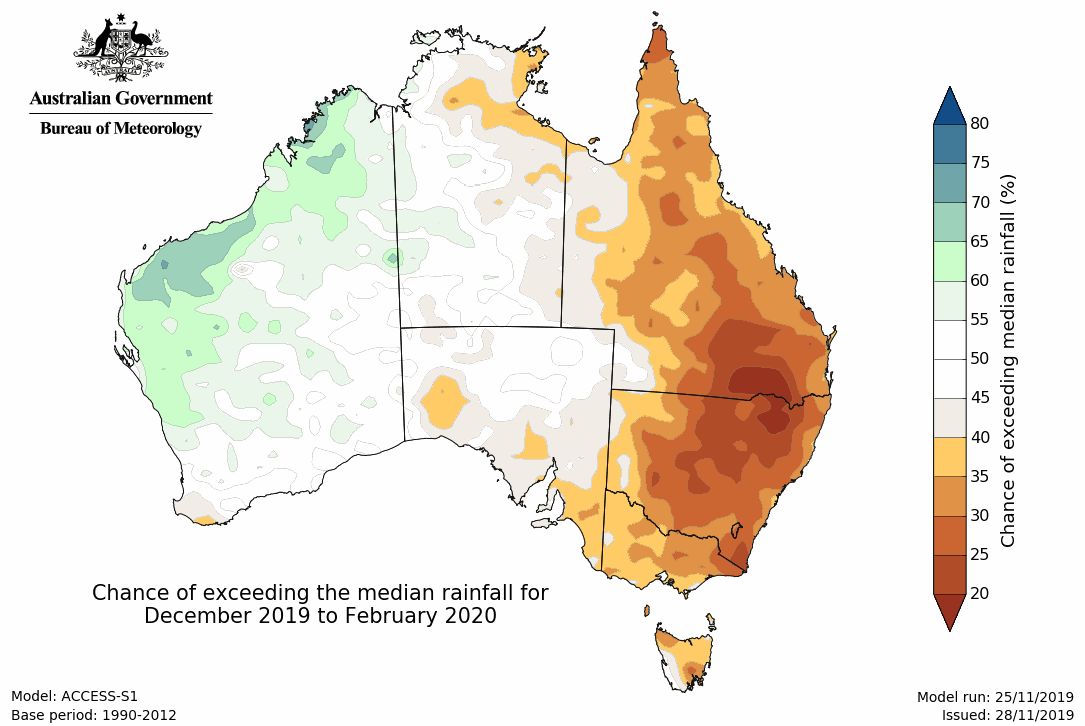 Every time that BOM peers a couple of months into the future, the results seem to follow the same pattern. Let's not forget that in 2018, overall, Australia copped its third-warmest year ever — or, in our winter this year, that the planet may have endure its hottest month in recorded history.
If it isn't part of your end-of-year routine already, we suggest planning plenty of time in the coolest places you can find — beaches, pools, rivers or anywhere with a refreshing swimming spot — this spring and summer.
Graphics: Bureau of Meteorology. Top image: Rainbow Beach, Tourism and Events Queensland.
Published on November 30, 2019 by Sarah Ward