FOOD & DRINK
The Best Spots for a Boozy Brunch in Melbourne
Swap your muesli for a mimosa, your coffee pot for endless flutes of champagne, and ruin all regular brunches forever more.
The Best Spots for a Boozy Brunch in Melbourne
Swap your muesli for a mimosa, your coffee pot for endless flutes of champagne, and ruin all regular brunches forever more.
Nothing says baller status quite like free-flowing champagne, fluffy eggs topped with caviar and a cart of cocktails — particularly when it's all enjoyed before midday. But thanks to Melbourne's new obsession with boozy brunches, us mere mortals can live like Queen Bey and Jay Z, even if just for a couple of hours. Whether you're planning your weekend around it or treating your hungover self, here's the lowdown on Melbourne's best brunches that come with booze. Just remember to behave yourself or you won't make it to midday.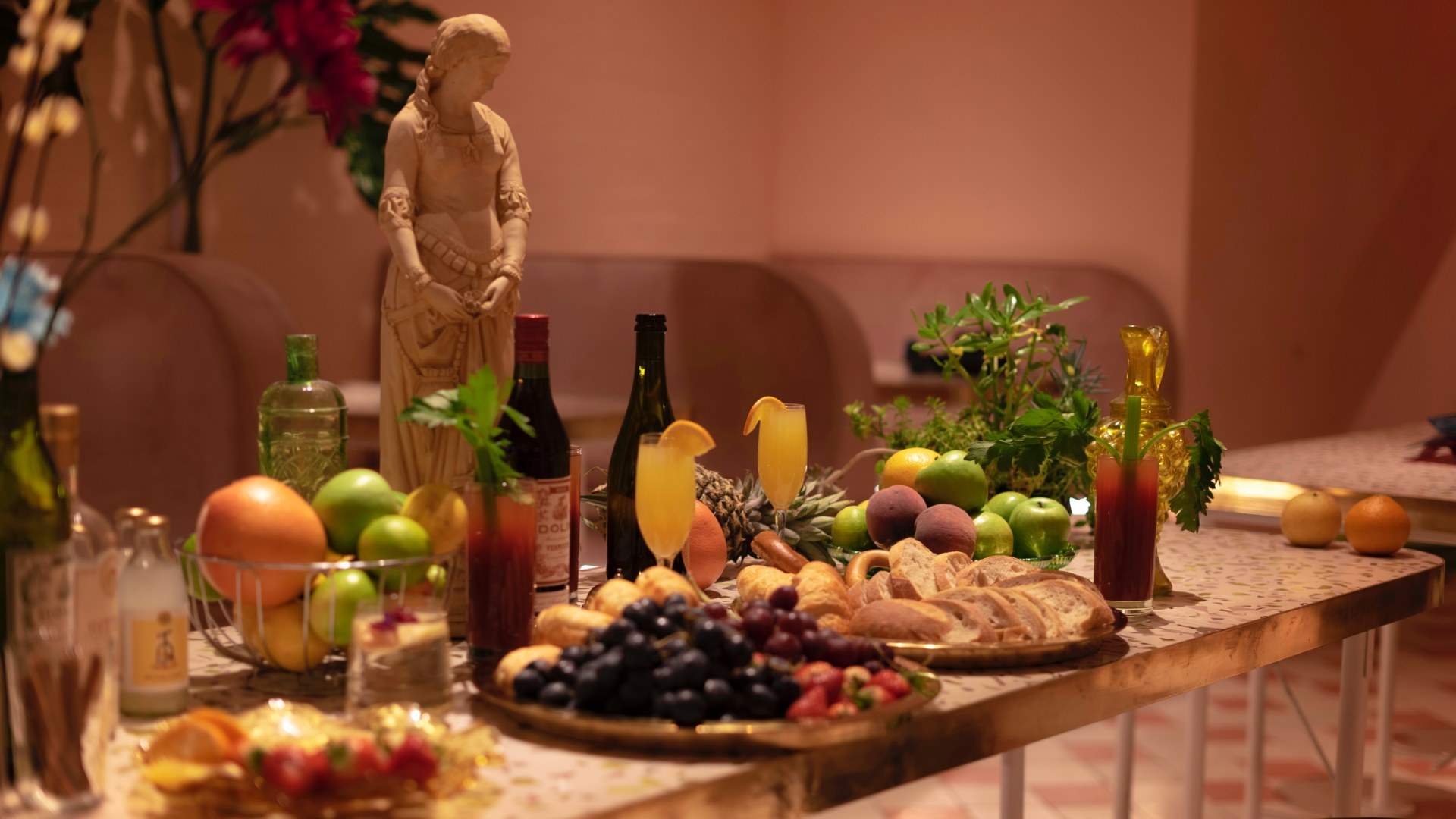 If it's been a while, or ever, since you've attended a regular Sunday church service, this one just might make you a believer. Dreamy pink palace Peaches is gearing up for summer with its weekly Sunday Service — that's bottomless mimosas from midday till 2pm for $45 per person. If that ain't sweet enough, the angels are also providing free pastries and fruit. Bless you, Peaches.
When? Midday–2pm, every Sunday.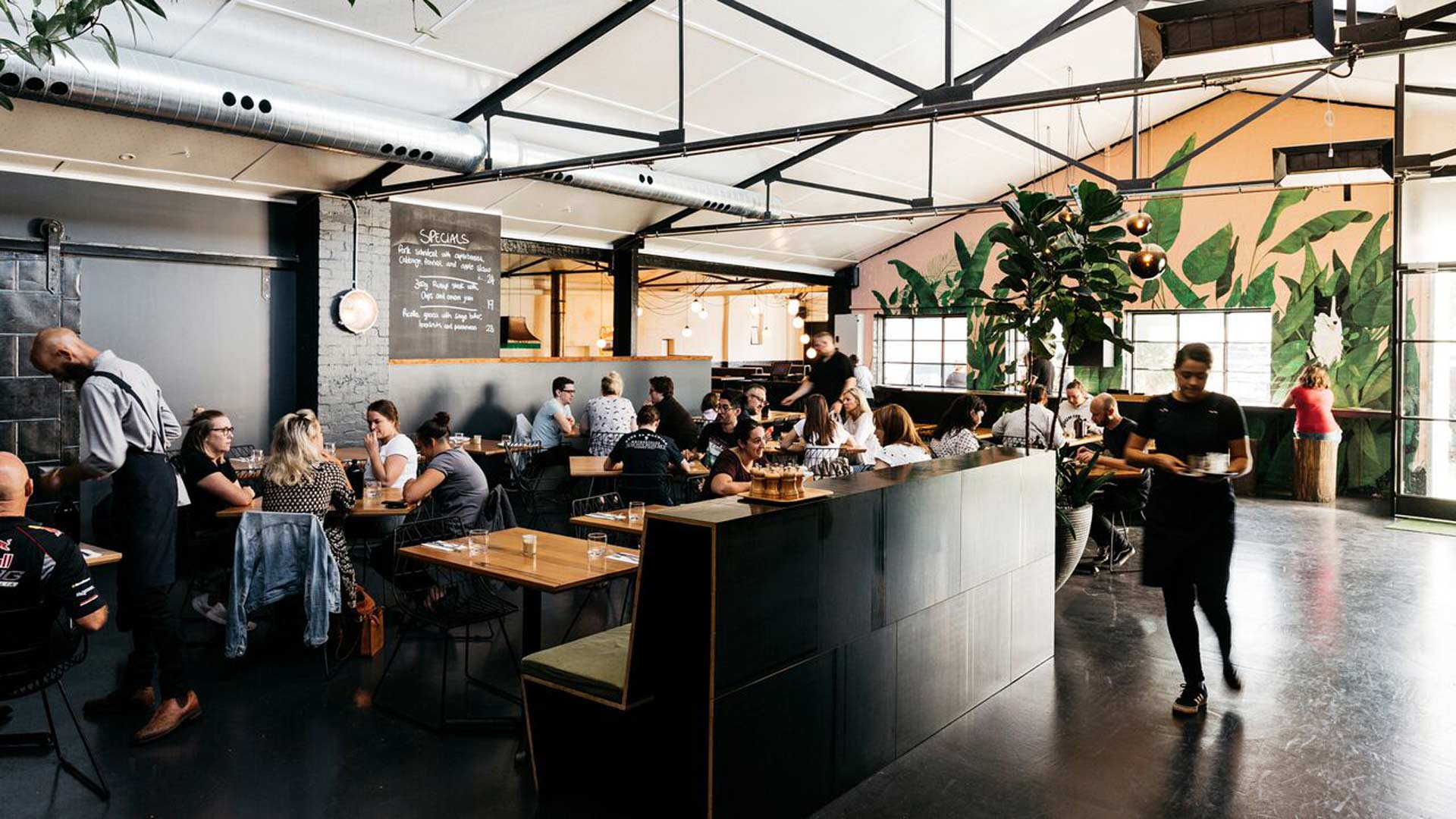 Those a little further north will welcome the news of friendly local bar and restaurant Stray Neighbour throwing its hat into the boozy brunch ring. Get a couple of friends together and stray just over Bell Street for a bottomless brunch offering something slightly different than the norm. For $69 each (with a minimum of four people per booking) you'll be downing croquettes, serrano jamón on grilled sourdough, egg salad with caviar on brioche, and ricotta doughnuts with yuzu curd. All of that comes paired with two hours of unlimited cocktails including the crew's Stray Spritz, espresso martinis, tropical daquiris and more.
When? From 11am every Saturday and Sunday.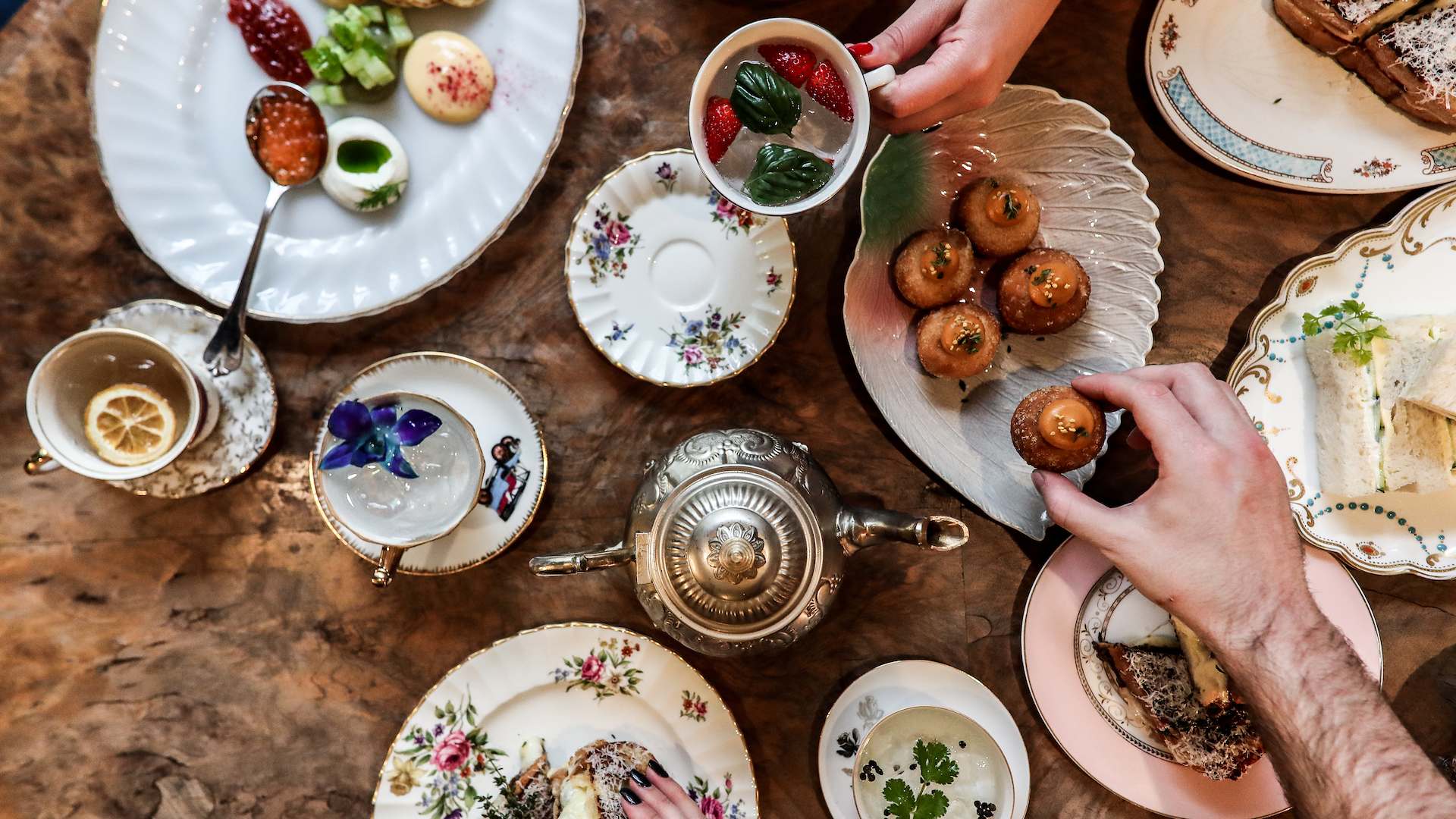 Okay, so this one is "technically" afternoon tea. But if brunch was restricted to those that make it to the restaurant by midday it would just be downright unfair. Time is a construct, etc, etc. Every Saturday, State of Grace is inviting mad hatters to a Bottomless G&Tea Party for $55 per person. Customise your tipple by picking your gin — select from one of four gins infused with marmalade, chamomile, peppercorn and coriander or strawberry and basil, or keep it classic — and your mixer, with tonic, sparkling grapefruit, ginger beer, bitter lemon and spiced apple on offer. No high tea is complete without cucumber sandwiches, and you'll also get warm bellinis with Yarra Valley caviar, French onion soup toasties, gin and orange curd-filled doughnuts, and gin and juice sorbet pops, with white chocolate, rosemary and bitters.
When? Midday–2pm, every Saturday.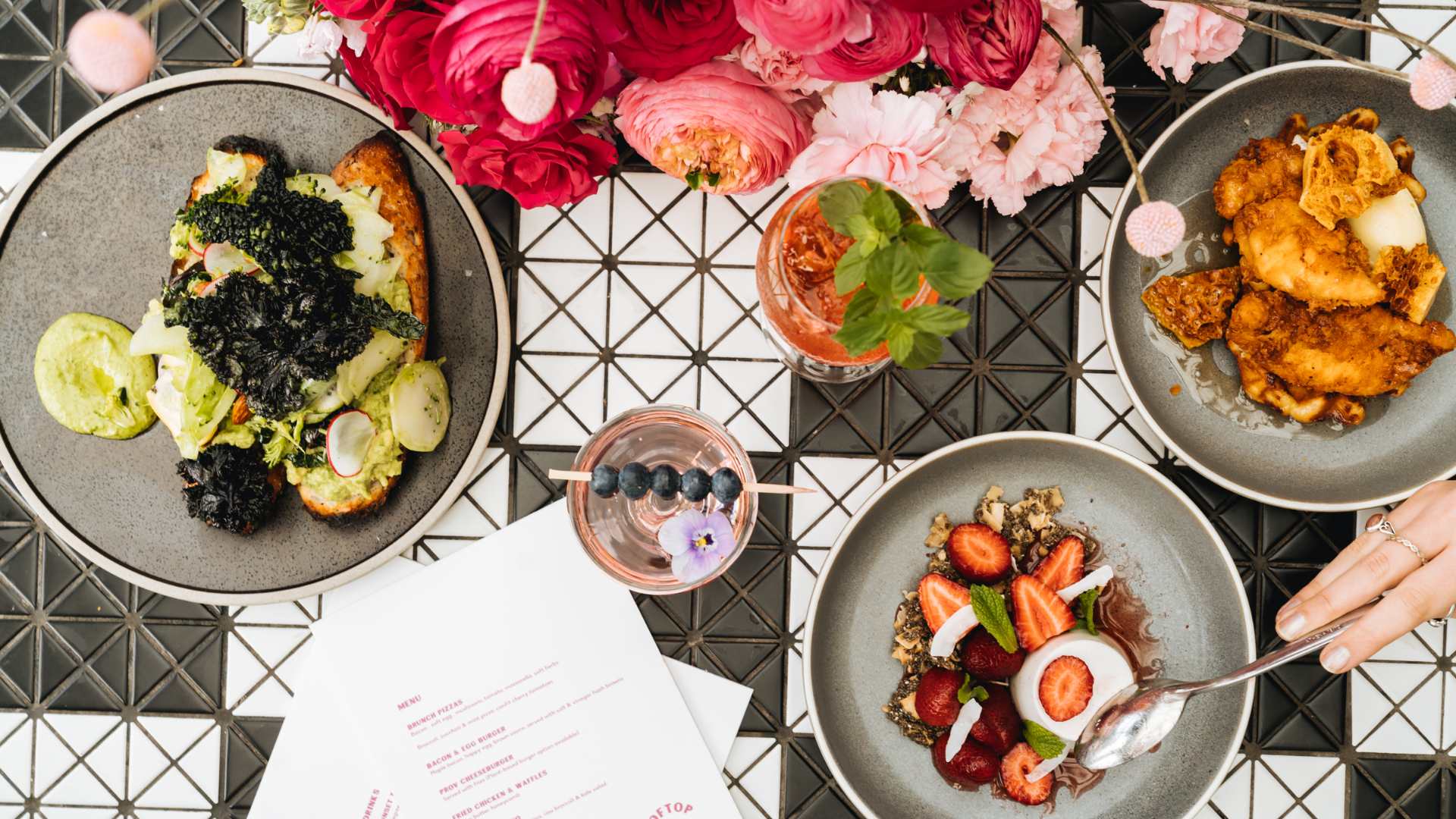 The Provincial Rooftop's rosé-gin bottomless brunch sessions run from 11am–1pm every Saturday and Sunday right through the warmer months — you'll be sipping free-flowing rosé-gin cocktails, featuring 78 Degrees Sunset Gin and a healthy dose of edible glitter all summer. There are a variety of cocktails to choose from, alongside bottomless mimosas, house wine and beer. The kitchen is plating up a menu of summery brunch eats, including bacon, mushroom and soft egg pizzas, vegan burgers, and crispy fried chicken and waffles. As for dessert, there's a pop-up ice cream cart — try the boozy strawberry rosé-gin number, the vegan-friendly Belgian chocolate or vanilla choc chip, or the zesty lemon meringue pie creation. This one clocks in at $60 per person, which includes your choice of brunch dish, ice cream and two hours of bottomless drinks.
When? 11am–1pm, every Saturday and Sunday.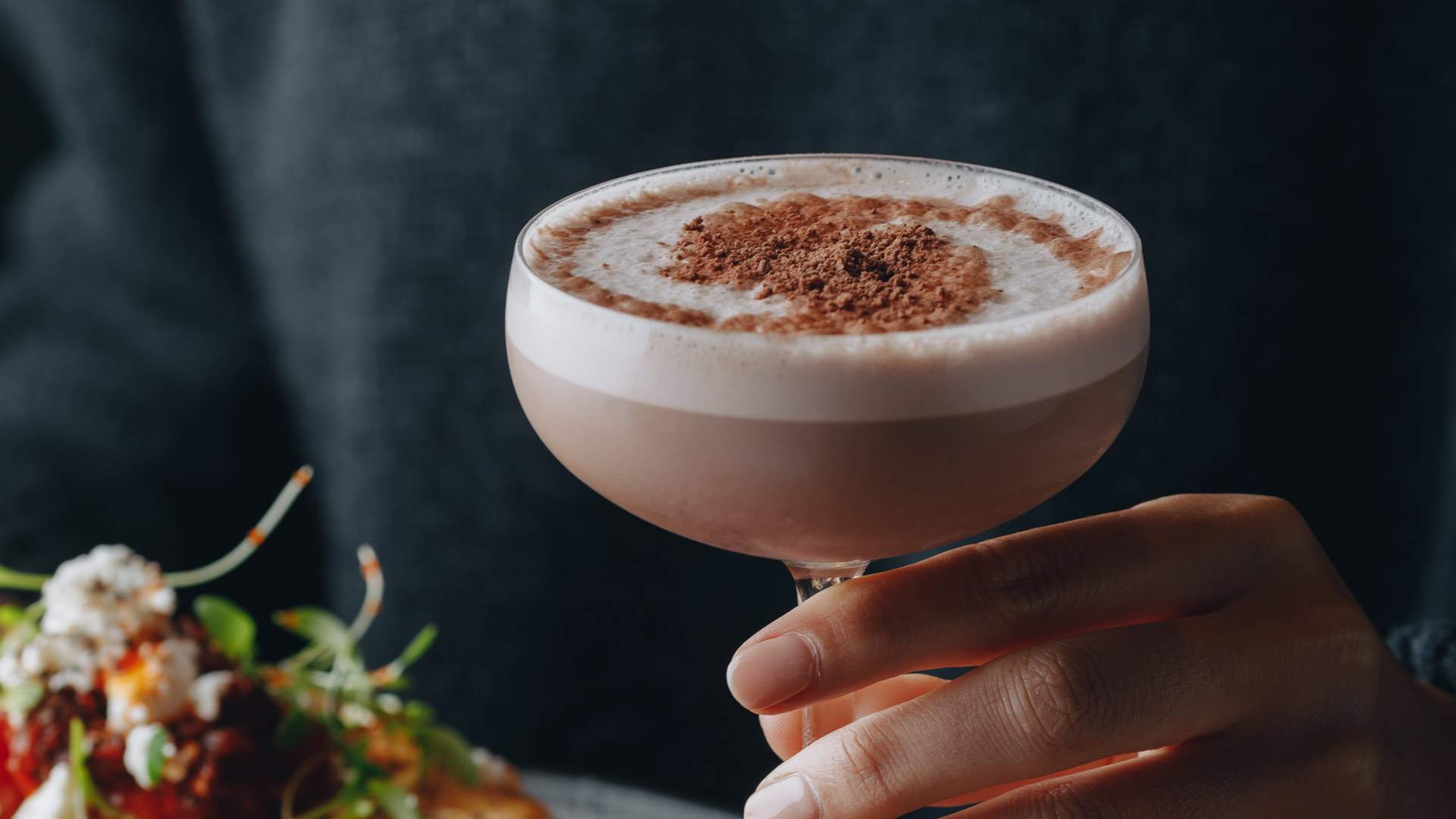 JAMU, RICHMOND
Known for its fusion of Malaysian flavours and modern Australian techniques, Jamu is serving up a bottomless feast every Saturday and Sunday afternoon. For $58 each, you can graze your way through a feed of punchy, Asian-inspired eats, like edamame guacamole and lotus chips, pillowy bao, steamed dumplings and saucy chicken wings. You'll also enjoy free-flowing tap beer, prosecco, Pimm's, Aperol spritzes and mimosas. If you'd prefer to go a la carte for brunch, or want to booze up your weekday brekkie, you can do that too. The restaurant is serving up house-made crumpets, buttermilk pancakes with grilled banana and croissant ice cream, and Meredith goat's cheese scrambled eggs every day of the week. To drink, there are — wait for it — Milo martinis. Yep, the boozy concoction of your wildest kidult dreams. It's made with cognac, milo and condensed milk and available from 10.30am.
When? Bottomless feasts are available midday–2pm and 3–5pm, every Saturday and Sunday.

Melbourne's humble bottomless brunch has been given a full-blown Mexican makeover, courtesy of CBD taqueria Bodega Underground. The weekly booze-matched feast is enough to put most of those other sparkling-and-smashed-avo sessions to shame. Bodega dishes up a $59 bottomless 'mexi-brunch', from midday every Saturday at its cosy Little Bourke Street den. Here, you can pretend like you're day-drinking somewhere between Cabo and Cancun, as you dig into a hearty five-course spread of tacos, chilaquiles and ceviche. If you're GF or vegan, the team can accommodate.  Alongside the festive feast, you'll score 90 minutes of unlimited cocktails, with each of the drinks on offer rocking their own Mexican twist. We're talking spicy, beer-infused micheladas, bloody marias, tequila-based palomas and even something called a Mexi-Mimosa.
When? 11.30am, 1.30pm and 3.30pm every Saturday and Sunday.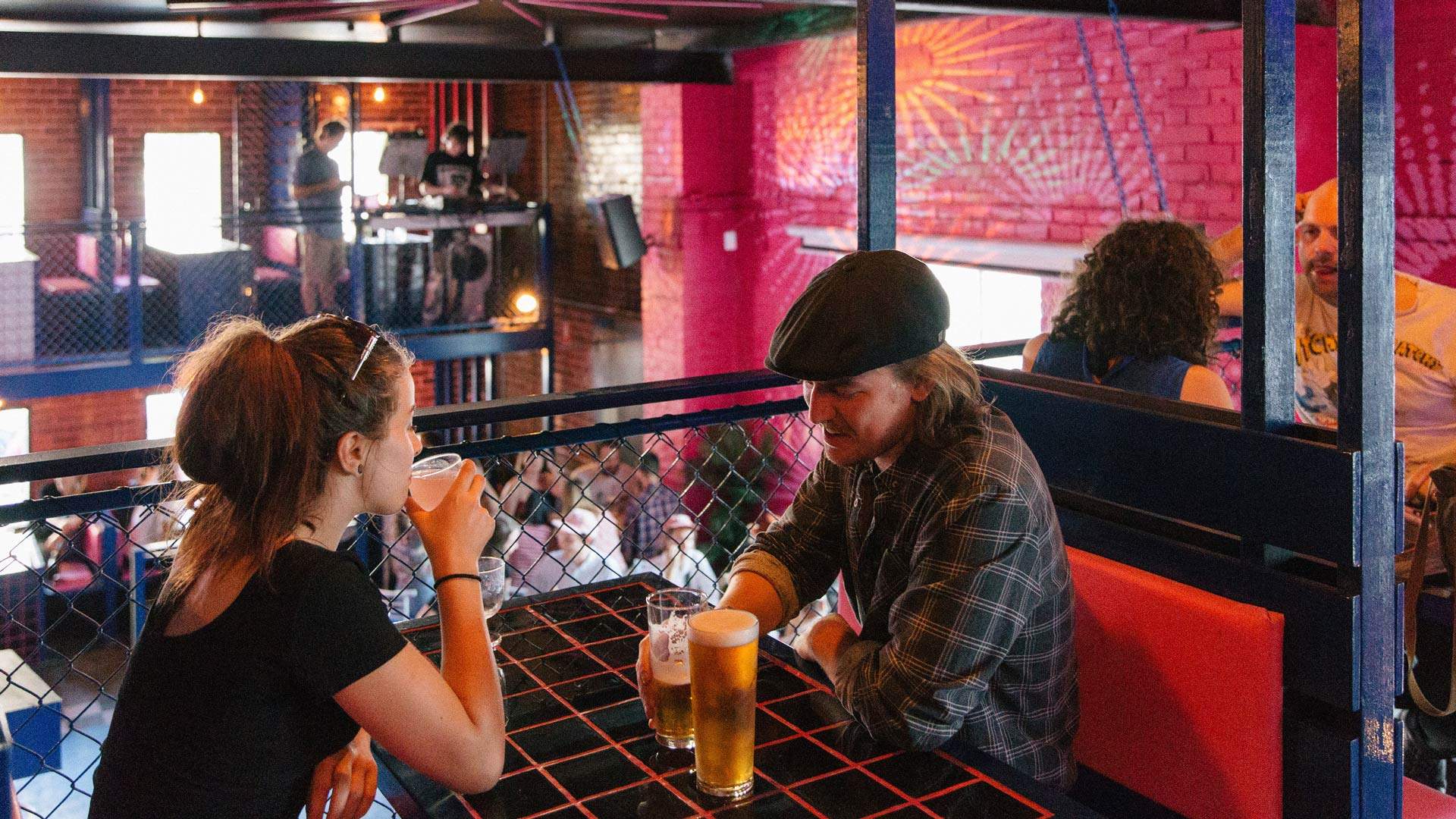 Since opening in March 2018, Fitzroy's Evie's Disco Diner has been serving up vegan-friendly comfort food in the surrounds of a 80s-themed eatery straight out of Stranger Things. On weekends you can enjoy its boozy brunch offering — it features three hours of all-you-can-drink mimosas, bloody marys and bubbles, plus your choice of fried chicken-topped waffles, maple bacon french toast, pancakes with blueberries and cream, or a BLT and fries — for only $49 a head. Each option can also be made vegan on request, and all the ingredients are sourced locally — so there's really no excuses to miss out on this weekend recovery session.
When? From 11.30am–1.30pm every Saturday and Sunday.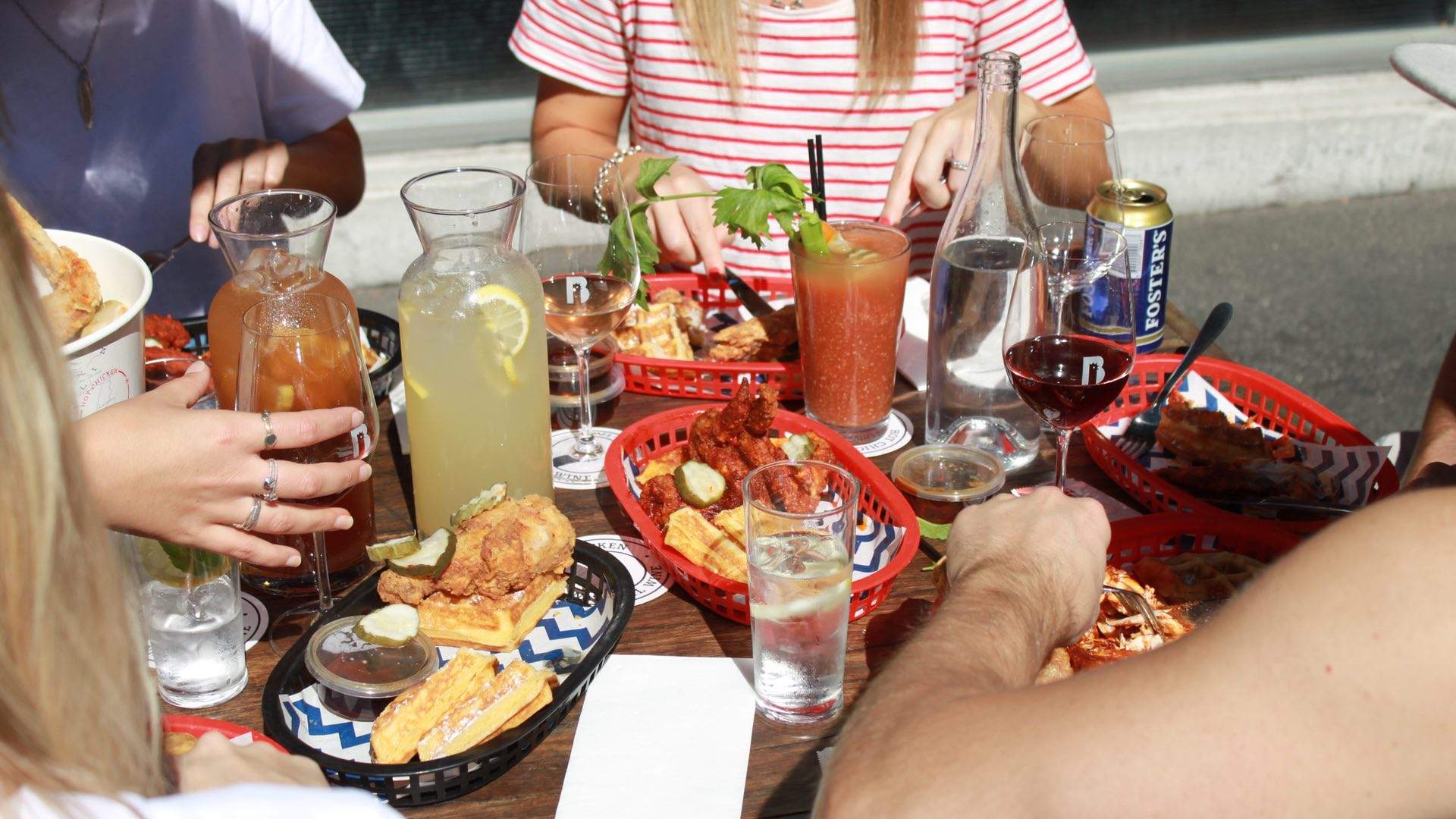 Belles is always a good choice, but you can supercharge its regular weekend offering with a boozy brunch. The eatery's famed fried chicken and waffles are available for $20 from 11.30am in the Elizabeth Street store and midday in Fitzroy. Of course, you can pair it with Belles' selection of natural wine, cocktails, bloody marys and beers.
When? From 11.30am (Elizabeth Street) and midday (Fitzroy) every Saturday and Sunday.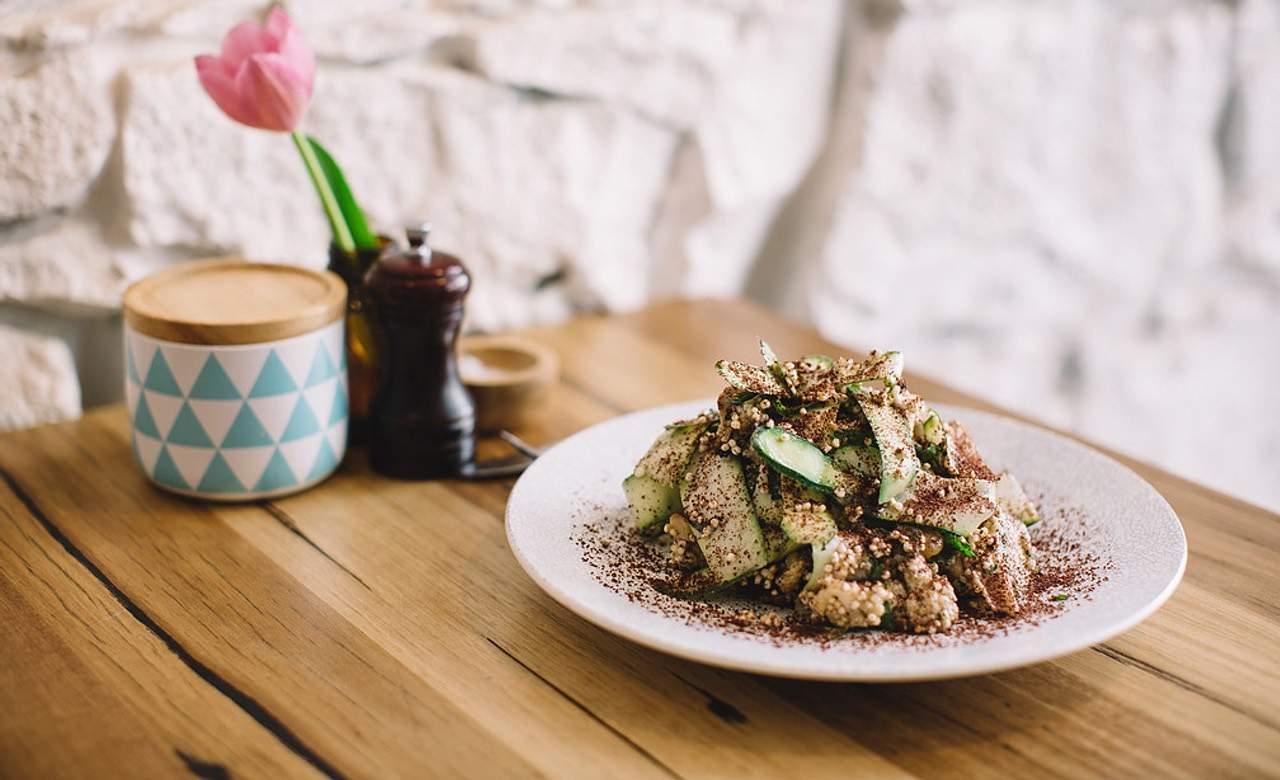 Archie's All Day is the kinda place you want to kick back and relax in. Park yourself at a table on Gertrude Street and survey the menu for an interesting and varied mix of tasty delights. The dirty eggs are loaded with tater tots, jalapeño, spiked Monterrey Jack, eggs and black beans, and there's also the option of adding a Dirty Mary (Archie's version of a bloody mary) to the mix. Plus, negronis and tall drinks (like palomas, mojitos and americanos) are just $10 all day, every day. 
When? Every day of the week. 


The main drawcard for House of Lulu White is its bottomless cocktail option, which gives you one-and-a-half hours of endless bloody marys, espresso martinis and mimosas for $35. Luckily, the cafe does a great all-day breakfast, too — pair your bloody mary with the spicy breakfast tacos or the buttermilk fried chicken and waffles. Or, if you're in after 11.30am, you can dive into the lunch side of the menu, which includes gnocchi and a chicken schnitzel burger. All in all, this isn't a bad deal. Just get your money's worth by downing a few. 
When? Every day of the week. 

For a Thai-style brunch with a modern day feel, look no further than Magic Mountain Saloon where the dishes are plentiful and the drinks go down a little too easily. These guys have nailed the Champagne cocktail, offering up a choice of three: the Bucks Fizz (much like a mimosa with a twist), the French 75 (made with Beefeater gin, lemon juice and sugar) and the classic bellini. The standout dish for us is the roti bread with almond butter, grilled banana and condensed milk. If you like it bottomless, you can also enjoy the Royal Palace brunch on the mountain every weekend. For $60 per person, you'll get to tuck into smoked ocean trout, spinach and garlic chive dumplings, pad thai, and pulled pork French fairy toast. Plus, two hours of drinks, including Magic's takes on a spritz and a bloody mary.
When? Breakfast and cocktail menu available every day of the week. Royal Palace Bottomless Brunch, from 10am–12.30pm every Saturday and Sunday.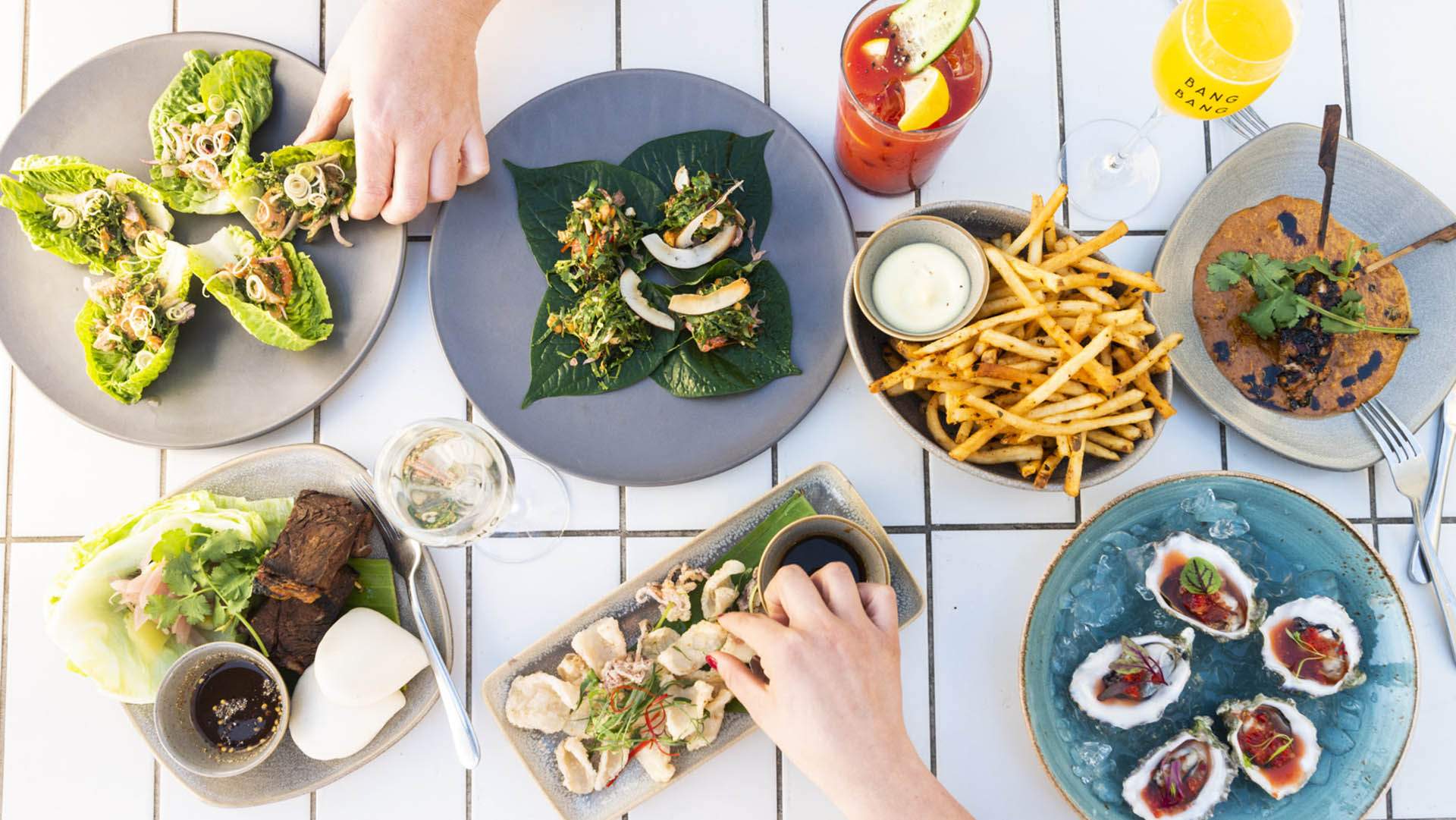 Bang Bang pairs its hawker-style eats with bottomless beverages every weekend. Taking place across two-hour periods from 11am (with last bookings taken for 2.30pm), Bang Bang Bottomless Brunch kicks off as every weekend meal should: with freshly shucked oysters with red chilli and lime granita. From there, you'll munch your way through the eatery's set menu of Indochine bites, such as salt and pepper squid and charred assam lamb ribs. Other dishes include with veg spring rolls, chicken liver pate and French fries seasoned with kaffir lime and chilli. Drinks-wise, the venue's signature Graperol spritz and Bang Bang Mary are on offer, as well as mimosas, beer and wine. That'll set you back $59 including food — or $49 if you'd prefer the non-alcoholic option with sodas, juice and rotating mocktails.
When? From 11am–2.30pm every Saturday and Sunday. 

We can't give you a boozy brunch list and not include Cumulus Inc. This kitchen — led by Andrew McConnell — knows exactly how it's done. It's got Lune croissants, house-made crumpets, organic oat porridge, baked eggs with roasted peppers, and next-level madeleines filled with lemon curd. If you're a latecomer, you'll get pick of the a la carte menu, which basically entails plates of cheese, charcuterie, oysters or the famous whole slow-roasted lamb shoulder to share. We like to keep it simple at Cumulus and down it all with a glass of NV J.L Vergnon Champagne, but if you're feeling particularly in need of a pep-up give the raspberry fizz with vodka a go.
When? Every day of the week.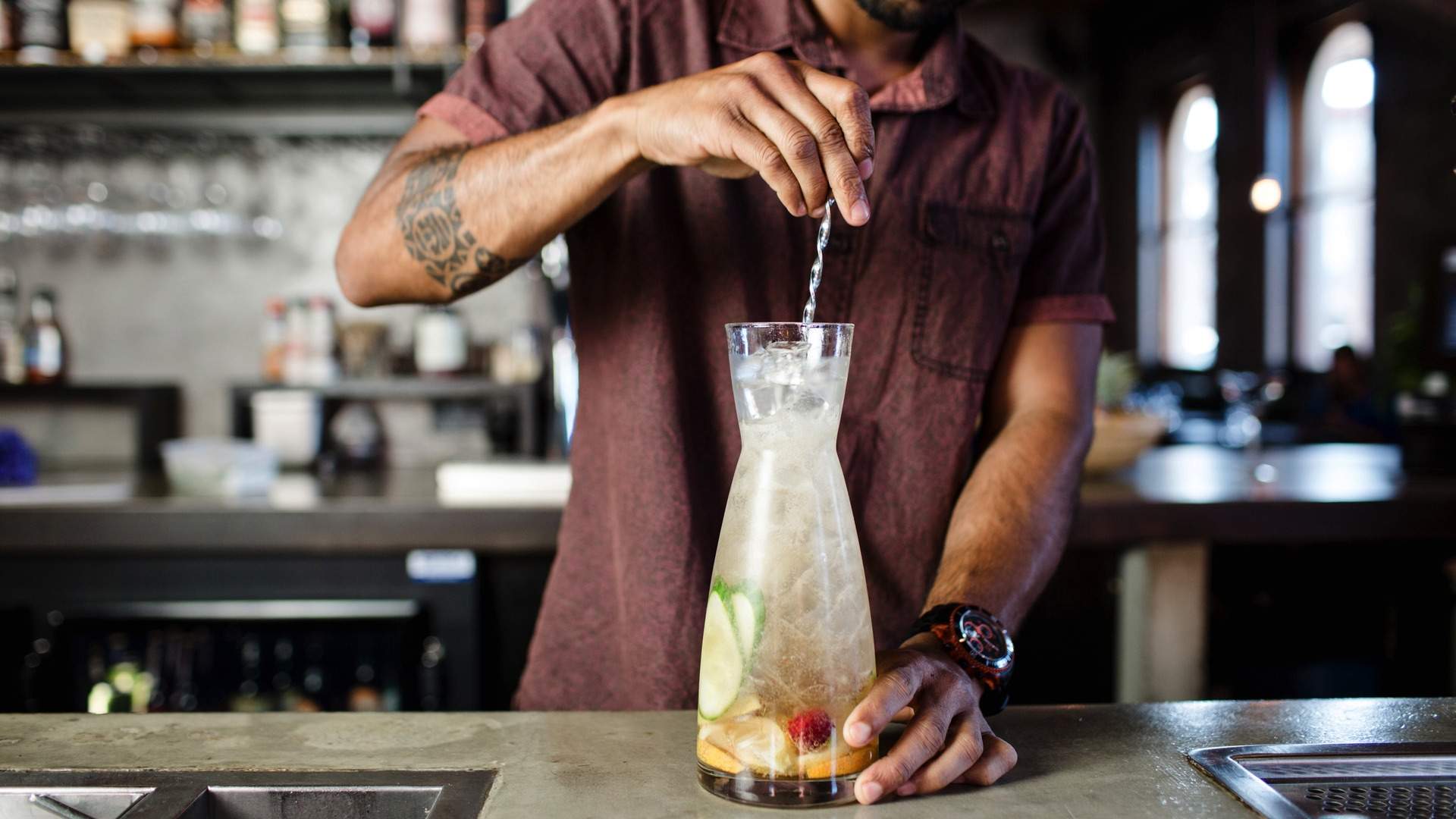 The National Hotel in Richmond hosts a pan-Asian bottomless brunch every Sunday afternoon. From noon the bar serves up three hours of bottomless sparkling cocktails and bloody marys along with an Asian tapas plate for a very reasonable $50 per person. Drinking during the day offers the unique advantage of letting your hangover hit Sunday night rather than Monday morning when you're at work — at least, that's what you can tell yourself three bellinis in.
When? From 12–3pm every Sunday. 


Bottomless brunch runs at Fargo and Co every Sunday from 11am until 2pm — enjoy a dish from the brunch menu alongside endless mimosas, spritzes and prosecco for $59 a head. If you're really hungover, go for the fried chicken and waffles or the bacon and egg burger, or if you need a little extra pep in your step, there's the espresso martini waffles. For something lighter, you can't go wrong with avo on toast or the coconut panna cotta. 
When? From 11am–2pm every Sunday. 


Nothing says Sunday morning like Berocca right? Well, maybe if you've had a big one the night before. The point is, at Entrecote they don't judge, which is why you'll find it proudly listed at the top of its French menu. When you're ready (take your time) move onto the breakfast martini made with marmalade vodka, then peruse the menu, which is rather abundant. The Le Fermier Francais is the go-to feed for anyone who needs a minute steak topped with bacon, fried eggs and house-beef sausage, while the brioche French toast is topped with mango curd and fruit. If you want to go all out, you can go down the bottomless brunch route, which comes in at $79.90. It includes fruit, a croissant and one breakfast dish alongside cocktails for 90 minutes. 
When? Every day of the week. 


GILSON, SOUTH YARRA
If you haven't had a chance to check out Gilson on Domain Road, now's the time — the breakfast menu runs until 3pm. Survey the ever-changing menu for dishes such as blueberry and ricotta fritters with lemon curd or eggs Benedict on potato hash. Best part? The booze is available from 6am, which includes spritzes, bellinis and lots of local and French wine. On weekends, make it 2 hours of bottomless mimosas, spritzes and prosecco, and your choice of one of four brekkie dishes, for $65 per person.
When? Bottomless brunch is available every Saturday and Sunday. 

This cosy northside hideaway is more like a country escape than an inner-city cafe. With fruit trees in wooden crates lining the front entrance and a home-style feel complete with a bookshelf and fireplace, you'll feel like you're off visiting a friend rather than stopping in for a boozy brunch. But that's exactly what you're going to do because the menus — both food and drink — are epic. Wash down your corn and zucchini fritters with a Tanqueray and tonic or sink your teeth into southern-style baked beans with a bloody mary. Traditionalists will love the pancakes, especially if you pair them with an espresso martini.
When? Every day of the week. 

Top image: Provincial Hotel
Published on October 23, 2019 by Stefanie Reilly