Melbourne's Best Underground Bars That Are Actually Underground
From Mexican-themed mezcal bars, to haunts with over 400 different spirits, these are the best bars under the city.
Melbourne is unrepentantly tricksy about its hidden bars — poking them down alleys, up flights of stairs and through fake doors. You'll find Melbourne underground bars scattered all over the place too. The city wants you to work for your liquor. But hey, where's the fun in a well-lit, obvious bar that everyone knows about?
No matter how many hoops Melbourne makes punters jump through, there's no denying it's home to some pretty beaut bars. The word "underground" certainly echoes around the traps when it comes to the coolest places to check out — with a swag of venues embracing the secretive speakeasy culture. And a lot of these bars speak to that second meaning of "underground", too: they are literally located under the ground.
Good for impressing a date, taking someone from out of town or just for a well-deserved after-work tipple, these are the best basement bars in Melbourne.
Recommended reads:
The Best Bars in Melbourne
Melbourne's Best Pubs and Bars with Fireplaces
The Best Restaurants in Melbourne
The Best Melbourne Restaurants and Bars with Private Dining Rooms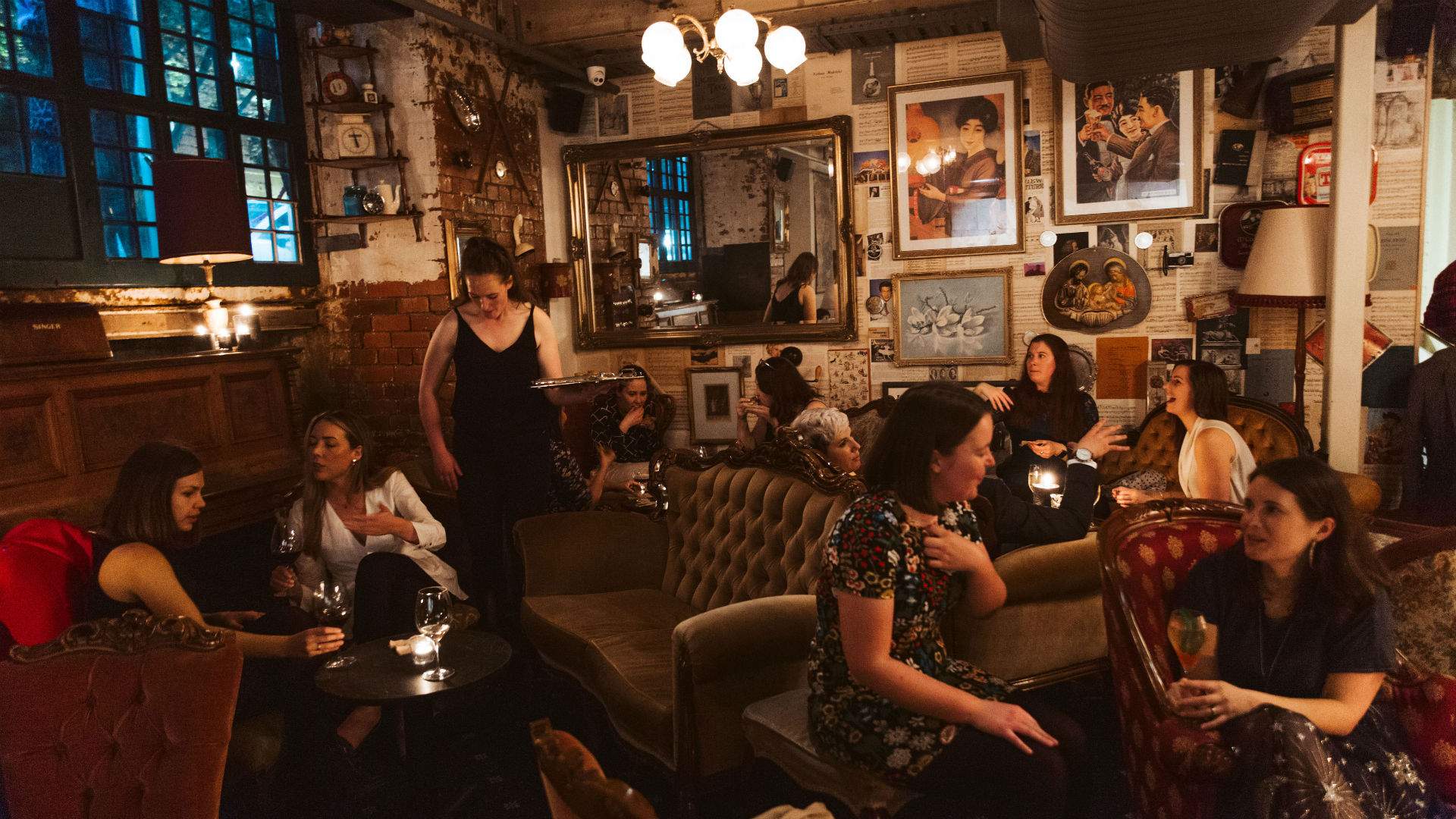 STATE OF GRACE
When State of Grace served its last drinks on Collins Street in 2017 — shutting up shop along with its secret cellar bar Fall From Grace — it wasn't gone for long. In 2018, the city hot-spot made a triumphant return. Resurrected in style on King Street, the well-loved venue made one hell of a comeback. At its new digs, old-world decor meets contemporary flair, finished with a touch of the experimental.
Mirrors, marble and chandeliers abound through both the European-style restaurant at street level and the hidden drinking den tucked below. As with the original, the latter is accessed through a bookshelf, though here it's swapped the soaring ceilings for a more intimate space that's scattered with lounges and vintage knick-knacks.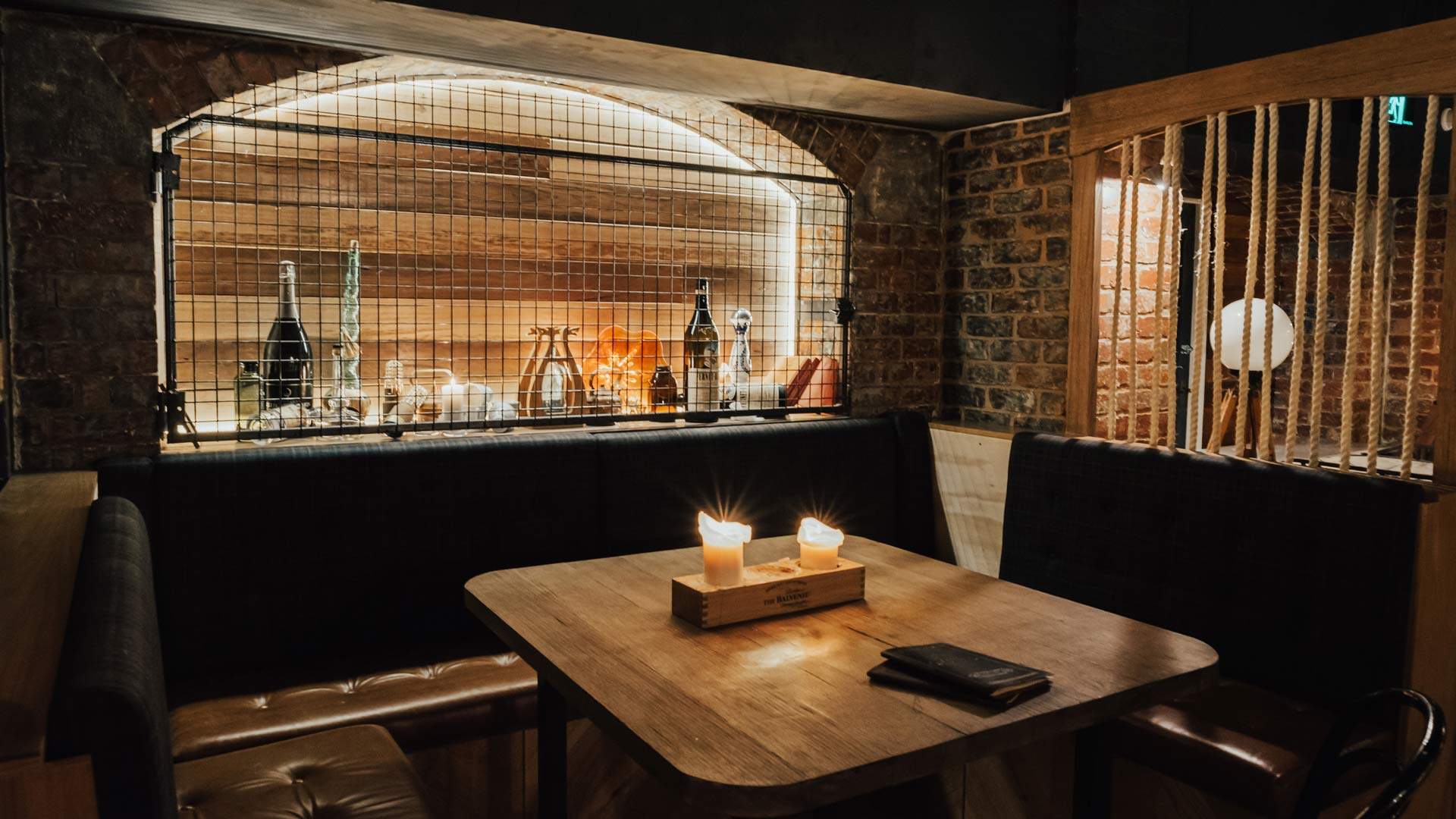 BENEATH DRIVER LANE
Beneath Driver Lane has a tonne of atmosphere, even before you get inside: there's a velvet rope ushering you in, and a door that opens automatically. That's a whole lot of fanfare, but it'll make you feel pretty special.
The Melbourne basement bar pulls its influence from New Orleans — all blues and rum, moody lighting, and black and white photos on the walls. There's a raclette sourdough toastie, which, obviously, would be worth trekking across several cities for, along with jamón croquettes and dijon chicken wings with truffle aioli. Add to that the over 400 different spirits, plus the sweet touches like refreshment mints in the bathrooms (in case you're on a date and it's going well), and Beneath Driver Lane makes for a very worthy underground jaunt.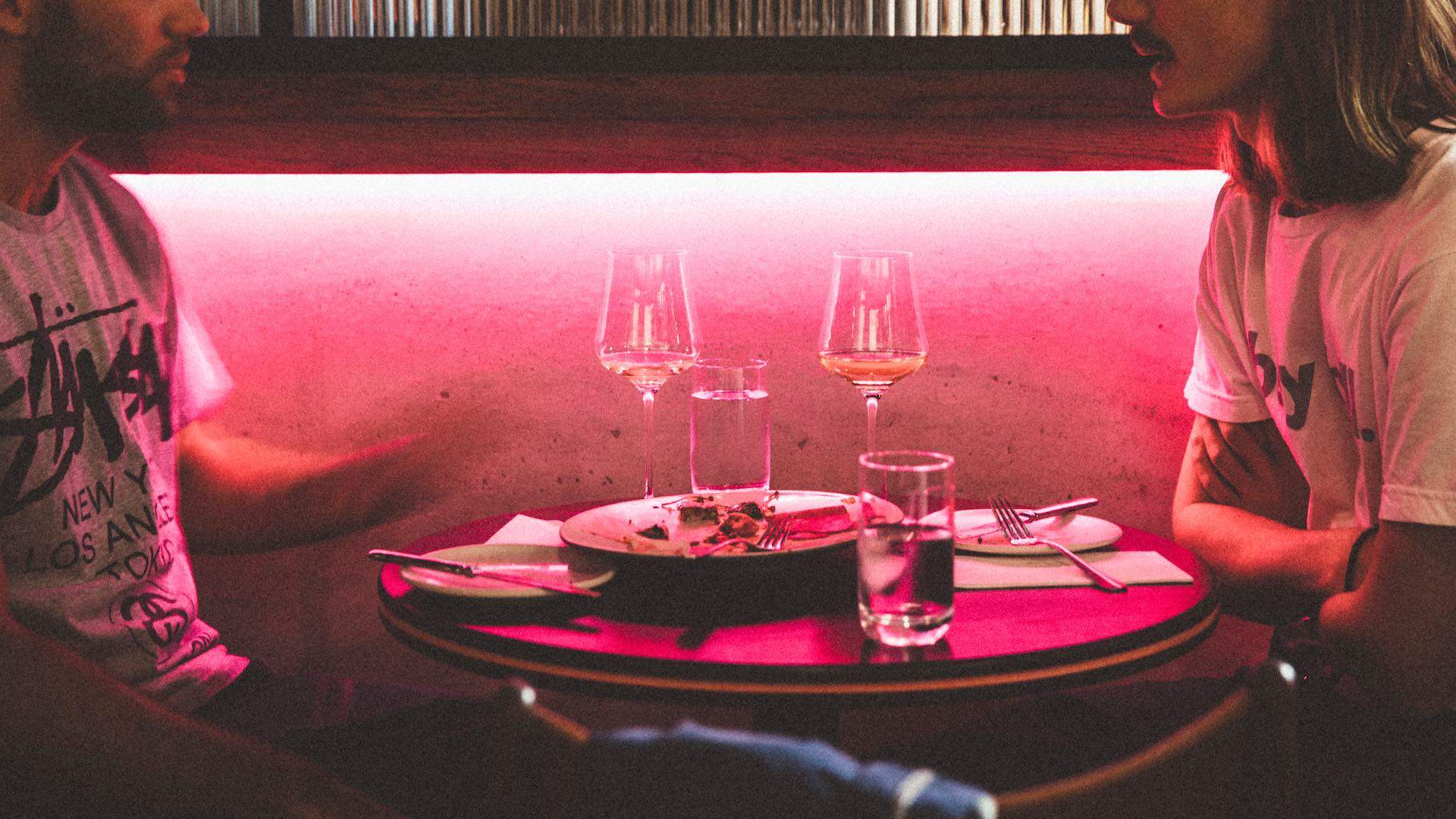 JULIET
Punch Lane's downstairs sibling Juliet has a bunch of cool stuff going on — including the fact that its modus operandi is to support and represent female winemakers, distillers and cheese producers. For a dose of girl power and, really, just a great night with nice vibes, head down to the basement bar on Little Bourke Street — it's all pink neon, concrete and hand-blown glass down here.
The venue offers a swag of signature cocktails, alongside cheese, charcuterie and snacks; think: salt cod croquettes, freshly shucked oysters and a ham hock terrine. Settle in with a tasty bite and a mandarin martini or two, and you'll never want to come up from underground.
DESSOUS
As the name — which means 'underneath' in French — suggests, this cosy wine bar and eatery is of the subterranean variety. Sibling to restaurant Hazel above, Dessous boasts a charming space deep within the heritage-listed T&G Building, featuring interiors by award-winning design firm The Stella Collective.
Hop on down to this underground bar in Melbourne, nabbing a plush banquette seat and tucking into the likes of XO lobster doughnuts, sambal cuttlefish, dry-aged duck and saucy pork belly sandos. To match, expect a globe-trotting wine list and plenty of chic cocktails — the rhubarb- and cacao-infused Manhattan feels especially well suited to an underground sipping session.
BAR MARGAUX
Old-world Parisian style meets New York chic at this underground haunt from the crew behind The Everleigh and Heartbreaker. Step down into its vision of chequered floors, marble-topped tables and rich burgundy banquettes, and you'll feel like you're escaping to another time and place.
Bar Margaux's food is French and effortlessly sophisticated, running to classics like tartare, escargot, steak frites and a daily-changing souffle. An expansive drinks program heroes top-notch Aussie and French wines, and plenty of Champagne, along with revamped classic cocktails for any time of day. This one's partial to a late-night underground session, too, given that it's open till 3am on weekends.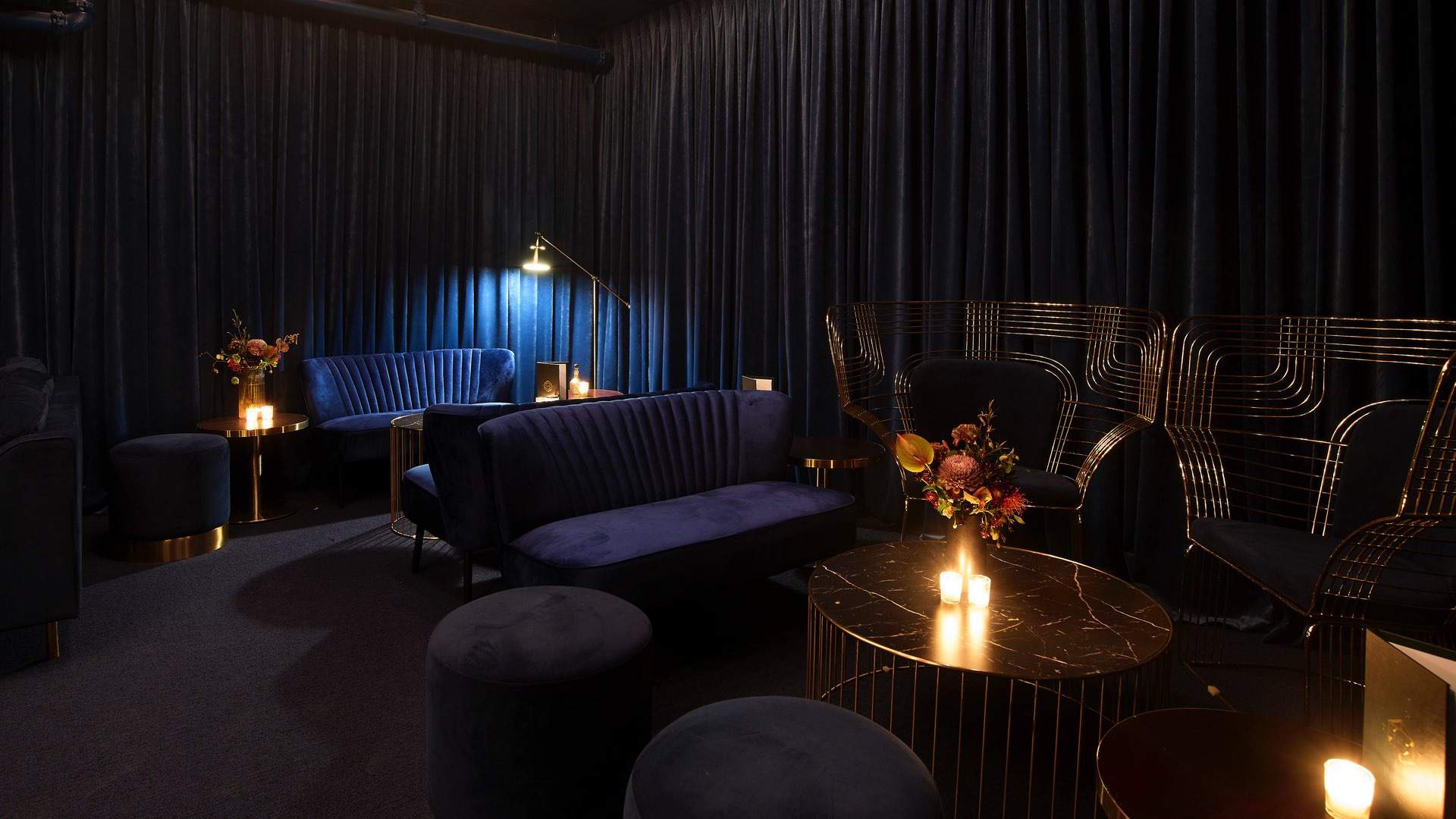 TRINKET
Flinders Lane bar Trinket is well-known for its sourdough pizzas, chic cocktails and the roaring open fire that graces its elegant front bar. But dig a little deeper — namely, through the back of a secret wardrobe — and you'll also discover a hidden Melbourne basement bar tucked away downstairs.
Much like its upstairs counterpart, the space is a plush, velvet-filled hideaway — just with the addition of heavy curtains and moody lighting to transport you far from that street-level buzz. Steal away down here for a quiet tipple or two; perhaps a classic bramble, a spicy riff on a margarita, or the spiced rum- and coffee-infused Vintage Charm might tempt your tastebuds.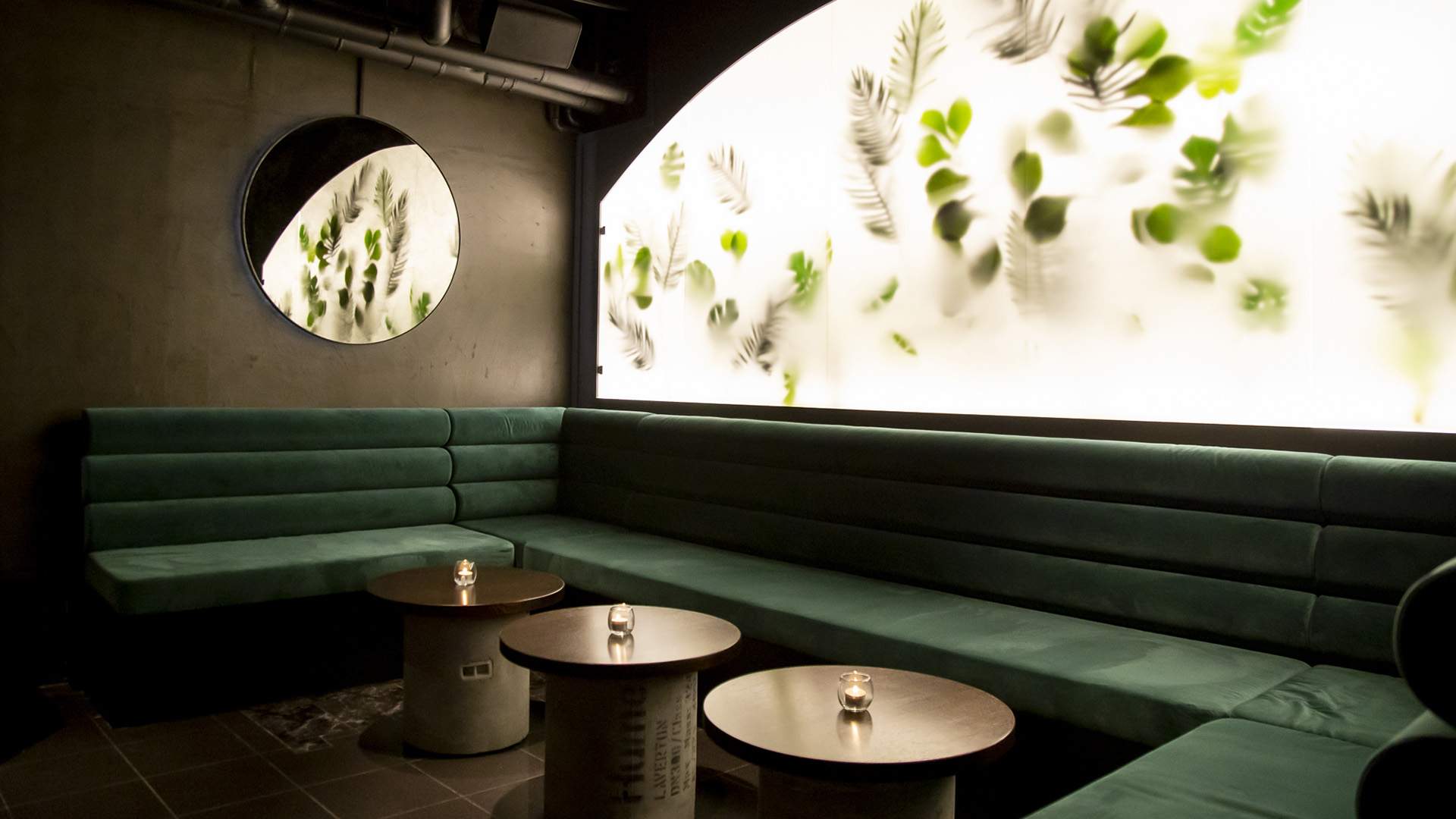 BAR CLARA
Located in a basement space in Chinatown, under the arch near Exhibition Street, this watering hole slings a custom, frequently changing cocktail list that blends fresh ingredients with modern techniques. Bar Clara's neat selection of beer, cider and wine is also a winner, as is the kitchen's tasty range of bites — such as sweet potato crisps, a truffle cheese toastie, and baked brie served with rosé jelly and melba crackers.
Decor-wise, prepare to sip and snack in a dimly-lit space decked out with plants, concrete beams, a copper bar top and green velvet couches.

THE GEORGE ON COLLINS
Designed by Hecker Guthrie, this sprawling basement space features a collection of revamped private rooms geared towards upscale celebrations with the crew. Make yourself at home in The Attic, tucked upstairs and behind a curtain; enjoy an intimate celebration in The Den; or settle into a feast in new-look private dining room The Rumpus. The glass-fronted Cellar, with views across the rest of the venue, has room for up to 220.
The George's most recent menu overhaul sees the kitchen plating up vibrant, mod-Vietnamese fare for lunch, dinner and late-night sessions alike. The new menus are the vision of MasterChef Australia 2018 contestant Khanh Ong, and have been brought to life by Head Chef Quim Hernandez. While they're anchored in traditional flavours and techniques, they're still awash with plenty of creativity. Head in for plates like char siu pork bao buns, green crystal dumplings with Sichuan sauce and a lamb shank rendang curry finished with paw paw pickle.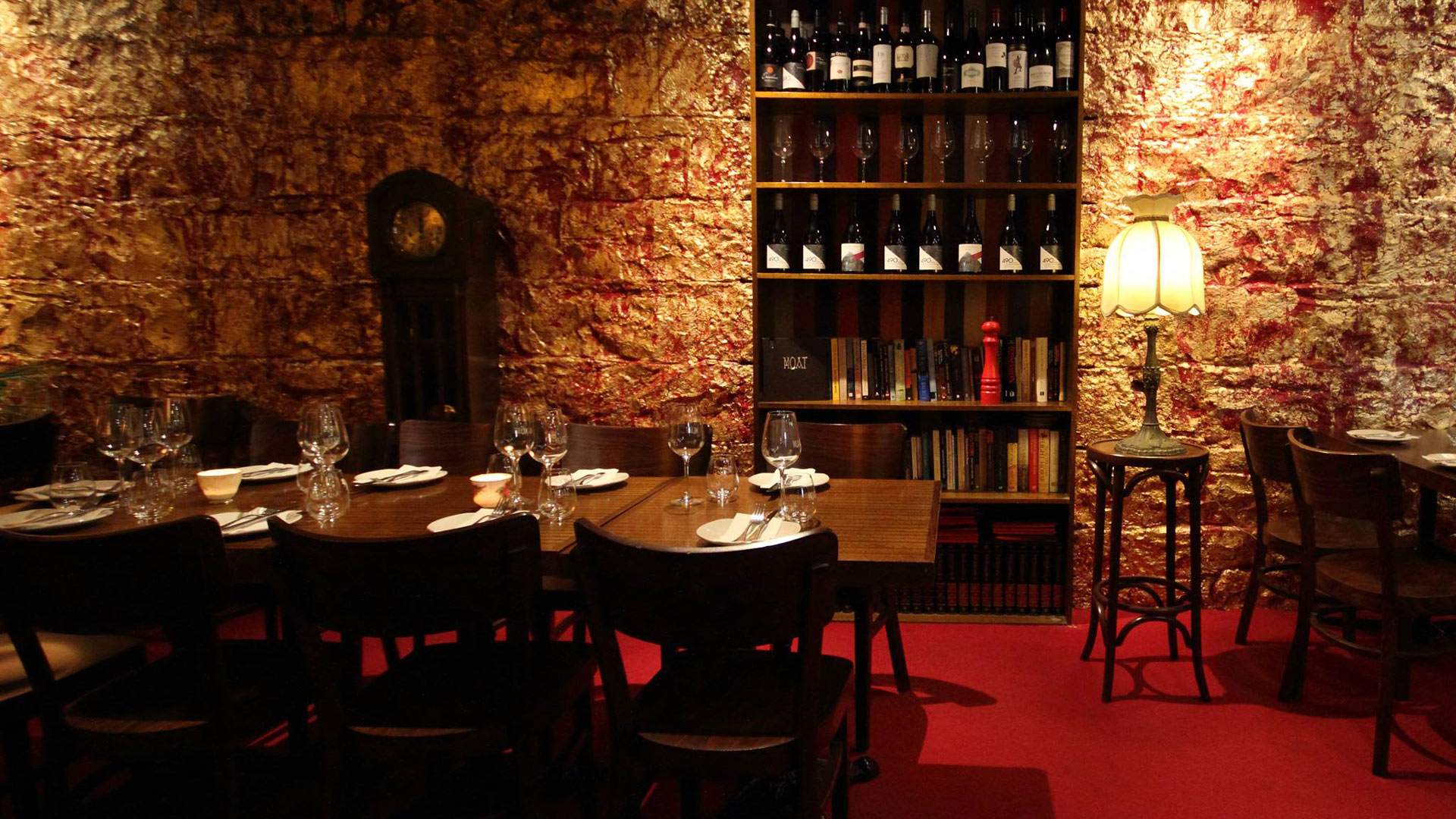 THE MOAT
The Moat is a step away from the Swanston Street rush, and a step down from the Wheeler Centre entrance on Little Lonsdale Street. Nestled beneath the State Library of Victoria, the bar is located in the basement of the 19th-century bluestone building.
Set yourself up with a wine or three while considering the weight of the literature that sits directly above you, and perhaps toasting to Jack Kerouac or Oscar Wilde. Happy hour (4–6pm Tuesday–Saturday) brings with it a whole menu of happy times — i.e. Spanish anchovy crostini and mixed antipasto bites to accompany your wine. It's most definitely worth going underground for.

BODEGA UNDERGROUND
If you have a big crush on tequila shots, have been giving mezcal some side-eye, or just have an achin' for a margarita, Bodega Underground in Melbourne's CBD might be the place to descend to.
The Mexican-themed mezcal bar is located in some pretty cool digs. Hidden up the Parliament end of Little Bourke Street, it boasts scores of vintage Mexican posters as decor and serves up some serious tacos to go along with its extensive tequila selection. There are many – the mezcal and tequila options take up pages and pages of the menu – so you know you're in good hands. Food-wise, try the brisket tacos, slow-cooked lamb ribs or perhaps some Mexican fried chicken. They're all good alone, but they switch to another level when paired with some agave options from the bar.


VALHALLA
A moody underground oasis for the after-work crowd, Valhalla is a Nordic-inspired drinking den nestled within the Olderfleet building on Collins Street. The brainchild of international coworking space company Work Club, the bar is decked out in dramatic dark tones, with leather booth seating, metallic finishes and lots of statement furniture pieces.
From the bar comes an inventive cocktail lineup, headed up by award-winning mixologist Tony Huang. Knock off and pop down to this Melbourne underground bar to enjoy a top-notch cheese platter and a memorable tipple or two. We're all about the reworked negroni crafted on a Davidson Plum aperitivo by Autonomy Distillers.
GOLDEN MONKEY
If you peek through the velvet curtains on Hardware Lane and venture down the stairs, you'll find cocktail and dim sum hotspot Golden Monkey. It has a hint of mystery, romance and decadence — moody red lights illuminate the entrance, and folding shades provide an intimate space for booths and couches. It's open Wednesday through Saturday and each night features a musical twist, from live bands performing R&B and soul, to DJs capturing the essence of Melbourne's nightlife on a weekend.
You can expect cocktails from three menus – see no evil, hear no evil, speak no evil – covering everything from old-time favourites to in-house specialties. If you're feeling extra thirsty, order your group a punch bowl. The Concubine's Last Kiss, for example, features tequila, Pimms, Aperol, peach sencha and will comfortably quench four people for $58. There are snacks, too, like signature steamed soup dumplings, barbecue pork bao and custard buns, which are brought down from the kitchen upstairs at the adjoining East China Trading Company.
Concrete Playground Trips
Book unique getaways and adventures dreamed up by our editors