Ten of the Best Walks in and Around Melbourne
Give that activewear the workout it deserves by hitting up these short hikes in and around Melbourne.
In the mood to stretch those legs, boost endorphins and dose up on some Mother Nature? Well, thanks to Melbourne's top-notch location, you can do all of the above without venturing too far out of the city. Flanked by loads of scenic coastline, beautiful bushland and rugged mountains, we're lucky enough to have a plethora of idyllic walking options in and around our own backyard.
From a stunning coastal trek on the Mornington Peninsula, to waterfall wanderings through dense rainforest, we've rounded up ten of the best walking trails within a short drive from Melbourne. So, lace up those shoes, stretch out the quads and take a hike.
Recommended reads:
The Best Walks Around Metro Melbourne
The Best Coastal Walks Near Melbourne
The Best Mountain Walks Near Melbourne
The Best One-Day Hikes Near Melbourne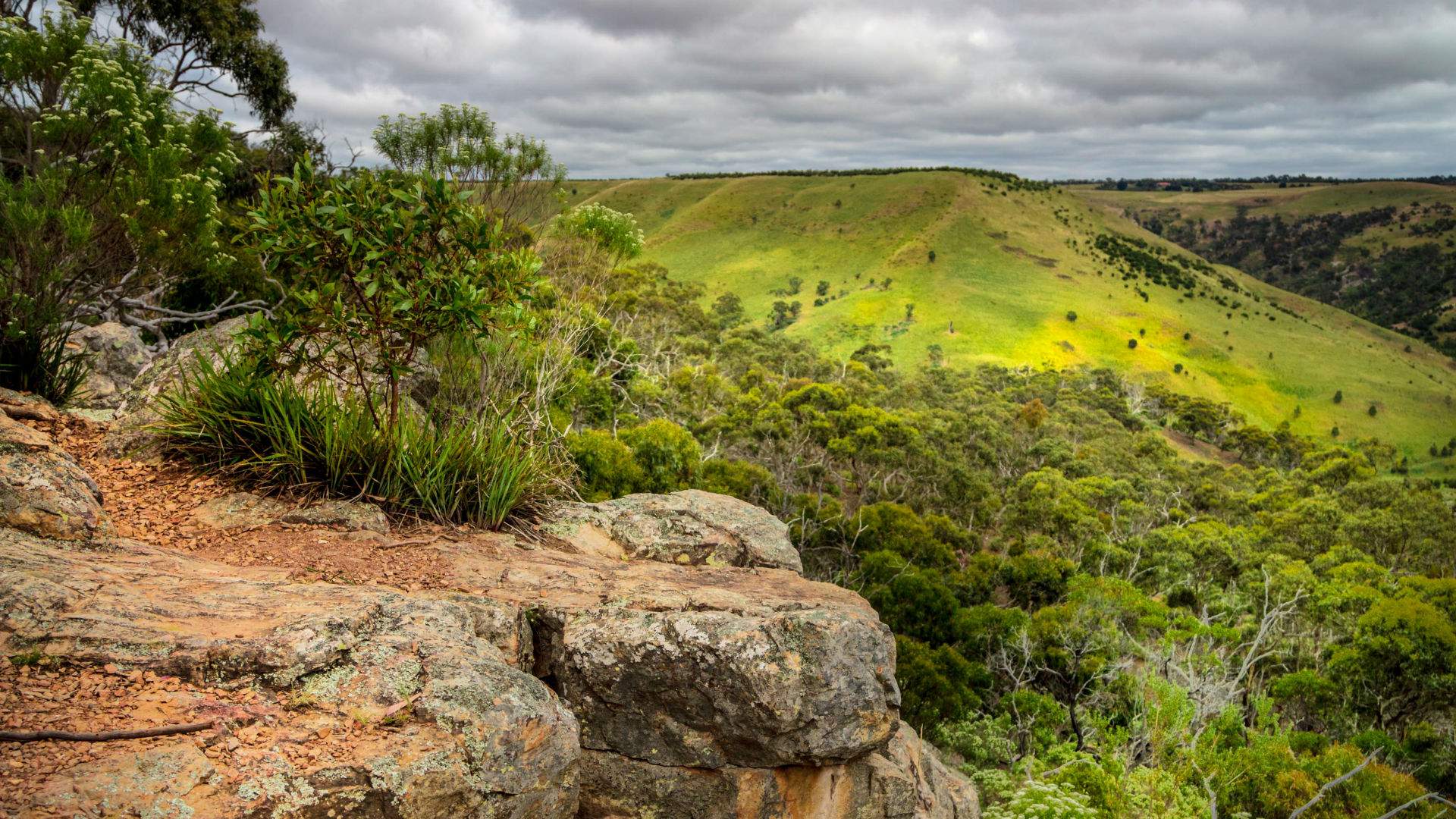 WERRIBEE GORGE, WERRIBEE GORGE STATE PARK
If you're up for a bit of a challenge and willing to forgo flat earth in favour of some breathtaking views, Werribee Gorge State Park offers a smorgasbord of primo hiking opportunities. About an hour's drive northwest of Melbourne, the rugged setting makes for both a striking outlook and plenty of heart-pumping, mountain goat-style exercise. There's a handful of different walks to choose here, but the full 10-kilometre Circuit Walk delivers the biggest serve of wilderness, taking about 4.5 hours to complete. It's best done anti-clockwise, starting from the Meikles Point picnic area, and you're in for some gorgeous panoramas while you're moving along the gorge rim. The rocky patches can prove tough and things get extra slippery following rain, so don't skimp on your footwear choice. You'll also find one of the top rivers for swimming near Melbourne along this walk - if you want to float around with some wild platypuses on a hot summer day.
How far? One-hour drive.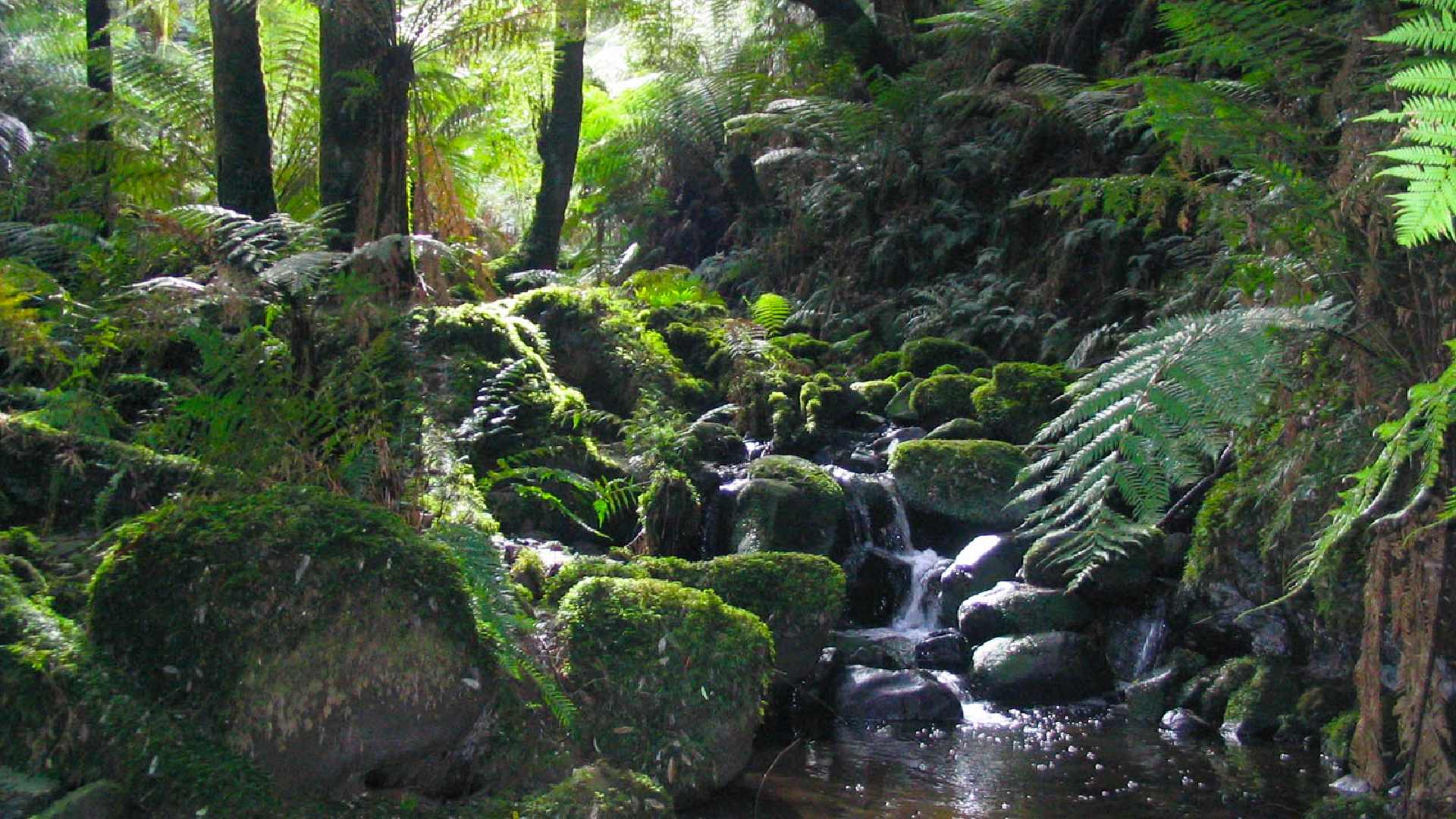 SHERBROOKE FALLS TRAIL, DANDENONG RANGES NATIONAL PARK
Putting you up close and personal with melodic lyrebird calls, centuries-old trees and splashing waterfalls, this walk is a must for all nature-lovers. And it's especially ideal for those wanting to explore some Dandenong Ranges beauty, while avoiding the crowds (and intense incline) of the nearby 1000 Steps Kokoda Walk. Boasting relatively flat terrain through lush rainforest, the Sherbrooke Falls Trail runs 1.2 kilometres each way, linking the Sherbrooke Picnic Ground with the idyllic Sherbrooke Falls. It's a vision of green, resplendent with leafy ferns, plenty of the area's famed Mountain Ash and some of the tallest flowering hardwood in the world. Keep an eye out for wombats and swamp wallabies, and listen in to hear tunes from the resident lyrebirds, especially during the winter mating season.
How far? 45-minute drive.
KEPPEL LOOKOUT TRAIL, MARYSVILLE
Venture northeast of Melbourne to gorgeous Marysville and prepare to soak up some raw nature and unbelievable views on the Keppel Lookout Trail. Starting and finishing at the car park on Falls Road, this wild 11-kilometre bush loop is ideal for adventurous types, featuring plenty of steep inclines, stringybark forest and uneven terrain. But in reward, you'll get to stop by four of the area's most legendary lookouts, beginning with some sweeping sights from atop Keppel Lookout. Then, climb around the ridge, before trekking down the length of Steavenson Falls, which are the highest waterfalls in Victoria. The whole hike will likely take you three to four hours — depending how long you stop for photography breaks along the way, of course. And, once you're all tuckered out, be sure to experience all the best things to do in the greater Marysville area.
How far? 2.5-hour drive.
CAPITAL CITY TRAIL, INNER MELBOURNE
Perhaps Melbourne's ultimate urban walking track, the Capital City Trail delivers a 29-kilometre loop around the CBD and inner-northeast suburbs, linking plenty of other popular routes along the way. For a tourist-style adventure, start at Federation Square and wander east along Birrarung Marr, before passing the iconic MCG. You'll cruise by the Yarra River through Burnley, curve north to swing past the historic Abbotsford Convent and then take a jaunt through suburbia across to Melbourne Zoo. The last leg of the trail heads south through Docklands and back along Southbank. It's a mostly flat and easy walk, plus there are loads of great coffee stops to be found along its length. Try the long-running Top Paddock in Richmond, or Carlton North favourite Park Street Dining. And, if you want to go further (faster), get on your bike. This is one of the best cycling paths in Melbourne too.
How far? In metro Melbourne, start anywhere along the track.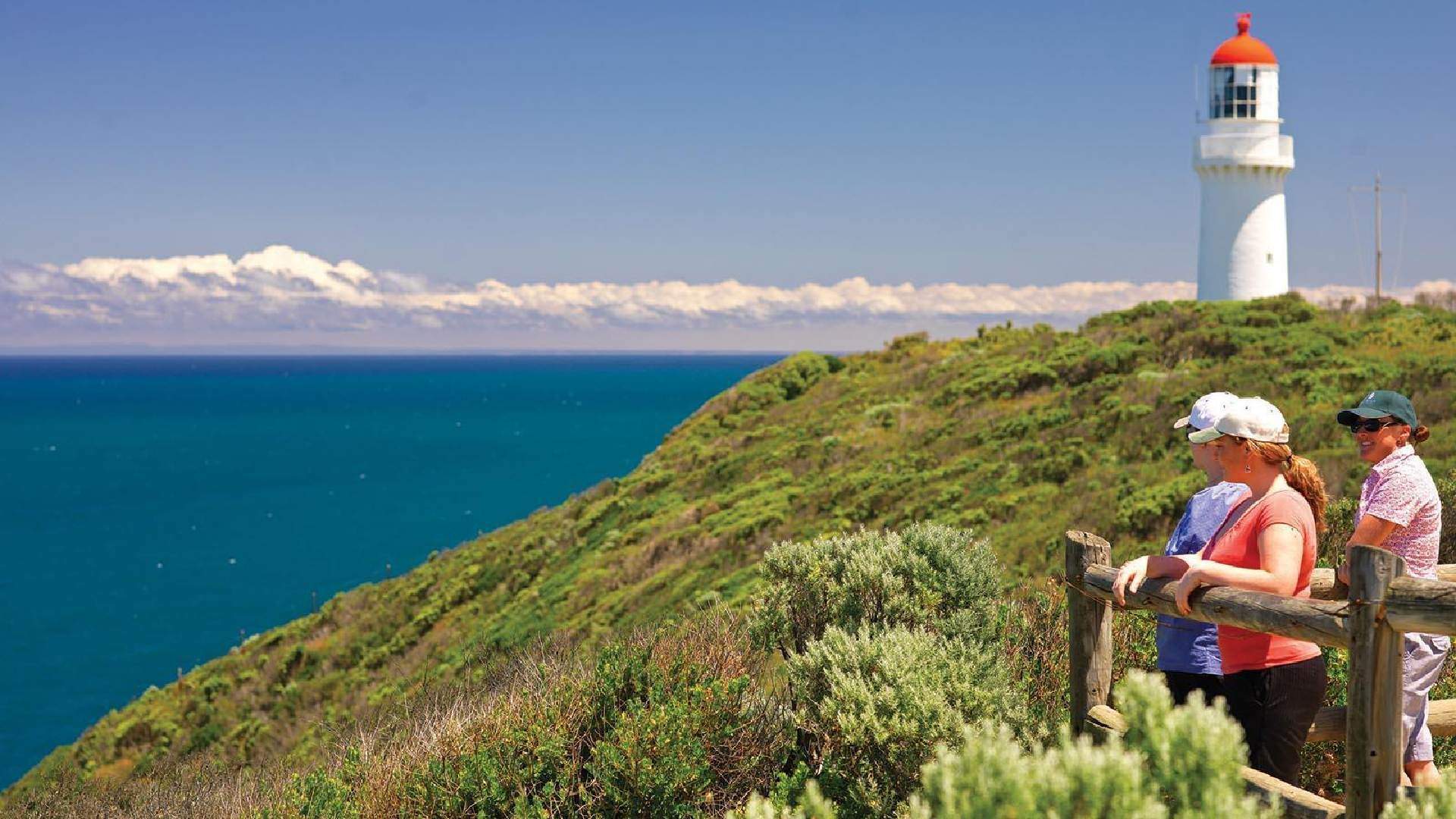 BUSHRANGERS BAY TRAIL, MORNINGTON PENINSULA
If you're partial to some stunning coastline, wild bushland and secluded beach, the Bushrangers Bay Trail is sure to impress. Located on the lower tip of the Mornington Peninsula, this 2.6-kilometre jaunt kicks off from the historic Cape Schanck lighthouse, winding alongside basalt cliff tops and through wildlife-filled banksia groves. You're in for million-dollar ocean views from the top, so be sure to leave yourself plenty of time to soak it all up. A final steep descent then unfolds onto Bushrangers Bay beach, where there are lots of rugged rock pools to explore. The journey back up is a little less forgiving, though the scenery is definitely worth the burn. It's clear to see why this is also one of the top coastal walks near Melbourne too.
How far? 1.5-hour drive.
TOORONGO FALLS, NOOJEE
Standing beside the cascading waters of the majestic Toorongo Falls, you can bet you're in for a serious wow moment. Surrounded by soaring gum trees and rainforest ferns, these two famously photogenic falls tumble spectacularly down into Toorongo River, giving a glimpse of Mother Nature's best side. To get there, an easy 750-metre walking track passes through dense bushland from the Toorongo Falls Reserve carpark, with resident critters like brushtail possums and sugar gliders offering the odd wildlife sighting. You can even bump up your step count to complete an extended 2.2-kilometre loop, incorporating a visit to the smaller, but equally delightful, Amphitheatre Falls. It's no wonder why this is one of the best hikes near Melbourne.
How far? 2.5-hour drive.
RAZORBACK WALK, CATHEDRAL RANGE STATE PARK
A whopping 3577 hectares of rugged wilderness just begging to be explored? It's safe to say Cathedral Range State Park makes for one heck of a local hiking destination. Two hours out of Melbourne, it's home to a whole swag of climbing sites, picnic spots and walking trails, including the adventurous Razorback Walk. Best tackled with good shoes and a bit of experience under your belt, this 2.4-kilometre stretch weaves through thick bushland and over rocky terrain to the majestic Sugarloaf Peak. It's tough going but worth the push — the panoramic scenes that await you at the top are next-level. Got a bit more time up your sleeve? Extend your trek to cover the whole 10.5-kilometre Cathedral Range Southern Circuit.
How far? 2.5-hour drive.
EAST-WEST WALK, YOU YANGS REGIONAL PARK
Translating to 'big hill' in local Woiwurrung language, the You Yangs is a famous volcanic rock formation located right in between Melbourne and Geelong, surrounded by walking trails to suit a range of fitness levels. Best hiked in a clockwise direction, the East West Walk circumnavigates the site's tallest mountain, Flinders Peak, taking you amongst granite-flecked inclines and towering eucalypts. It's a bush-bashing 4.5-kilometre loop that starts and finishes at Turntable Carpark in the park's south. And while you'll encounter plenty of pulse-quickening, steep bits along the way, the dreamy views across Western Victoria's volcanic plains make the sore quads worth the effort. It's also one of the top hiking spots to take your dog with you in Victoria.
How far? One-hour drive.
MERRI CREEK TRAIL, INNER-NORTH MELBOURNE
For a relaxed trek through the best of inner-north suburbia, get your kicks on the well-trodden Merri Creek Trail. This one stretches 21 kilometres between Dights Falls and the Western Ring Road at Fawkner, with a variety of bush, creek and parkland sights to spy along the way. You'll walk past horse paddocks, scenic lookouts, tree-filled reserves and wide open spaces galore. Pooches are also allowed to join in the fun on this walk, as long as they stay on-leash. If the weather's decent, pack a picnic — there are scores of leafy locations to throw down a rug and give those feet a rest. And a stop-in at CERES Community Environmental Park is always a top idea, for chook sightings, plant purchases and a feed.
How far? 20-min drive. 
ERSKINE RIVER TRACK, GREAT OTWAY NATIONAL PARK
If you want to go against popular advice and do go chasing waterfalls (sorry, TLC), Great Otway National Park is the place to do it. Enjoying some of the biggest rainfall in the state, the site is home to loads of stunning natural water features, including the impressive 30-metre-tall Erskine Falls. This beauty is also the launch (or finish) point for the Erskine River Track — a 7.5-kilometre rainforest adventure that'll send you clambering through ferns, alongside bubbling water and over the odd log bridge. Keep an eye out for wildlife and treat yourself to a breather as you admire the natural amphitheatre known as the Sanctuary. Around two hours of brisk stepping will land you at the Lorne Foreshore Caravan Park. Hiking in the rainforest is one of the top things to do when visiting Victoria's surf coast. Note: this one's best to avoid after heavy rains, due to the number of river crossings.
How far? Two-hour drive.
Top image: Cathedral Range State Park
Concrete Playground Trips
Book unique getaways and adventures dreamed up by our editors