A Cinephile's Guide to Sydney During the Sydney Film Festival
Go all in, and base yourself in the CBD to get the most out of the festival program and the city.
in partnership with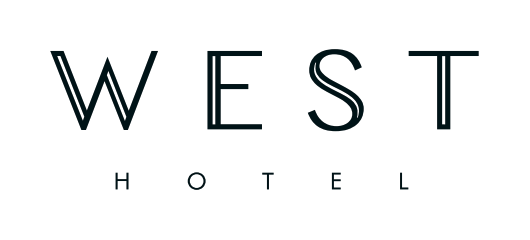 The Sydney Film Festival is on as we speak, so what could be better than popping into the Sydney CBD for a little vacation or staycation, booking into a boutique suite and seeing all the best hard-to-find movies and documentaries you can? Make tracks to West Hotel on Sussex Street, part of the Curio Collection by Hilton, a new abode in the CBD, just a hop, skip and a jump away from a bunch of festival venues, as well as heaps of bars, cafes and eateries for your dining pleasure. If a few days of top-notch cinema with some rejuvenating luxury sounds good, read on.
GRAB A DRINK AFTER THE FILM
If you ask us, all films should be followed by a glass of vino and discussion around the piece of cinematic art that just graced your eyeballs. The Sydney Film Festival has nine different venues at which they're showing an enormous collection of work, and all of them are near some excellent options for a post-film bev and chat with your movie buddy.
If you're visiting the State Theatre, Bar Topa is just a short walk away — and it, along with almost 40 other Merivale venues, is offering nearly half-price drinks till the end of June. If you're stepping out of a film at Dendy Circular Quay, Hacienda is a good option with some key views (especially while Vivid is still on), and if you've opted for Dendy Newtown, make tracks to Tandem for some cinematic discourse over aquavit. At The Ritz in Randwick, Maybe Frank is a perfect venue for a pizza and a cocktail pre- or post-screening. Chiswick at the Gallery is an obvious option for a pre-movie bev if you're heading to one of the Art Gallery of NSW's showings, and Cantina OK! is a lively, teeny spot to hit for a quality tommy's margarita on you're way back to West Hotel after one of the many screenings at Event Cinemas in George Street.
DINE WITH FELLOW FILM BUFFS
If you're planning on using up that whole festival flexipass by yourself, then Sydney Film Festival has catered exclusively for you by partnering with SocialTable. The social dining platform encourages like-minded people to dine together and get chatting — in this case, all about the movies that attendees have seen throughout SFF. Focusing on good food, good people and creating good memories, SocialTable is a way for even the most antisocial movie buffs to meet people who speak their cinematic dialect. Show off your Sydney knowhow by taking your new friends for a vermouth nightcap at Banksii in Barangaroo, too — it's a short walk home to West Hotel.
GET INSPIRED INSPIRED BY SFF'S FOCUS ON CHINESE DOCOS
This year, the Sydney Film Festival is showing not one, but four documentaries about China and the experience of the Chinese people. One Child Nation, Leftover Women, Up the Mountain, and Present.Perfect. all document the day-to-day and historical lived experiences of the people of a country that, up until the late 70s, was economically closed off to the rest of the world. In Haymarket, Mandarin is now the most popular language spoken after English — so why not grab a bite to eat in one of the many incredible Chinese eateries before heading to the cinema to learn more about the modern global powerhouse that is China. Some suggestions: a bowl of Xi'an's famous thick bolognese-like noodles at Biang Biang, delightfully numbing sichuan pepper dishes at Mr. Meng, or if you're with a larger group, the global phenomenon hot pot eatery The Dolar Shop, hidden upstairs in the Market City complex.
LEARN MORE ABOUT THE FILMS YOU JUST SAW
Why not grow your brain a little more by heading to independent institution Better Read than Dead and grabbing a book about the subject of the film you just saw? BRTD is just two doors down from the Dendy in Newtown and has an extensive collection of unique reads you might never have glanced at before seeing that cinematic triumph that just opened up your brain. Learning and hearing new stories is one of the best ways to pass the time, and honestly, is there anything better than a leisurely stroll around a bookshop?
GO FOR FARM-TO-TABLE DINING, INSPIRED BY BIGGEST LITTLE FARM
The Biggest Little Farm is about a couple who truly care about the environment and try to do the right thing but don't particularly know what they're doing after buying a sustainable farm. To get into the eco-friendly zone, it's probably worth visiting one of Sydney's excellent farm-to-table restaurants and cafes, where they know what they're doing and offer up some incredible, sustainable plates of food.
If you're heading to a matinee screening, a brunch at Sydney favourite the Grounds of Alexandria is a must — it grows an enormous amount of its veggies, edible flowers, herbs and fruit in the gardens and sleeper boxes on-site. If you're looking to splash out on a nice meal before a late movie at the Newtown Dendy, then it's worth a visit to Acre, which uses produce from the adjoining community farm in the Camperdown Commons. And better yet, if you'd rather keep it close to your temporary abode, head to West Hotel's Solander. The restaurant is dedicated to using the freshest local ingredients available, including many niche native plants and animals like banksia nectar, bush tomatoes, kangaroo and wallaby.
TEST YOUR CINEMA KNOWHOW AT TRIVIA
A connoisseur of film? Well, it's time to put your money — as well as popcorn and a negroni — where your mouth is, and test yourself with some movie trivia. The Golden Age Bar, right next door to Golden Age's tiny vintage cinema, has hosted trivia for a good long time now and it's an excellent way to spend a cosy evening with a couple of mates, plenty of cocktails and your astute film knowledge. Every now and then a trivia night will be themed around a particular genre, but most Tuesday nights you'll find general movie trivia and a whole heap of fun. It's free, but make sure to sign up to nab a spot.
FIND A CINEMATIC DINING EXPERIENCE
Palm Beach, directed by Rachel Ward, follows a group of lifelong friends who reconnect at a holiday home in Sydney's own Northern Beaches suburb of the same name, leading a comedic array of dramatic events and unintentionally difficult conversations. If you'd like to recreate the relaxing holiday of Palm Beach (without all the drama, of course), there's a whole host of gorgeous beachside eateries that you can visit on an easy day-trip from your stay at the West Hotel.
Head to The Greedy Goat for brunch and chow down on corn and zucchini fritters or the potato rosti with avo, bacon and a poached egg to get you fuelled up for a long day exploring the beautiful beaches. Before heading back to the city, complete your Palm Beach experience at Barrenjoey House, a heritage-listed boathouse offering incredible seafood dishes and modern Australian fare by the water.
LAUGH IT OUT AT SOME OF SYDNEY'S BEST LIVE COMEDY
Giant Dwarf is renowned for serving up some of the countries greatest comedians at all different stages of their careers, and the variety of shows held here is remarkable. From live podcast recordings to stand up and improv to comedy, burlesque and poetry festivals — this Redfern venue really does have it all. Coming up soon there's even a comedy 'table reading' of some of Hollywood's most beloved films, presented by two 'film tragics'. With the added bonus of a lovely courtyard to have a drink or two in beforehand, Giant Dwarf is a go-to if you've just seen SFF's Aussie rom-com featuring RJ Mitte, Standing Up For Sunny, and it tickled your fancy for some local belly laughs.
EAT REAL-DEAL MEXICAN, IF NOTHING FANCY: DIANA KENNEDY MADE YOU HUNGRY
Rosa Cienfuegos told Concrete Playground back in February that there "aren't many authentic Mexican options in Sydney" — but you can trust that her Dulwich Hill-based tamaleria and Mexican deli will offer up just that. If one of the films you've chosen at Sydney Film Festival is Nothing Fancy: Diana Kennedy, which profiles the life of the prolific titular food writer, then chances are that you are going to be desperately hungry for authentic Mexican food after seeing it. Kennedy, who is now 96 years of age but retains her quick wit and brutal honesty, still works, cooks and writes about the beauty of Mexican cuisine. And beautiful it is — Rosa Cienfuegos Tamaleria & Mexican Deli serves up tamales and street food-style tacos and has revolving specials like chiles rellenos, empanadas, tuna croquettes and vegan ceviche.
SEE A FILM-CENTRIC ART EXHIBITION THEN HIT HAPPY HOUR
As if they weren't already offering enough, Sydney Film Fest is also holding an art exhibition at its central hub located in the CBD. The photo exhibition, titled FRAME: How Asia Pacific Feminist Filmmakers and Artists are Confronting Inequalities, showcases eight Asia Pacific feminist screen creatives challenging the pervasive influence of patriarchy. It was recently shown at the Australian Embassy during Berlinale, so it is well worth a visit if you want to add a whole new medium to your film-heavy schedule. And after the exhibition, make your way back toward West Hotel and nab a seat at the Solander bar for happy hour. From 5–7pm, you can sip $12 spritzes and $8 beers and wines over plates of sweet potato hummus, hickory-smoked wings with gin-infused sour cream and rosemary chips.
Sydney Film Festival ends on Sunday, June 16, with special extended showings till Thursday, June 20. Make the rest of the festival count with a stay at West Hotel and discover more of the city.
Top image: State Theatre.
Introducing Concrete Playground Trips
Book unique getaways and adventures dreamed up by our editors