A New Mural By Archibald Prize Winner Vincent Namatjira Has Been Unveiled in Circular Quay
Spanning 15 metres long, it's the acclaimed artist's largest ever artwork to date.
In 2020, Vincent Namatjira made history. Thanks to his portrait of champion AFL footballer Adam Goodes, he became the first Indigenous Australian artist to win the Archibald Prize in the award's 99-year run. That's an exceptional achievement, but 2021 isn't looking too average for the acclaimed Western Arrernte painter — with the Museum of Contemporary Art Australia just revealing a new 15-metre-long mural by Namatjira.
The MCA has long decked out the foyer of its Circular Quay entrance with eye-catching, large-scale, site-specific works, with Namatjira's new piece marking the seventh such commission. Called P.P.F. (Past-Present-Future), it shows seven Aboriginal male figures against the desert landscape of the Indulkana in the Anangu Pitjantjatjara Yankunytjatjara (APY) region in South Australia, which is Namatjira's home community.
Taking two weeks to hand paint directly onto the wall, the hefty artwork includes a self-portrait of Namajtira among the men — plus portraits of his great-grandfather Albert Namatjira; musician Kunmanara (Jimmy) Pompey, who was also the artist's late father-in-law; and an Aboriginal stockman who symbolises the male elders from Namatjira's region. Visitors to the MCA will also spot Adam Goodes, land-rights campaigner Eddie Koiki Mabo and boxer Lionel Rose on the artwork.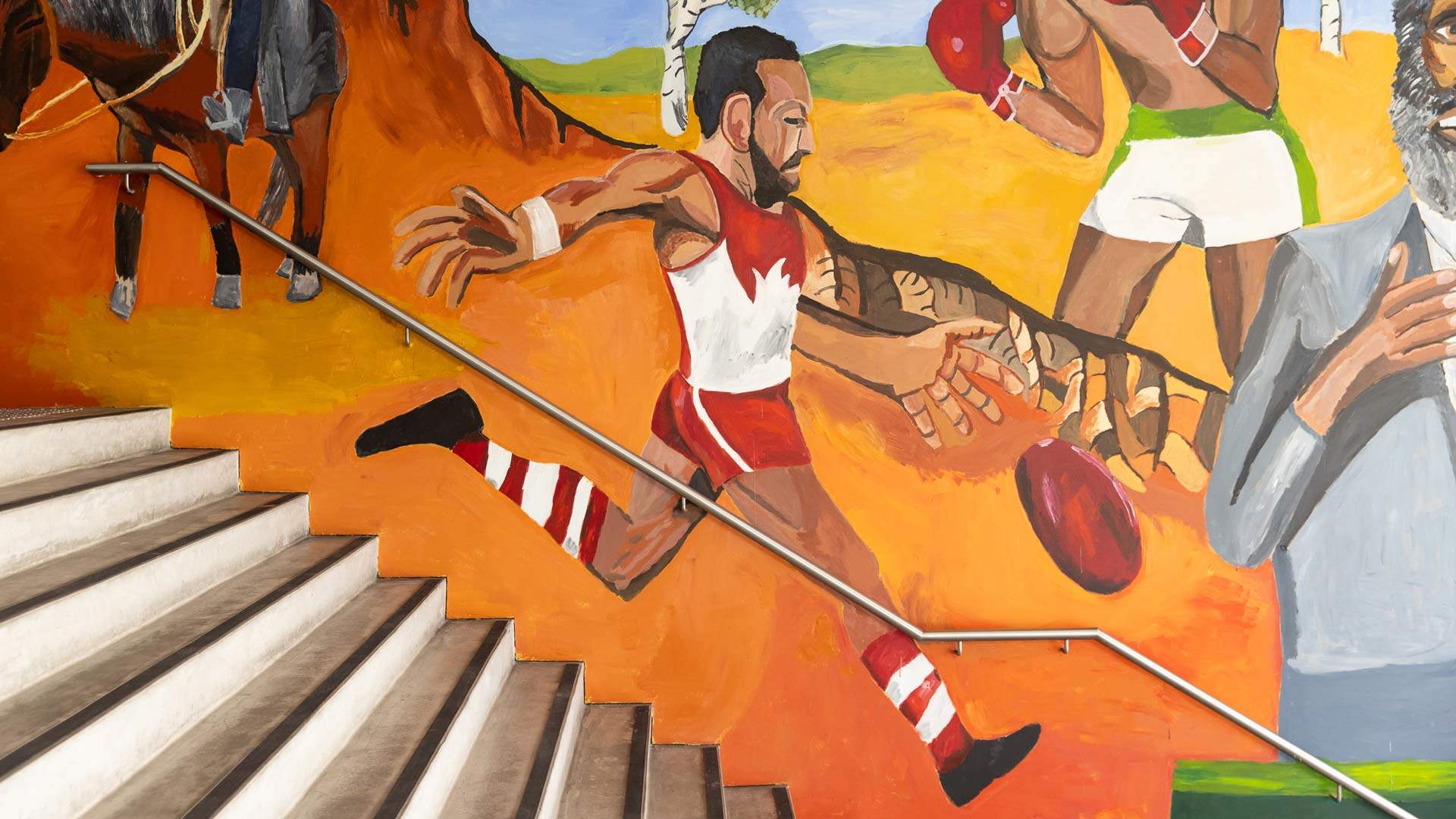 Explaining the piece, Namatjira said that "I'm trying to bring my neck of the woods to the city, to the big smoke, for everyone to see. I painted this for the Indigenous people of Australia... I'm proud to be Aboriginal, and to have these Aboriginal male figures in the world makes me happy for our people."
P.P.F. (Past-Present-Future) marks Namatjira's largest ever artwork to-date, and sees him respond to the mural's location — which includes its history as the site where first contact was made between Aboriginal and Torres Strait Islander and British peoples.
As well as viewing the work, MCA patrons can listen to an audio guide that features Namatjira talking through the figures and their significance to his life.
Previous Circular Quay Foyer Wall Commission pieces have been crafted by Helen Eager (in 2012–2013), Guan Wei (in 2013–2014), Daniel Boyd (in 2014–2016), Stephen Bush (in 2016–17), Khadim Ali (in 2017–2018) and Gemma Smith (in 2018–2021).
Vincent Namatjira's P.P.F. (Past-Present-Future), is on display at the Museum of Contemporary Art, 140 George Street, The Rocks.

Images: Vincent Namatjira, P.P.F. (Past-Present-Future), 2021, commissioned by the Museum of Contemporary Art Australia, 2021, supported by Veolia Environmental Services, image courtesy the artist; Museum of Contemporary Art Australia, Sydney; and Iwantja Arts, South Australia © the artist. Photograph by Daniel Boud
Concrete Playground Trips
Book unique getaways and adventures dreamed up by our editors