An Itinerary of Hidden Treasures from the CBD to Darlinghurst
From excellent coffee and authentic ramen to a hidden laneway of art, design and fashion just off Oxford Street.
in partnership with

One of Sydney's great pleasures is walking its streets. Glimpses of the harbour through jacarandas and palms, sandstone and bluestone, the occasional gallery, ubiquitous cafes and passers-by all combine to create a floating mood that is uniquely our city.
One of our favourite routes to wander Sydney's streetscape is to and from the Foley Street Creative Spaces, a laneway full of artists and artisans. Here's how you might get there — we recommend a lazy afternoon, but you could do a condensed version on your lunch break if you work in the city, too. It's only a ten-minute stroll from Museum Station.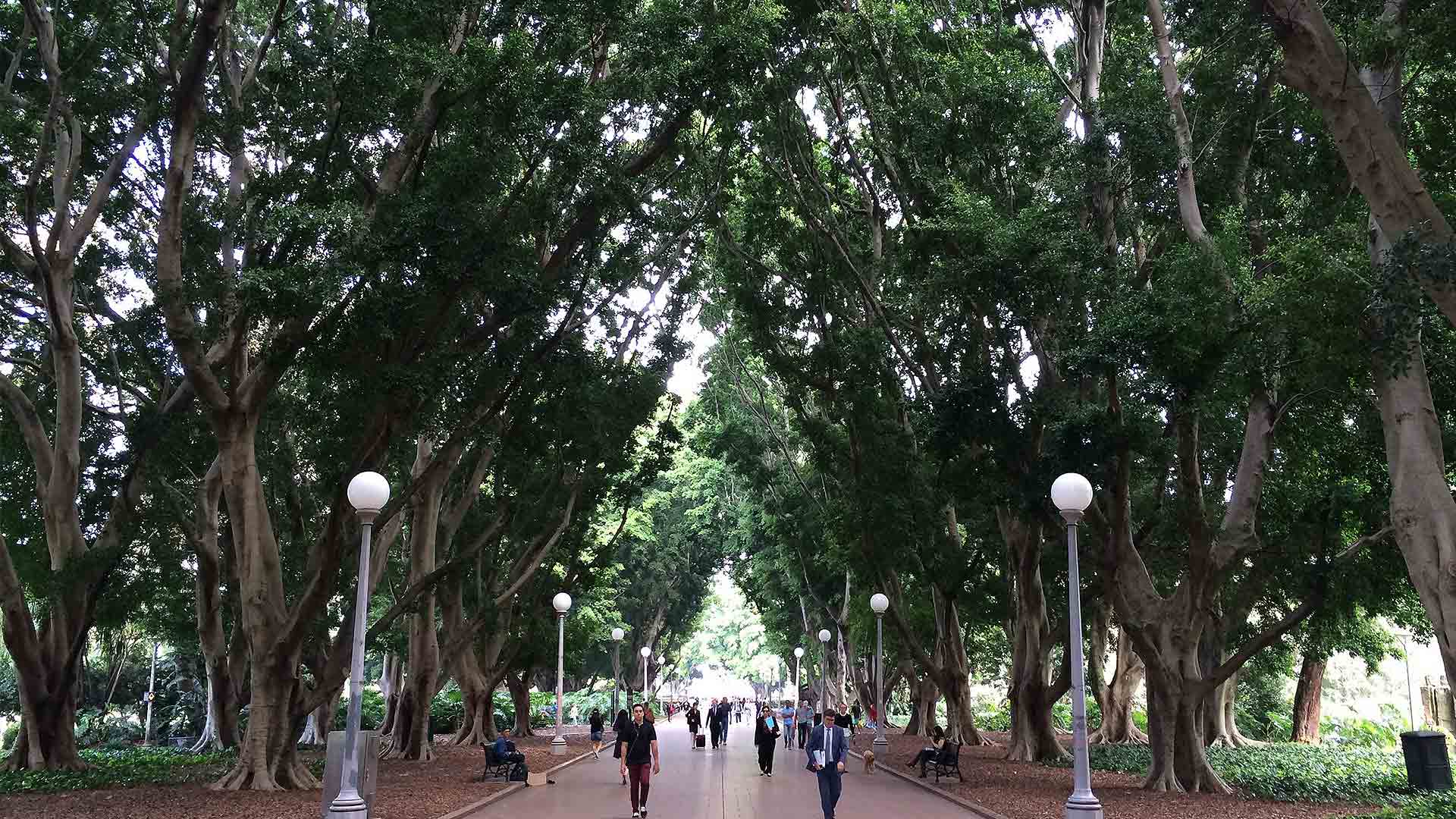 START: MUSEUM STATION AND HYDE PARK
Museum Station, one of the prettiest city circle train stations, is where we'll start. Don't forget to look up as you exit – you're brought out right into the lovely Hyde Park, the green heart of the CBD.
Northeast corner of Elizabeth and Liverpool streets, Sydney

Walk along the park's south edge, and you'll hit Oxford Street. Veer off down Liverpool Street for a little more breathing space and a coffee hit. For quality brews, hit up Edition Coffee Roasters, whose sparse minimalist vibes perfectly complement its quality coffee and Nordic-Japanese menu. If you haven't had breakfast, there's the usual cafe brekkie fare but with Scandi-Nippon twist — think danish rye toast, onsen eggs and miso banana bread.
265 Liverpool Street, Darlinghurst

VISIT: LIVERPOOL STREET GALLERY
You may have noticed a concrete gallery space housed in glass on your way to Edition. Head back towards the city about 50 metres, and you'll find Liverpool Street Gallery, a well-respected commercial gallery on the Sydney art scene. The gallery's direction is steered by founder and director James Erskine as well as David Serisier of the National Art School. This is somewhere to see contemporary sculpture and painting from emerging and established artists. Keep an eye out for shows featuring Sydney-based Nick Collerson's works and his observations of the everyday.
243A Liverpool Street, Darlinghurst

LUNCH: CHACO BAR
What better than a bowl of ramen to fuel an afternoon of exploring Sydney's side streets. Owner and chef Keita Abe of Chaco Bar is known as a ramen boss, serving up four options Monday 5.30–10pm and Wednesday–Saturday 11.30am–2.30pm: fat soy (pork), fish salt, yuzu scallop or chilli coriander (chicken). And Chaco Bar is also known for its yakitori, servedTuesday–Saturday, 5:30–10pm. If you've ever been to Tokyo's Ginza district, you'll remember the many yakitori restaurants peppering the streets, where business folk spill out onto the pavements after dark to enjoy charcoal-grilled chicken skewers, beer and conversation. Chaco Bar, while in Darlinghurst, almost captures those vibes from Daikanyama.
238 Crown Street, Darlinghurst

VISIT: FOLEY STREET PRECINCT
Don't let Foley Street fool you. At first, it feels like another lovely, yet nondescript Darlinghurst backstreet. Tucked away from the hustle of Oxford Street, this semi-hidden laneway holds five shops filled with designer wares. City of Sydney provides five affordable work and shopfront spaces here, for Sydney makers and artists. The Foley Street precinct is about creating, displaying and sharing — whether it's a new object to take home or a workshop, talk or event to attend. Don't forget to ask if there are any community events coming up as you visit the spaces.
So what sort of wares will you find along this artisanal strip? Studio Enti's delicate space delivers porcelain wares from ceramicist Naomi Taplin who looks to create "pieces that have the ability to tell a story and to enrich the tasks and the lives of the user", while Fine Fellow focuses squarely on design for men, offering fashion, accessories, grooming and homewares that embody ethical and sustainable processes, and quality local craftsmanship. Bermuda Black commits to a minimalist aesthetic through handmade leather shoes, bags and tailored garments by self-taught shoemaker and designer Marina Roorda. And finally, Spunky Bruiser adds a vibrant punch to the laneway with its bespoke, up-cycled fashions created with materials that have all been sustainably sourced from around Australia — it's here where you can even bring all those band shirts you've been collecting for the past ten years to make something new, designed and pieced together just for you.
11–21 Foley Street, Darlinghurst

DRINK: SHADY PINES HAPPY HOUR FROM 4–6PM DAILY
Wrap up your afternoon with happy hour at Shady Pines Saloon, because who doesn't enjoy a negroni or margarita under a stuffed deer's head, especially when it'll only set you back $10 from 4–6pm. If it's the right day of the week, and you're feeling like a session, stick around till 7pm to catch some live music. Speakeasy vibes add to the appeal, here, so keep an eye out for the sign on the door, and if you see the Concrete Playground garage door, then you know you've gone too far. Give us a wave, and we'll show you the way.
4/256 Crown Street, Darlinghurst
Introducing Concrete Playground Trips
Book unique getaways and adventures dreamed up by our editors