ARTS & ENTERTAINMENT
Seven Exciting New Art Exhibitions, Installations and Events Coming to Australia This Year
Start filling up your 2020 art calendar with art festivals, world-first exhibitions and visits to Australia's new museum of underwater art.
Seven Exciting New Art Exhibitions, Installations and Events Coming to Australia This Year
Start filling up your 2020 art calendar with art festivals, world-first exhibitions and visits to Australia's new museum of underwater art.
Australia's arts calendar is always world-class, but this year it is particularly jam-packed — not just with recurring festivals and events, but lots of things that will hit the city for the first time ever. Us lucky Australians will be the first people in the world to see Patricia Piccinini's Skywhalepapa take to the sky and, down in Melbourne, the works of 20th century French artist Pierre Bonnard reimagined by architect and designer India Mahdavi. Plus, we've got multiple big-name exhibitions and not one, but two new galleries.
While more events, installations and and exhibitions will inevitably be announced as the year progresses, these are the ones you should get more excited about right now.


THE RETURN OF PATRICIA PICCININI'S OTHERWORLDLY SKYWHALE
At 34 metres long, more than twice as big as a regular hot air balloon and ripped straight from Patricia Piccinini's inimitable mind, Skywhale might just be one of Australia's most recognisable recent pieces of art. It's a sight to see, and the largest-scale example of the artist's fascination with the thin line that separates nature and technology — and it's about to meet its match. In 2020, the National Gallery of Australia will unveil Piccinini's new Skywhalepapa, which is designed to form a family with Skywhale.
They'll both float through the Canberra skies from April, with the second bulbous sculpture commissioned as part of the gallery's Balnaves Contemporary Series. In total, the pair will take flight from a site near the NGA eight times during the nearly three-month Skywhales: Every Heart Sings exhibition, with the exact launch dates yet to be revealed. Just how big Skywhalepapa will be is also yet to be announced, but given the impressive size of its companion, expect it to be hefty. If you can't make it to Canberra to see the growing Skywhale clan, they will also tour the country for an NGA touring exhibition, with locations and dates to be confirmed at a later date.
Skywhales: Every Heart Sings will run Canberra's National Gallery of Australia in April 2020.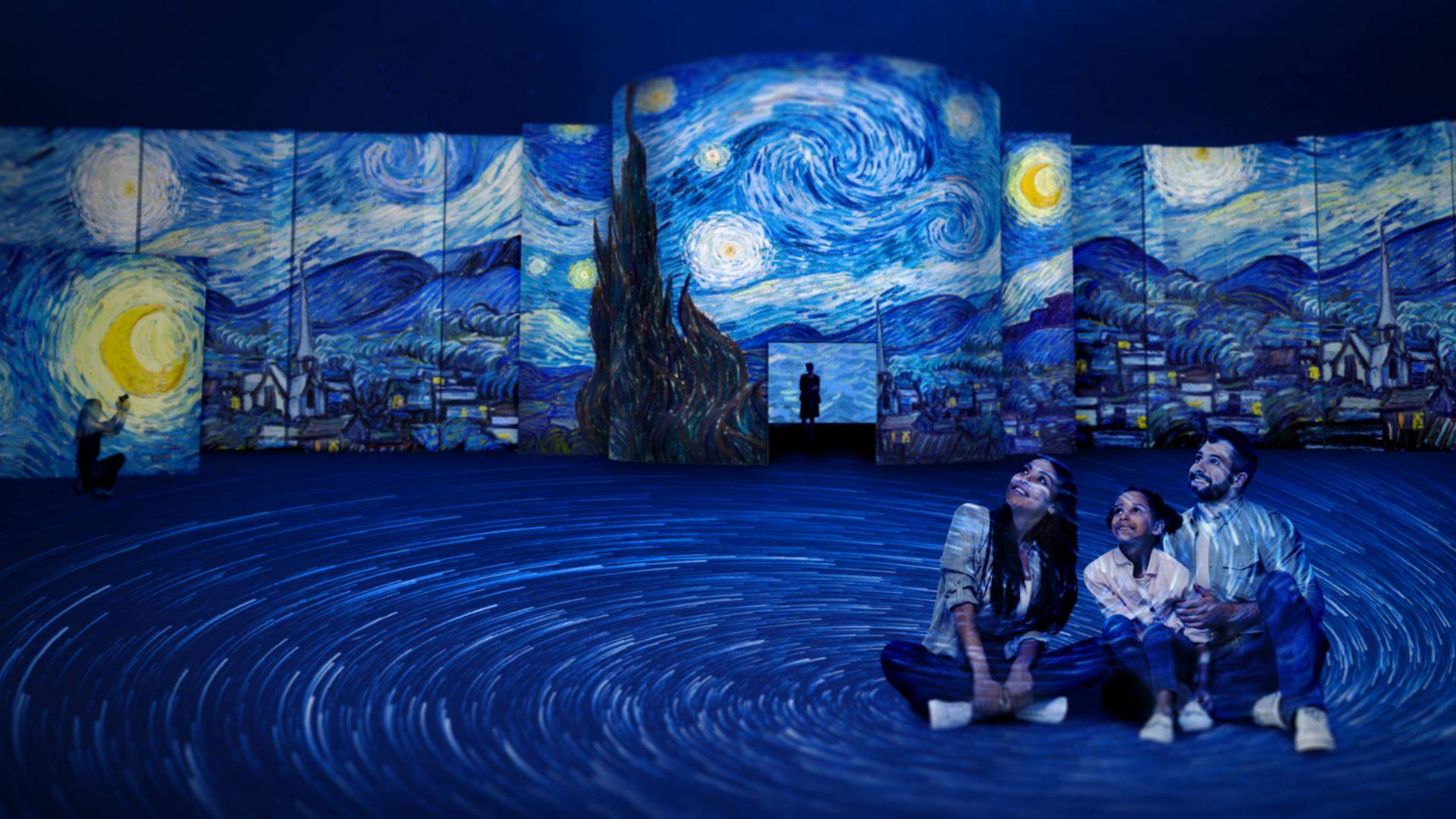 A BRAND NEW MULTI-SENSORY DIGITAL ART GALLERY
If you prefer an art experience that extends beyond looking at works on a wall, prepare to be impressed by Melbourne's new immersive digital art gallery. Set to open sometime in autumn, The Lume will take the form of a $15 million 2000-square-metre gallery, decked out with 150 state-of-the-art projectors. Projections of some of the world's most celebrated works will be splashed across various surfaces, backed by powerful musical soundtracks and complemented by aromas.
The project is the brainchild of Melbourne-based Grande Exhibitions, which, for the past 14 years, has hosted immersive exhibitions and gallery experiences in over 130 cities across the world. The company also owns and operates Rome's Museo Leonardo da Vinci. Known for celebrating art world greats like Vincent van Gogh and da Vinci through modern, multi-sensory technology, Grande Exhibitions will use a similar formula at The Lume. Instead of showcasing original works, the gallery will rely on a curation of music and moving image to create a tapestry of instantly recognisable artworks.
The Lume will open in an unconfirmed Melbourne location in autumn 2020. We'll let you know when more details are announced.

A MAZE OF RED AND BLACK WOOL AT GOMA
It's been home to David Lynch's eerie filmscapes, Yayoi Kusama's infinity rooms, a snowman and Patricia Piccinini's forest of flowers. Yes, Brisbane's Gallery of Modern Art loves an immersive installation — and it has more in store for 2020. Fancy wandering through a labyrinth of red and black wool? That's on next year's agenda. As part of its just-announced 2020 lineup, GOMA revealed it'll host Chiharu Shiota: The Soul Trembles, a showcase focusing on the Berlin-based Japanese artist and her work over the past quarter-century. In an Australian exclusive, the exhibition comes to Brisbane after recently premiering in Tokyo — and while it won't sit 53 storeys up or come with panoramic views of the city, like it did in Japan, Shiota's string-heavy installations are certain to garner more than a little attention. Fashioned from millions of strands, they resemble weaved, maze-like webs and take up entire rooms.
The Soul Trembles is the largest-ever solo exhibition by the artist — and although GOMA hasn't revealed just how much of the Tokyo lineup is coming to Brisbane, art lovers can expect an array of sprawling installations, sculptures and video footage of Shiota's performances, as well as photographs and drawings. Highlighting her fascination with intangible concepts, such as memory, anxiety, dreams and silence, the ticketed display will run from June 27–October 5, 2020.
Chiharu Shiota: The Soul Trembles will run at Brisbane's GOMA from June 27–October 5, 2020.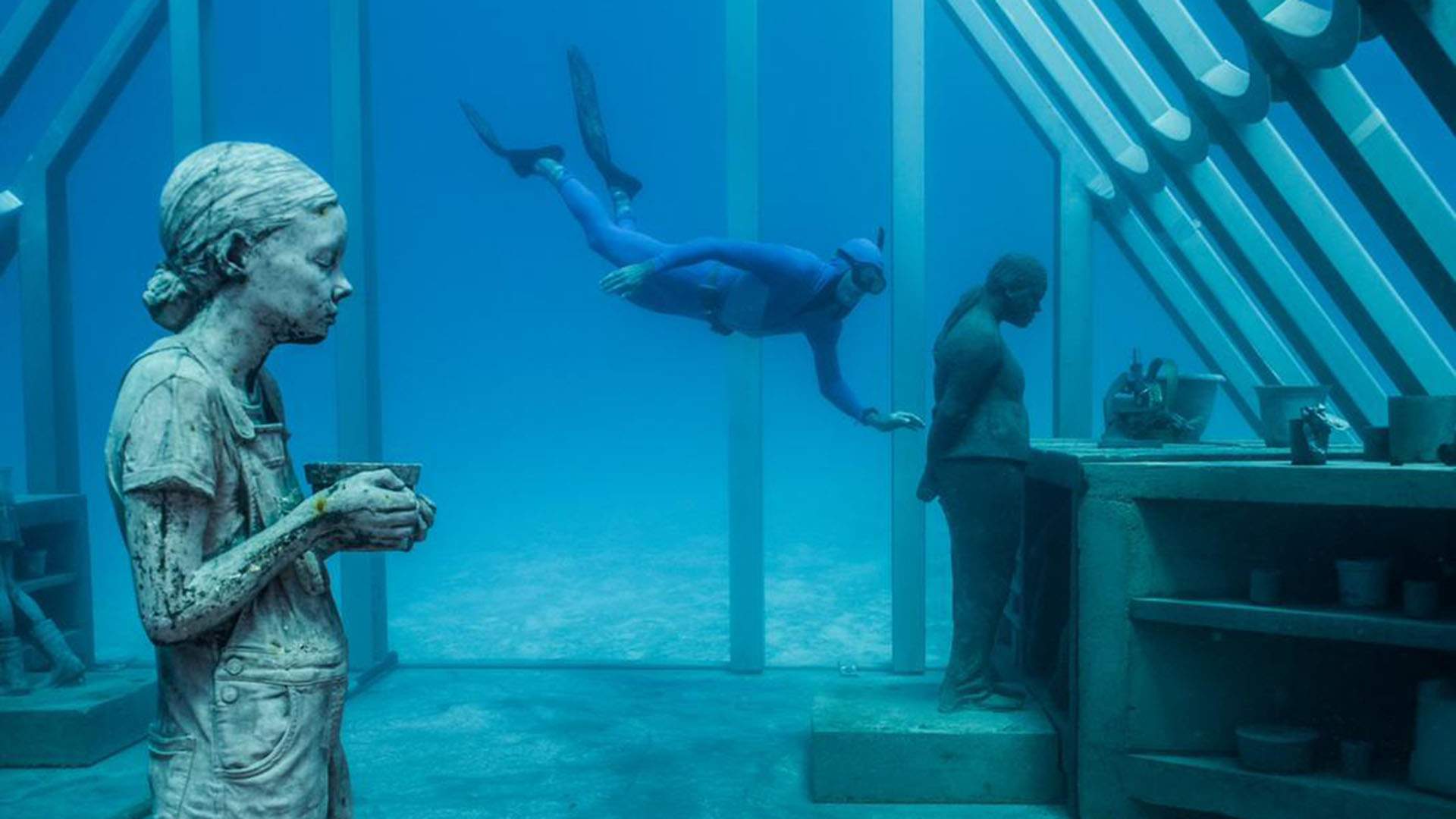 THE SOUTHERN HEMISPHERE'S FIRST MUSEUM OF UNDERWATER ART
There are plenty of ways to soak in the Great Barrier Reef's natural underwater delights — and the Museum of Underwater Art is the newest one. The attraction – created by marine sculptor Jason deCaires Taylor — has been a long time in the works, but just recently installed its first two artworks just off the shore at Townsville. The first artwork, Ocean Siren, can be found 30 metres from The Strand jetty — and while it actually towers above the water, it interacts with live water temperature data. Designed to resemble Takoda Johnson, one of the area's Wulgurukaba traditional owners, it receives information from the Davies Reef weather station on the Great Barrier Reef, then changes colour in response to variations as they happen. This one can be visited now
Coral Greenhouse, on the other hand, sits 18 metres beneath the ocean's surface on the John Brewer Reef. It's an underwater building filled with coral garden beds and more than 20 sculptures, many resembling local school children — and has been made to both stand up to wave pressures and cyclones, and remain visible to divers and snorkellers. While this one is installed, it won't be open for viewing until April 1, 2020. Four pieces are planned in total — another one at Palm Island is expected to be installed by the end of the year, and another at Magnetic Island will open once funding is sourced.
MoUA's first artwork can be seen now just off The Strand jetty at Townsville, and the second one will be able to view from April 2020. 

SYDNEY'S BIANNUAL EXHIBITION THAT TAKES OVER THE CITY FOR 12 WEEKS
The centrepiece of the 2018 Biennale of Sydney was Ai Weiwei's 60-metre inflatable boat, a critique and exploration of the global refugee crisis. This year, when the Biennale returns to art galleries across Sydney, the lineup of 100-plus artists will be examining another poignant issue close to the heart of Australia: First Nations sovereignty and intergenerational trauma. Running from Saturday, March 14 until Monday, June 8, the 2020 Biennale is entitled Nirin, which means 'edge' in the language of western NSW's Wiradjuri people. This year's theme is timely, for two reasons: the 2020 blockbuster falls on the 250th anniversary of Captain Cook's voyage to Australia — and it will be helmed by a new First Nations artistic director: famed Sydney-born, Melbourne-based interdisciplinary artist Brook Andrew.
Andrew has selected an impressive lineup of artists and creatives — many of them First Nations — from around the world to exhibit at the Art Gallery of NSW, Woolloomooloo's Artspace, Campbelltown Arts Centre, Cockatoo Island, MCA and the National Art School for the exhibition's 12 weeks. On the just-announced program, you'll find the Southern Hemisphere premiere of Arthur Jafa's Golden Lion-awarded work The White Album, Wiradjuri artist Karla Dickens's immersive work symbolising the disproportionate number of incarcerated Indigenous Australian women and a large-scale political protest piece by Pitjantjatjara artist Kunmanara Mumu Mike Williams (who passed away last year). Cockatoo Island will be home to a wide range of works, too, including Ghanaian-born artist Ibrahim Mahama's sprawling installation of coal sacks; Tony Albert's interactive greenhouse, where you'll be invited to write and plant messages; and Tlingit/Unangax̂ artist Nicholas Galanin's excavation work that'll 'dig up' the land beneath the shadow of Hyde Park's Captain Cook statue.
The 22nd Biennale of Sydney runs from March 14–June 8 2020.

A WORLD-FIRST EXHIBITION BY PIERRE BONNARD AND INDIA MAHDAVI
Heading the National Gallery of Victoria's autumn/winter program this year is a world-premiere exhibition Pierre Bonnard, created in collaboration with famed Parisian museum the Musée d'Orsay. It offers a glimpse into the life and work of acclaimed 20th-century French artist Bonnard through a sprawling collection of pieces on loan from the likes of London's Tate and The Museum of Modern Art in New York, along with other renowned French museums. A close friend of the legendary Henri Matisse, the artist is best known for his stylised decorative works evoking scenes of everyday domestic life.
The Melbourne exhibition will see Bonnard's recognisable designs brought to life even further, with the help of famed Iranian-Egyptian-French architect and designer India Mahdavi. Mahdavi — who has designed eye-catching spaces like London's Red Valentino store and the famous all-pink Gallery at sketch — will use her signature colour palettes and love of textures to create an immersive, life-size version of one of Bonnard's domestic scenes.
The exhibition will run at NGV International from June 5–October 4, 2020.

A BRAND NEW MAJOR WINTER ARTS FESTIVAL
Melbourne's arts calendar never fails to keep us busy, however, it's always had a bit of a lull in winter before Melbourne International Arts Festival and Melbourne Music Week take over the city in spring. But, this year, that's all set to change. In May last year the Victorian Government announced that it will launch a huge new citywide arts festival in the winter of 2020. It's set to shake up the Melbourne arts calendar as the new festival will merge the aforementioned Melbourne Festival and arts all-nighter White Night and move them into a winter timeslot. While White Night was originally held on a hot February night, in 2019 it was moved to August. Melbourne Fest, which was established in 1986, is usually held in October.
Exact timings and details are yet to be revealed, but the new "global" festival — as it's being billed by the Andrews Government — will take over the city for several weeks, much like Melbourne Festival usually does in October. While it will no doubt combine the best bits of the two existing festivals, a new creative team will come on to develop a new program and vision. We're told the the 2020 program will feature a "diverse program of visual and performing arts" coupled with with "large-scale takeovers of precincts" after-dark. The inaugural festival — which is yet to be named — will kick off with a 'transitional' year in the winter of 2020.
The new winter festival will hit Melbourne in winter 2020. We'll keep you updated when new details or dates are announced. 

Top image: Skywhale, 2013, Patricia Piccinini. National Gallery of Australia, Canberra. Gift of anonymous donor 2019, Australian Government's Cultural Gifts Program.
Published on February 03, 2020 by Concrete Playground