ARTS & ENTERTAINMENT
Five Late-Night Art Adventures Happening in Sydney This Summer
Take advantage of Sydney's balmy summer evenings at these special after-hours events.
Five Late-Night Art Adventures Happening in Sydney This Summer
Take advantage of Sydney's balmy summer evenings at these special after-hours events.
---
in partnership with

Balmy summer nights in Sydney, bring 'em on. Rooftop wines, twilight beach strolls and a plethora of blockbuster exhibitions opening their doors across the city — not to mention the after-hours parties that come with them. Bringing some of the world's most groundbreaking, celebrated and iconic art to the city for your perusing pleasure, the Sydney International Art Series is currently boasting two world-class exhibitions at the Art Gallery of NSW and the Museum of Contemporary Art.
Of course, Sydney galleries don't just shut up shop after you've soaked up The Greats: Masterpieces from the National Galleries of Scotland and Grayson Perry: My Pretty Little Art Career, there's a whole bunch of late-night events to see through the evening. Here's a round-up of the must-do cultural programs to catch over the coming months.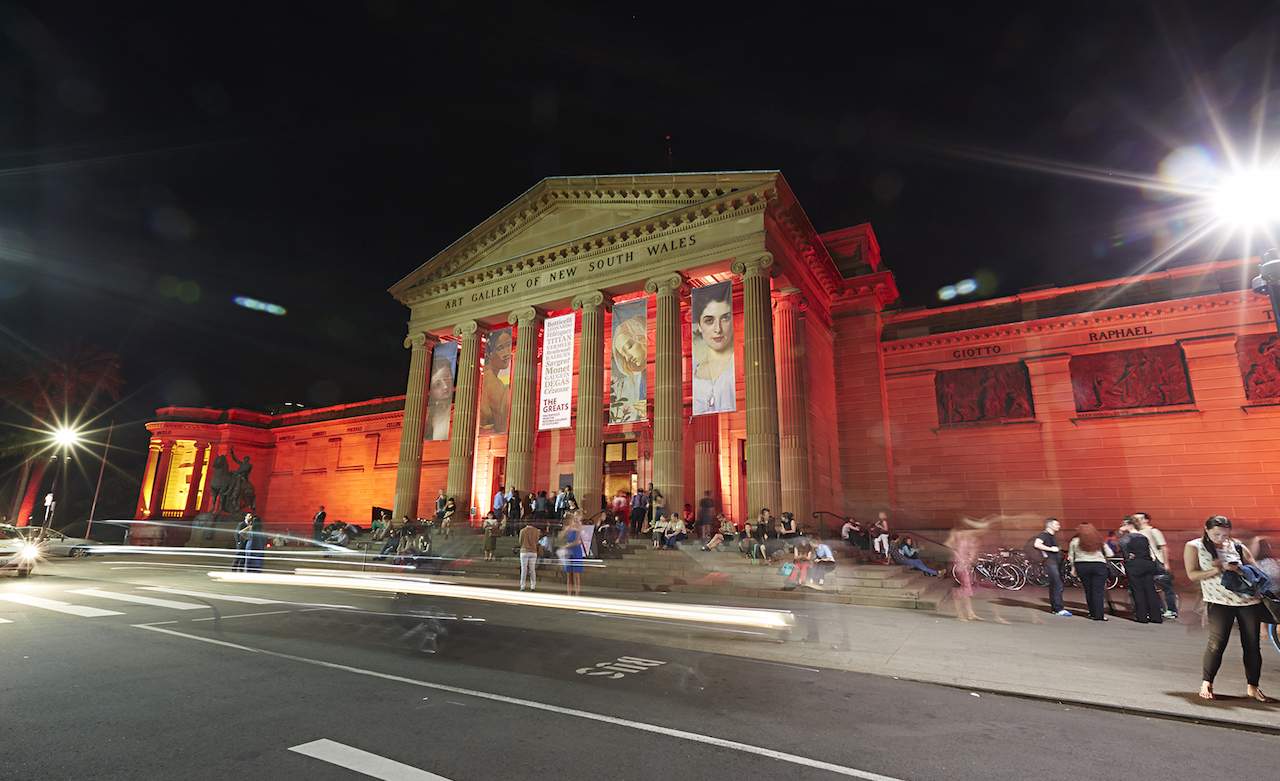 When the sun goes down every Wednesday, the Art Gallery of NSW decks the halls with jam-packed evenings of talks, guided tours, and live music. A super-charged extension of the Gallery's usual Wednesday night Art After Hours program will run on Wednesday, Thursday and Friday nights, dubbed Up Late with The Greats.
After the Gallery's usual closing time of 5pm, you can take an extended jaunt through The Greats exhibition — featuring the likes of Titian, Botticelli, Gauguin and Degas, all the way from the National Galleries of Scotland  — and partake in a ramped up range of activities. On Wednesday nights, celebrated comedian and SERIOUS art nerd Hannah Gadsby will be unveiling her SERIOUS art history chops and treating gallery-goers to a VERY SERIOUS rundown of different eras of Western art history each week.
There'll be salon drawing on Thursday nights, and live music by members of the Australian Brandenburg Orchestra on Friday nights. On all three nights, Young Henrys will be serving a limited edition masterpiece-inspired brew at the Gallery's pop-up bar.
Up Late With The Greats will run Wednesdays, Thursdays, Fridays from January 6 – 29.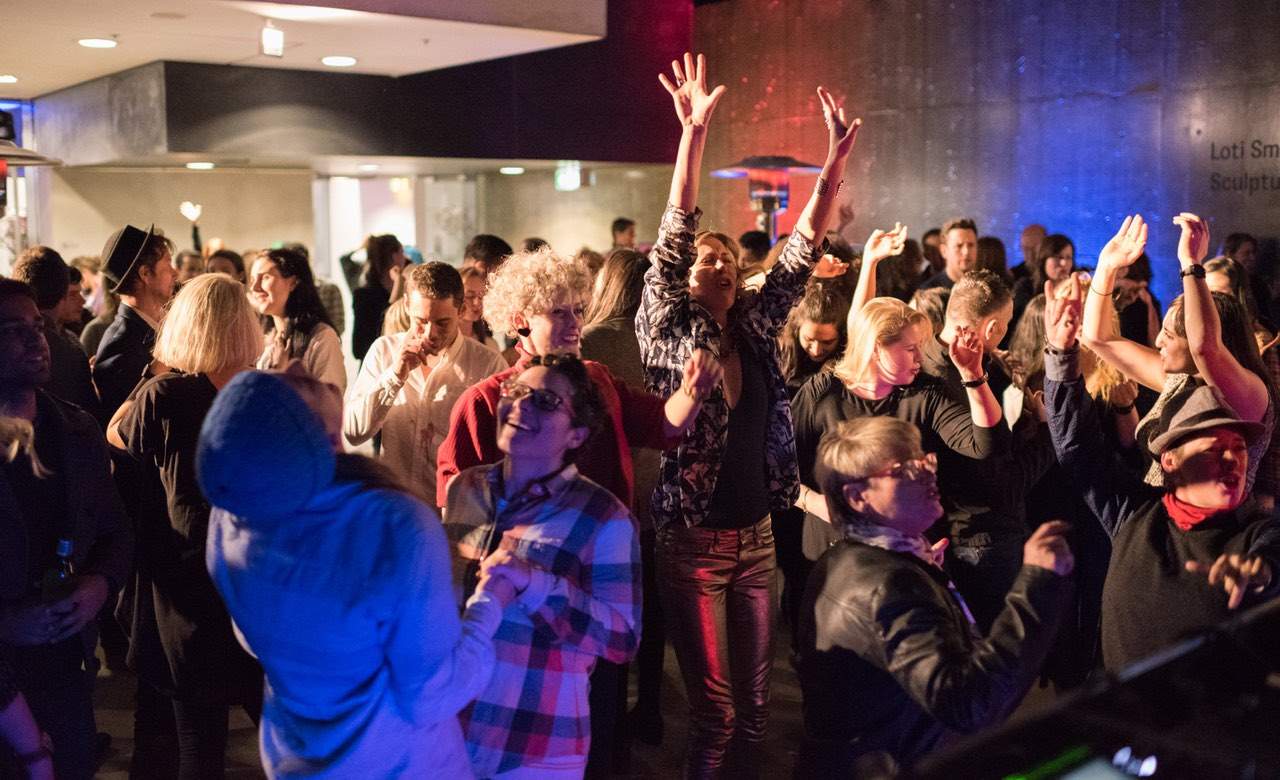 MCA ARTBAR
The Museum of Contemporary Art's monthly ARTBAR has become a firm fixture on Sydney's after-dark cultural calendar. After knocking off work on Friday, head down to Circular Quay for an extra dose of art, a splash of wine and your choice of fun-filled activities — with the added bonus of panoramic views of the harbour from the Sculpture Terrace.
Past curators have included the likes of Pip and Pop, Blak Douglas, Haines and Hinterding, and Rebecca Baumann — each building uniquely flavoured late-night events. Wander in on the last Friday night of the month and you can expect a lively conglomeration of art, music, design and performance. It's an excuse to let loose alongside some of Sydney's best artistic talent.
The next ARTBAR for 2016 will be curated by the supremely colourful Rosie Deacon. Who knows what's in store for this one, but knowing Deacon, we will likely see something big, crafty and carnivalesque.
MCA ARTBAR curated by Rosie Deacon will take place on Friday, January 29, with the following editions of MCA ARTBAR taking place on February 26, April 1 and April 29.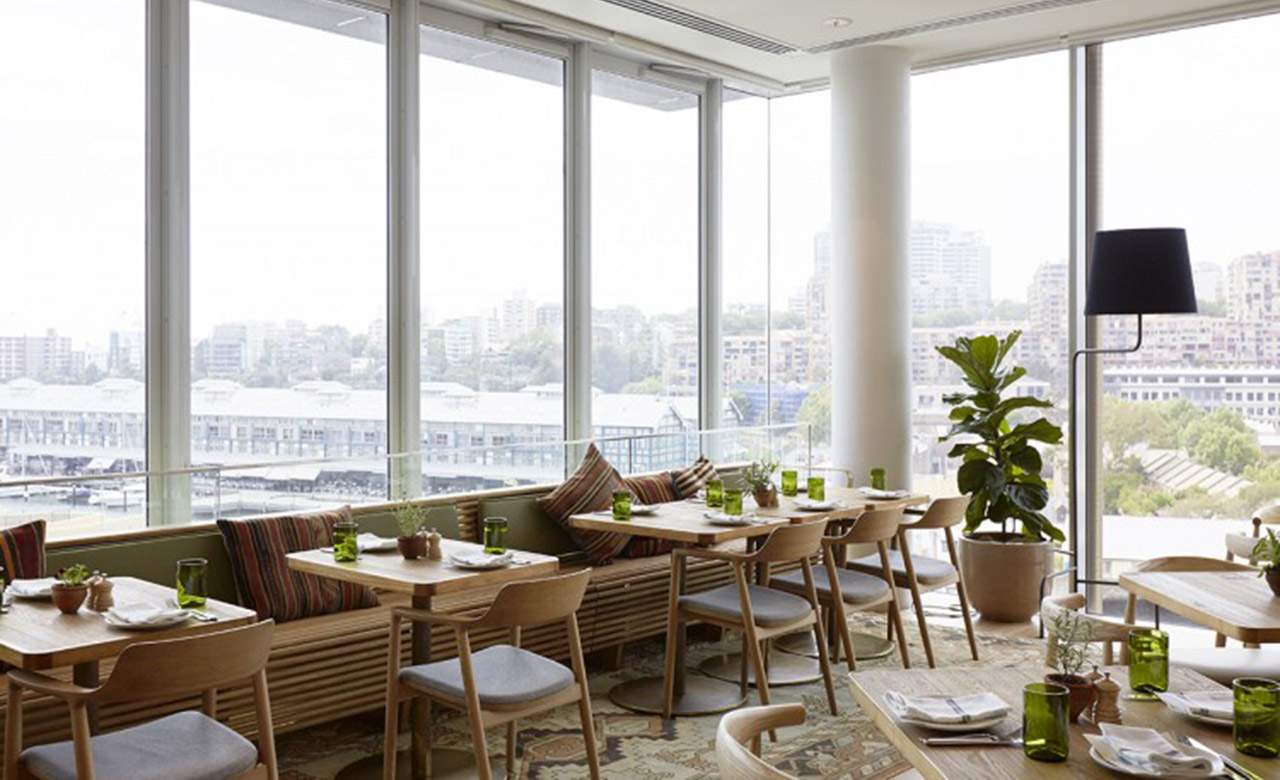 DINE AT CHISWICK AT THE GALLERY
It makes perfect sense to conclude an art adventure with a culinary adventure, right? Matt Moran's Chiswick at the Gallery offers a cool and classy dining experience inside the Art Gallery of NSW. The ethos underpinning this restaurant is all about seasonal produce and inventive creations. Hence this season's lamb comes from Moran's family farm in the Central Tablelands, while the locally-grown herbs and vegetables come courtesy of Chiswick's resident gardener.
Head along for a bite to eat during summer and you can take advantage of a special dining package developed to complement The Greats. Take your pick of two mains, two desserts, a glass of Ross Hill Estate wine, plus a ticket to the exhibition for $75 per person — pretty great value. After taking in some old world inspiration, you can retreat to Chiswick for a more contemporary and replenishing experience. It's staying open for dinner on Wednesdays, Thursdays and Fridays in January as part of the Up Late with The Greats.
For bookings, contact Chiswick at the Gallery on (02) 9225 1819.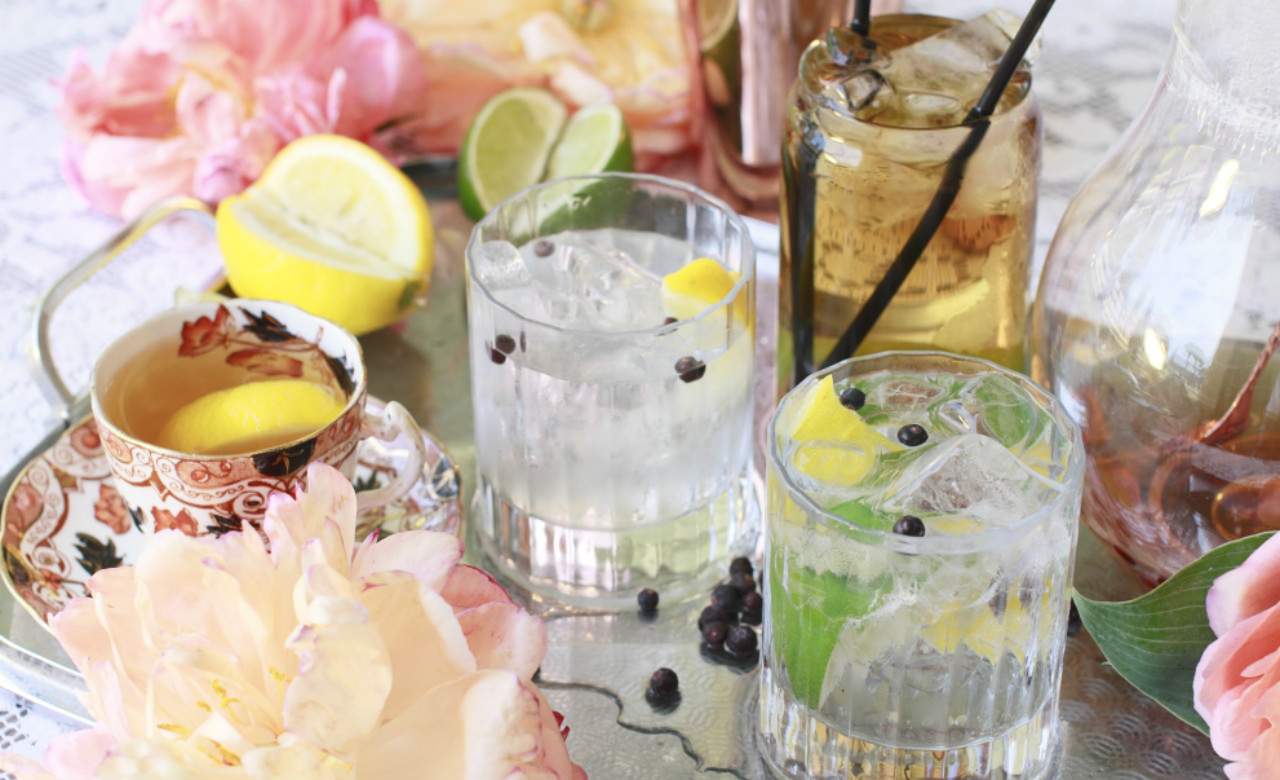 If you haven't dabbled in a spot of gin drinking, now is the time. Young Henrys, Archie Rose Distillery and the MCA have joined forces to open a pop-up Gin Garden, coinciding with the blockbuster exhibition Grayson Perry: My Pretty Little Art Career.
Ushering in some English charm for the summer — with the added perk of Australian sunshine — this quirky watering hole ought to be the perfect accompaniment to arty afternoons at the MCA. Archie Rose has set forth on a mission to revive Sydney's once-thriving passion for spirits with their dedicated Rosebery distillery. The team will offer expertly crafted cocktails incorporating native Australian ingredients, such as blood lime, Dorrigo pepperleaf, lemon myrtle and river mint. If beer is your beverage of choice, Sydney's star boutique brewers Young Henrys will be pulling a few pints too.
Once you've had your fill of Grayson Perry, this is the leafy little pop-up is ideal for a refreshing sip of gin and a conversation (or debate) about contemporary art.
The MCA Pop-Up Gin Garden will be open Thursday to Sunday from 4pm till late, until February 14, 2016.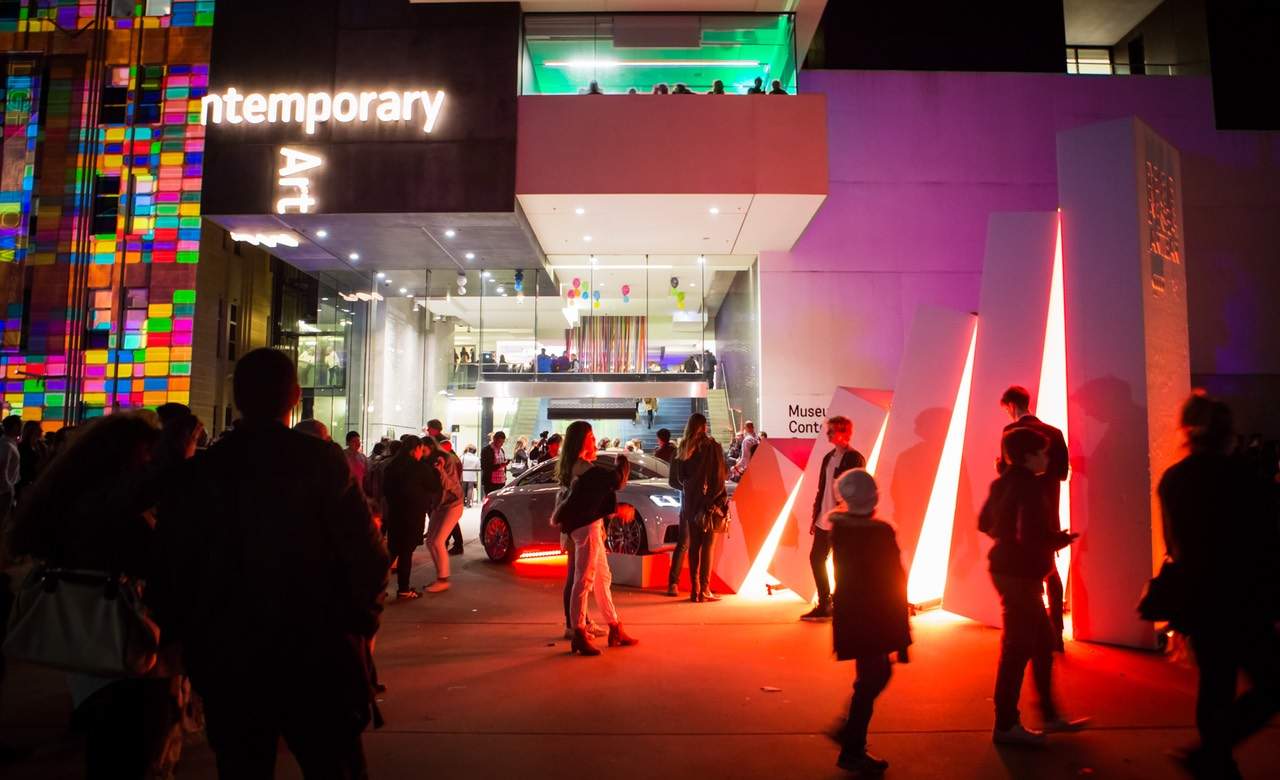 MCA LIGHTS ON LATER
The MCA's late-night program is your go-to inner-city art adventure in Sydney, with this summer's program brimming with activity after hours. Every Thursday evening until 9pm, enjoy late-night access to Grayson Perry: My Pretty Little Art Career and other MCA exhibitions. Discover and design your alter ego in a hands-on workshop, listen to MCA curators and guides, watch one of Grayson Perry's popular TV documentaries, join a Subversive Tour of the exhibition led by a cast of diverse and eclectic guests. Then wind down over a glass of wine, a bit to eat and live music on the MCA's Sculpture Terrace.

Want to go on multiple Sydney art adventures without going broke? You can buy discounted tickets to the Sydney International Art Series by purchasing an Art Pass. It gives you access to both The Greats and Grayson Perry this summer for a discounted rate. Nab one from artpass.com.au.
Published on December 21, 2015 by Annie Murney