Jurassic World: The Exhibition Is Coming to Australia in March
Evacuate the island.
Jurassic World: The Exhibition is a thing, and it's coming to Melbourne. Based on the blockbuster film of the same name, the exhibition will have its world premiere at Melbourne Museum in March next year. And, according to Dr. Patrick Greene, Museum Victoria's CEO, it's sure to "wow audiences and inspire young minds".
The exhibit will feature incredibly life-like animatronic dinosaurs created by Melbourne locals, Creature Technology Company — the same team who developed the dinos for the Walking With Dinosaurs arena spectacular. Did you see the announcement? Terrifying.
So it's a good thing they're not real — because if you've seen at least one of the Jurassic Park films, you'd know that dinosaurs aren't always friendly. The exhibition instead gives you a chance to get up close and personal with the creatures in a unique and engaging way. "Visitors to [the exhibition] will get an unprecedented opportunity to be in close proximity to the most amazing creatures to have ever roamed the earth," says Sonny Tilders, creative director at the Creature Technology Company.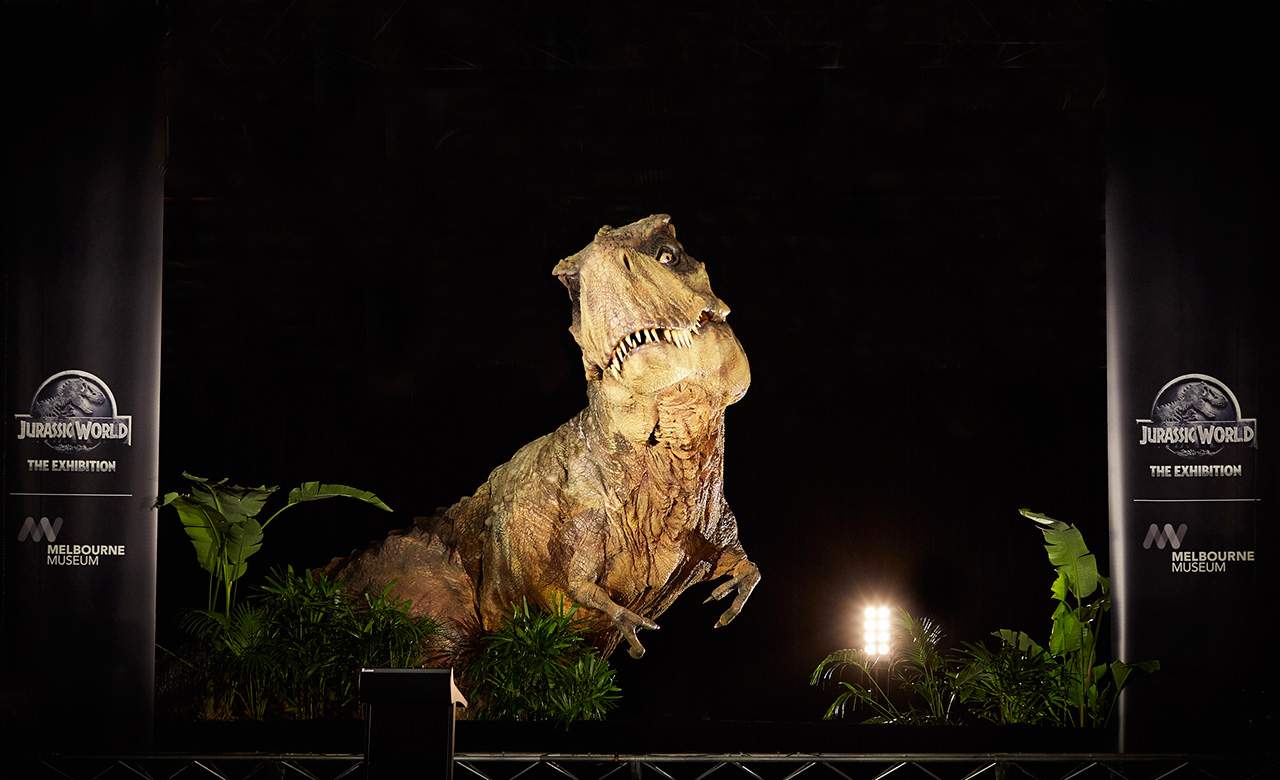 Jack Horner, one of the film's paleontological advisors (or, Official Dinosaur Guy), is working with the exhibition to make sure that it's both educational and fun. Visitors both young and old will be able to learn more about these prehistoric creatures without having to pore over a dry textbook. Gone are the days of boring museum presentations. Now you can learn about dinosaurs from interactive and theatrical exhibits that might scare your pants off at the same time.
This unique experience allows you to experience the events of the film, without having to travel to reception-less Isla Nublar with its dubious emergency protocol. Jurassic Park: The Exhibition features encounters will the realistic life-size dinosaurs, so we can only assume that there will be thousands of people taking pictures pretending to be velociraptor-whisperer, Owen Grady, doing some 'Prattkeeping'.
Jurassic World: The Exhibition runs from March 19 to October 9, 2016 at the Melbourne Museum. Advance purchase of tickets is strongly recommended.
Image: Universal Pictures