Billy Eichner Has Dropped a New 'Billy on the Street' with Paul Rudd to Get People to See 'Bros'
Billy Eichner has a new queer rom-com on the way to cinemas — and he's brought back 'Billy on the Street' to plug it.
Here's a great way to get people to pay attention to almost anything: add Paul Rudd. Movie fans have known that truth since the 90s, when he first grabbed everyone's attention in Clueless. Sure, some of his early big-screen roles — such as Romeo + Juliet as well —  tried to convince us that Rudd was the lesser romantic alternative, but we all knew better. Sorry, mid-90s films, you were wrong.
At the beginning of the pandemic, New York City even enlisted Rudd to spread the word about COVID-19 safety — that's how deep the "add Paul Rudd to anything" rule goes. So getting the Ant-Man and Ghostbusters: Afterlife star to run around NYC to plug Billy Eichner's new queer rom-com Bros just makes sense, obviously.
Eichner is doing the running with him, bringing back his beloved comedy game show Billy on the Street for a brand-new episode to promote his new flick. Rudd has already been on the series before, in a season-three episode called 'Would You Have Sex with Paul Rudd?'. You don't have to pay many people $1 to say yes to that.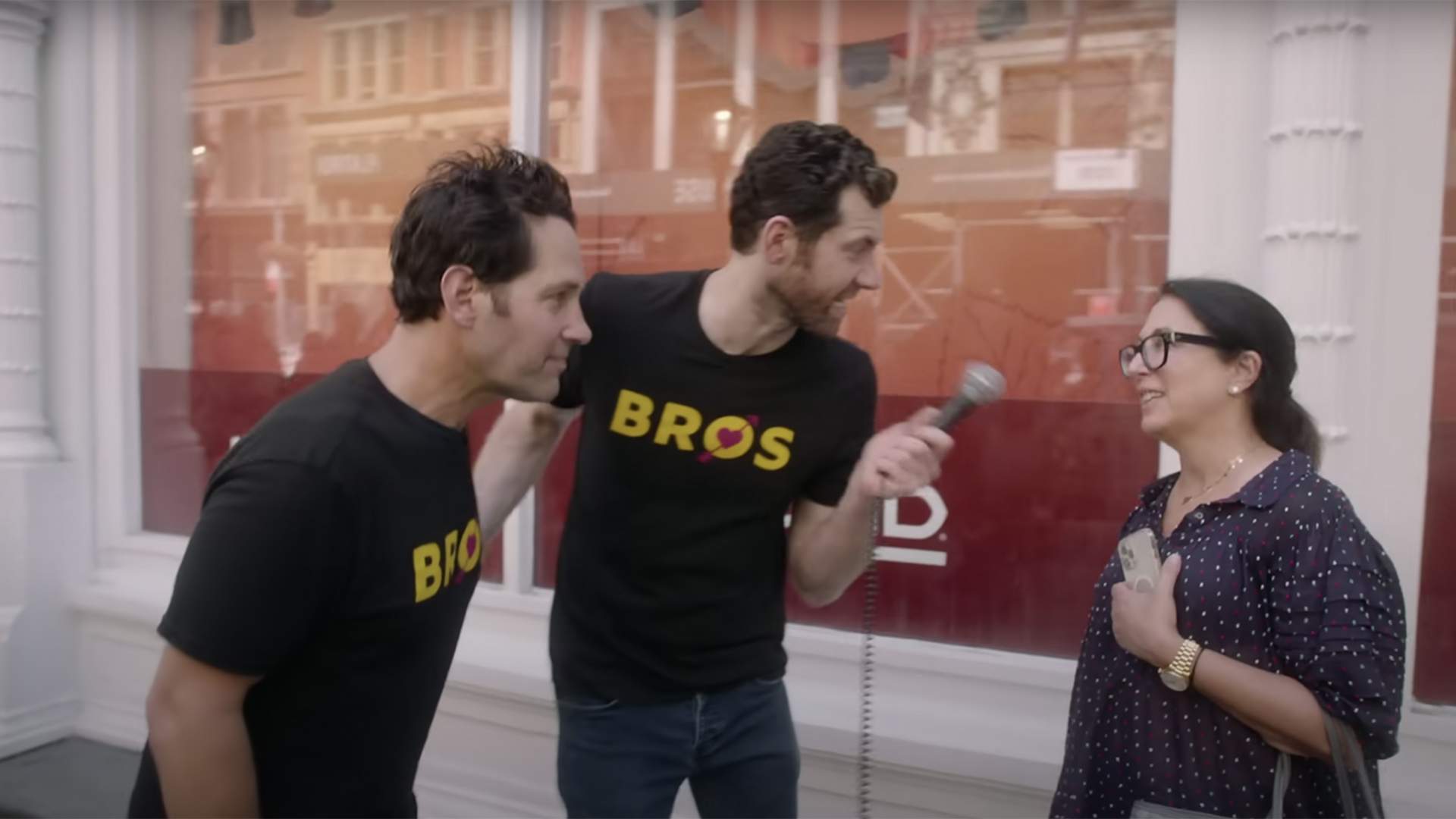 This time, Eichner and Rudd jog around, stick a microphone in people's faces and ask if folks will see Bros — and tell them that Rudd wants them to. "Paul Rudd demands that you see Bros," Eichner says to one New Yorker. "I'm in" is the response, naturally.
Rudd also carries that aforementioned man, upon request. Not everyone is as obliging, however. "I'm sorry I'm not Florence Pugh!" Eichner screams in response to one rejection, as only Eichner can.
If this is your first Billy on the Street experience, the show sees comedian Eichner take to the New York City pavement to ask ordinary folks about movies, music and TV shows, often with a celebrity in tow. During its main run from 2011–17, episodes also involved Eichner yelling at his unsuspecting contestants about their questionable pop culture taste or utter lack of entertainment knowledge — yep, right there on NYC's streets, with a camera pointing their way — and the end result was a hilarious dream to watch for audiences, too.
As for Bros, it releases in cinemas Down Under on October 27  — and sees the Parks and Recreation and Difficult People treasure becomes the first openly gay man to co-write and star in his own major studio film. He plays a podcaster who has been asked to write exactly this kind of flick, and falls in love himself (with Killjoys' Luke Macfarlane) along the way.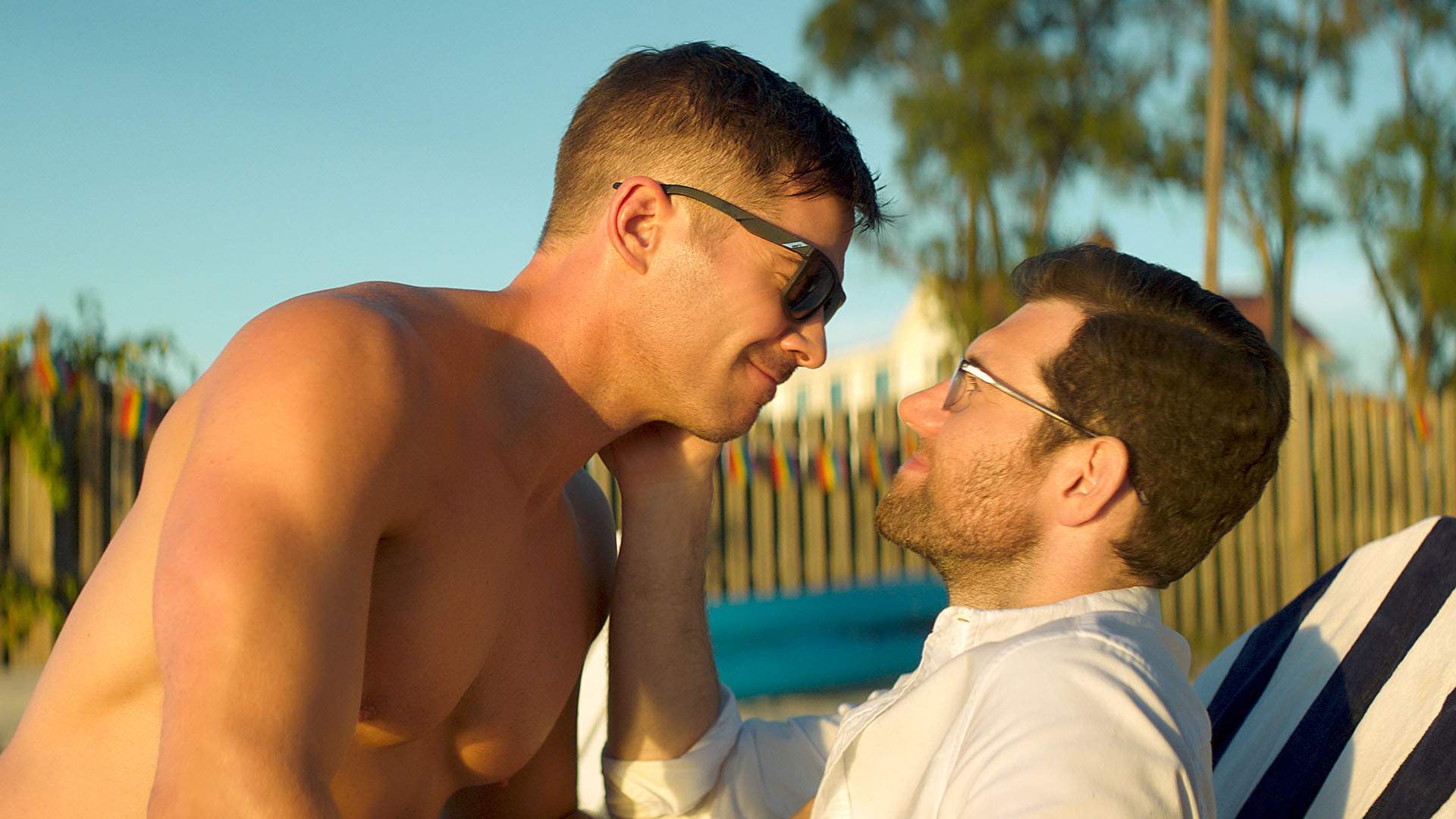 Eichner co-wrote the Bros script with director Nicholas Stoller (Bad Neighbours and its sequel), while Judd Apatow (The King of Staten Island, Trainwreck) produces.
On-screen, the cast includes Ts Madison (Zola), Monica Raymund (Chicago Fire), Guillermo Díaz (Scandal), Guy Branum (Hacks), Bowen Yang (Fire Island) and Amanda Bearse (Married with Children).
Check out the trailer for Bros below:
Bros opens in cinemas Down Under on October 27.
Concrete Playground Trips
Book unique getaways and adventures dreamed up by our editors