Netflix Is Now Streaming Melbourne-Shot Series 'Clickbait' If You Need a New Pulpy Thriller to Binge
Featuring 'Entourage' star Adrian Grenier, the new eight-part series follows the fallout from a viral video.
By this point in Netflix's lifespan, and in its history of releasing original series, viewers know what marks the streaming service likes to hit. It's mostly fond of well-known faces, twisty tales and unfurling stories at a fast pace. It also likes ending each jam-packed episode with a big reveal or a new mystery — yes, a cliffhanger — so that you'll keep watching the next one straight away. We don't call these kinds of series 'clickbait', because serialised TV has been leaning on all of these elements since before the term was around, and far longer than we've been streaming television shows via internet platforms, too. But that word is apt when it comes to Netflix's latest eight-part limited series, which is Clickbait by both name and nature.
The setup is designed to lure viewers in quickly. The casting is as well. And, they're both meant to be buzzy enough to keep you watching after you've clicked the buttons on your TV remote or laptop, then clicked them again — another task that's easily achieved. Here, the day after a tumultuous family dinner ends with Nick Brewer (Entourage's Adrian Grenier) telling his sister Pia (Zoe Kazan, The Big Sick) that he wants her out of his life, he can't be found. Worse: a video has popped up on the internet featuring him looking bloody, dishevelled and unhappy, and making a shocking claim. In the clip, he holds a card that says "I abuse women. At 5 million views, I die." People start clicking, because of course they do.
While attending to a patient at work, nurse Pia sees it and understandably freaks out. Quickly, she starts doing anything she can to try to find and save her brother. So too does Nick's distressed wife Sophie (Betty Gabriel, Get Out), teenage sons Kai (Jaylin Fletcher, Snowpiercer) and Ethan (Camaron Engels, R#J), and detective, Roshan Amiri (Phoenix Raei, Stateless), who has been assigned to the case — and seeing how a situation like this spirals out, looping in more and more people as they watch, chase leads, share information, search online and offer their two cents' worth, is all part of the drama.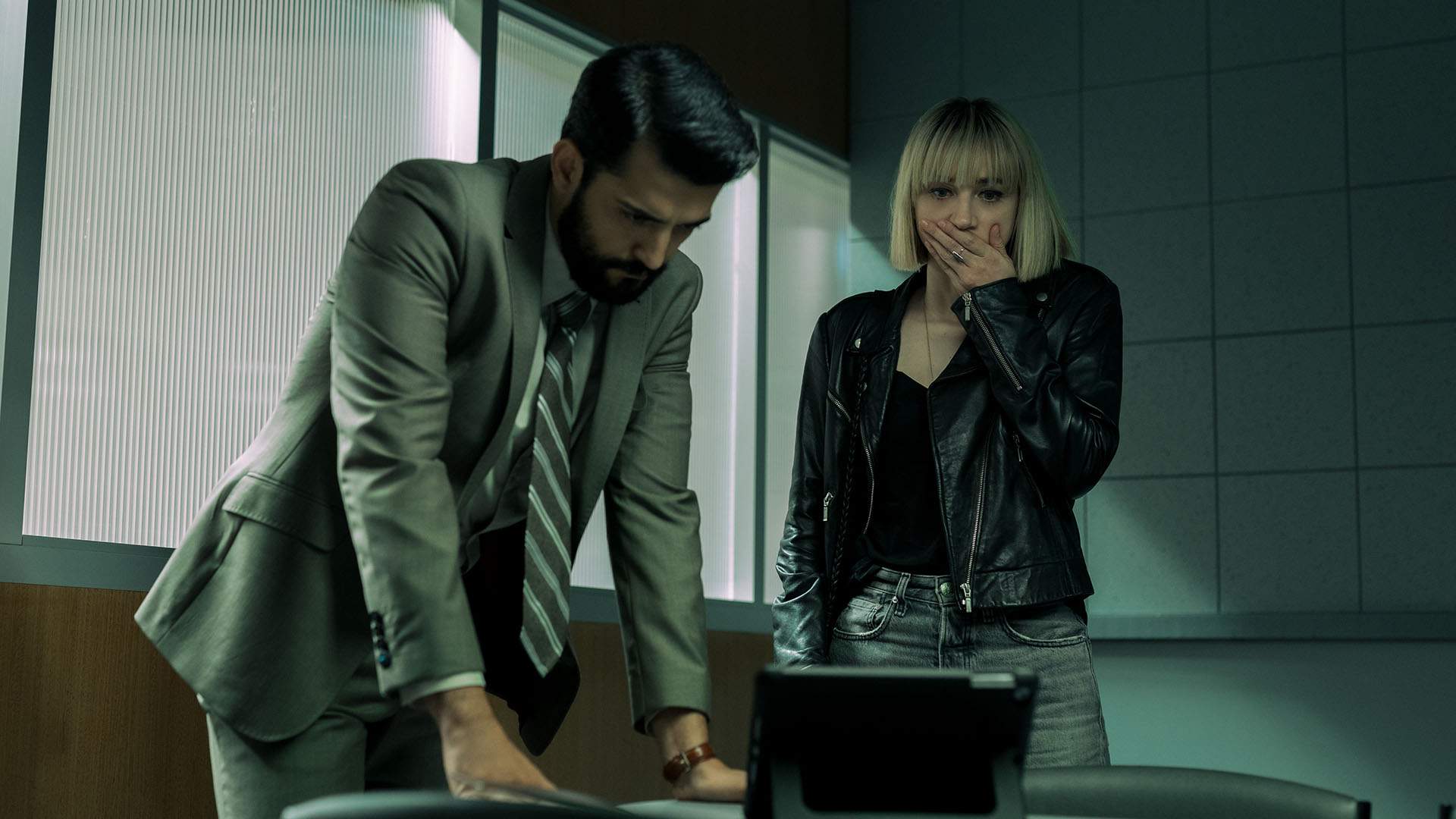 Playing fictional movie star Vincent Chase for eight seasons — and in the forgettable (and terrible) Entourage movie, too — Grenier got rather comfortable playing someone who was constantly in front of the camera. It's his most famous role, and audiences know it. Clickbait leans upon that awareness, but thankfully not via any overt winks or nods. The series casts him as a man thrust into the spotlight unwittingly. It tracks how his nearest and dearest handle the situation without him, given that he's missing. In multiple ways, it flips the situation that viewers have associated with Grenier for almost two decades now, and plays it for pulpy, tensely directed thrills (as helmed by Hounds of Love's Ben Young, The Newsreader's Emma Freeman, Beirut's Brad Anderson and Thank God He Met Lizzie's Cherie Nolan).
Across eight episodes, Clickbait follows the efforts to locate Nick, and to discover why the kidnapping, video and everything it sparks have come about — all by switching between different characters' perspectives. As conveyed through performances a tad weightier than the narrative, the nervy, flighty Pia kicks things off, before the ambitious, promotion-chasing Roshan gets his time in the spotlight, and then the shocked but slightly aloof Sophie. Next comes other figures, including some only revealed as the story dives deeper. The show's structure teases and taunts, and strings out the detail a little longer than it should, but it also remains bingeable. This is a detective tale, with almost everyone on-screen either sleuthing or proving a suspect — among a cast that also spans Daniel Henshall (A Sunburnt Christmas), Abraham Lim (The Boys), Ian Meadows (Dead Lucky) and Jessica Collins (Free State of Jones) — and, even after just an episode or two, viewers get invested enough to want to learn the outcome.
Created by Australian filmmaker Tony Ayres (Stateless, Cut Snake) with screenwriter Christian White (Relic) — both of whom pen several instalments — Clickbait also aims to make larger statements, including about the big, important and constantly relevant intersection between our identities and our increasing use of social media. Just how our online and real-life selves can differ, and what types of behaviours we might indulge virtually that we wouldn't IRL, is only going to continue to garner the world's attention. So, this Melbourne-shot series attempts to tap into the conversation, and to make other broad nods towards issues such as racism and sexism. It's less successful in its pondering than in its puzzling, including when it thinks it's making giant swerves in unexpected directions to stress various points about the repercussions of our digitally mediated existence. As the name makes plain. Clickbait is still slick, suspenseful and very easy to keep devouring, though.
Check out the trailer below:
All eight episodes of Clickbait are available to stream via Netflix.
Top images: Ben King/Netflix.
Introducing Concrete Playground Trips
Book unique getaways and adventures dreamed up by our editors