FOOD & DRINK
Sydney's Best Banh Mi
The banh mi marry our nation's Asian food- and sandwich-loving heritage, so who's serving the best one?
Sydney's Best Banh Mi
The banh mi marry our nation's Asian food- and sandwich-loving heritage, so who's serving the best one?
---
Before you start searching 'what is banh mi', cast your mind back to last time you were eating some delish spicy pork/chicken roll from a Vietnamese bakery and realise you know exactly what I am talking about. Yes, those rolls of all-things-good-and-pure-in-this-world have a name. Our great sandwich-loving nation has finally embraced the banh mi — which I would guess has been kicking around since the late 1970s — on the scale it deserves.
So, what is a banh mi? Firstly, it's a stronger argument for international cooperation than the McCartney/Wonder collaboration managed as it deftly unites French and Vietnamese flavours in each mouthful. Secondly, it's the end result of opening up a (soft on the inside crunchy on the outside) white bread roll and spreading some pate and mayo on the sucker before cramming it full of as much carrot, cucumber, coriander and pork/chicken as it will hold. Then drench the filling-jammed baguette with soy, chilli and fish sauce, and behold the best $5 lunch/dinner/breakfast/diet on offer.
Now that we are all on the same page, let's take a look at some of the best banh mi going around Sydney.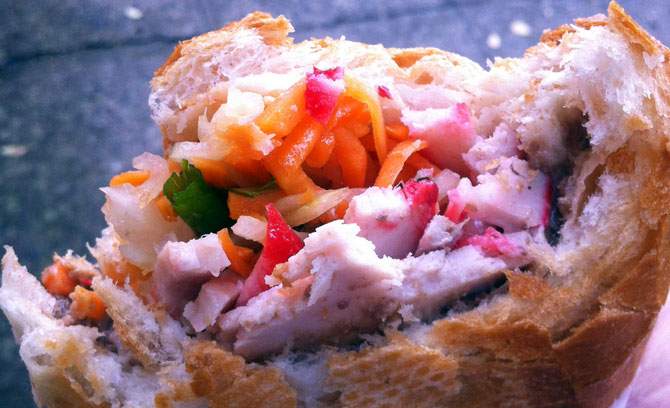 The traditionalist's banh mi: Marrickville Pork Roll
Heads up, you will see the line before the shopfront. Marrickville Pork Roll is a hole-in-the-wall banh mi factory that pumps out untold numbers of banh mi (chicken and pork, $4.95 and $4 respectively) and salad, tuna, meatball, bbq pork and pork skin rolls daily. Heralded as Sydney's most popular banh mi, their house-made soy and chicken stock has all types braving the lunchtime rush for a taste.
236A Illawarra Road, Marrickville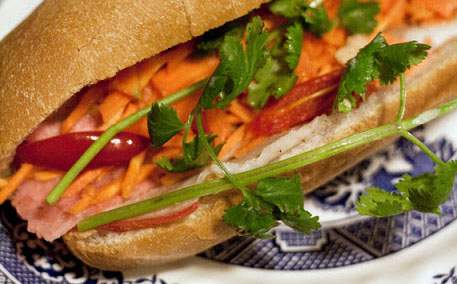 The all-hours banh mi: Viet Hoa Bakery Shop
Anyone caught chowing down a greasy kebab in the Cabramatta area ought to be ashamed when this little gem is peddling out $5 banh mis at all hours. Fresh buns, a healthy amount of filling (I counted about nine ingredients). Albeit slightly less generous than Marrickville, Viet Hoa is another favourite of the roll aficionados.
Shop 3 & 4/48 Hill Street, Cabramatta; (02) 9728 7198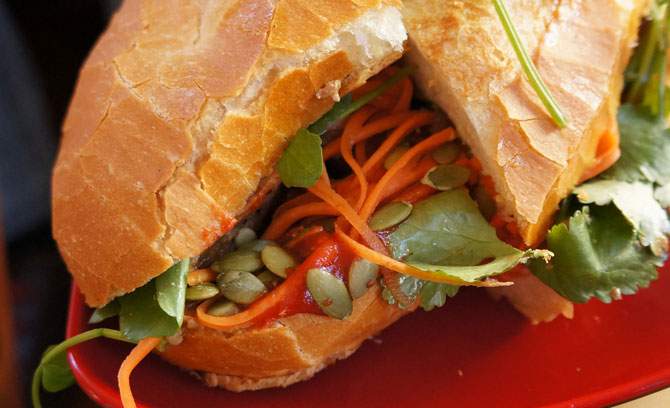 The eat-in (and vegetarian) banh mi: Great Aunty Three
Lining up at a hole in a wall may not be your cup of tea, but that doesn't mean you have to abandon the banh mi. Just opposite the Enmore Theatre is a delightful and (I hate to use the term, but) oh-so Melbourne Vietnamese street food cafe by the name of Great Aunty Three. There are a few items here well worth you attention, like the Vietnamese coffee ($4), but on this visit it's all about the banh mi. Great Aunty Three serves up the two traditional options of roast pork belly and sweet chilli chicken rolls, but also offer a tofu one — replete with tofu pate. Vegos rejoice! Oh, and don't forget the $10 combo deal.
115 Enmore Road, Enmore; (02) 9519 2886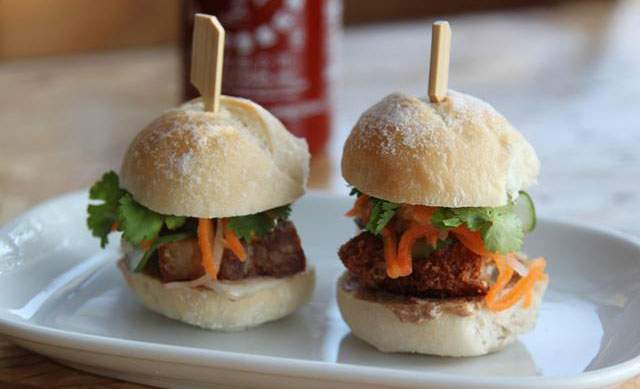 The night-time banh mi: Ms G's
These mini-rolls of deliciousness mash slider and banh mi together for the perfect snack/entree. Then executive chef Dan Hong picked a winner by opening his menu with these bad boys in 2010, and they are still in top spot. Choose from pork belly or chicken katsu with chicken liver pate, carrot, coriander and sriracha mayonnaise. No wonder the kids keep coming back for more.
155 Victoria Street, Potts Point; (02) 8313 1000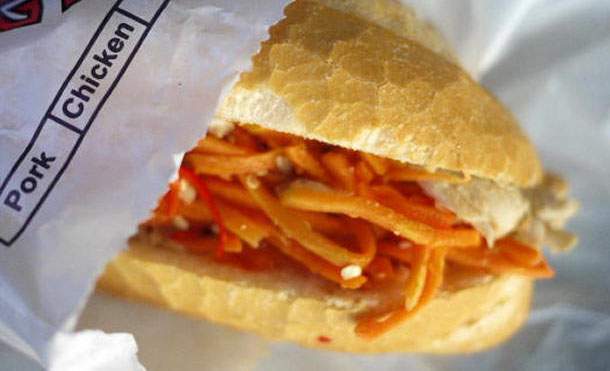 The banh mi mogul: Hong Ha
The Hong Ha dynasty counts some of Sydney's most popular banh mi purveyors in its arsenal, and the line outside their Mascot shop has allegedly been there since the mid-'90s. The prices vary a little between locations (the rule general rule is higher rent equals higher price), but these guys are making sure your banh mi needs are met wherever you are. Tasty and fresh, these traditional rolls are top quality but get on this list for their market domination.
Hong Ha Hot Bread: 1151 Botany Road, Mascot; Hong Ha Fresh Rolls, Cabramatta: Shop A18/53 Park Road, Cabramatta; Hong Ha, Hurstville: 324 Forest Road, Hurstville; Red Roll: Shop 10, 24 Liverpool Lane East, World Square

Top image: Caramelized pork banh mi. via photopin (license). Images (except Ms. G's and Hong Ha): Noodlies.com.
Published on September 19, 2013 by Ruby Lennon