ARTS & ENTERTAINMENT
No One Cares About the Apocalypse in the New Trailer for Netflix's Comet Comedy 'Don't Look Up'
Leonardo DiCaprio and Jennifer Lawrence play astronomers trying to convince humanity that a planet-destroying comet is a big deal.
If a comet was hurtling towards earth on a collision course that'd wipe out all life as we currently know it, you'd think that humanity would react — and fast. But in the trailer for Netflix's new disaster comedy Don't Look Up, only two people really care: astronomy professor Dr Randall Mindy (Leonardo DiCaprio, Once Upon a Time in Hollywood) and his grad student Kate Dibiasky (Jennifer Lawrence, X-Men: Dark Phoenix).
To everyone else, the impending end of the world isn't really something to worry about. The President (Meryl Streep, The Prom) and her son and Chief of Staff (Jonah Hill, The Beach Bum) barely seem to mind, the media definitely doesn't, and neither does the general public. Instead, Kate goes viral for screaming about the apocalypse as she and Randall embark on a media tour to try to convince the planet that being obliterated — in less than six months, and by a Mount Everest-sized comet that's orbiting our solar system — really is kind of a big deal.
Forget Bruce Willis and Ben Affleck endeavouring to save the world from an asteroid, because that's so 1998. The former "king of the world" and Katniss Everdeen teaming up to stop a comet from eradicating earth is the firmly 2021 version. And, after first being announced at the beginning of the year — as part of Netflix's lengthy list of new flicks heading its way before 2022 hits — and then dropping a teaser trailer back in September, Don't Look Up now has a full trailer so you can catch a glimpse of how that'll all play out.
The film thankfully isn't a sequel to the aforementioned Armageddon. Instead, it's the latest movie from The Big Short and Vice director Adam McKay — and it's set to hit both cinemas and the streaming platform in December.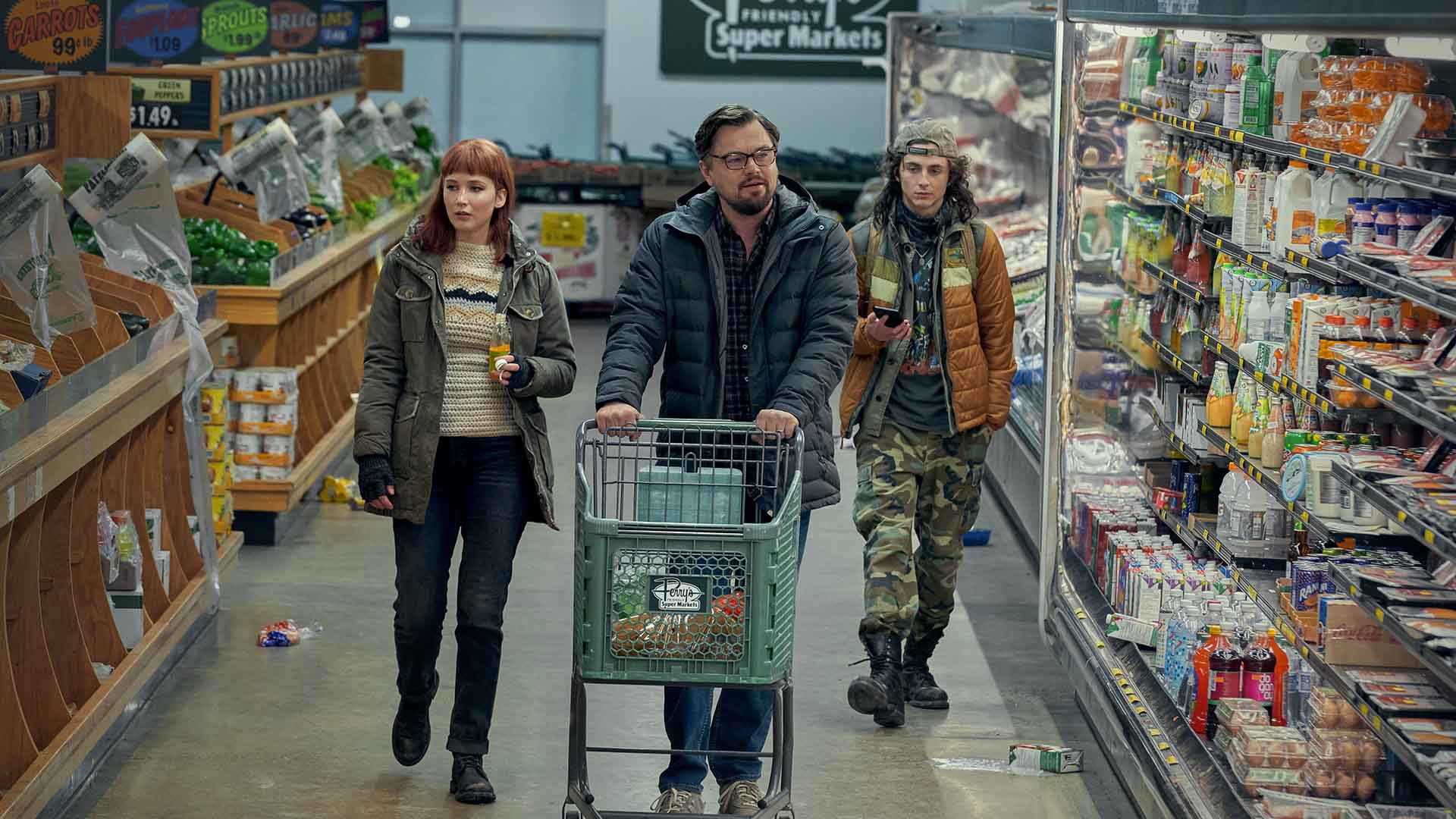 As well as its two high-profile leads, Don't Look Up also stars basically every other actor you can think of, including Timothée Chalamet (Little Women), Cate Blanchett (Where'd You Go, Bernadette), Mark Rylance (The Trial of the Chicago 7), Tyler Perry (Those Who Wish Me Dead), Ron Perlman (Monster Hunter), Himesh Patel (Tenet), Melanie Lynskey (Mrs America), Kid Cudi (Bill & Ted Face the Music) and Ariana Grande.
The film will hit Netflix just in time for your Christmas break, dropping on Friday, December 24. It'll also screen in some cinemas from Thursday, December 9, if you'd like to see it on the big screen. And if you're wondering how Don't Look Up will fare tonally, McKay looks like he's in The Big Short and Succession mode, rather than harking back to his Talladega Nights: The Ballad of Ricky Bobby and Step Brothers days. That said, Blanchett does play a TV host, so maybe the filmmaker will have audiences thinking about Anchorman as well.
Check out the full trailer for Don't Look Up below:
Don't Look Up will be release in select Australian cinemas on Thursday, December 9, and will be available to stream via Netflix on Friday, December 24.
Images: Nico Tavernise/Netflix.
Published on November 17, 2021 by Sarah Ward