ARTS & ENTERTAINMENT
Event Cinemas Is the Latest Australian Movie Theatre Chain to Launch Its Own Streaming Service
It's showing more than 1000 films, with titles available on a pay-per-view basis.
The past year has seen the film industry embrace streaming in a far bigger way than anyone could've imagined just 12 months ago. If you'd told even the most avid of movie buffs that a heap of cinema chains would be setting up their online viewing services, and that film festivals would be delivering their programs online, you might've been accused of wishful thinking.
But, that's now the world we find ourselves in, and Event Cinemas is the latest Australian outfit to join the digital realm. It isn't turning its back on bricks-and-mortar picture palaces, of course. Neither did Sydney's Golden Age, or the teams behind the city's Ritz and Melbourne's Lido, Classic and Cameo cinemas when they did the same thing. Rather, the Aussie chain and its predecessors are all giving viewers more options, while also adapting to current movie-watching behaviour.
Called Cinebuzz On Demand, Event Cinemas' service operates on a pay-per-view basis. So, it's more like YouTube Movies or Google Play than Netflix or Stan. You simply pick what you'd like to watch from its 1000-plus launch library, then pay accordingly per title — with prices starting at $4.99 per film.
You won't find brand new, just-released blockbusters on the platform, or even the same movies that you can see if you head to one of Event Cinemas' physical locations and sit in a theatre. That said, the current catalogue does include plenty of flicks that have been brightening up the big screen over the past six months or so, such as Tenet, An American Pickle, The Personal History of David Copperfield, Wonder Woman 1984, Bill & Ted Face the Music, Antebellum and Baby Done.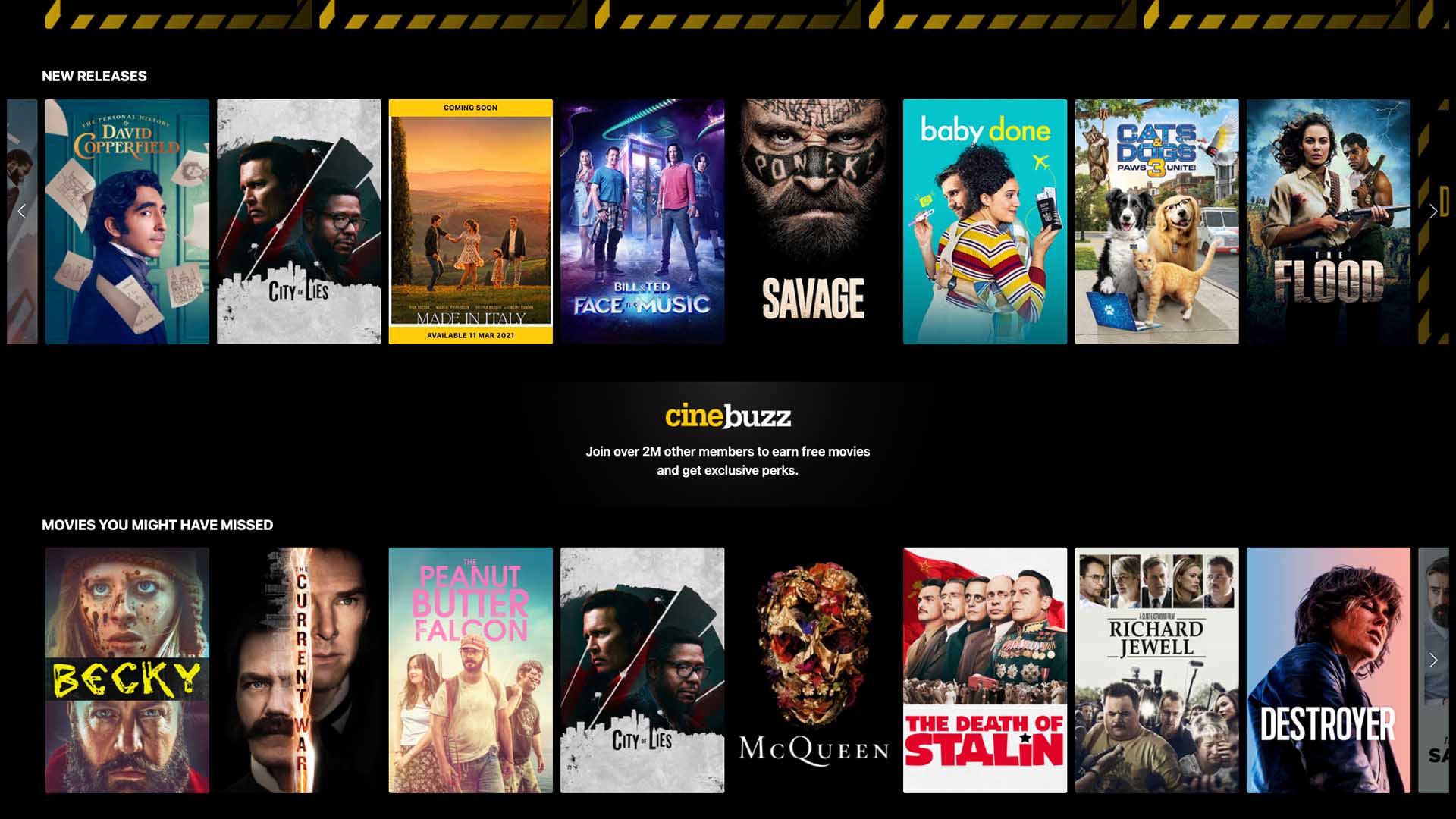 If you're particularly keen on comedies, horror movies, superhero flicks or Aussie titles, Cinebuzz On Demand lets users search by genre and theme. Or, you can simply browse through the entire library from A to Z.
The service takes its name from Event Cinema's existing loyalty program, with members also earning points for their online rentals.
And, viewing-wise, Cinebuzz On Demand is available on iPhones, iPads and Apple TV, plus Android and Chromecast, and on Windows and Mac devices as well.
Cinebuzz On Demand is available via the service's website, with titles available to watch on a pay-per-view basis.
Published on February 17, 2021 by Sarah Ward