Queer Coming-of-Age Series 'Heartstopper' Is the Most Charming Thing You Can Binge Right Now
Based on the webcomic-turned-graphic novel, this Netflix newcomer is a LGBTQIA+-championing must-see— and also features a supporting turn by Olivia Colman.
More than once in Heartstopper, a question drifts from the lips of the Netflix series' British teens, asking something that every adolescent has contemplated. That query: "why are we like this?", pondering why hitting puberty always brings an utter lack of elegance with emotions, identity, relationships and expressing yourself. It can't be answered in any satisfactory way, but in this delightful streaming newcomer — with an eight-part first season that's become a must-see within a week of hitting the platform — what that question isn't referencing is also crucial. The LGBTQIA+-championing show doesn't ever have its gay, trans and bisexual characters pointlessly wonder why they love who they love or feel how they feel, welcomely, refreshingly and heartwarmingly so.
That's enough to earn the series its title; for viewers, plenty about this webcomic-to-page-to-screen charmer will cause entranced tickers to miss a beat. Within the story, though, it takes mere minutes for Heartstopper to warrant its name — showing rather than telling, as all great art should. A year ten student at Truham Grammar School for Boys, Charlie Spring (first-timer Joe Locke) finds himself seated in his form class next to year 11 rugby player Nick Nelson (Kit Connor, Little Joe) at the start of a new term. Sparks fly on the former's part, swiftly and overwhelmingly, as a crush and then a life-changing love story is born.
It's not the only moment that'll make Charlie pause, his heart all a-flutter and his cheeks a-glow — or any of the show's figures for that matter — but it leaves an imprint that sets Heartstopper's astutely endearing tone. Nodding to the series' graphic-novel origins, Charlie and Nick's first meetings inspire a flurry of hand-drawn animated hearts on-screen, illustrating how we all know that such an experience feels. The cute twinkling imagery is such a small but pivotal touch, used to illuminate small yet essential moments, and couldn't be more perfect. Others that follow, all also flawless: lightning bolts, flowers, stars and rainbows, all whizzing around when the sweetest of emotions run high.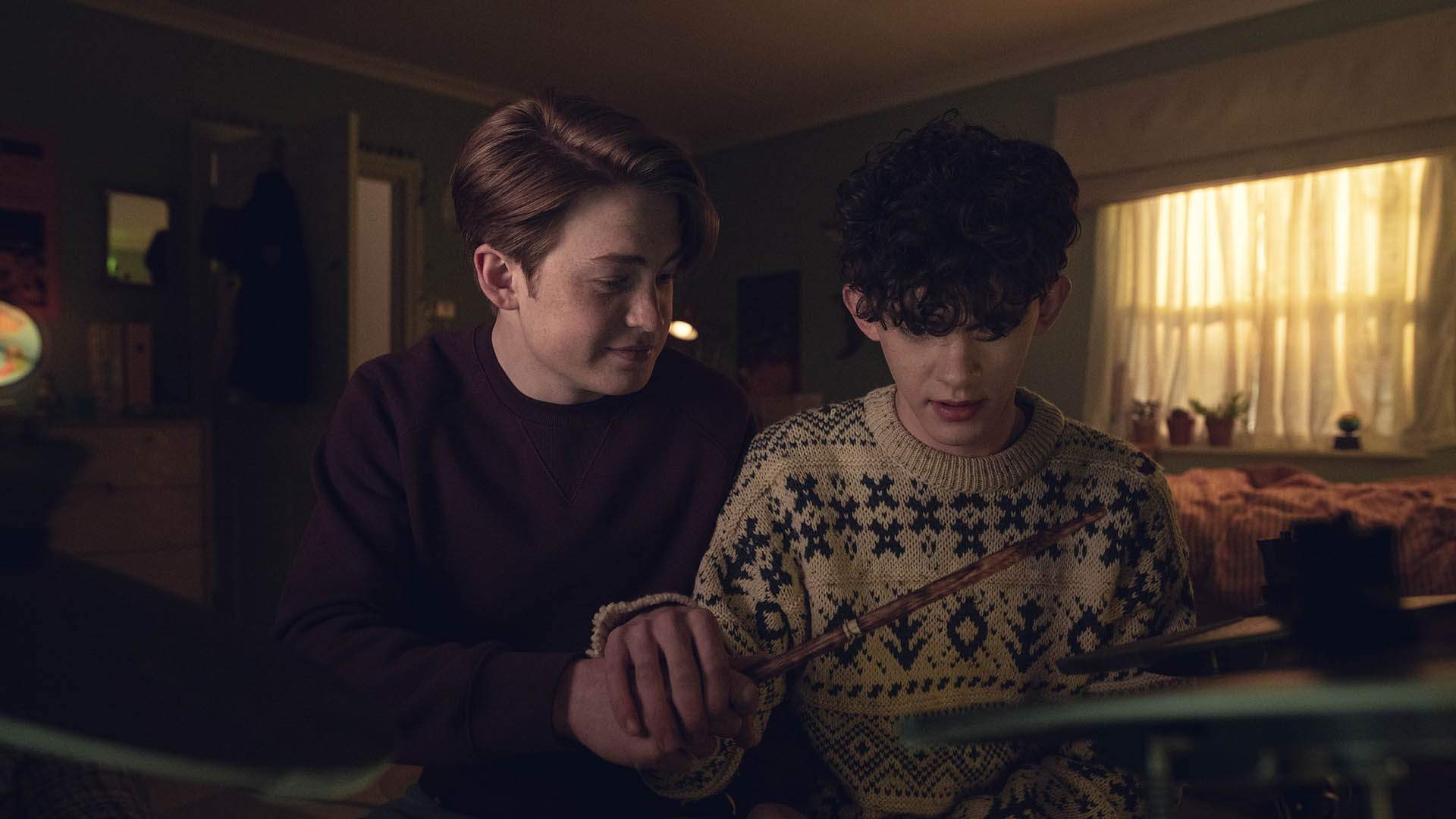 Everything isn't all rainbows for Charlie and Nick, narrative-wise, though — although the colour scheme favoured by director Euros Lyn (Dream Horse) goes heavy on pink lighting, blue and yellow school walls, the green grass of sports fields, and violet-hued clothing. In Heartstopper's opening episode, Charlie has a secret boyfriend, Ben Hope (Sebastian Croft, Doom Patrol). Their clandestine rendezvous in empty classrooms aren't his choice, but Ben won't even acknowledge Charlie in public. He's also cruel, rude and demanding without ever caring about Charlie's feelings, and filled with loathing about his sexuality — and fear that he might be found out. Thankfully, Charlie realises that he deserves much, much better, including with Nick's help. 
Also an issue: Charlie hardly thinks of himself as sporty, even after Nick asks him to join the school rugby team because he's super-fast at running. That train of thought speaks to a lifetime of self-doubt, with Nick telling Charlie to stop apologising for, well, everything — and Charlie's high-drama best friend Tao (fellow debutant William Gao) describing him as having "a tendency to believe him just existing is annoying for other people". Accordingly, while a friendship quickly solidifies between Heartstopper's central duo, Charlie is initially unsure whether anything more can happen. And, after spending a year being bullied by homophobic classmates after coming out — often hiding in the art room at lunch with a kindly teacher (Fisayo Akinade, Atlanta) to escape — he's anxiety-riddled in general.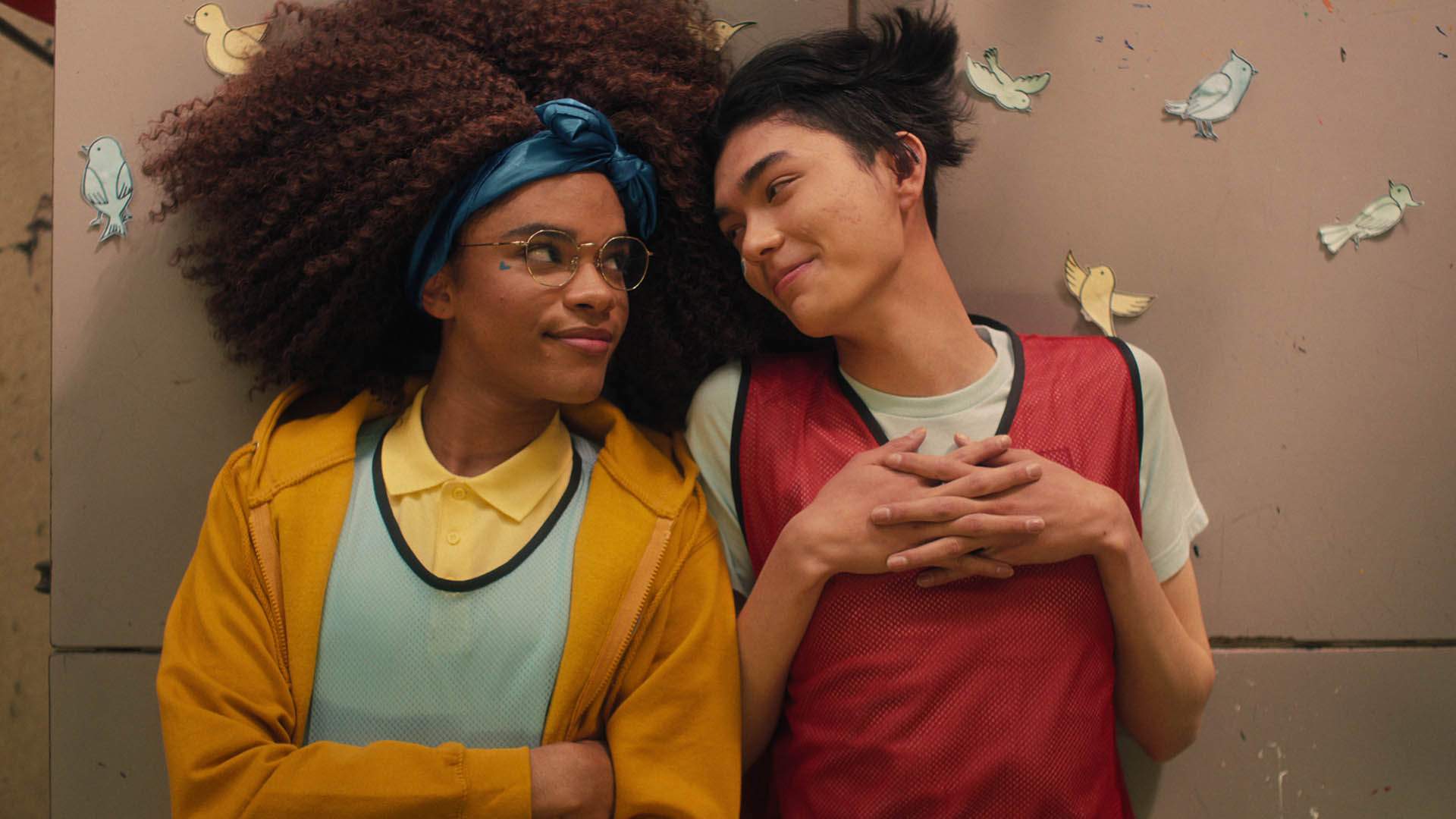 The nervy Charlie and calm-and-collected Nick — a self-described "gay nerd" among "borderline outcasts" and Truham's rugby king — don't simply cycle through an opposites-attract scenario, thankfully. This is an upbeat, soaring and joyful tale, too; yet another take on Romeo and Juliet, it definitely isn't. Heartstopper's focus: all those things that Charlie, Nick, Tao, recently out trans pal Elle (Yasmin Finney), her lesbian school friends Tara (Corinna Brown, Daphne) and Darcy (Kizzy Edgell), and the quietly happy-go-lucky Isaac (Tobie Donovan) navigate as they grapple with their feelings, working out what they want, self-acceptance, and relationships both romantic and platonic. The series isn't afraid of teen tropes or rom-com cliches, such as grand gestures in the pouring rain, blissful montages and the stress of text messages, but it also isn't willing to deliver anything other than a thoughtful and tender account of high schoolers being and finding themselves, even amid unavoidable teen angst and taunting.
As well as writing Heartstopper's source material, Alice Oseman pens every episode of this perceptive gem, which bubbles with warmth, care and honey-coated emotions from the outset. Its coming-of-age story and central love story alike prove wholly relatable, aptly awkward but also wonderfully sweet and sensitive; Skins, Euphoria or either version of Gossip Girl it isn't, either. In short, it's a series that plunges so convincingly and inclusively into its characters' experiences that it feels like its heart is constantly bursting with affection for everything they do, want, hope for, dream of, pine over and go through. First crushes, young love, the swirling swell of feelings that comes with both and also figuring out who you are: all of this dances through Heartstopper's frames, and marvellously. 
Also, when Oscar-winner Olivia Colman (The Lost Daughter) pops up, she's glorious as always — although her teen colleagues are truly the stars of the show.
The first season of Heartstopper is available to stream via Netflix.
Images: Rob Youngson/Netflix.
Introducing Concrete Playground Trips
Book unique getaways and adventures dreamed up by our editors