'The Matrix Resurrections' Has Been Fast-Tracked to Digital While It's Still Showing in Cinemas
You can now plug back into this Keanu Reeves-starring sci-fi franchise from your couch.
If you're fond of exclaiming "whoa!" to mark huge news — and you've been conditioned to do just that by a certain Keanu Reeves-starring sci-fi franchise — then the past year or so has given you more than a few opportunities to break out that word in the best possible ways. First came the confirmation that a fourth live-action film in The Matrix series was 100-percent happening. Then came trailers for that very flick, giving us all a few sneak peeks before we could watch the full thing. And, when Boxing Day rolled around in 2021, the movie itself — aka The Matrix Resurrections — finally arrived on the big screen.
Here's another reason for you to channel your inner Keanu Reeves right now: just a month after reaching cinemas, and while still actually showing in cinemas, you can stream The Matrix Resurrections via video on demand at home. Fast-tracking films to digital is a trend that's been gathering steam during the pandemic — and if you've been a bit cautious about going out during Australia's current Omicron wave, you can still fall down the dystopian franchise's rabbit hole sooner rather than later.
A hit for more than two decades now, this is the science-fiction epic that smartly recognises that it's Keanu's world and we're all just living in it, after all — and now, we can plug into all four live-action movies from our couches. Get ready for Neo (Reeves, Bill and Ted Face the Music) to once again grapple with the Matrix and everything it means for humanity — and also for Carrie-Anne Moss (Jessica Jones) and Jada Pinkett Smith (Girls Trip) to return, too. They're joined by Matrix newcomers Neil Patrick Harris (It's a Sin), Jessica Henwick (On the Rocks), Priyanka Chopra Jonas (The White Tiger), Christina Ricci (Yellowjackets) and Yahya Abdul-Mateen II (Candyman).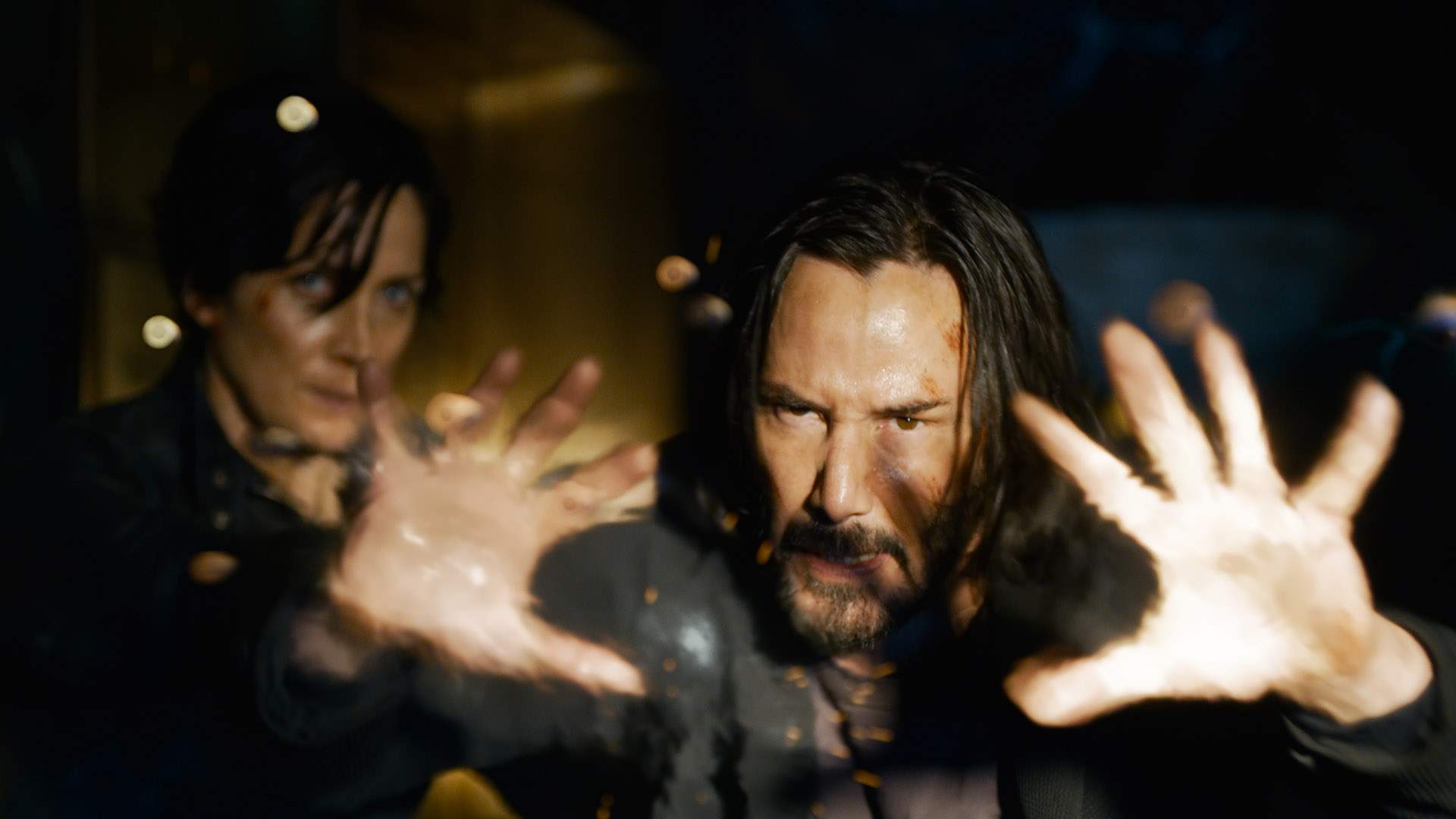 And yes, Reeves and Moss once again take centre stage this time around, because casting them in the first place — and showing unwavering belief in the duo — is the greatest move that filmmakers Lana and Lilly Wachowski ever made. It was a bold decision two-and-a-bit decades ago, with Reeves a few years past sublime early-90s action hits Point Break and Speed, and Moss then known for TV bit parts (including, in a coincidence that feels like the product of computer simulation, a 1993 series called Matrix). But, as well as giving cinema their much-emulated gunfire-avoidance technique and all those other aforementioned highlights, the Wachowskis bet big on viewers caring about their central pair — and hooking into their chemistry — as leather-clad heroes saving humanity.
Indeed, amid the life-is-a-lie horrors, the subjugation of flesh to mechanical overlords and the battle for autonomy, the first three Matrix films always weaved Neo and Trinity's love story through their sci-fi action. In fact, the duo's connection remained the saga's beating heart. Like any robust computer program executed over and over, The Matrix Resurrections repeats the feat — with plenty of love for what's come before, but even more for its enduring love story.
Lana goes solo on The Matrix Resurrections — helming her first-ever project without her sister in their entire career — but she still goes all in on Reeves and Moss. The fifth Matrix movie overall counting The Animatrix, this new instalment doesn't initially give its key figures their familiar character names, however. Rather, it casts them as famous video game designer Thomas Anderson and motorcycle-loving mother-of-two Tiffany. One of those monikers is familiar, thanks to a surname drawled by Agent Smith back in 1999, and again in 2003 sequels The Matrix Reloaded and The Matrix Revolutions. But this version of Thomas Anderson only knows the agent from his own hit gaming trilogy (called The Matrix, naturally). And he doesn't really know Tiffany at all, instead admiring her from afar at Simulatte, their local coffee shop.
Check out the trailer for The Matrix Resurrections below:
The Matrix Resurrections is currently screening in Australian cinemas, and is also available to stream online via video on demand — including via Google Play, YouTube Movies, iTunes and Amazon Video. Read our full review.
Introducing Concrete Playground Trips
Book unique getaways and adventures dreamed up by our editors