'The Unbearable Weight of Massive Talent' and Its Nic Cage Chaos Has Been Fast-Tracked to Digital
Spend your next at-home movie night watching Nicolas Cage play Nicolas Cage.
We've said it before and we'll say it again: Nicolas Cage cures all woes. Whether you're having an average 2022 so far, or you're sad that the long weekend is over — or you're in parts of the country that don't get a long weekend mid-June and you're sad about that — watching one of the greatest actors alive make on-screen magic as only he can is always a thrill. Yes, that's true whether he's in an excellent or awful movie, too.
Your latest excuse to see Nicolas Cage do his thing comes courtesy of The Unbearable Weight of Massive Talent, aka a movie that's gotten a fair amount of attention for one huge reason: it stars Cage as Cage. It was first announced back in 2021, then hit Australian cinemas back in April. Now, as a mid-winter gift — and because fast-tracking flicks from cinemas to digital has become the pandemic-era status quo — the film has made the very quick leap to video on demand.
That means that you can now spend your next at-home movie night watching Nicolas Cage play Nicolas Cage — and playing a whole lot of different styles of Cage, too. There's serious Cage, comedic Cage, out-there Cage, OTT Cage, short-haired Cage, floppy-haired Cage, slick Cage, gun-toting Cage and every-facial-expression-imaginable Cage. Whichever kind of Cage you can think of, it's accounted for. All your favourite Cage titles also get a nod or mention in The Unbearable Weight of Massive Talent, which sure does love absolutely everything about its leading man.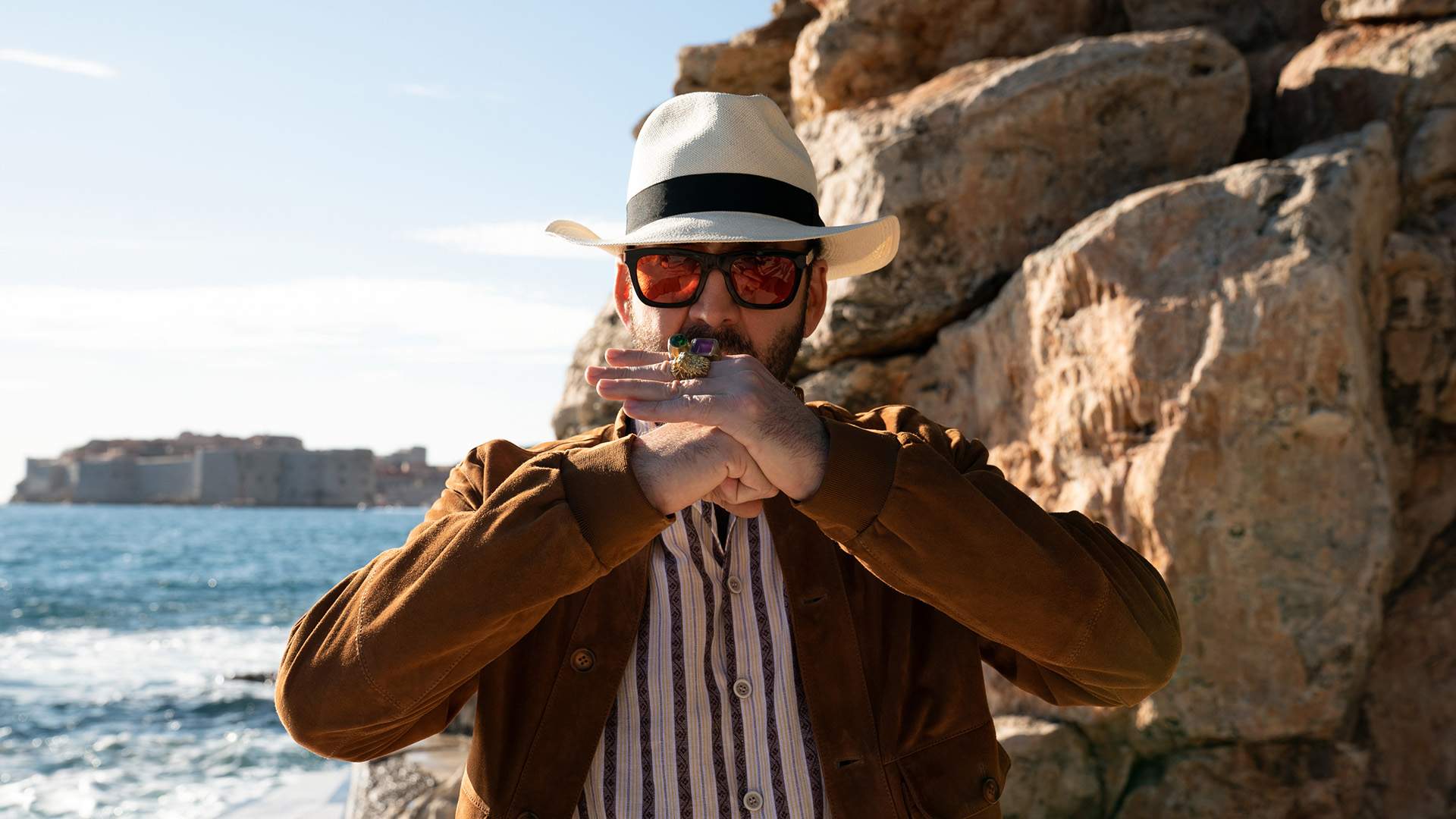 There is a story behind the film's Cage-obsessed premise, of course. The fictionalised Cage is in a career lull, and is thinking about giving up acting, when he accepts an offer to attend a super fan-slash-billionaire's birthday. Getting paid $1 million is just too much to pass up, and he needs the money. But when it turns out that he might now be working for and palling around with one of the most ruthless men on the planet (played by Pedro Pascal, Wonder Woman 1984) — as a couple of intelligence agents (The Afterparty co-stars Tiffany Haddish and Ike Barinholtz) eventually tell him — things get mighty hectic.
Also joining Cage playing Cage — not to be confused with his work in Adaptation, where he played two characters — are Sharon Horgan (This Way Up) as his fictional wife and Neil Patrick Harris (The Matrix Resurrections) as his manager. And, Are We Officially Dating? filmmaker Tom Gormican sits in the director's chair, because if there's anything else that this movie also needs, it's the director of a Zac Efron and Michael B Jordan-starring rom-com pivoting to total Cage worship.
Yes, we've seen Cage break out of Alcatraz, sing Elvis songs, run around the streets convinced that he's a vampire, let his long hair flap in the wind and swap faces. He's voiced a version of Spider-Man, driven fast cars, fought space ninjas, hunted for his kidnapped truffle pig and stolen babies as well. Staying in his own shoes definitely stands out, though — as Cage himself always does.
Check out the trailer for The Unbearable Weight of Massive Talent below:
The Unbearable Weight of Massive Talent is available to stream via Google Play, iTunes and Prime Video. Read our full review.
Introducing Concrete Playground Trips
Book unique getaways and adventures dreamed up by our editors