Steven Spielberg's 'West Side Story' Is the Latest Huge Movie That's Being Fast-Tracked to Streaming
The Jets and the Sharks — and this NYC-set spin on 'Romeo and Juliet' — are coming to Disney+.
For movie lovers, there'll never be anything quite like watching a film in a cinema. It's the place where big-screen dreams shine bright in the darkness, and where nothing — as long as your fellow audience is respectful enough — can get between you and its celluloid fantasies. It's also where the latest version of West Side Story looked an absolute treat when it hit picture palaces last Boxing Day; however, a great flick will still draw you in even if you watch it at home.
Come Wednesday, March 2, this Steven Spielberg-directed, Golden Globe-winning, seven-time Oscar-nominated version of the beloved musical will hit streaming via Disney+, following a long list of recent movies — Dune, The Matrix Resurrections, The French Dispatch and Spencer among them — to get fast-tracked from cinemas to home viewing. So, if you missed it on the silver screen when COVID-19 cases went up over Christmas, or just didn't make it along because life doesn't always find a way, you can now settle in for the famed NYC-set spin on Romeo and Juliet on your couch.
Yes, that means that the Jets and the Sharks are facing off once more — on your TV screen. If you're new to all things West Side Story, the two gangs have long been tussling within the movie's narrative, and also on the stage and in film. That first happened back in 1957 on Broadway, thanks to iconic musical figures Leonard Bernstein, Stephen Sondheim and Arthur Laurents. West Side Story has rarely been far from theatres worldwide since — and, in 1961, when the first movie version followed, it became an instant classic.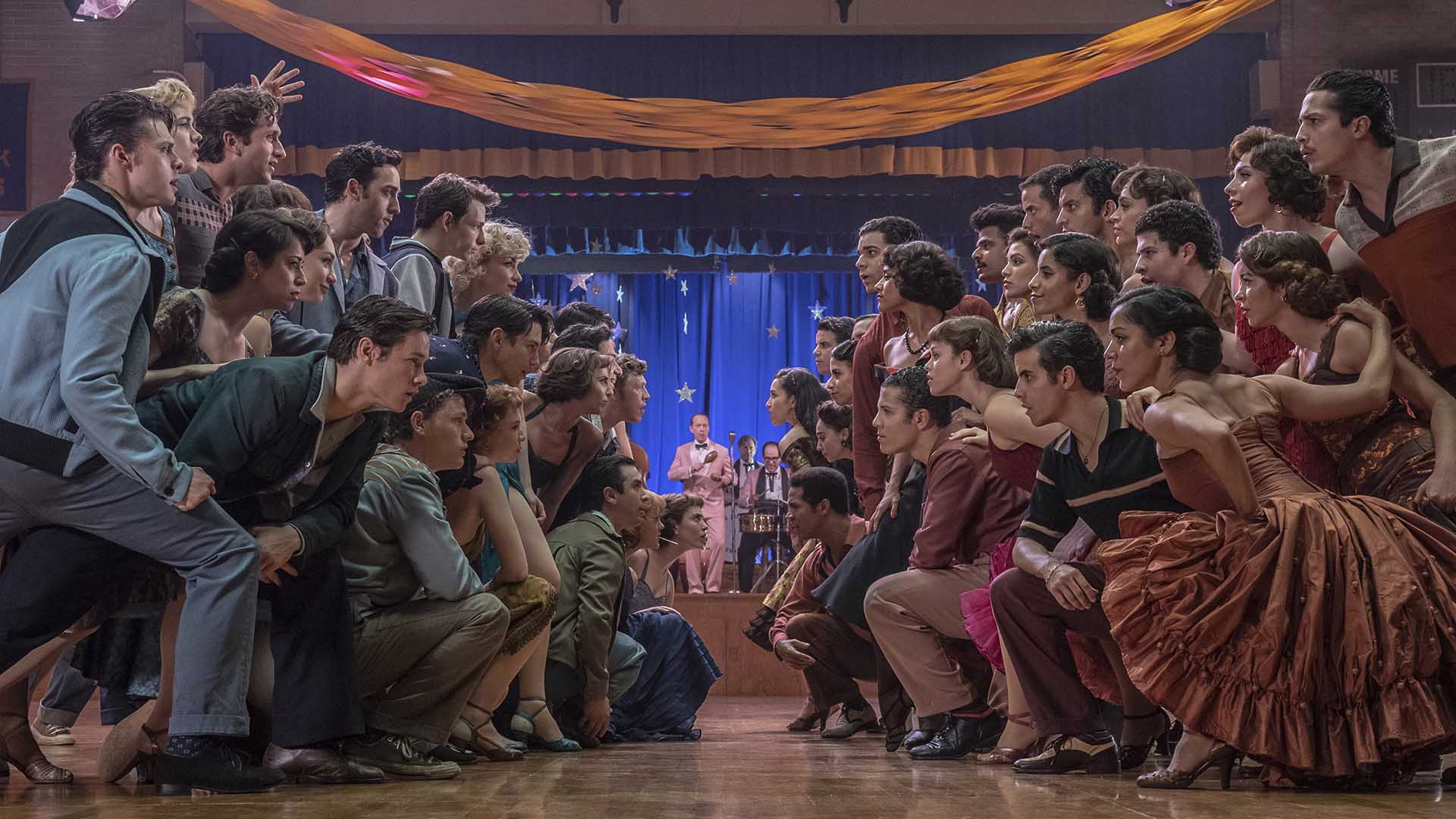 The westside-set story: in fair NYC and its rubble-strewn titular neighbourhood where the flick lays its 1950s-era scene, the Jets and the Sharks aren't quite two households both alike in dignity. Led by the swaggering and dogged Riff (Mike Faist, a Tony-nominee for the Broadway production of Dear Evan Hansen), the Jets are young, scrappy, angry and full of resentment for anyone they fear is encroaching on their terrain (anyone who isn't white especially). Meanwhile, with boxer Bernardo (David Alvarez, a Tony-winner for Billy Elliot) at the helm, the Sharks have tried to establish new lives outside of their native Puerto Rico through study, jobs and their own businesses.
Both gangs refuse to coexist peacefully in the only part of New York where either feels at home — even with the threat of gentrification looming large in every torn-down building, signs for shiny new amenities such as Lincoln Centre popping up around the place and, when either local cops Officer Krupke (Brian d'Arcy James, Hawkeye) or Lieutenant Schrank (Corey Stoll, The Many Saints of Newark) interrupt their feuding, after they're overtly warned as well. But it's a night at a dance, and the love-at-first-sight connection that blooms between Riff's best friend Tony (Ansel Elgort, The Goldfinch) and Bernardo's younger sister María (feature debutant Rachel Zegler), that sparks a showdown. This rumble will decide westside supremacy once and for all, the two sides agree.
Also popping up among the cast: Ariana DeBose (The Prom), who looks set to win an Oscar for playing Bernado's girlfriend Anita, plus the great Rita Moreno (One Day at a Time) — who also played that exact role in the original movie and earned an Academy Award for her efforts. And, the film's long list of talent continues off-screen, thanks to a screenplay penned by Pulitzer Prize and Tony Award-winner Tony Kushner (Lincoln), and choreography courtesy of fellow Tony-recipient Justin Peck.
The result is lavish and dynamic, with Spielberg pirouetting back from the awful Ready Player One to make one helluva first musical — a swooning, socially aware story of star-crossed lovers that dances across the screen with rhythmic swirls and thematic twirls.
Tonight, tonight, there's only this lavish and dynamic version of West Side Story tonight.
Check out the trailer below:
West Side Story will be available to stream via Disney+ on Wednesday, March 2. Read our full review.
Introducing Concrete Playground Trips
Book unique getaways and adventures dreamed up by our editors