ARTS & ENTERTAINMENT
The Best Things to Do in Sydney If You're Staying Local This Long Weekend
From starting your day with a flaky fresh-from-the-oven pastry to ending it watching a flick on the big screen at a drive-in cinema, there's plenty to do.
The Best Things to Do in Sydney If You're Staying Local This Long Weekend
From starting your day with a flaky fresh-from-the-oven pastry to ending it watching a flick on the big screen at a drive-in cinema, there's plenty to do.
This Queen's Birthday Long Weekend, Sydneysiders are allowed to travel to regional NSW once again, but it doesn't mean everyone can — or wants to. If you're staying local, it's certainly no time to despair. With restrictions easing, the city's shops, cultural institutions and hiking trails are reopening, so there's plenty to explore. From starting your day with a flaky fresh-from-the-oven pastry to ending it watching a flick on the big screen at a drive-in cinema, our fair city has lots to offer. As some COVID-19 rules are still in place though, it's not 100 percent business as normal, with limited capacities and social distancing measures at most indoor and outdoor venues. So, we suggest you check the relevant websites before making plans.
To find out exactly what you can and can't do under NSW's current restrictions, have a look over here.

START YOUR DAY WITH A FLAKY FRESH-FROM-THE-OVEN PASTRY
There's nothing quite like the smell of freshly baked bread and pastries to whip your appetite into a frenzy. And that first bite of fluffy doughnut or glazed danish, not too long out of the oven? That's one way to kick off your long weekend. You can do just that at long-standing Sydney favourite Infinity — led by brother and sister duo, William and Sophie Peterson — which has outposts in Manly, Paddington and Darlinghurst. Alongside its range of sourdough — white, wholemeal, spelt and rye — you can find expertly made pastries, including croissants, cinnamon scrolls and piping hot pies, plus cakes, muffins, sandwiches and a brownie that can't be beaten. If you want to keep the bakery crawl going, check out the some more of our favourite bakeries across the city.

EXPLORE THIS THREE-STOREY ASIAN ART EXHIBITION
To celebrate its tenth anniversary last year, Chippendale's White Rabbit Gallery launched a huge two-part retrospective. The first half, dubbed Then, featured giant pink fibreglass undies, a porcine car with an 11-metre gold tongue and 30 life-sized naked figures. Now, the follow-up exhibition is taking place, fittingly called And Now. Showcasing 15 key works from the second part of White Rabbit's life, 2011–2019, the show takes over the three-storey gallery with videos, giant sculptures, paintings and performative pieces. A three-part video installation by Liu Chuang will see Stephen Spielberg, Zhou Dynasty bells and bitcoin come together (figuratively) to explore issues of displacement in Bitcoin Mining and Field Recordings of Ethnic Minorities, while Zhu Jinshi's The Ship of Times — made from 14,000 sheets of xuan paper, 1800 pieces of fine bamboo, and 2000 cotton threads — will symbolise spiritual transformation. You'll also find a tall pillar of red glass by ceramicist Liu Jianhua, a performative video piece by Patty Chang in which she washes a rotting whale carcass, and two works by provocative artist, and former Ai Wei Wei studio assistant, Zhao Zhao.
Want to keep your art adventure going? Here are three other IRL art exhibitions happening around Sydney this month.


MEANDER THROUGH SYDNEY'S CHINESE GARDEN OF FRIENDSHIP
At the south end of Darling Harbour, you'll find a hidden oasis: the Chinese Garden of Friendship. While the silhouette of the city skyline shadows the garden, you'll be put at ease by the towering willow trees and soon forget your woes. The garden is peaceful and harmonious, making it the perfect place to stop and recharge your batteries or devour a good book. Take a deep breath and you'll feel instantly revived. If you're keen to stretch your legs and explore, the garden has waterfalls, sculptures, lakes and local wildlife, such as koi carp, water dragons and lots of pretty birds. While Lotus at The Gardens is currently closed, you'll find plenty of snacks nearby at Steam Mill Lane and Darling Square. The gardens are open every day from 10am–4pm daily and entry is $8.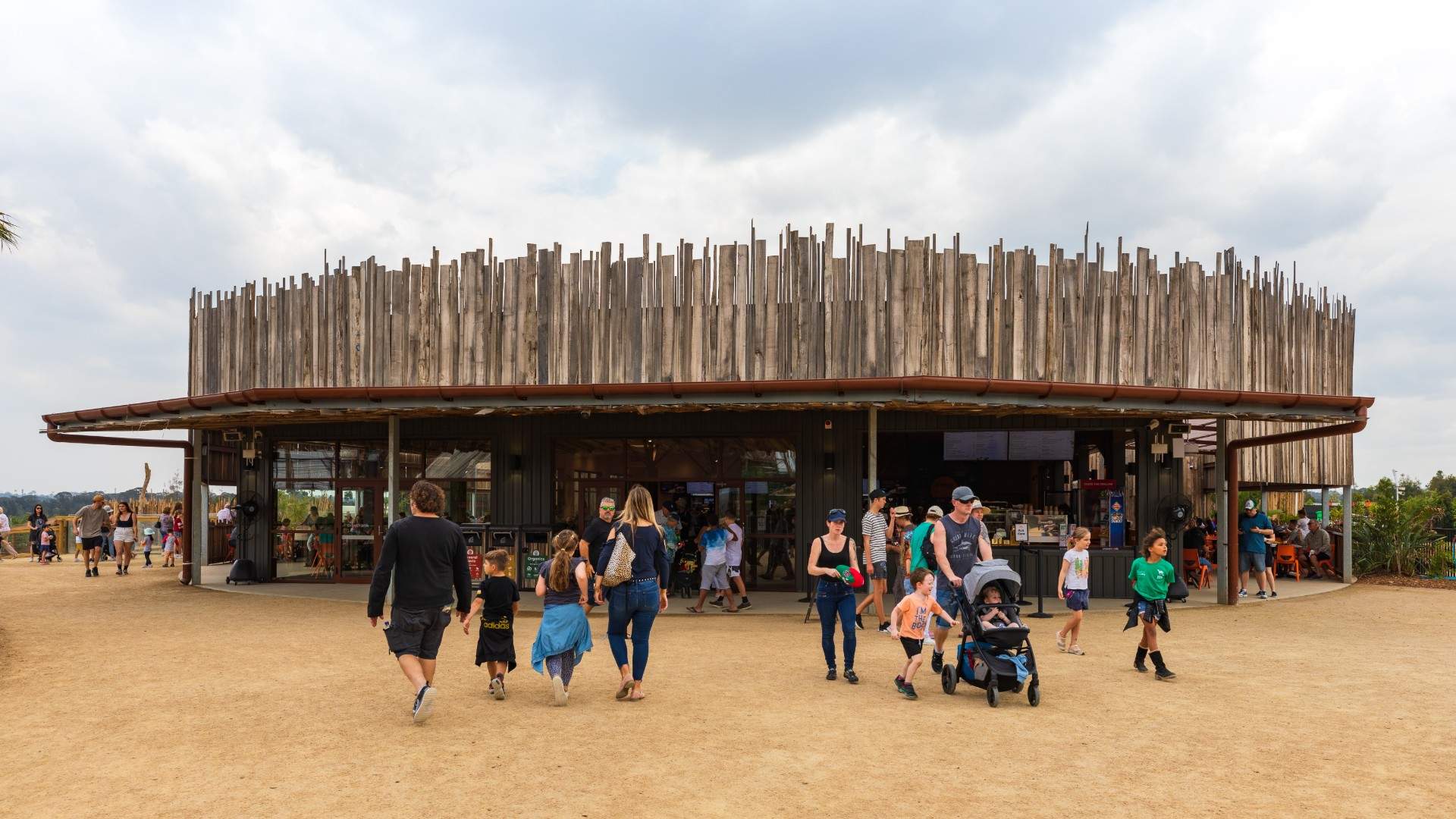 VISIT BABY BABOONS AND WOBBLY WOMBATS AT SYDNEY'S NEW ZOO
Sydney's first new major zoo in 100 years — aptly called Sydney Zoo — is reopening its doors to the public on Saturday, June 6. Located in the city's west near the Great Western Highway, it's home to more than 100 animals, including, African painted dogs, hyenas, spider monkeys, tigers, zebras, 11 chimpanzees and 13 baboons (and three baby baboons), as well as Aussie wombats, echidnas, dingos, emus, koalas, Tasmanian devils and kangaroos. You can check out all these animals from pram and wheelchair-friendly raised boardwalks, too. It doesn't stop there either, with the zoo also home to the country's largest reptile and nocturnal house — with 60 different species, including the world's most venomous snakes, ghost bats and giant grasshoppers — and an aquarium with fish and penguins. Before you head in, you need to book a ticket, which you can do over at the website.

HEAD ON A STUNNING SEASIDE WALK (AND PRETEND YOU'RE ON HOLIDAYS)
In the spirit of turning off and seeking out some wholesome nature, we tracked down some top-notch seaside walks to freshen up your routine. From the shores of the northern beaches to the bush tracks of the Royal National Park, recharge this weekend by embarking on one of Sydney's best coastal walks. One you'll really want to scope out this weekend is the Palm Beach to Barrenjoey Lighthouse walk. Perched at the top of Sydney's northern beaches, just 90 minutes from the CBD, Palm Beach is the ultimate spot for a staycation. It boasts the laidback vibes you'd expect from a tropical escape, minus the airfare. So, it's the ideal spot for an easy day trip from the big smoke. While you're there, head to the top of the peninsula for the Barrenjoey Lighthouse walk. This cruisey three-kilometre trail takes you through the bush to the lighthouse, with sweeping views of Palm Beach and beyond. Tip: take the short but steep Smugglers Track route for the best views (and photos).

CATCH A FLICK AT SYDNEY'S ONLY PERMANENT DRIVE-IN CINEMA
Most of Australia's cinema industry has earmarked July as its relaunch date, aiming to reopen in time for the planned release of Christopher Nolan's Tenet. But if you're a movie buff keen for some big-screen fun before that, Sydney's drive-in theatre is filling the gap — and, given that their whole concept involves folks watching flicks in cars, social distancing is already part of the experience. Blacktown's Skyline Drive-In is hosting screenings from Thursday–Sunday each week (plus a Monday night session on the Queen's Birthday public holiday), with four flicks playing each night. Films on the bill include The Invisible Man, IT: Chapter Two, Spies in Disguise, Joker, Grease and Knives Out, with horror-themed Friday nights and retro programming on Saturdays also on the agenda. Its diner is also back in business, serving burgers, hot chips, choc tops and other snacks.

HIT UP A BAR, PUB OR RESTAURANT
During lockdown, many of the city's hospitality venues had to close (or offer takeaway only), but now a whole swag of them are back and welcoming dine-in (and drink-in) customers once again. Whether you want to down a single pint at a pub or go for an eight-course dinner (with bottomless booze) at a restaurant, you can. If you want to hit up Mary's new rooftop burger bar in Chippendale or visit a new pop-up Israeli street food spot on the lower north shore, you can do that, too. Or, hit up any of the reopened bars and pubs, as well as restaurants and cafes of your choosing. Hot tip: with venues allowed a maximum of 50 customers (or one per four square metres) many require reservations, so check before heading in.

Top image: Barrenjoey Lighthouse Track by D Finnegan for NSW Parks
Published on June 04, 2020 by Concrete Playground