TRAVEL & LEISURE
Five Sydney Seaside Walks for When You Need to Pretend You're on Holidays
From one of the oldest national parks in the world to a lighthouse on the northern beaches.
Five Sydney Seaside Walks for When You Need to Pretend You're on Holidays
From one of the oldest national parks in the world to a lighthouse on the northern beaches.
It's been one of those weeks. You've been racing across the city (or tapping between Zoom calls) for back-to-back meetings and fielding urgent calls, all while your unread email count continues to climb. Oh, and you still have to nab a gift for your mum's birthday before the weekend.
We've all been there. Life can be hectic, as we all know. If your nine-to-five has you feeling like a sea change but you can't escape the desk, we've got a way to make you feel like you're holidaying by the Mediterranean coastline — and it won't cost you a cent.
In the spirit of turning off and seeking out some wholesome nature, we tracked down some top-notch seaside walks to freshen up your routine. From the shores of the northern beaches to the bush tracks of the Royal National Park, recharge this weekend by embarking on one of Sydney's best coastal walks.

BONDI TO BRONTE
No guide to Sydney's walks would be complete without a mention of the iconic Bondi to Bronte coastal track. With panoramic Pacific Ocean vistas, magnificent cave-like cliffs and a stack of delicious brunch spots to help you refuel, this is definitely one for the local bucket list.
Grab a coffee and bagel from Lox in a Box and kick off this three-and-a-half-kilometre walk at Bondi Icebergs, weaving your way along the rocky foreshore and finishing up at Bronte's lush park. If you're not too tired, keep the endorphins going by following the track all the way to Coogee (with a spritz and pizza from Coogee Pavilion to finish, of course).

GLEBE FORESHORE
The inner west might be best-known for its pubs, bars and live music, but there's much more to this eclectic part of town. Head to Bicentennial Park near Rozelle Bay for a leisurely four-kilometre stroll along the Glebe foreshore. Here, you'll enjoy a slice of bayside paradise as you make your way along the picturesque track, which is perfectly accessible by the nearby light rail and bus stop.
Pup parents can also let their pooch run free at the off-leash end of Bicentennial Park before heading to the historic cricket ground of Jubilee Park. Take a break once you reach Blackwattle Bay Park or continue along to the end and you'll hit the Sydney Fish Markets, the perfect spot to finish with a hot box of fish and chips for lunch.

PALM BEACH TO BARRENJOEY LIGHTHOUSE
Perched at the top of Sydney's northern beaches, just 90 minutes from the CBD, Palm Beach is the ultimate spot for a staycation. It boasts the laidback vibes you'd expect from a tropical escape, minus the airfare. So, it's the ideal spot for an easy day-trip from the big smoke.
While you're there, head to the top of the peninsula for the Barrenjoey Lighthouse walk. This cruisey three-kilometre trail takes you through the bush to the lighthouse, with sweeping views of Palm Beach and beyond. Tip: take the short but steep Smugglers Track route for the best views (and photos).
Feeling peckish? Swing by The Boathouse Palm Beach for a bucket of prawns and a Murray's Whale Ale.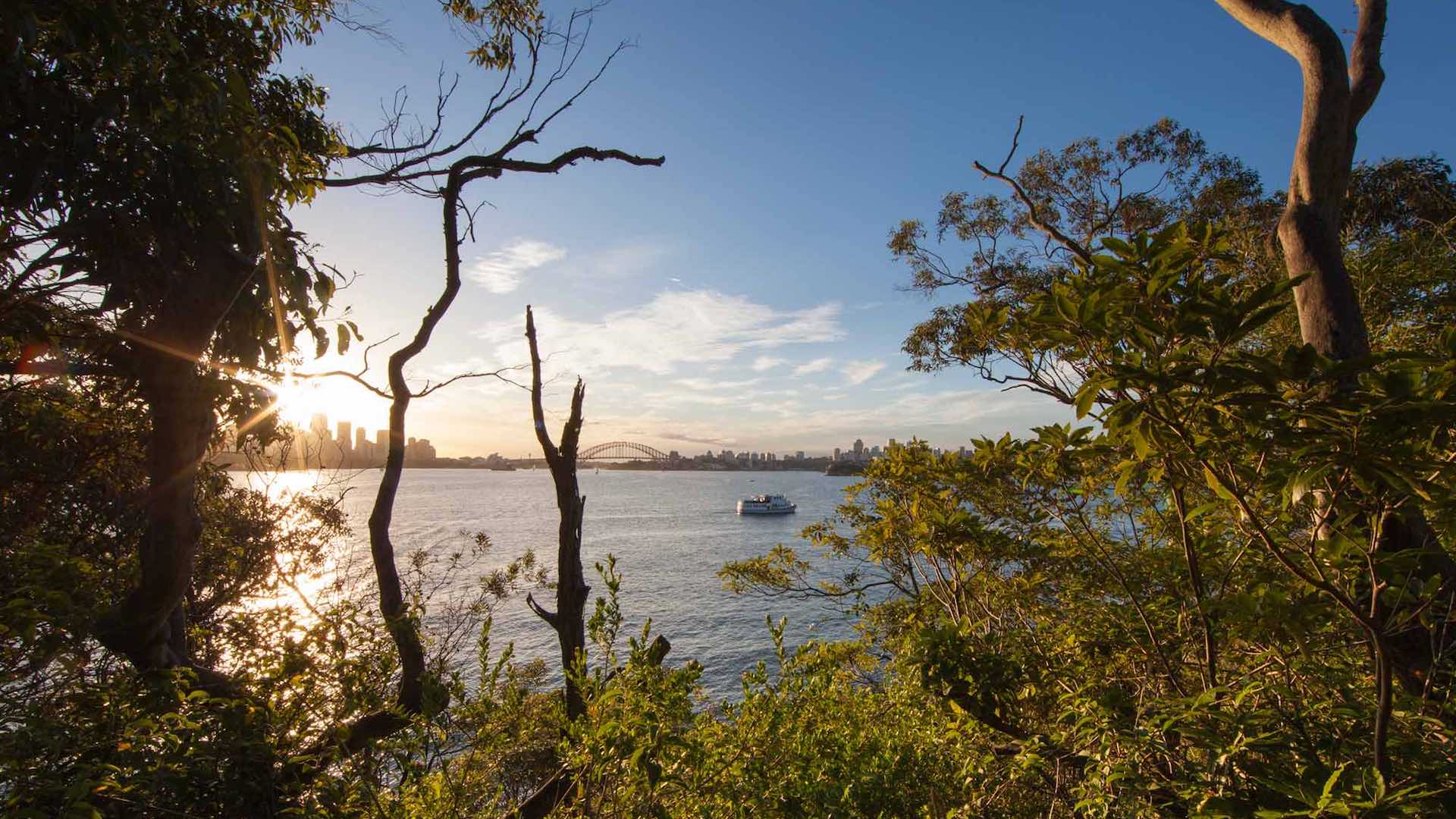 CHOWDER BAY TO BALMORAL BEACH
For those who rarely venture across the bridge, there's a well-kept secret that you mightn't know about. Tucked away on Sydney's lower north shore, you'll find a walk with some of the best vantage points across sparkling Sydney Harbour.
Starting in Chowder Bay, this short one-and-a-half-kilometre track is bursting with stories from Sydney's history. You'll pass Gunners Barracks, an old military point that's been converted into a high-tea destination, soak in the city skyline from Georges Heights Lookout (dotted with military cannons aplenty) and emerge at Balmoral Beach. Dive in for a dip or head straight to the cafe to cap off this leisurely weekend stroll.

THE ROYAL NATIONAL PARK COAST TRACK
Looking for a spot of adventure? Grab your swag and backpack, and gear up for this spectacular two-day, 26-kilometre coastal hike through one of the oldest national parks in the world — Royal National Park. This one's a serious beauty and a must for experienced hikers.
You'll forget all about your inbox while you're getting off the grid, spending a weekend in the bush and reconnecting with nature. The first day will see you exploring through the rugged wilderness from Bundeena southwards, with sandstone and sandy beaches at every turn. Set up camp for the night at North Era (just make sure you book this one in advance) before tackling the final three-hour stint to the top of Otford the next day. We suggest you check for closures on the NSW National Parks website before you head off on this multi-day adventure, too.
Time your trip right (between May and October) and you might even spot a migrating humpback whale during your walk.
Published on September 24, 2020 by Lucinda Starr