ARTS & ENTERTAINMENT
RUFUS Wraps Up Sold-Out Worlds Within Worlds Tour
LED-sequinned decks, light installations and high-octane favourites; Sydney's electro-kings proved their throneworthiness.
RUFUS Wraps Up Sold-Out Worlds Within Worlds Tour
LED-sequinned decks, light installations and high-octane favourites; Sydney's electro-kings proved their throneworthiness.
---
When a crowd is already pulsing before the end of the first warm-up act, you know you're in for a special night.
Barely had the Enmore Theatre's doors opened on the final evening of RÜFÜS' acclaimed Worlds Within Worlds tour on Sunday before an eager throng had assembled, ready to absorb and reflect the alluring indietronica promised by a notable triple-bill. With 17 sold-out shows serving as a teaser for this one, the palpable anticipation of the umlaut-laden fans came as no surprise.
Enthroned upon an impressive LED-sequinned deck, Future Classic's Hayden James pushed all the right buttons to harness said energy and keep it amping upward. Against a backdrop of throbbing colours, enormous unfurling flowers and floating textual elements, the Sydney producer laid down an ethereal set of smooth electro-dance beats, effortlessly interweaving the levels and textures of his sound. An already enthusiastic crowd roared for 'Permission to Love' from James' 2013 self-titled EP, with a flawless performance doing justice to the hype that has surrounded the single since it dropped mid-last year.
Seattle-based production duo Odesza kept the crowd engaged with their unique, mellow style, sweeping together waifish samples and intriguing beats from their debut album Summer's Gone.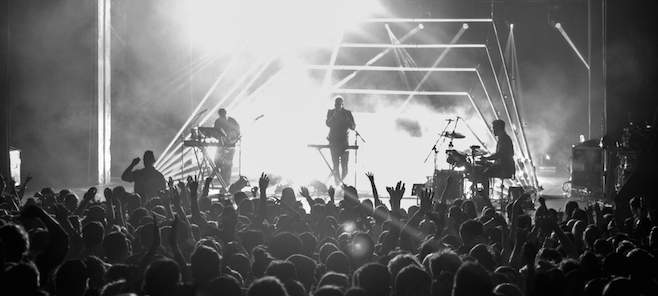 The Enmore air was electric by the time the indie dance trio itself was ready to take the stage. RÜFÜS exploded into a set that undulated gorgeously from high-octane favourites like 'Sundream' and 'Take Me' of Triple J Hot 100 fame, down into the moodier shadows of 'Sarah' and 'Simplicity is Bliss', and right back again. With the benefit of frontman Tyrone Lindqvist's compelling performance, the music took on more nuance and personality live than it conveys in recorded form.
A 12,000-LED-strong backdrop produced by Red Bull and designed by Melbourne studio ENESS was brought to life by, and brought life to, the electronic music, in a symbiotic relationship that elevated RÜFÜS' escapist sound to an entirely new place. From oozing sunset colours for 'Take Me' to pulsing rainbows for dance anthem 'Tonight', ENESS' set appeared as a living, dancing fourth member of the ensemble — to gratifying effect.
The spine-tingling female vocals for 'Unforgiven' were delivered by Nicole Millar, who burst onto the electro-dance scene only recently with her soulful contributions to the Cosmo's Midnight track 'Phantasm' and Peking Duk's 'High'. The sweet, coquettish delivery by the bespectacled powerhouse charmed the audience and the band in equal measures.
Throughout the show, RÜFÜS appeared genuinely humbled by the breathless adoration of a crowd sad to see them wrap up a killer Australian tour and depart our shores for Berlin, where they will work on their next record. Lindqvist thanked the crowd more than once for paying for tickets and commented on the magic of being on stage at a venue where the three friends had themselves purchased spots at countless gigs not so long ago.
A short but satisfying encore ended with 'Desert Night', with an ecstatic, bouncing crowd singing every word of the perhaps self-referential lyrics: "I'm alright, oh look at me now."
We'll certainly be looking to see the fruits of RÜFÜS' expedition abroad; with a tour like this for a debut album, we can only imagine what else lies in store.
Images by Kane Hibberd/Red Bull Content Pool and James Douglas for SpeakerTV.
Published on June 25, 2014 by Sarah Lux-Lee