"Splendour in the Pool": Wet Weather Is Causing Chaos, Mud Pits and a Damp Time at SITG's Big Return
A whole heap of rain has been causing soggy mayhem at Splendour in the Grass, which is back for its first festival since 2019.
UPDATE, 2pm, Friday, July 22: Splendour in the Grass has now cancelled its main stage gigs on Friday, July 22 due to "a significant weather system" that "is currently sitting off the east coast and may reach land later today bringing more rainfall".
Organisers also advised that the festival looks forward "to Saturday and Sunday programming moving ahead as planned".
Yes, you can call it a comeback: after two winters without live tunes at North Byron Parklands, Splendour in the Grass has finally returned. But rather than a bustling weekend filled with huge sets from some of the biggest global and local musos there are — with Gorillaz, The Strokes and Tyler, The Creator on headlining duties — eager festival-goers are arriving to a soggy time.
A chaotic time, too, especially if you're planning to camp — and you attempted to arrive on Thursday, July 21 to get settled early. Due to incredibly wet conditions, North Byron Bay Parklands has been experiencing flooding, leading to uninhabitable campsites, a logistical mess and hefty delays for carloads of Splendour attendees trying getting in.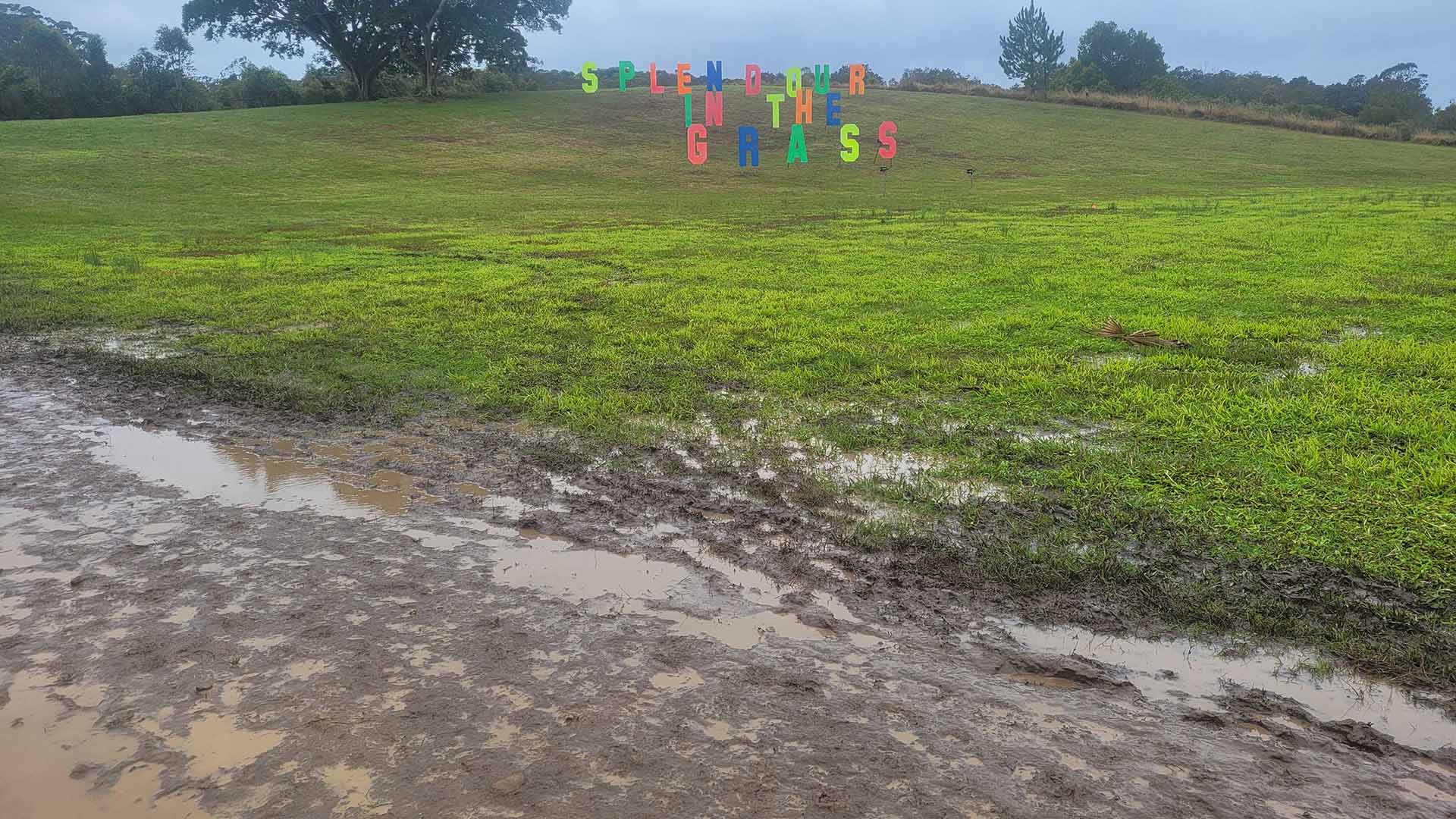 Concrete Playground staff writer Ben Hansen joined the queue at 5.50pm on Thursday, and didn't get into the campsite until 4am on Friday. "The communication was that there were cars being bogged and they were understaffed, and that's why they couldn't process anyone," he advised.
"In the end, they were just trying to get people into the campsite, and then they gave up and redirected everyone that was in the lines straight into the car park that's usually for day parking. Everyone that was in those lines has just set up camp there. Nobody has talked to us since — we haven't talked to a volunteer, we've just kind of set up a community in the car park, and we're all just living there for the next three days. There's toilets but there's no other amenities."
This morning, on Friday, July 22, Splendour organisers advised in a Facebook statement that North Byron Parklands "can no longer accept any campers or vehicles including day parking" at the site. Instead, all incoming camping patrons and day parkers are being directed to Byron Events Farm at 35 Yarun Road, Tyagarah, with free bus shuttles them taking them to the Parklands once they've set up camp.
Understandably, the mood on the ground is mixed. "People are excited to be back at the festival, but people are sad," Hansen explained.
On Thursday evening, the festival advised on Facebook that "the weather and staff shortages were all worse than expected".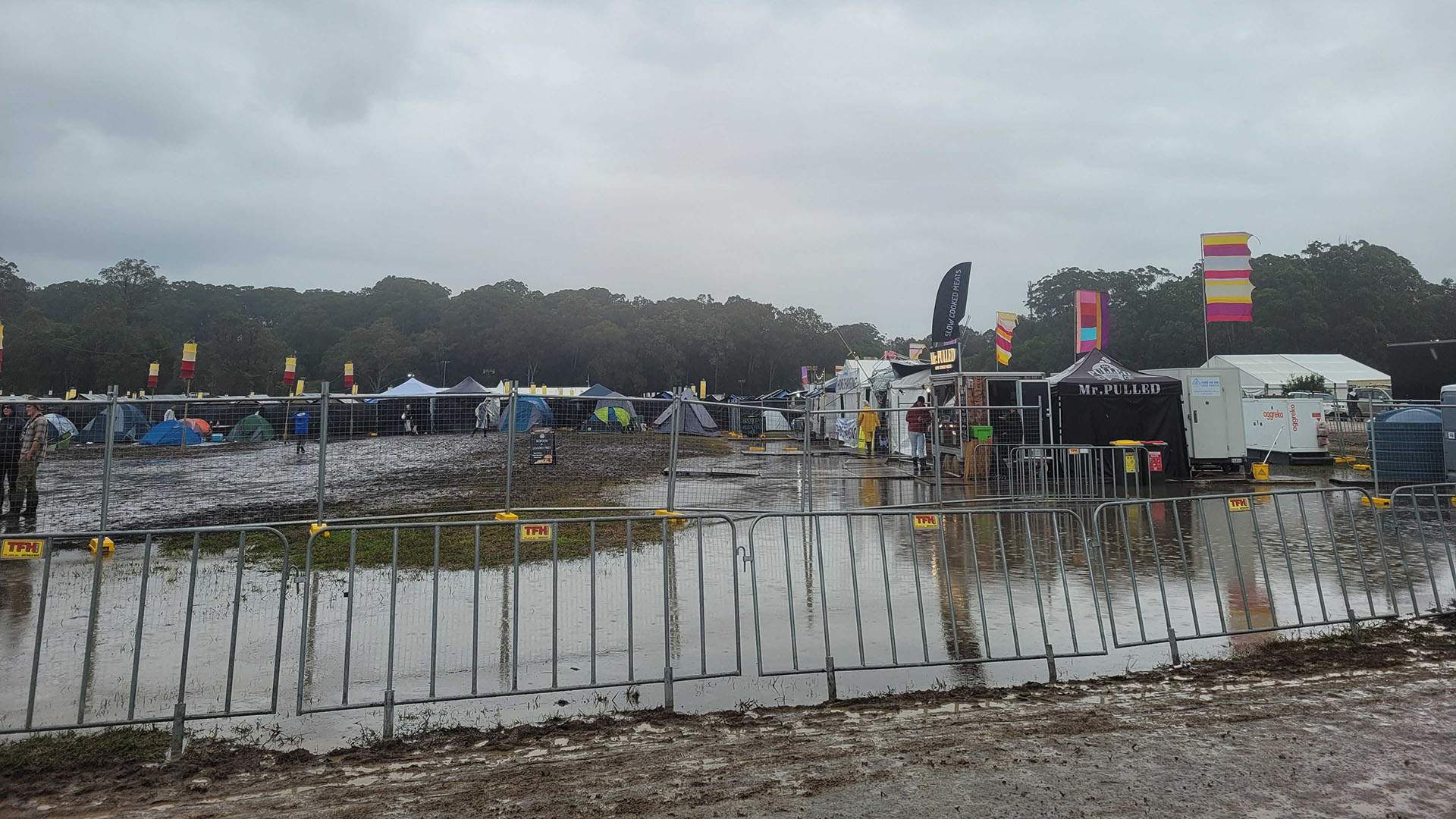 Unsurprisingly, the damp conditions around the ground are causing a muddy ol' time — even for a festival that's long been synonymous with mud.
"It's as muddy as I've ever seen it. I was here in 2015, when everyone was like 'this is the muddiest year in ages', and I reckon it's muddier this year. Walking into the festival — I'm currently in front of the entrance to the festival, and the mud is up to my calf, nearly up to my knee in points," Hansen noted. "The gumboots are getting a workout...  it's Splendour in the pool at this point."
TikTok is currently filled with videos showcasing the situation, naturally.
More rain is forecast by the Bureau of Meteorology for today, with showers and wind on Saturday, plus possible showers on Sunday.
Splendour in the Grass runs from Friday, July 22–Sunday, July 24 at North Byron Parklands. For further information, head to the festival's website and Facebook page.
Images: Ben Hansen.
Introducing Concrete Playground Trips
Book unique getaways and adventures dreamed up by our editors