ARTS & ENTERTAINMENT
Patricia Piccinini's 'Skywhale' Has Returned to the Skies with Its New Companion 'Skywhalepapa'
'Skywhale' and 'Skywhalepapa' floated in front of the National Gallery of Australia over the weekend and will soon tour the country together.
Back in January, it was announced that Patricia Piccinini's fantastical Skywhale, the 34-metre-long inflatable art piece that has repeatedly captured the attention and the hearts of Australians, would be joined by a new floating companion. Skywhalepapa, Piccinini's new other-worldly creation, stands as tall as a ten-storey building and was unveiled to the public in the early hours of Sunday, February 7.
Both Skywhale and Skywhalepapa were scheduled to take off from the National Gallery of Australia on Saturday, February 6 as part of the Skywhales: Every Heart Sings exhibition, however, that date was postponed to Sunday in hopes of better flying conditions. Unfortunately, come Sunday, weather conditions hadn't improved enough to allow the Skywhales to fly. Despite being unable to take off over Canberra, the pair of fantastical hot air balloons were inflated and able to float tethered in front of the gallery.
The Skywhales will have future opportunity to fly in the sky on Monday, March 8 and Saturday, April 3, too, with free tickets to the second and third flights set to be released in coming weeks. These flights are running concurrently with a multimedia exhibition at the NGA that includes Piccinini's new children's book Every Heart Sings, which tells the story of the Skywhale family. Skywhale-inspired croissants made by Three Mills Bakery, an open-source Skywhale knitting pattern and a Skywhale song titled 'We Are the Skywhales' were also created alongside the exhibition.
Following the March and April flights, the Skywhales are scheduled to go on tour, floating across the skies of Australia throughout 2021 and 22. The tour will kick off in Albury, NSW sometime in mid-April and will make it's way around to several states, providing more Australians with the opportunity to marvel at the enormous art projects.
Skywhalepapa was created using 3.6 kilometres of fabric and features nine baby Skywhales, safely tucked beneath their father's fins. To learn more about the Skywhale family, you can purchase the book Every Heart Sings from the NGA website.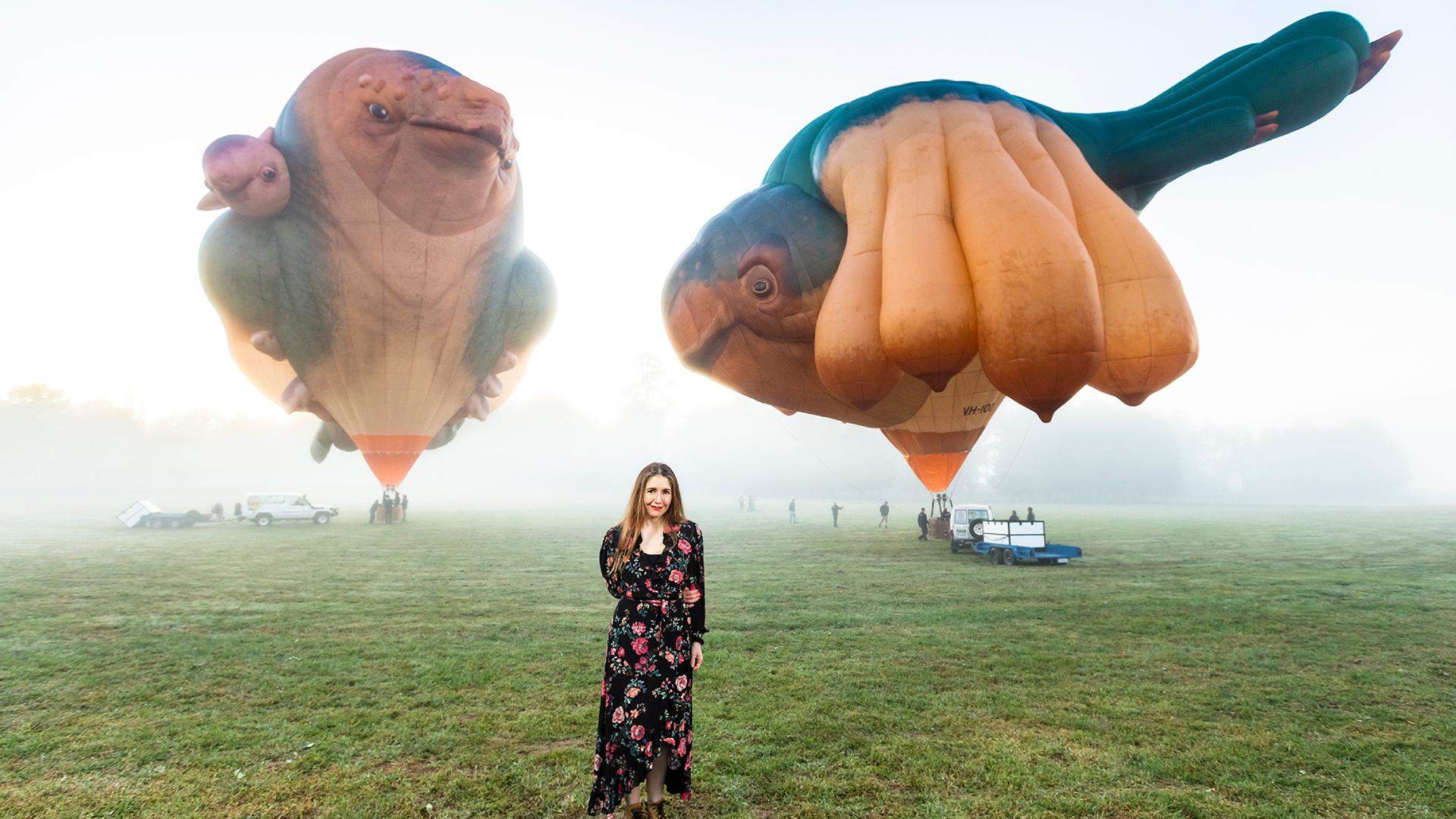 Skywhales: Every Heart Sings will take place at the National Gallery of Australia, Parkes Place East, Parkes, ACT on Monday, March 8 and Saturday, April 3. For more information on the exhibition, visit the NGA website and follow the NGA on Twitter for regular updates on the Skywhales and on tickets to future events.
Images: Skywhale 2013, Skywhalepapa 2020, Patricia Piccinini. National Gallery of Australia, Canberra. Copyright the artist.
Published on February 08, 2021 by Ben Hansen