The Third Season of 'The Boys' Is Still a Bloody Ace (and Very Bloody) Antidote to Superhero Fatigue
The page-to-screen caped crusader satire remains as smart, entertaining, gory and funny — and savvy — in its characteristically OTT third batch of episodes.
Superheroes aren't subtle. Some endeavour to blend in as ordinary people — sporting glasses that somehow trick the world into not spotting their real identities, for instance — but wearing brightly hued spandex suits isn't a low-key move. And, neither is busting out super strength or speed, or invisibility or being able to shrink, or any other preternatural abilities that caped crusaders have at their disposal. Superheroes are also everywhere, or that's how it feels when you're watching a screen big or small. So if you're going to satirise this super-powered genre, throwing nuance out the window is as essential as retaining a super-sized dose of self-awareness. For three seasons now, The Boys has understood this.
Prime Video's page-to-screen parody first arrived in 2019, making the leap from Garth Ennis and Darick Robertson's comic book series of the same name. It returned in 2020 with more, and now follows that up with a third spin (dropping three episodes on Friday, June 3, then releasing the remaining five week by week). Across every instalment in all three seasons, The Boys has also gleaned something else crucial: that superhero fatigue is real and in non-stop supply. It knows that it dwells in an IRL world where every second blockbuster movie and every third TV show is about lycra-clad folks, and where anything else is becoming an outlier at the box office and in streaming queues alike. So, from day one, it has savvily set itself up as a much-needed antidote.
A show about supes that's a tonic to all those flicks and other series about supes? Yes, That's The Boys. It's also gleefully OTT, unflinchingly violent, immensely funny, and so eager to push boundaries that you could be forgiven for wondering if its powers-that-be are just whipping up with the most outlandish things they think they can get away with. But The Boys isn't a respite from all that other never-ending superhero fare merely due to its tone, but thanks to its smarts. Indeed, in season three, it goes all in on one of its most pressing topics: the ideas and ideals about life that get passed down when worshipping the super-powered (and the wealthy, and just the powerful, and generally the white and male as well) is the unthinking cultural status quo.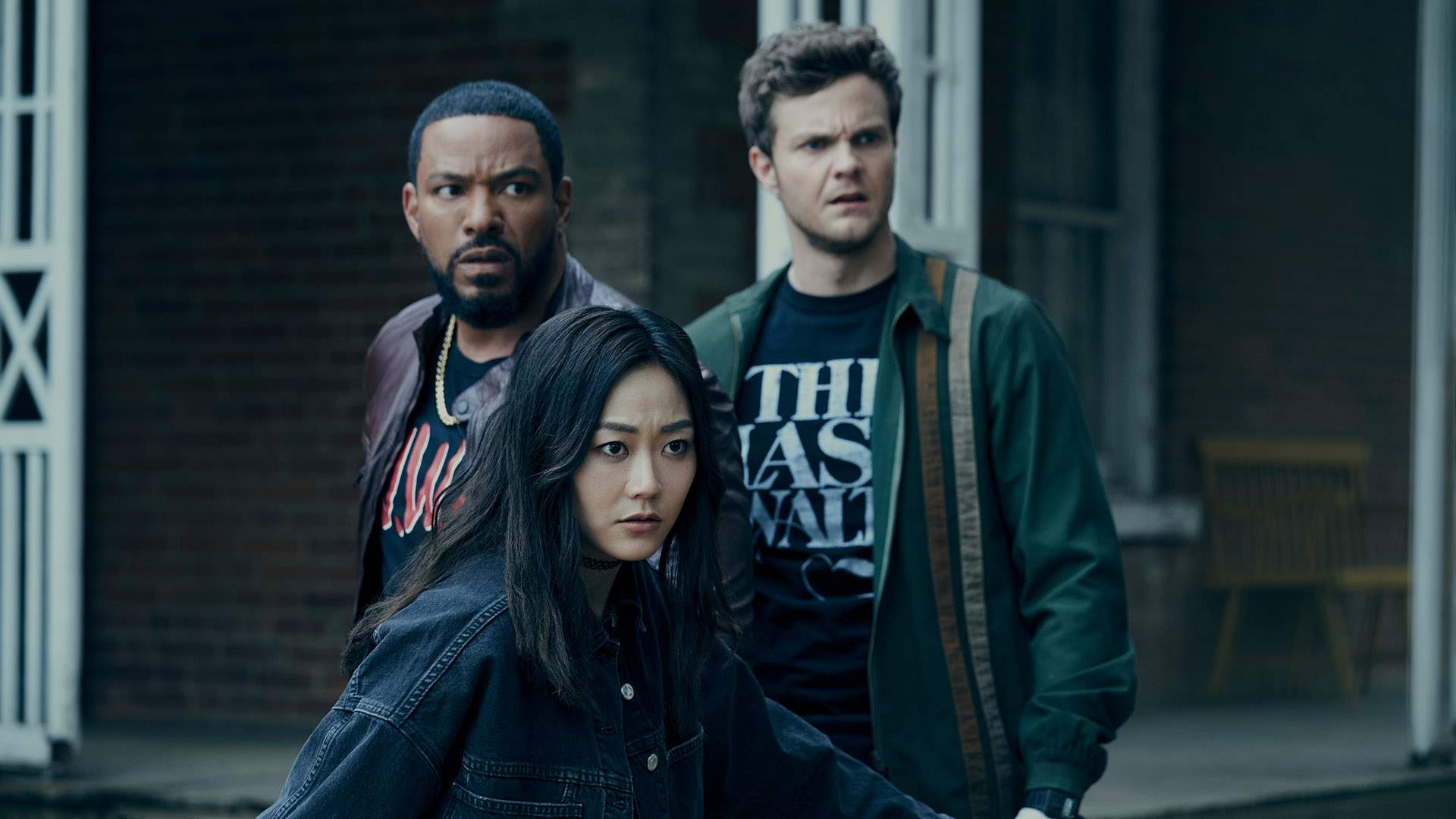 For the uninitiated, The Boys lurks in a version of reality that has supes in the flesh, not just in flickering frames. And while the marketing-driven, profit-chasing narrative pumped out around them by supe-peddling corporation Vought International hails these heroes as being better than everyone else, this show is well aware that buying that line about any celebrities is foolish. Names are changed and some details, too, but spying parallels off-screen is easy by design. Accordingly, that Vought has layered its famous figures across every platform it can, including theme parks, isn't surprising. That the supposed best of the best are packaged together as the ultimate hero team, The Seven, isn't either. Nor is the avid fandom they receive, or the film franchises sprawling around them, or the notion that spouting fawning adoration should be automatic.
It's been evident since episode one that The Seven leader Homelander (Antony Starr, Banshee) uses his public persona as a shield for his twisted ego, soul-devouring insecurities, arrogance and selfishness — and, instalment by instalment, his sinister true nature keeps burning. In The Boys' third season, he may as well be America's most recent ex-President, complete with unhinged rants and an at-any-cost desperation to retain control.  The comics were actually published from 2006–12, but the show they've spawned is firmly steeped in the polarised US of the past six or so years. That's another reason that subtlety hardly comes with the territory, and yet it doesn't make The Boys any less potent.
The in-show alternative to Homelander's psychopathic, egotistical, world-threatening existence: the ragtag gang of vigilantes that shares the series' name. Led by cynical-as-fuck Brit Billy Butcher (Karl Urban, Thor: Ragnarok), they remain intent on bringing down Vought and The Seven, as always. About year has passed, however, and Hughie (Jack Quaid, Scream) now works with congresswoman Victoria Neuman (Claudia Doumit, Where'd You Go, Bernadette) at the Federal Bureau of Superhuman Affairs, countering misbehaving superheroes the legal way. That involves overseeing Butcher and fellow pals Frenchie (Tomer Capone, One on One) and Kimiko (Karen Fukuhara, Suicide Squad), but this wouldn't be The Boys if their battle was that straightforward.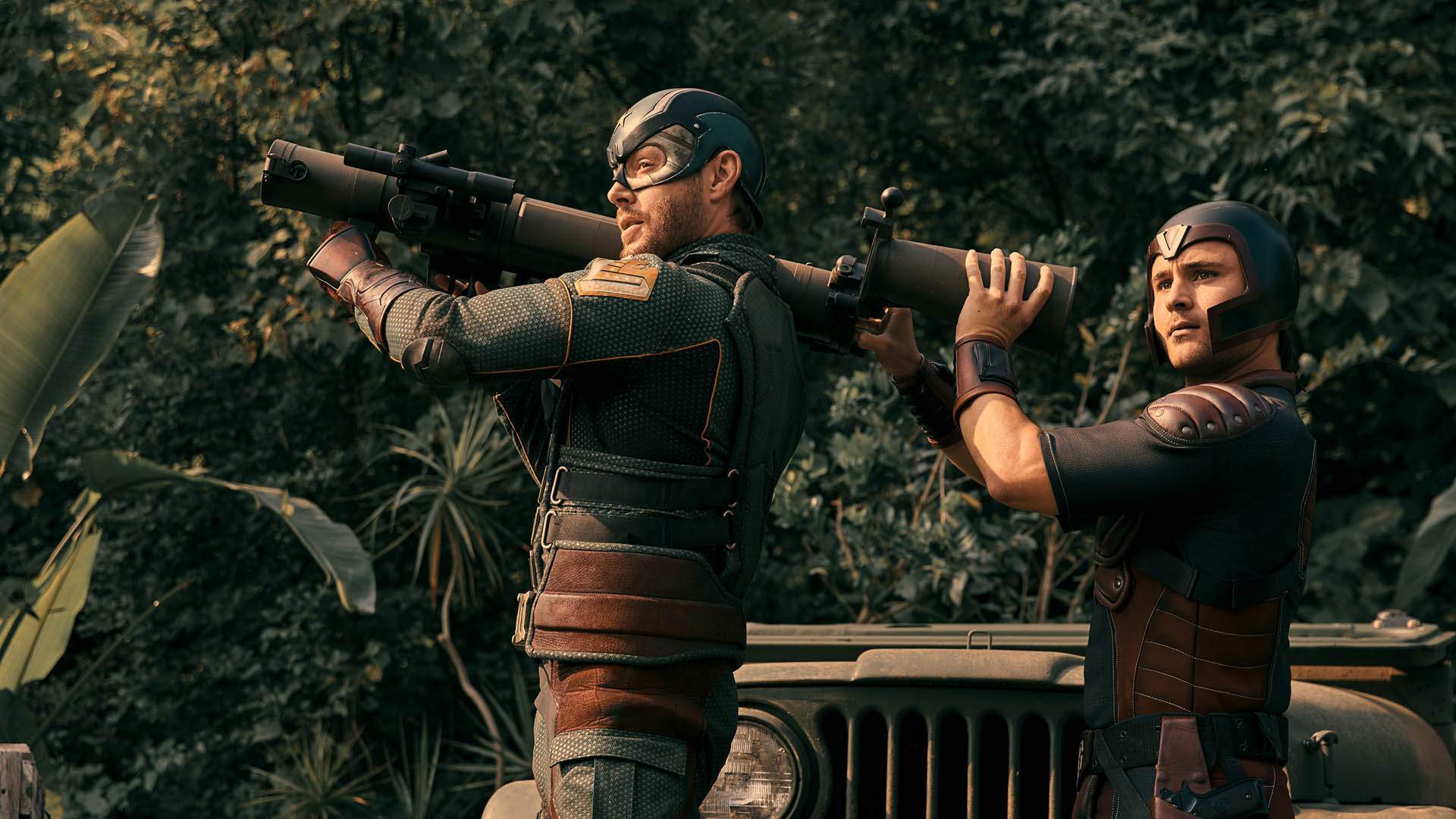 So much that happens in season three stems from that one underlying concept: that the penchant for passing on automatic superhero fandom is a symptom of a society — and of people, too — happier to rot mindlessly than do what's right. It's there in the reality TV show that The Seven's Starlight (Erin Moriarty, Captain Fantastic), also Hughie's girlfriend, hosts to find new members for the supe team. It's also in Mother's Milk's (Laz Alonso, Wrath of Man) multilayered subplot, which sees him in and out of The Boys, avenging his traumatic past and worrying about who's influencing his pre-teen daughter. Butcher's relentless quest to vanquish Homelander, also at any cost, fits as well. And, it's an inescapable part of the tale around long-missing hero Soldier Boy (Jensen Ackles, Supernatural) and everything that being a supe stood for in his heyday between the 40s and 80s.
The Boys isn't saying much that's new in its third season, but it continues to bite deeper — and sharper. Finding more ways to spell out how insidious caped-crusader mania keeps getting must be as entertaining a task as conjuring up bloodier, gorier, more audacious setpieces; this season ups the ante on both, and it's equally entertaining to watch. Taking Honey I Shrunk the Kids to a brazen extreme, bringing one of its source material's most jaw-dropping storylines to the screen, tearing into toxic masculinity in a plethora of ways, getting just as savage about corporate domination: that's all on the menu, too. So is riffing on pandemic-era pop-culture moments, serving up impressive cameos, spewing guts and other bodily substances, and throwing in Britney Spears and Fast and Furious winks, plus song-and-dance numbers.
Much of the above happens within season three's first episode, in fact, but The Boys definitely starts its latest go-around as it continues. And yes, that includes doubling down on the two performances that couldn't sum up this darker-than-dark, unshakeably bleak, constantly perceptive show better, with New Zealanders Starr and Urban each as hypnotic as ever as two sides of the same coin. Just don't go thinking that either of them play heroes.
Check out the trailer for The Boys season three below:
The third season of The Boys streams via Prime Video from Friday, June 3.
Introducing Concrete Playground Trips
Book unique getaways and adventures dreamed up by our editors