FOOD & DRINK
The Icebergs Terrace Has Been Transformed Into a Lush Pop-Up Bar Overlooking Bondi Beach
Sip cocktails and eat snacks from the Icebergs Dining Room and Bar's kitchen outdoors this summer.
The Icebergs Terrace Has Been Transformed Into a Lush Pop-Up Bar Overlooking Bondi Beach
Sip cocktails and eat snacks from the Icebergs Dining Room and Bar's kitchen outdoors this summer.
The dining room at Icebergs undeniably has one of the best views in Sydney. But the blissful Bondi views usually come at a pretty steep cost, considering that, for the best seats in the house, you have to fork out for a lavish feed in the two-hatted fine dining restaurant. But this summer, you can soak up that scenery without burning through too much of the budget (and with better views than at the bar), at a new pop-up on the Icebergs Terrace.
The bar — which is a collaboration with Ketel One Botanical — has transformed the Bondi venue's outdoor area into a lush, flower-filled oasis serving cocktails and snacks from the Icebergs bar. The newly revamped terrace is now sporting a verdant fitout designed by local landscape architects and horticulturalists Secret Gardens. It's decked out with stacks of native Australian flora and boasts primo views of Bondi Beach.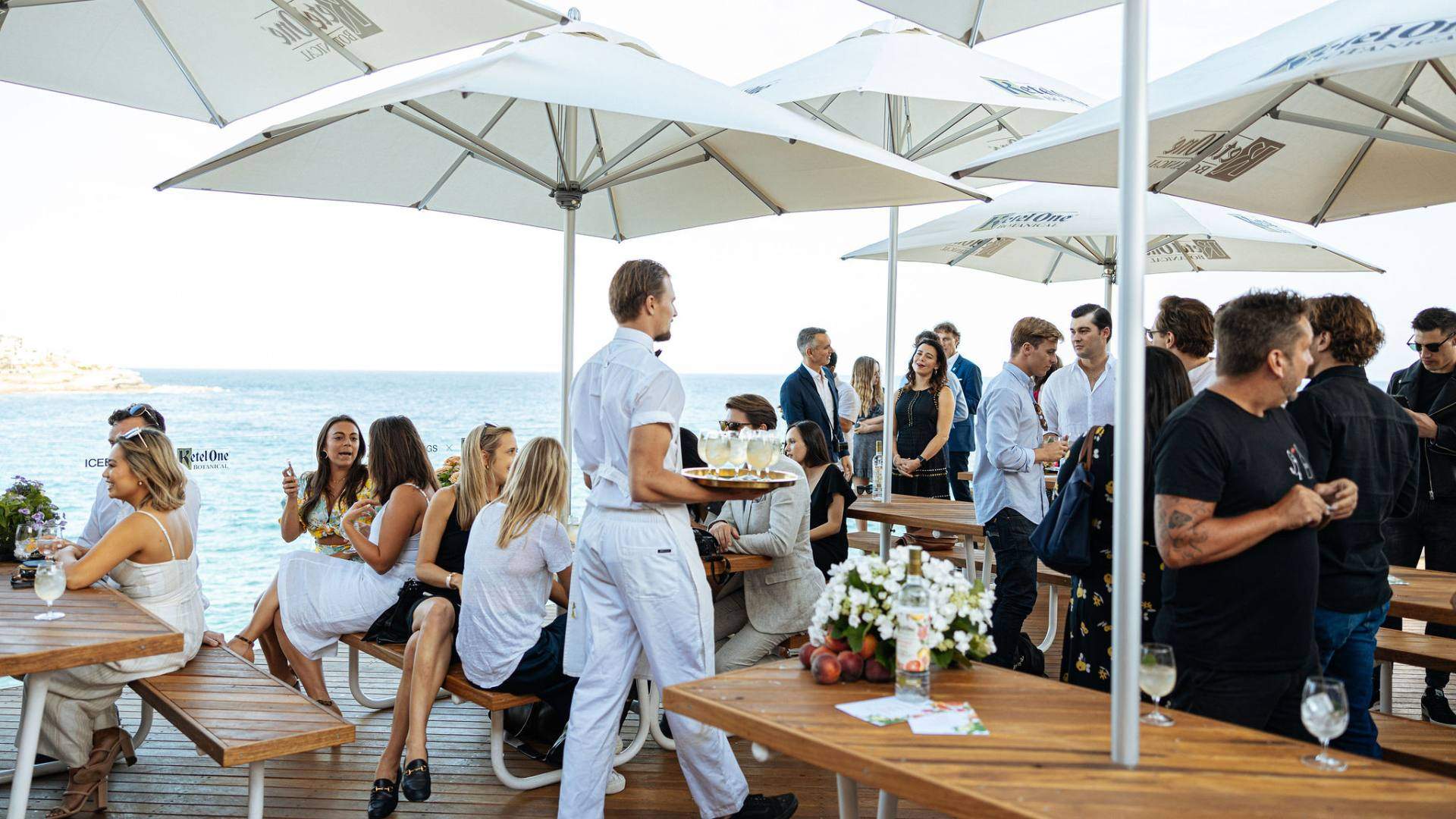 As the name suggests, the cocktail list is based around Ketel One Botanical, which is a new low-alcohol vodka that's been distilled with botanicals and infused with fruit essences. It's available in three flavours — grapefruit and rose, peach and orange blossom and a crisp cucumber and mint — and is being served with some of Icebergs' house-made sodas ($12 each). These include a blend of coconut, sea rosemary and jasmine, and a fig leaf and mango creation. If you're a gin lover, it's sure to be right up your alley. If not, there are a few wines, a Byron Bay Lager and a frozen grapefruit and orange cocktail on the menu, too.
To match the botanically-driven boozing, a selection of bites from the Icebergs menu will make their way outside. You can stay light with oysters, fries or a caprese salad, or go all in with a crispy fish sandwich or the Icebergs burger ($20).
Drinks are pouring from 12.30pm each day all summer (and until the end of May 2020).
Find the Icebergs Terrace x Ketel One Botanical pop-up bar at Icebergs, 1 Notts Avenue, Bondi Beach. It's open daily from 12.30–8pm until the end of March next year, then  from 12.30–6pm on Saturdays and Sundays in April and May. 
Published on November 21, 2019 by Libby Curran