Sammy Junior
Now open on King Street, it's slinging cuppas and breakfast bites by day, and sandwiches and mini cocktails in the afternoon.
Highly awarded cocktail bar Maybe Sammy, which was named the 11th best bar in the world in 2020, has just welcomed a sister venue to the CBD. First announced last year, Sammy Junior is slinging cuppas by day and mini cocktails by night — until 5pm Monday–Wednesday and 10pm Thursday–Friday, that is.
Sitting in the heart of the CBD along King Street, the new espresso bar takes its design cues from Maybe Sammy, with its interiors overseen by famed architect George Livissianis (The Dolphin Hotel, Chin Chin Sydney, The Apollo, Cho Cho San). Patrons can expect pistachio hues aplenty, including in the terrazzo floor and bar surfaces and stucco walls. Seating-wise, you can choose from the ten chairs around the bar, banquettes in the back and scattered tables elsewhere.
For its coffee, the cafe is offering a blend that's been specially crafted for the venue by coffee connoisseur and Maybe Sammy Co-Founder Martin Hudak (2017 World Coffee in Good Spirits Champion). Sammy Junior Spiritual Coffee features hand-roasted Brazilian, Columbian and Ethiopian beans, or you can choose from a seasonal bean selection — or from Ms Cattea's teas, chai from Bespoke Chai and Callebaut's hot chocolates.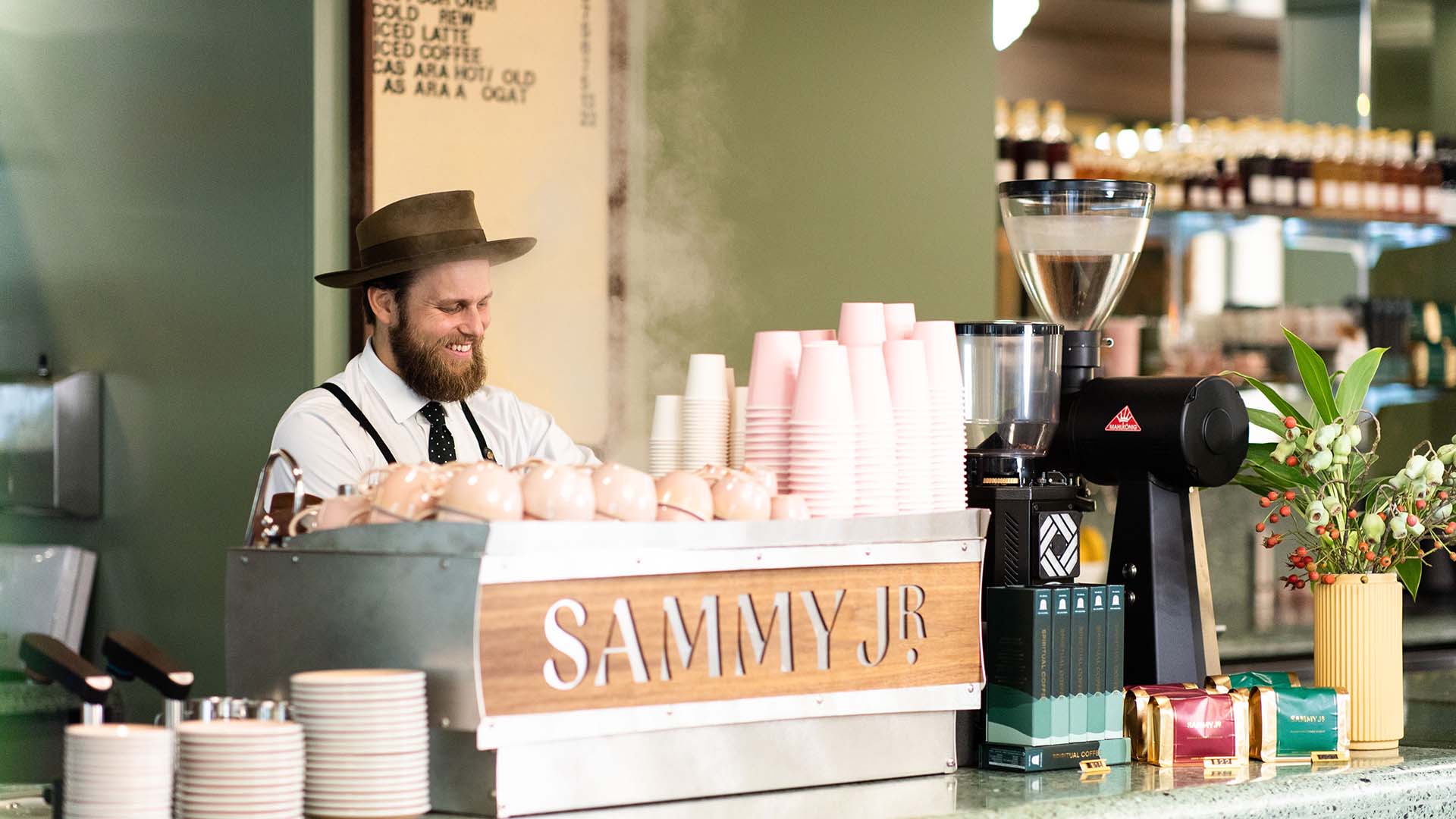 Classic Aussie breakfasts, as well as sandwiches and salads for lunch, cater to both takeaway and dine-in customers, with around 50 seats for the latter. The food menu has been created by Chef Robert Lechowicz of Cronulla's Blackwood Pantry, and includes tomatoes on toast ($12), smashed avo ($15), toasted banana bread ($13) and strawberry chia pudding ($12) to start the day, as well as a daily pastry selection from Sonoma Bakery. For a midday bite, tomato and basil paninis ($15) and smokey chipotle chicken wraps ($12) sit alongside both Mediterranean and Asian-style bowls.
Then, in the evenings on Thursdays and Fridays, Sammy Junior boasts similar cocktail-den vibes to its sibling. Mini cocktails in 100 millilitre servings are available on tap — and at lunchtime five days a week, too — including coffee negronis, an Aussie take on the martini made with lemon myrtle and a rum-based espresso martini made with coconut water ($13, or $7 during happy hour). A few wines and beers are also on the docket, with the vino sticking to the small-sized theme by coming in half bottles only. And, on the two nights that the venue stays open late, $2 oysters are available from 3pm, while marinated olives ($6) and a salumi and cheese selection are on offer from the same time Monday–Friday.
Explaining the hybrid cafe and bar setup, Hudak said "traditionally, a venue is either great at coffee or great at cocktails but there's not many venues that combine those two offerings successfully. We're fortunate to have a team who is internationally awarded for delivering exceptional bar and coffee experiences, so it made sense to combine them into one venue."
Images: DS Oficina.
Concrete Playground Trips
Book unique getaways and adventures dreamed up by our editors