ARTS & ENTERTAINMENT
Eight Boutique Online Stores for Beautiful Gifts
Quirky, inspiring, and fun boutiques are only a click away.
Eight Boutique Online Stores for Beautiful Gifts
Quirky, inspiring, and fun boutiques are only a click away.
Gift giving can be stressful business. Finding that perfect gift that ticks all the boxes of convenience, affordability, and, most importantly, thoughtfulness can become a mission. Lucky for us that perfect gift is simply a click away thanks to the hundreds of boutiques popping up on the net. Here are eight of the most quirky, inspiring, and fun online boutiques for gift shopping. Prepare to waste many, many hours bookmarking from these sites. And while you're at it, go on buy yourself a little present, too.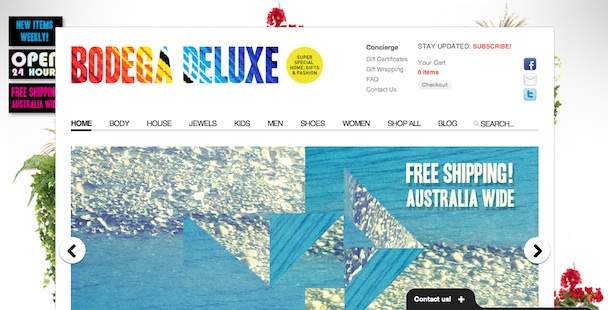 Bodega Deluxe
Sometime in 2011 Bodega Deluxe popped onto the radar. Frustrated with Australian shopping and too impatient to wait weeks for items to deliver, the folks at Bodega Deluxe took matters into their own hands and set up shop. Inspired by New York's local neighbourhood convenience stores, 'bodegas', the boutique sources the most quirky and fantastically random gifts and titbits that won't break the bank. Think Japanese anime DVDs (Totoro, anyone?), paint-your-own babushka dolls, and cinnamon mint flavoured toothpaste sourced from Italy. Despite the relatively small range, Bodega Deluxe's mix of tongue-in-cheek gifts and spiffed-up everyday items makes it a fuss-free, stress-free shopping zone.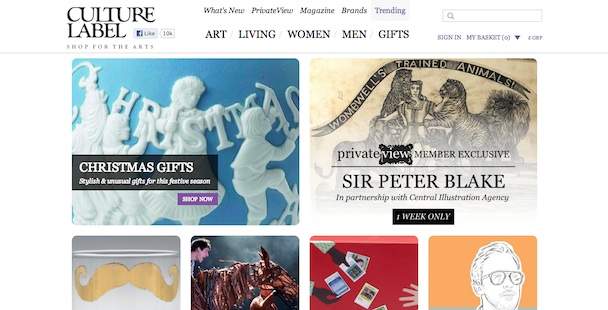 Culture Label
Hailing from the motherland, Culture Label should be your go-to site when you're looking for a gift that's just a little bit fancy. The site describes itself as the "crossroads of the cultural world; where art, design, style, heritage and emerging talent meet". Or in other words, so trendy it hurts. If you're stuck for ideas of what to buy the guy/girl who has everything, Culture Label will sort you out. There are hundreds of luxury or unusual gifts that ooze quirky British humour, such as vintage posters (a la Attack of the 50 Foot Woman), a Shakespeare's Hamlet-inspired Kindle cover, and a lips telephone. Bonus features such as personalised currency converter, giftware guides, and limited edition items give Culture Label the tick of approval. As the site acts as a hub for individual vendors, keep in mind that different postal costs apply depending on what you order.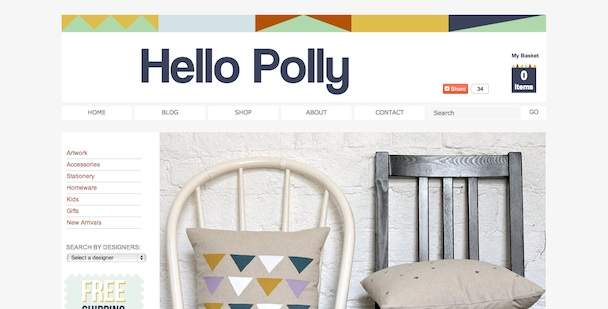 Hello Polly
Well, Hello there Polly. This young gun may have only been established for a year, but it feels like home, sweet home. It's no surprise that, coming from an art background, founder Sarah Kelk has filled this cute-as-a-button boutique with crafty knickknacks for the home, graphic artwork, and bright accessories. It's the perfect online shopping destination to source gifts for the hostesses, decorators, and little ones in your life. You'll find offbeat products like a breadboard shaped as a button or cardboard convertible toys by Flatout Frankie that will certainly prompt a squeal of delight from the lucky gift receiver.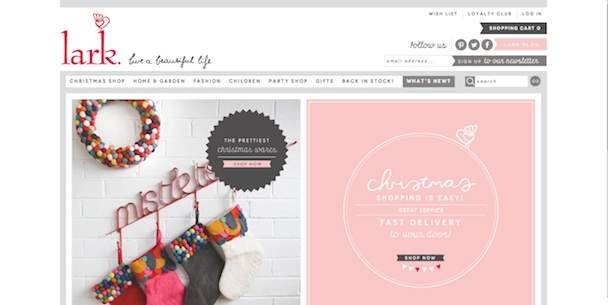 Lark
Sorry boys, this one's for the ladies. Hailing from Daylesford, Australia to the worldwide web, Lark is all quirky, cute, and girly. Think an '80s chick-flick in web form. This family-run boutique certainly lives up to its motto, 'live a beautiful life'. You'll find smile-inducing items such as a classic Etch A Sketch, brightly coloured metal signs spelling 'don't worry be happy', and, just in time for the silly season, that neon Christmas tree you always dreamed off. You'll have to spend over $120 to get the free shipping deal, but frankly, your mum, best friend, and niece will thank you for bulk buying their presents.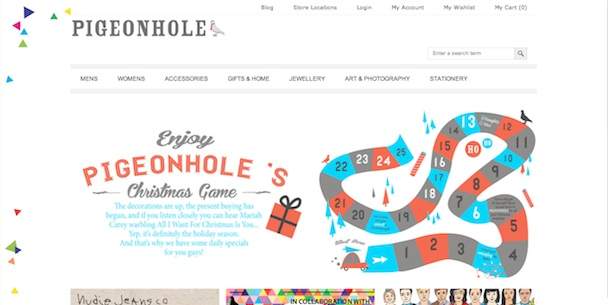 Pigeonhole
In five short years Pigeonhole has gone from being a one-man show in an old arcade in Perth to a five-store-strong, cafe-touting, and online extravaganza. For those not living on the west side, Pigeonhole online brings the best of their fashion and gift ranges to the masses. As far as gift shops go, Pigeonhole sits nicely in the all-rounder corner with something for every family member or friend. Shopping for a keen photog? Buy them the Impossible Project From Polaroid to Impossible book. Your mum's a caffeine fiend? Show her you care with a heart-shaped espresso cup. Is your boyfriend always running late? Give him a hint and a 100 percent natural wood watch.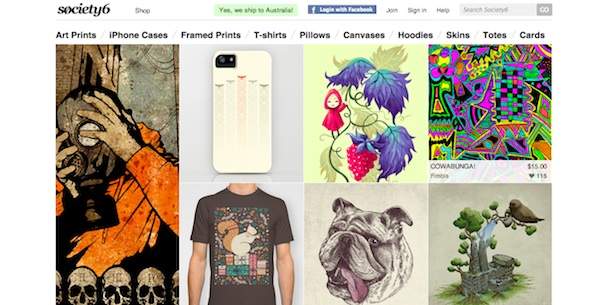 Society 6
One of the best parts about gift giving is that it doesn't have to be something the recipient needs but something they want (or don't yet know they want). This is where Society 6 comes in. Society 6 sources artwork in the form of prints, iPhone cases, T-shirts, and more from thousands of artists worldwide. If you want to buy someone special something very personal and unique, you can't go past this site. Prepare to waste many hours agonising over whether to buy one of the dozens of Batman prints, a stormwalker (moonwalking stormtrooper) laptop case, or a skull sprouting flowers tote bag.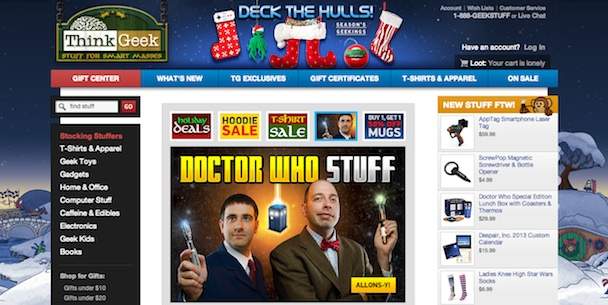 Think Geek
Whether it's Star Wars or superheros, Think Geek takes your fandom seriously. This online shopping site wholeheartedly celebrates all things tech, sci-fi, and fantasy with its range of gadgets and pop culture memorabilia. You can even shop by category and, yes, as we go to print there are almost a hundred products in the Zombies & Bacon category. It's a great place to find a gift for your mate that shows you care but won't have you breaking open the piggy bank. How about Star Wars Chop Sabers ('eat sushi, defend the galaxy') ora cupcake-shaped stress ball? Keep in mind that shipping depends on what you are ordering, how much you are ordering, and where it is shipping.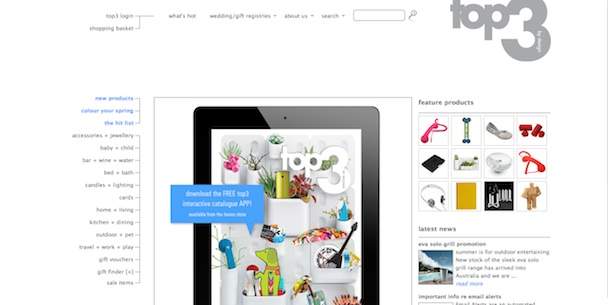 Top 3 by design
Top 3 by design live by the motto less is more. This online boutique stocks up to three products per category. This thorough editing process means each product really lives up to its potential. The range of functional, original, and clever products has an industrial rather than handcrafted edge. You'll find classic designs that have withstood the test of time, such as Josef Hartwig for Naef's Bauhaus chess set and board alongside modern innovations such as Andreas Engevik's Menu Pin Table (an outdoor table that literally can be pushed into the grass like a pin). Be warned that designer gifts come with designer prices, so save this site for when gift-buying for a special occasion or pool in with others.
http://www.top3.com.au/index.html
Main image: Hello Polly.
Published on December 04, 2012 by Prudence McKendry