Six Brands Bringing Back Y2k Fashion If You're Nostalgic for the Days of MS Paint and Discmans
These Aussie fashion brands are keeping the style of the noughties alive and well.
in partnership with

The turn of the century was a helluva time. Excitement and a nervous anticipation of a potential apocalypse filled the air. If you, like me, weren't around to see it firsthand, there was concern that computing systems worldwide would flatline at the turn of the century as the dates became impossible to compute.
Obviously, that didn't happen. We're still here and, for better or worse, so are the computers. The entire situation left quite a mark on our culture.
Now, 23 years later, the notion of Y2K is on the rise once more. As our world once again gets a little bit scary, we need to make every day count and just be ourselves. These are the brands that are bringing Y2K back for... Y23K? We'll workshop the name.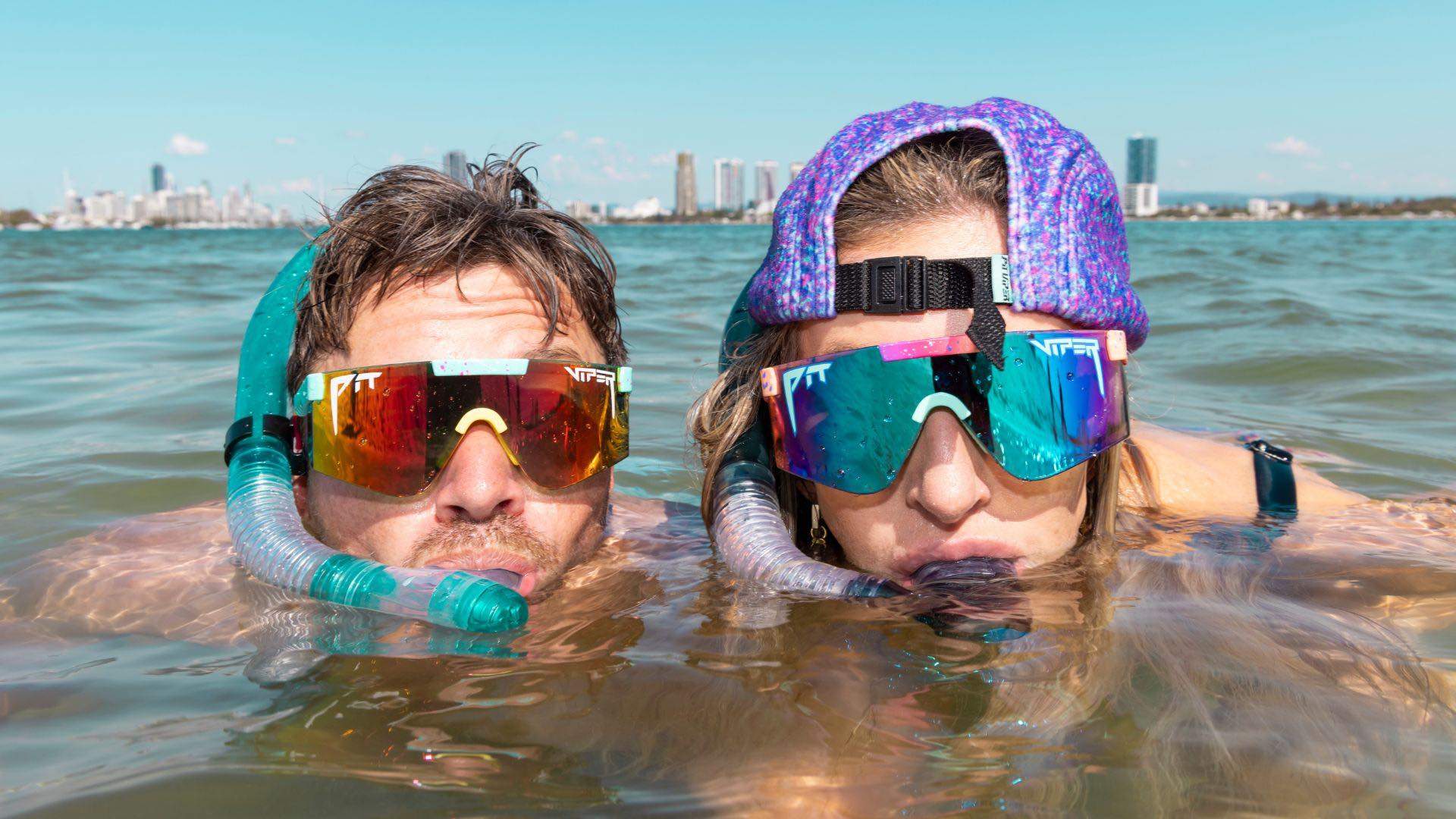 PIT VIPER
If Y2K is about being unapologetically yourself, Pit Viper gets top marks. There's no piece of eyewear on the market quite as flashy as these beauties. In Pit Viper's own words: "Sunrise to sunset, reef breaks to ridgelines, holeshots to holy sh*t, we build the functional, fun-loving gear that is serious about taking things less seriously".
It's hard for an Aussie not to recognise these flashy fluorescent designs, and when you take a spin on the website, you'll be teleported straight back to the 2000s. Once you've adjusted, take a tour through the product range; from the iconic polarised range of 'The Originals' (The 1993 or The Miami Nights) sunnies to the rounded, heavier-duty range of 'The Slammers', there's eyewear of every shape and colour on offer. Pit Viper extends its identity through goggles suitable for dirt and snow, clothes for your head, top and 'power bottom', and even rigs to help keep the glasses on your face.
CHAOTIC THREADS
While the cultural concept of Gen Z has really only grown in recent years, the generation was quite literally born in the Y2K era, between 1997 and 2012. We might not be able to remember it all physically, but thanks to the internet, its memory is well preserved. The style of Y2K is growing in popularity among Gen Z, and that harmony is plain to see with brands like Chaotic Threads.
Chaotic Threads was founded in Melbourne and prides itself on sustainability and style in equal parts. Each piece is created from a single inspiration, meaning every design is limited-run. The upside is every bit of scrap fabric will be reused to create more accessorie. The product range is always shifting, so check the website or Instagram to see what's currently available.
ACTUAL ANGEL
A similarly Gen Z-charged brand (which also happens to be based in Melbourne) is Actual Angel. You might take a shine to these pieces if you have ever had a goth phase. Every design is handmade, ranging from heavy gothic designs to mystical pieces that tread closer to the modern fairy core.
Actual Angel's range spans gorgeous stellar earring designs, chokers of all textures and colours and even tote bags made from the likes of velour satin and lace designs. It's all whimsical, comfortable and, most importantly, it's handmade independently. Actual Angel can be found on Instagram, but you can find the entire product range on Depop.
THREADHEADS
A marker of Y2K fashion is graphic design — as technology and pop culture evolved, the option to print customised designs onto clothing became more accessible. One of the most popular graphic tee brands right now is Threadheads.
Quickly achieving viral status thanks to a satirical but stylish approach to designs, this is the ideal brand for anyone with a sense of humour. Design themes cover pop culture, gaming, 80s and 90s, parody, retro, anime and more. Threadheads also loves a collab, with official collections made with Rick and Morty, DC Comics, NASA, Seinfeld, Cobra Kai and others. A new addition to the catalogue is custom tees, a great gift for any lovers of bootleg designs.
DIESEL
Diesel predates Y2K, going back to the vintage days of 1978. But as many fashion labels move to the next new and exciting thing, Diesel reflects on all the wonder of the Y2K era with a product range that will take you back to the finest pop videos of the noughties.
How so? Diesel's specialty denim line still reigns supreme, but a closer look through the catalogue will reveal the likes of tie-dyed belt bags, futuristic metallic tops, baby tees, frayed high tops and other icons of the era. Ranging across men and women, clothes, accessories, homewares and more, there has to be something for everyone in there.
MILLIE SAVAGE
The final cornerstone of Y2K fashion for us to discuss is the statement jewellery pieces. Big and bright — there was nothing minimalist about these pieces. A brand that keeps that trend alive is Millie Savage. Yet another fashion label based in Melbourne (though now also boasting a Bali studio), Millie Savage is run by an all-female team of designers that specialises in precious gems, all ethically sourced.
Millie Savage has a particular love of opals, mainly sourced from South Australia. Every product has the Millie Savage touch: namely, a lack of playing by the rules. It's especially visible in the one-off beauties collection, where no two pieces are alike in the slightest. Check out the designs across rings, necklaces, earrings, bracelets and more.
For more information on Pit Viper or its products, visit the website. 
Concrete Playground Trips
Book unique getaways and adventures dreamed up by our editors