Parramatta Lanes 2023
The ultimate free celebration of food and music is taking over Parramatta's streets.
Parramatta Lanes returns for its latest festival from Wednesday, October 11–Saturday, October 14, bringing its free program of eats, art and live music to the streets, laneways and rooftops of the west. This Parra palooza will include four nights of festivities featuring 45 food and drink stalls, 120 musicians and stunning art installations.
Heading up the food lineup are returning faves like returning favourites like Koi Dessert Bar and Hoy Pinoy, alongside Western Sydney faves making their debut at the festival such as BlackBear BBQ and Fratelli Pulcinella.
Joining them will be a lineup of stallholders spanning all types of cuisine. Prawn Star, Mix Mix Co, Japanese Pizza Okonomiyaki, Kampung Laksa, May's Malaysian Hawker and Sri Daskin Food are just some of the teams activating every corner of Parramatta — and filling the streets with sensational aromas.
Each night, you can also visit Levins Lane, curated by DJ and foodie Andrew Levins. Here, you can snack on food from Firepop, Onigiri Lab and 15 Cenchi; sip on drinks from the Karu Cocktail Bar; and see a lineup of DJs and musicians pulled together by Parra's biggest fan. Night one is hip hop and R&B night featuring Dylan Atlantis and Jade Kenji; night two is serving up all-out K-pop; night three is 90s throwback night; and night four is about rap and reggaeton with sets from Sollyy, Lamira and Isa. Levins himself will also be on the decks each night.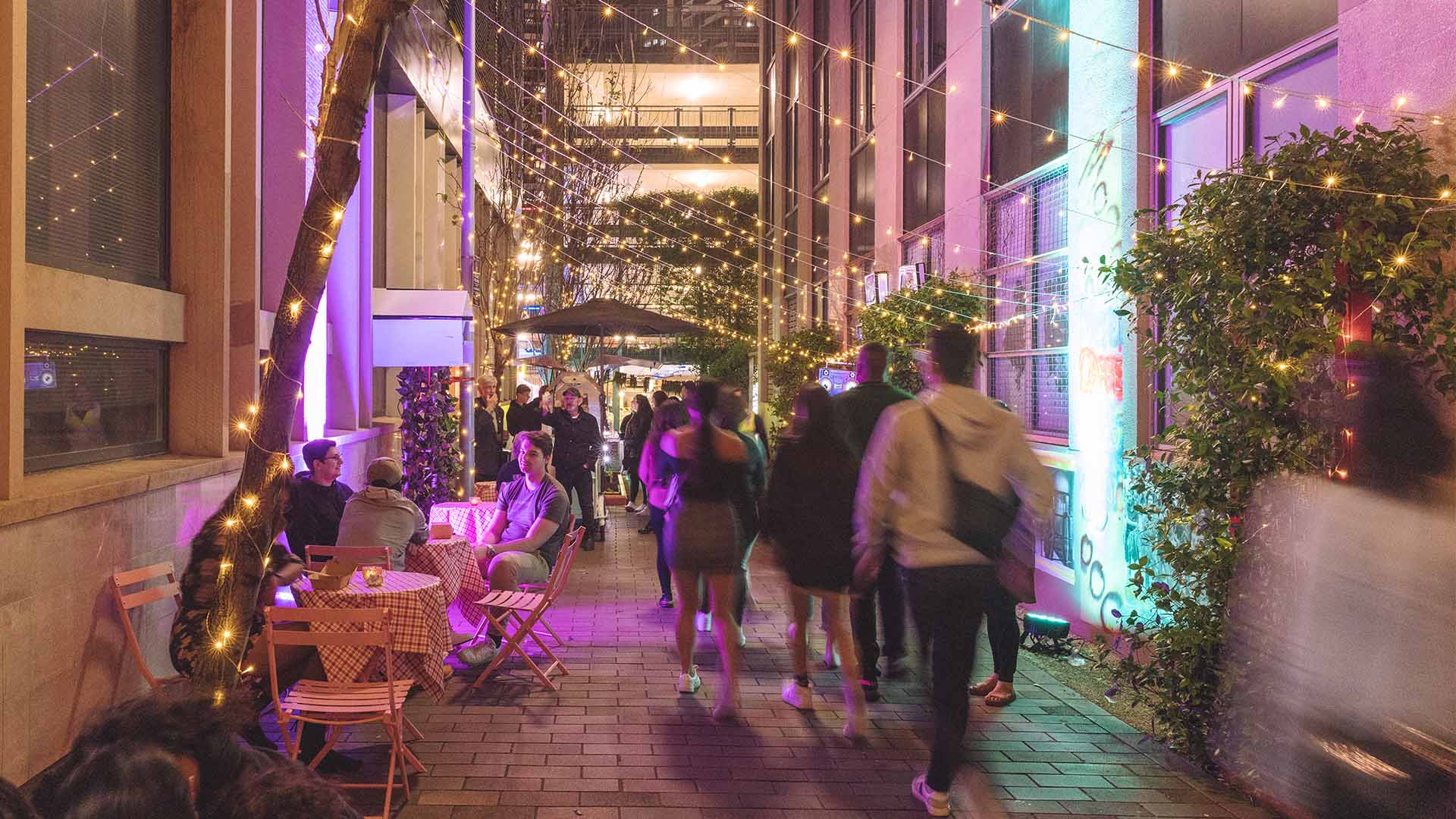 Leading the music lineup elsewhere is New Zealand's Fazerdaze, who will be popping up for a free set while they're in the country for SXSW Sydney and Yours and Owls. Joining them: Carla Wehbe, The 046, Zion Garcia, Shade Nasty, Cherry Chola, Mali Jose and Sidney Phillips.
If you're a hip hop fan, make sure to head to Take Flight and Bodega Collective's takeover of the Eat Street Car Park rooftop on Friday, October 13. Some of this city's best rappers including DSP, Planet Vegeta, Tokyo Vendetta, AR the Eternal and Elijah Yo are all making appearances.
On the final night, Saturday, October 14, a huge Eating Here Out West event will hit Riverside Theatre led by Western Sydney rapper and community leader L-FRESH the Lion. There will also be Turkish eats from Kocagoz, Mate Pinoy by Mate Burgers and Indian dishes from Num Nums — plus sets from Zeadala, MRVZ and DJ Slays.
There are three public artworks appearing as part of the program. Lawrence Liang's Bloom will light up St John's Lawn, a drumming and rapping AI robot will set up in PHIVE's foyer and Atelier Sisu's The Sky of Bubbles will fill Red Cow Lane with 50 glowing spheres.
And, this year's Parramatta Lanes will also feature a dedicated Pup Culture dog zone on Lennox Bridge, where your furry four-legged pals can get involved in the festival. A dog agility course, photo opportunities, a silent cinema and pet treats will all be on offer at the pooch-friendly zone.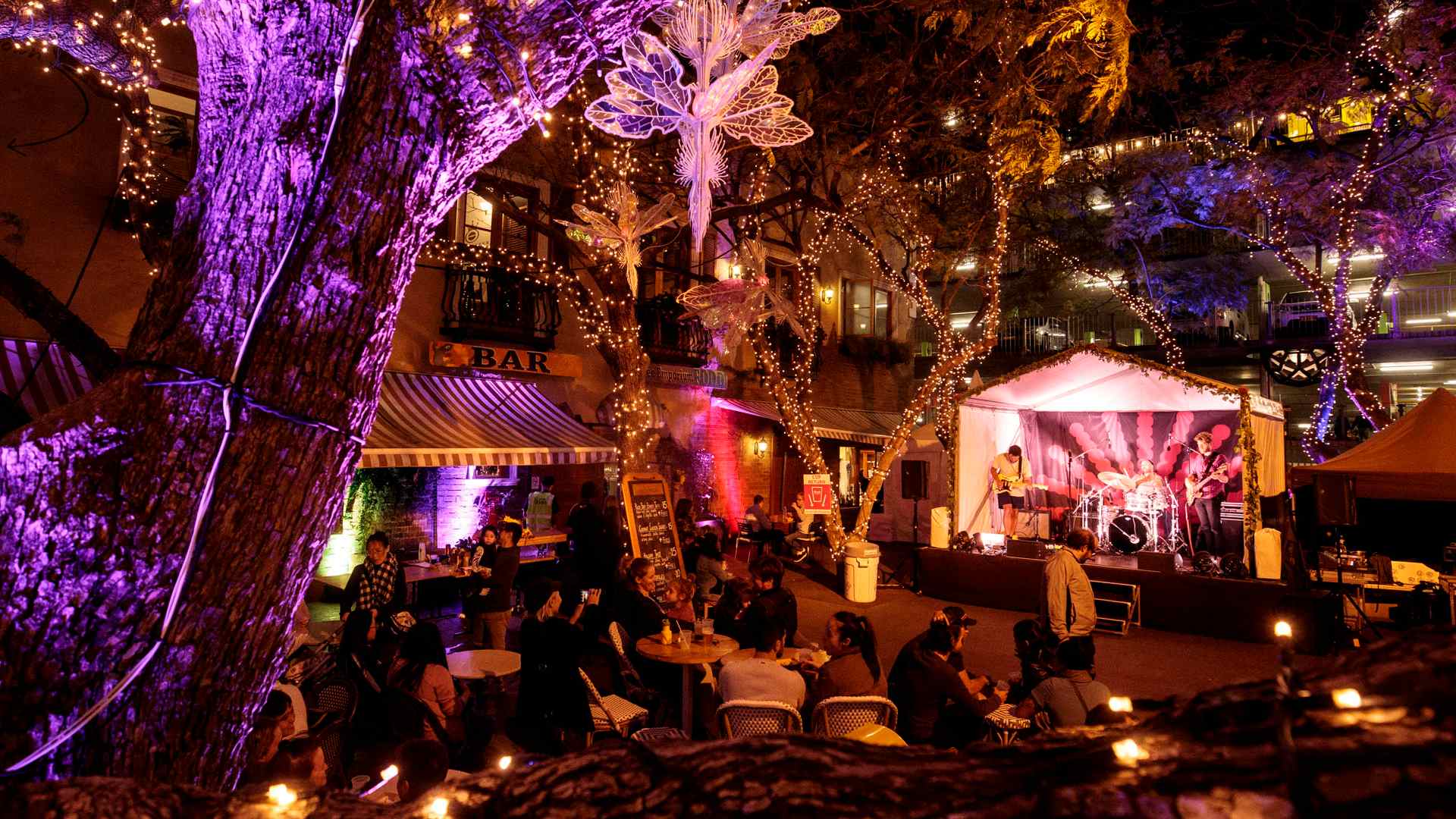 Images: George Gittany.
Concrete Playground Trips
Book unique getaways and adventures dreamed up by our editors