FOOD & DRINK
These Australian Eateries Are Serving Up Supremely Cheesy 40-Cheese Toasties for Two Weeks
And you can get them delivered to your door.
If you like cheese, then it's impossible to have too much of it. Whether it's served on a platter, combined with macaroni, slipped onto burgers, grated over pasta, melted into gooey fondue or part of a 150-cheese pizza — to name just a few cheesy examples — the more there is, the merrier your tastebuds are. That applies to cheese toasties, too, because even the simple combination of warmed bread and cheese can be improved by adding more of the later, then more still, then just a bit more.
How much cheese should a toastie boast? As much as you can manage, really. If 40 different types of cheese sounds like enough (or close to it), then you'll want to celebrate National Cheese Day on Friday, June 4. Yes, it's another of those food-focused days that are really just excuses to spruik more of the dish in question. It's actually one of three that are set to tempt tastebuds this coming weekend, alongside National Doughnut Day and World Fish 'n' Chip Day. But it's also a reason to tuck into a 40-cheese toastie — or several.
The cheese behemoths will be on offer for two weeks, and only via Deliveroo — with eateries in New South Wales, Victoria and Queensland whipping up different versions. Wherever you opt to order from, you'll need to use the delivery platform. Each toastie will cost you $12, and $5 from each order will go to Eat Up, a charity that works to counteract child hunger.
In NSW, Butter's Parramatta and Chatswood stores are serving up their take on the 40-cheese creation. So are South Dowling Sandwiches in Alexandria and De'assis in Collaroy, while Custom Cafe in Brookvale and Paper Plane Cafe are doing ham and 40-cheese toasties.
Victorians can check out Royal Stacks' version, or opt for a 40-cheese and herb variety from Collingwood's Punjabi Curry Cafe, a 40-cheese breakfast toastie from Blackburn Pizza Kebab and Cafe, and either salami or ham versions from Yarraville's Antipasti Deli Cafe.
And in Queensland, Fortitude Valley's Hashtag Burgers and Waffles and West End's Suburban Cafe are both doing their extra cheesy thing, as is Toowong's Kingfisher Seafood Cafe — which is making a beef and cheese variety. At Tutto Cafe in Ashgrove, a ham and cheese type will be on offer as well.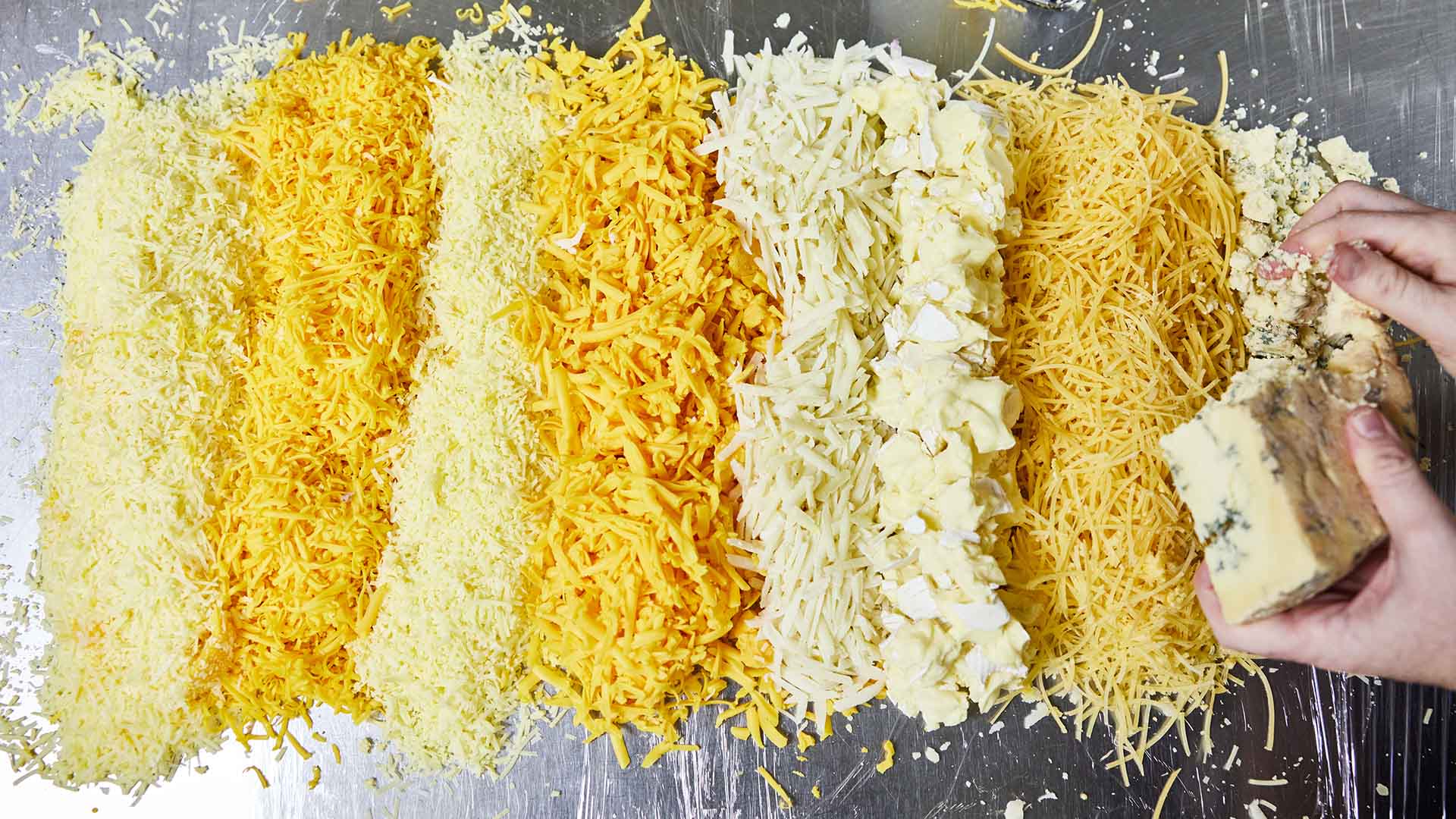 Wondering what types of cheeses will be included? Obviously, it's a long list. Here's the full rundown, which will have you dreaming of oozing sandos for days to come.
Sori Buffalo mozzarella
Lemnos feta
Floridia haloumi
Scamorza bianca mozzarella
Mainland shredded egmont
Scamorza smoked mozzarella
Fred Walker shredded tasty
Provolone mild brazzal
Black jack cheddar
Pecorino romano zanet
Ashgrove Tassie trio
Colby
Vega wine-infused cheese
Gouda cumin wedge
Zanetti pecorino romano
Parmigiano reggiano
Smoked cheddar
Saganaki
Havarti
Blue Stilton
Asiago dop
Camembert
Natural Swiss cheese
Sartori balsamic
Sartori espresso
Pecorino romano
Truffelino
Red Leicester
Rubicon Lancashire
Double Gloucester
Gourmet mozzarella
Jarlsberg
Fiordimaso
Pickled onion cheddar
Gouda nutty and robust
Comté
Emmental
Manchego
Roncal
Burrata
Forty-cheese toasties will be available to order from eateries in Sydney, Melbourne and Brisbane via Deliveroo for two weeks from Friday, June 4–Thursday, June 17.
Published on June 02, 2021 by Sarah Ward