FOOD & DRINK
Announcing Concrete Playground's Best of 2018 Sydney Award Winners
The very best new Sydney bars, restaurants, cafes, pubs, events and spaces of the year.
Announcing Concrete Playground's Best of 2018 Sydney Award Winners
The very best new Sydney bars, restaurants, cafes, pubs, events and spaces of the year.
Sydney hasn't yet lost its legislative shackles, but it's adapting and evolving around them, discovering new ways to eat, drink and have fun. You'll find fun in fairy light-lit restaurants hidden upstairs in Redfern, in sprawling new bar that distill their own rum, at immersive theatre experiences in abandoned warehouses and, even, in six-storey futuristic libraries decked out with amphitheatres and grand pianos.
And the fun we're having as a city is becoming ever more inclusive. Our restaurants are catering to more dietaries and allergies, our pubs and bars continue to celebrate the LGBTQI+ community and our artworks and spaces are becoming more accessible and sustainable.
And we have, in part, the following 12 venues to thank. The following restaurants, bars, cafes, pubs, spaces and events have gone above and beyond. They combine originality, innovation, creativity and sustainability to bring something a little different to our city. Something that pushes us to keep being better and braver. Something that we love — and so do you.
That's why they're the winners of Concrete Playground's Best of 2018 Awards. This year, we have awarded both a reader voted People's Choice and Overall award in each of the following six categories:
Best New Restaurant
Best New Bar
Best New Cafe
Best New Pub
Best New Event
Best New Space
So, with no further ado, the winners for 2018 are...

BEST NEW EVENT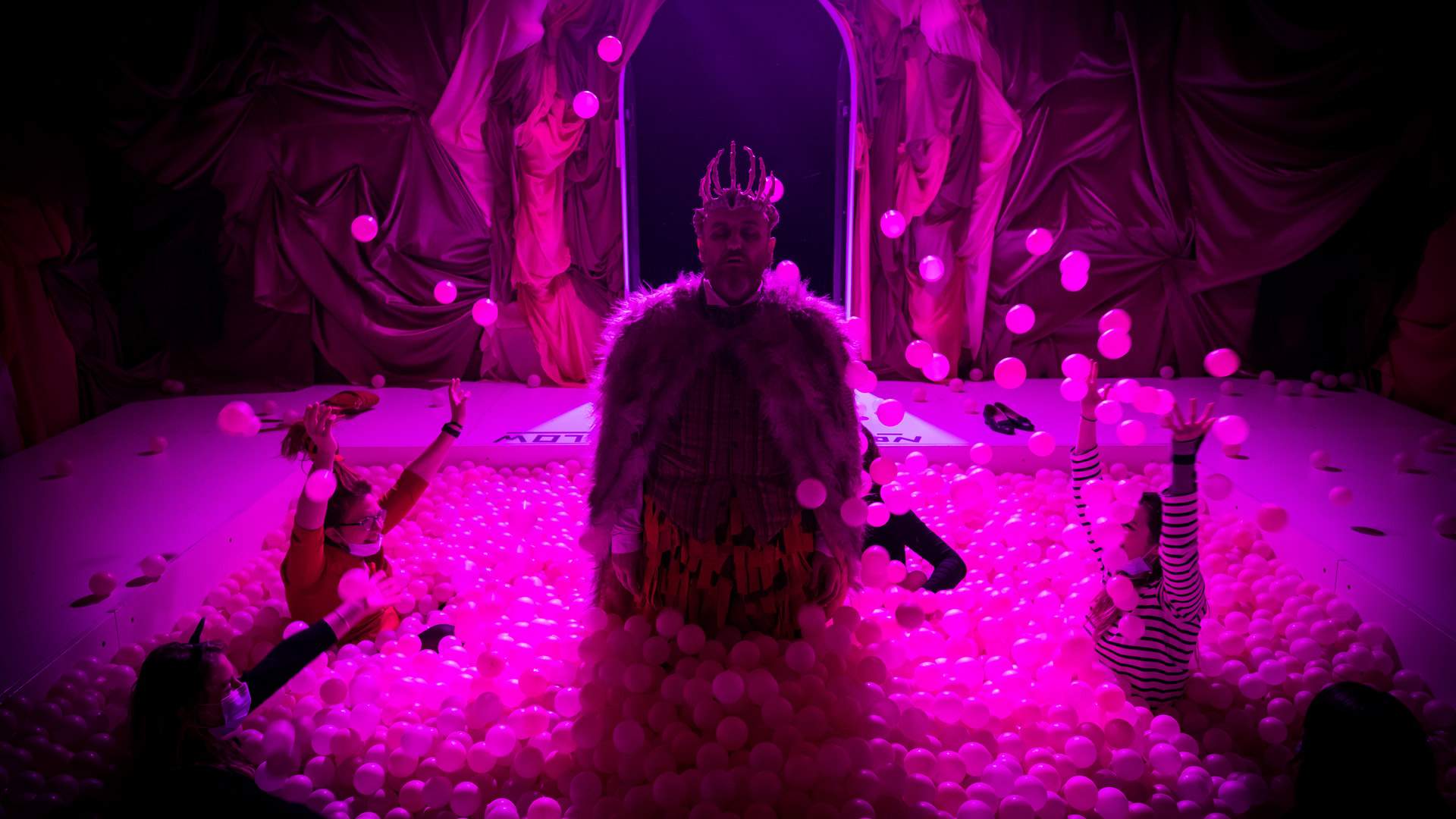 Imagine a fully immersive theatre experience with a choose-your-own-adventure twist and lots of macabre nods to Edgar Allan Poe, and you'll have some idea of what happened when A Midnight Visit took over an abandoned Sydney warehouse this spring. Unlike any theatre offering the city has seen before, this captivating experience was part-performance, part-playground and part-film set. And it was brought to life across 30 rooms of an eerie two-storey, 3500-square-metre Newtown warehouse.
Audiences found themselves transported into a dream world that takes its cues from those notoriously macabre works of Edgar Allan Poe, as imagined by a team of local actors and a crew of innovative sound, film set and costume designers. It was a little bit David Lynch and it had some Stanley Kubrick vibes, with a spot of steam-punk thrown in for good measure.
We loved it because... "I followed Cat Woman through a dark, fluffy tunnel and ended up exiting a wardrobe in Edgar Allan Poe's bedroom. I sat in a ball pit as an underworld king descended to give a monologue that saw him transform from man to demonic animal. The event was something new and rare for the city, and I hope it inspires more creative groups to fuse high-brow art with our love for immersive experiences." — Quinn Connors, partnerships editor.
London's historic Globe Theatre popped up in Sydney this year — well, sort of. Pop-Up Globe is the world's first full-scale replica of the historic theatre, which was built by Shakespeare's playing company and housed his greatest works. Inside the round three-storey venue, no member of the 900-strong audience was ever be more than 15 metres from the stage, and all performances were conducted without the use of mics, just as it was in 1614. The performances weren't dusty old versions of Shakespeare, either — they were interactive, more like a party, and were welcomely weaved with Maori mythology.
You loved it because... "Pop-Up Globe was such a refreshing night of theatre. The old mixed with new in a modernised Shakespeare. I laughed and reminisced about high school English." — Kathryn B.

BEST NEW SPACE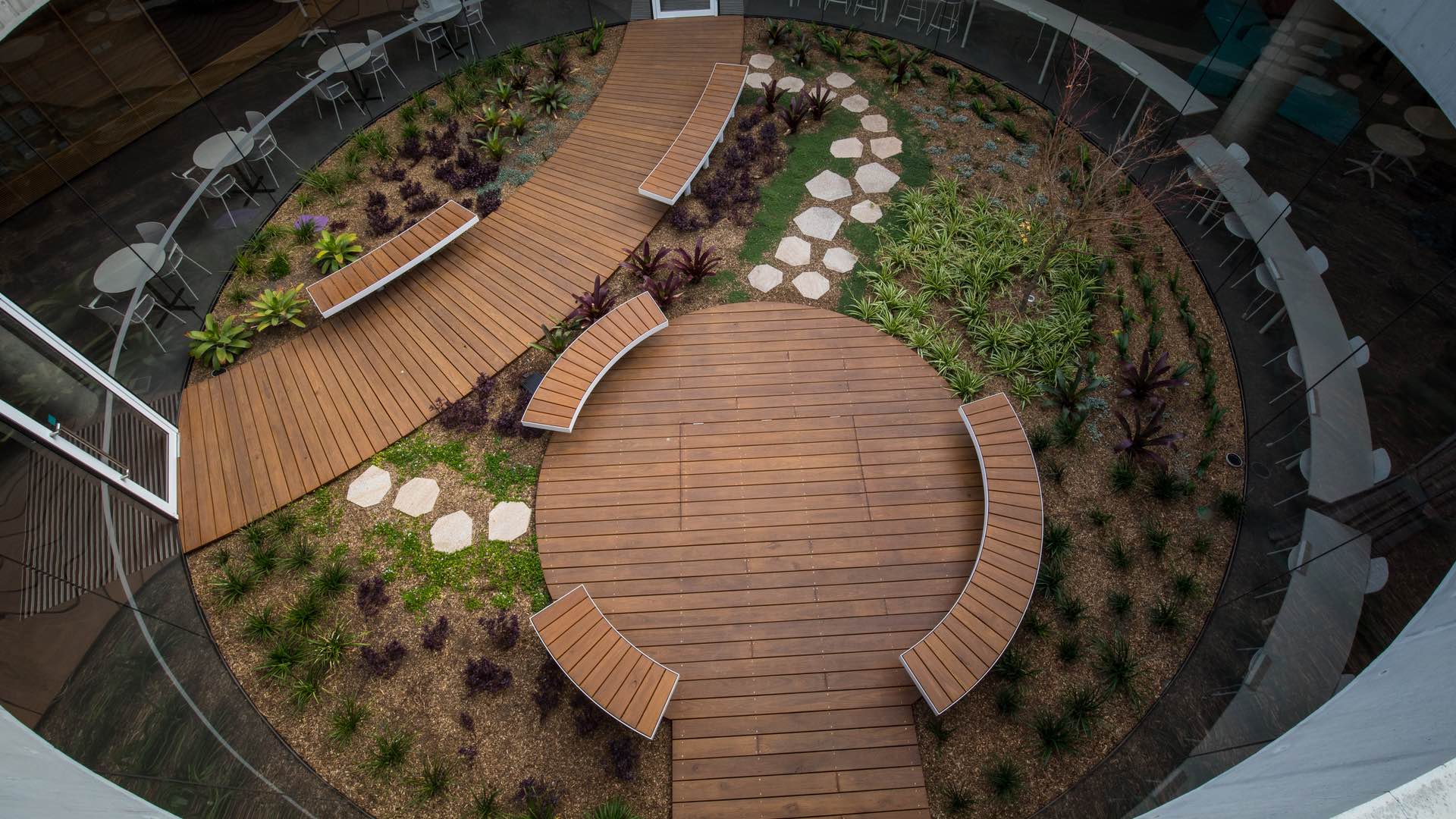 Welcome to the future of libraries, where it's about more than just books. Green Square Library has upped the ante and moved beyond the standard collection of pageturners. Within the swish new space, you'll find a high-tech lab, underground reading garden, amphitheatre, music room, cafe and meeting rooms.
The building is hard to miss, thanks to its six-storey glass tower, which emerges from a tree-dotted plaza. While books — and underground gardens in which to read said books — are still the central focus of the library, it also features many spaces dedicated to music. The sprawling music room has a baby grand piano, which can be hired out by Beethoven hopefuls stuck in tiny Sydney apartments, and the openair amphitheatre will play host to public gigs.
We loved it because... "I've personally been waiting for far too long for libraries to get their time in the sun. It's like everyone forgot that the whole service is free. But Green Square's shiny new library might be the one to lead the charge. That's because the building isn't just a shrine to books — it's providing an accessible (and architecturally stunning) space for the public that the still-developing (and apartment-dense) suburb of Green Square is in desperate need of." — Lauren Vadnjal, editor.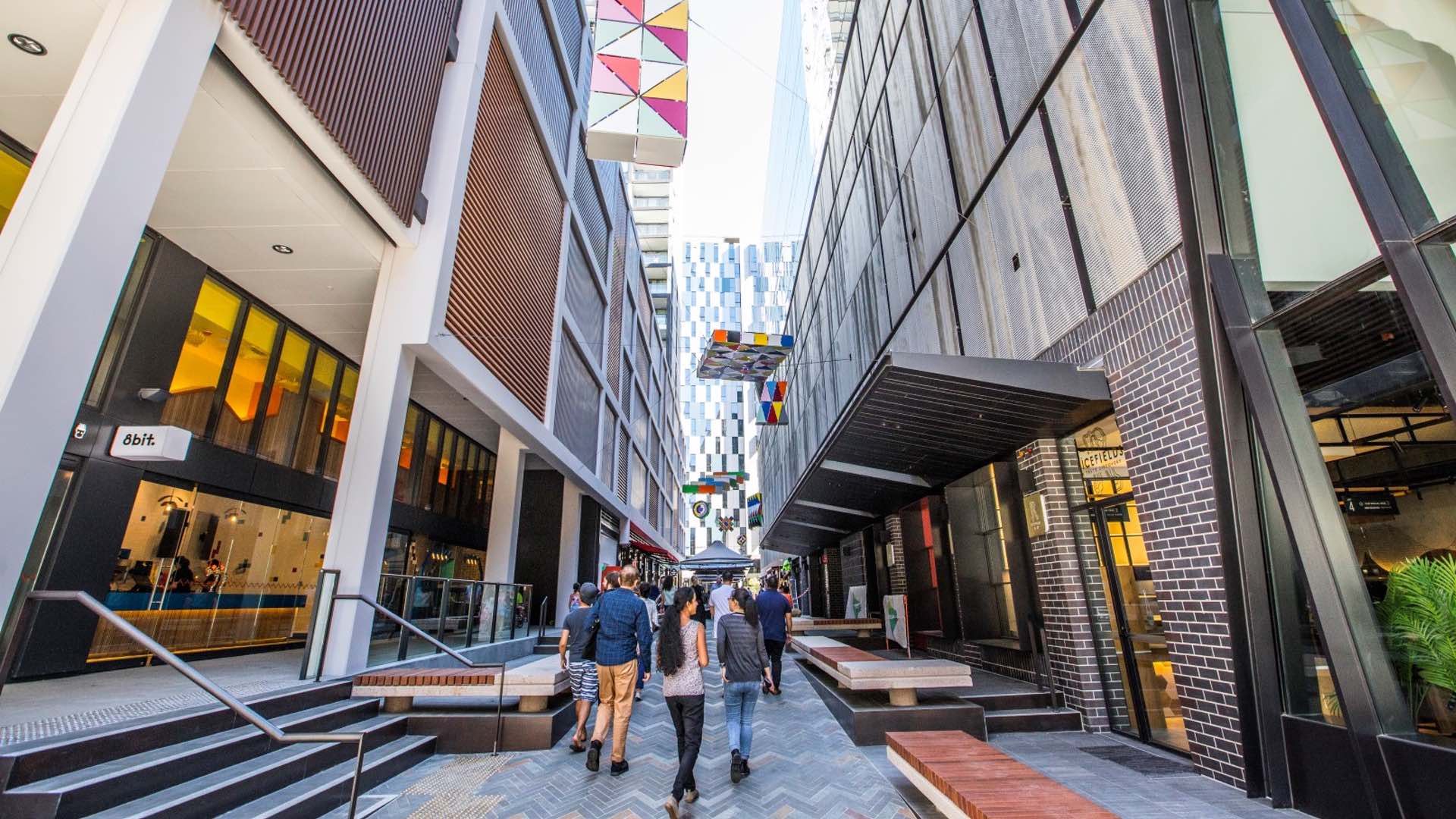 This burgeoning laneway located in Darling Square boasts top-notch restaurants, as well as a throng of emerging fashion and lifestyle retailers. It's ripe for exploration and offers everything, from cheap eats, to long lunches, to late-night noodle fixes. There's a chance you'll recognise more than a few vendors. Melbourne's famed burger joint 8bit, brought to you by hatted chef Shayne McCallum and Alan Sam, slings mega burgers, loaded hot dogs and over-the-top shakes via its 130-seat diner, while Belles Hot Chicken, its third Sydney outpost, doles out finger-lickin' fried chicken.
Other big names include The Sandwich Shop, Edition Coffee Roasters, Marrickville Pork Roll, poke joint Fishbowl, Sichuan eatery Ricefields, modern Italian restaurant Il Bacio and bubble tea cafe Gong Cha. But it's not just food. You'll also find a few boutique retail shops, including travel and leisure store Alifehaus, streetwear brand Pict and barber Men's Culture. If that's not enough excitement, check out the permanent light installation by Adelaide-based artist Peta Kruger — the neon-lit artworks take inspiration from 'nightlife cityscapes' and illuminate the lane at night.
You loved it because... "Steam Mill Lane — I love variety and this place has it all! Bringing a diversity of cuisines altogether in one convenient place!" — Catharine W.

BEST NEW PUB
An inclusive, LGBTQI-spirited space with three layers of flamboyant fun for all has taken over Erskineville. With a $6 million renovation after a shady past, the Imperial Hotel is back and brighter than ever. This triple threat is offering nightly drag shows, a veggie-focused menu, signature cocktails in honour of iconic queens and chances to sashay the night away. If you're looking for more of the club vibe, the bottom floor of the Imperial is a space of creativity and acceptance. With DJ sets on the weekend and a bevy of colourful performances, there's never a dull moment down in the Basement.
Its restaurant Priscillas offers mainly vegetarian cuisine (inclusive of vegans, and the gluten- and lactose-intolerant, of course) with a lively atmosphere. After closing for nearly three decades, the Imperial's rooftop bar is back with a plethora of art pop deco and a variety of spaces fit for any occasion. Imperial Up functions as an Italian restaurant with Andy Warhol-esque charm to match. Finally, keep your eye out for the addition of a same-sex wedding chapel sometime in 2019.
We loved it because... "The revival of this inner west institution has been heartwarming to see. For better or worse, the trend of redeveloping old stalwarts isn't going away. But The Imperial is testament to the fact that it can be done well — in the right hands. Sure, it looks a little different (luxe fit-out, fancy cocktails and an elevated food offering), but it also not only honours its heritage, it wholeheartedly embraces it. All are welcome here — that's a part of Sydney nightlife that I'm on board with." — Melanie Colwell, editorial assistant.
Since 1885, carousers on the north shore have been gathering at the Woolwich Pier Hotel to sink a bev or two and catch some glistening harbour views. But, after a huge reno in October 2018, the pub looks a fair bit different. The Pier, as it's known around town, has scored slick new design and a modern new menu inspired by French and Japanese cuisine. If you're a longstanding Pier drinker, you're in for a surprise. While the building has lost none of its heritage elements, the place is now a whole lot fancier. Alexander & Co, the firm responsible for venues like Watsons Bay Boutique Hotel, the East Village and Stanton & Co, has looked after the interiors, giving them a Sydney seaside stamp. For those looking to lay their eyes on the water, the wraparound balcony overlooking Cockatoo Island still has plenty of room among its 70 seats. In keeping with these dramatic changes, head chef Glenn Tabudlo has launched a new menu. Lovers of the chicken pot pie — don't panic. The much-adored staple is still available, as is a bunch of The Pier's tried-and-tested classics. Even though it has some fancy new furnishings, it is still a local pub, after all.
You loved it because... "Woolwich Pier Hotel is such an iconic location and they've just done a great renovation, yet it still feels like the same friendly local pub." — Hamish S.

BEST NEW CAFE
This newcomer takes cues from NYC in a number of ways: it's open all-day, it serves booze — including neighbouring brew Grifter on tap — and it has an unabashedly bold fit-out. A jewel-toned colour palette tracks through orange tabletops, a crimson-tiled communal table, green velvet chairs and a mural on the back wall. There are references to old-school milk bars in the blue marmoleum flooring and a neon-lit menu above the coffee machine (which pumps out a custom house blend by Collective Roasting Solutions). For the most part, the kitchen has avoided fads (á la cronuts) and instead does fresh takes on well-worn cafe favourites, with some solid gluten-free and vegan options. The coffee-rubbed pork hash is flavoursome and the Persian rice kedgeree with currants, almonds and goat's cheese is a winner, particularly when hacked with hot smoked salmon.
We loved it because... "We're spoiled for choice when it comes to cafes in Sydney. Trying to tick them all off is my version of sport. So the real test is finding somewhere that I want to return to again and again. Matinee's charm is its individuality: a bold design (not an Edison lightbulb or exposed brick in sight), a food and drink offering that's consistently diverse (and delicious) and great service. It's upping the game without even a hint of arrogance." — Melanie Colwell, editorial assistant.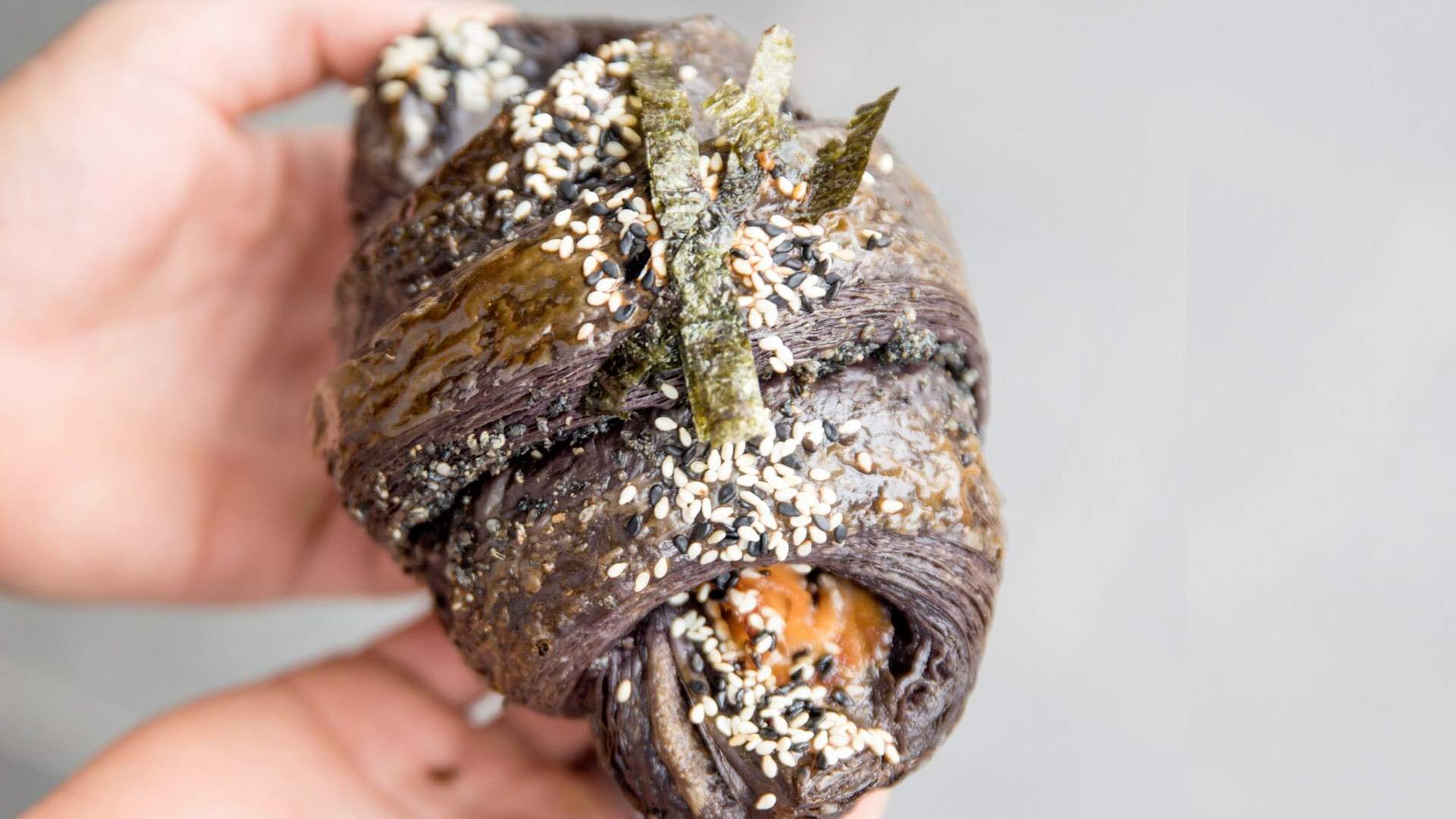 Manly's cafe scene gained massive bragging rights this year. Bo Hinzack (of local coffee shop Showbox Coffee Brewers and Mosman's Penny Royal) and James Sideris (Butter Boy Bake) teamed up to open Rollers Bakehouse. While this is the duo's first collaboration, Sideris has been regularly supplying Hinzack's cafes with baked goods for years. Patrons can expect a mix of sweet and savoury items that changes daily. Some potentials include millennial pink croissants, stuffed bagel rolls, bacon-topped savoury danishes and a charcoal croissant called the Sushi Roll. Sausage rolls and meat pies are also on offer, including Greek-style lamb rolls with house-made tzatziki and hamburger rolls served with house burger sauce. Beans come from Sydney-based Okay Coffee, which you can sip among breeze blocks, succulents and a courtyard and appropriate 90s music.
You loved it because... "Rollers Bakehouse. Never thought croissants could taste so good. Amazing atmosphere, mysterious location and great coffee." — Thomas B.

BEST NEW BAR
Opening in late July on Palings Lane, in the Ivy's dining precinct, this pint-sized tapas bar from the Merivale team has just a handful of seats, with standing room for around 40 diners. Perching with a wine in hand and snacks to share is the way to go here, just like in Spain's tapas bars. In the kitchen, Head Chef Lauren Murdoch is heading up a two-part, snack-heavy food offering. Displayed at the counter, you'll find small bites like whipped salted cod, or sliced jamón on crisp bread, while the tapas menu features a heftier selection of dishes hot off la plancha — the Spanish-style grill.
There's an innovative approach to drinks, mirroring the food menu of bite-sized snacks, with most cocktails, beer and wine served as half-pours (for only $8). Meaning punters have the chance to sample more of the menu. A range of $8 half-size cocktails includes sips like the Marques — made with Pali Cortado sherry, Campari and sweet vermouth — and the La Perla, blending Altos Reposado tequila and pear liqueur. Otherwise, match those tapas with sangria from the tap, mini $4 beer or a 100-millilitre serve from the short, snappy wine list.
We loved it because... "The CBD isn't lacking great bars. You'll find them on rooftops, hidden in basements and, in the case of Bar Topa, tucked down laneways. But not many of them can boast $8 half-sized cocktails, incredibly tasty tapas and an always-buzzing vibe. But Bar Topa can. And it's exactly where you want to be after tough day at work — and after a great one." — Samantha Teague, news and features editor.
Brix not only serves rum — it makes it on-site. And it's the first craft distillery dedicated to rum in Sydney's inner city in a long time. The venue features a fully working distillery with an Australian-made 1200-litre still, which is overseen by head distiller Shane Casey (previously at Archie Rose). As well as its own haul, Brix has a 'rum wall' with over 150 varieties from around the world, and a rum-heavy cocktail list.
The grand space, which has been designed by interior design firm Amber Road, includes an intimate mezzanine barrelling room, overlooking the still, and an open kitchen with counter dining and banquette seating fitting 70 people on the ground level. It features lots of greys with copper details and wall art by local street artist Nico Nicoson. Brix isn't a restaurant, but food is still a central part of the distillery and bar. A compact menu, designed by Ivan Sanchez — who previously worked at Bodega and Porteño — features South American-inflected dishes, such as crisp tostadas topped with ceviche and pink grapefruit, pickled tongue with capers, jerk pork belly and a lineup of arepas.
You loved it because... "Some people think rum is a spirit reserved for weather-beaten sailors, but it's not — it's fit for landlubbers, too. Brix is changing this opinion by bringing tasty-as rum to landlocked Surry Hill residents. And I can't get enough of it (or their arepas)." — Joe H.

BEST NEW RESTAURANT
Famous for her show-stopping hoppers at Carriageworks Farmers Market, O Tama Carey finally flung open the doors to her first permanent restaurant, Lankan Filling Station this year. A shrine to Sri Lankan cuisine, the new East Sydney venue is headed up by the renowned chef and curry queen (who previously worked at Berta, Bistro Moncur and Billy Kwong) who has put together a hands-on menu of hoppers, sambols and curries.
Start by ordering a few hoppers, which are bowl-shaped crepes, known for their soft, spongey centre and crisp lacy trim. Next up, choose a sambol. This is the dip to your chip. Turn it into a proper banquet with a few of Carey's curries. Now all that's left to do is tear into your hopper, and start dipping, dunking and dribbling your way through the different spiced bowls. While hoppers go exceptionally well with hops, there's more to the drinks menu than just beer. If you're looking to quench the heat, try one of custom-blended Sri Lankan tea. Otherwise, there are natural, minimal intervention wines available (including sangiovese rosé on tap) as well as mead, faluda and Ceylon arrack, a Sri Lankan spirit made from fermented coconut flower sap.
We love it because... "Lankan is the answer to many dining dilemmas. Need a quick lunch that's near the city? Lankan. Want to dine with a group and not spend a heap? Lankan. Been obsessed with O Tama Carey's hoppers every since you tried them at the Carriageworks Farmers Market? You'll find them at Lankan. And it's showcasing tasty Sri Lankan fare, a cuisine that's noticeable underrepresented in Sydney's dining scene." — Samantha Teague, news and features editor.
New restaurants rarely get a clean slate. But in the case of Ron's Upstairs, the surface has been left intentionally worn. The interior — mostly unchanged since the vacation of the last tenants, longstanding Thai restaurant Pron Prohm — is like stepping into a 90s takeaway joint in the suburbs. The panelled walls, parquetry floors and plastic bunches of grapes attached to the ceiling aren't things usually found hiding on an inner city high street. But even though things may not look that different on the surface, the shift has most definitely occurred. This little old restaurant now mixes house spritzes and a great savoury ouzo mojito from the fairy light-lit bar, and the food coming out of the kitchen is European.
Most dishes come with some meal-making sauce — the stracciatella is topped with mint oil, a zucchini dish has a killer passata and the pipis made memorable from a highly drinkable burnt butter sauce. The real beauty of this lo-fi dining room is that windows line the street-facing side, letting in a welcome spring breeze and some great natural light. Get in before dark and the twilight mixed with the dull festive glow of the restaurant's fairy lights make Redfern look magic.
You loved it because... "Ron's Upstairs stayed true to the uniqueness of the original space. It's a perfect addition to Redfern's foodie scene; respecting history while being creative and a little eccentric." — Zana R.

Congratulations to all the winners. Our city is a better place with you in them.

Top image: Ron's Upstairs by Kitti Smallbone.
Published on December 13, 2018 by Concrete Playground