Smoke at Barangaroo House Has Just Launched a New Nostalgia-Inspired Cocktail Menu
Chicken salt martini anyone?
If you have ever been fist-deep into a bag of chicken salt-dredged fish and chips only to think, 'How good would this be as a cocktail?', we've got news for you. It's time to put that theory to the test with the newly launched nostalgia-inspired cocktail menu dubbed 'Memory' at Smoke at Barangaroo House.
For those that came up in the late 90s and early noughties, this menu acts as a sensorial step back in time to an era when the compilation CD reigned supreme, mobile phones weren't smart enough to connect to the internet and low-rise flared jeans were all the rage — wait, that last one has inexplicably come back.
The playful cocktail menu includes eight cocktails sure to delight fans of Spice Girls' bangers and the Y2K age. Remember when bacon was on everything? Well, it's back with the Hawaiian or Margarita — a pizza-inspired cocktail made with bacon-infused tequila, caramelised pineapple, Cointreau, roasted tomato syrup and lime. It's served in a margarita glass with dehydrated bacon around the rim — yes, you read that correctly — and a chaser of Coca-Cola to bring up memories of takeaway pizzas on Fridays.
For lovers of martinis, Smoke has given them a salty twist with the Chicken Salt Martini. The cocktail is made with Four Pillars' olive leaf gin and a house-made chicken salt sherry and rice syrup, garnished with a deep-friend potato twill.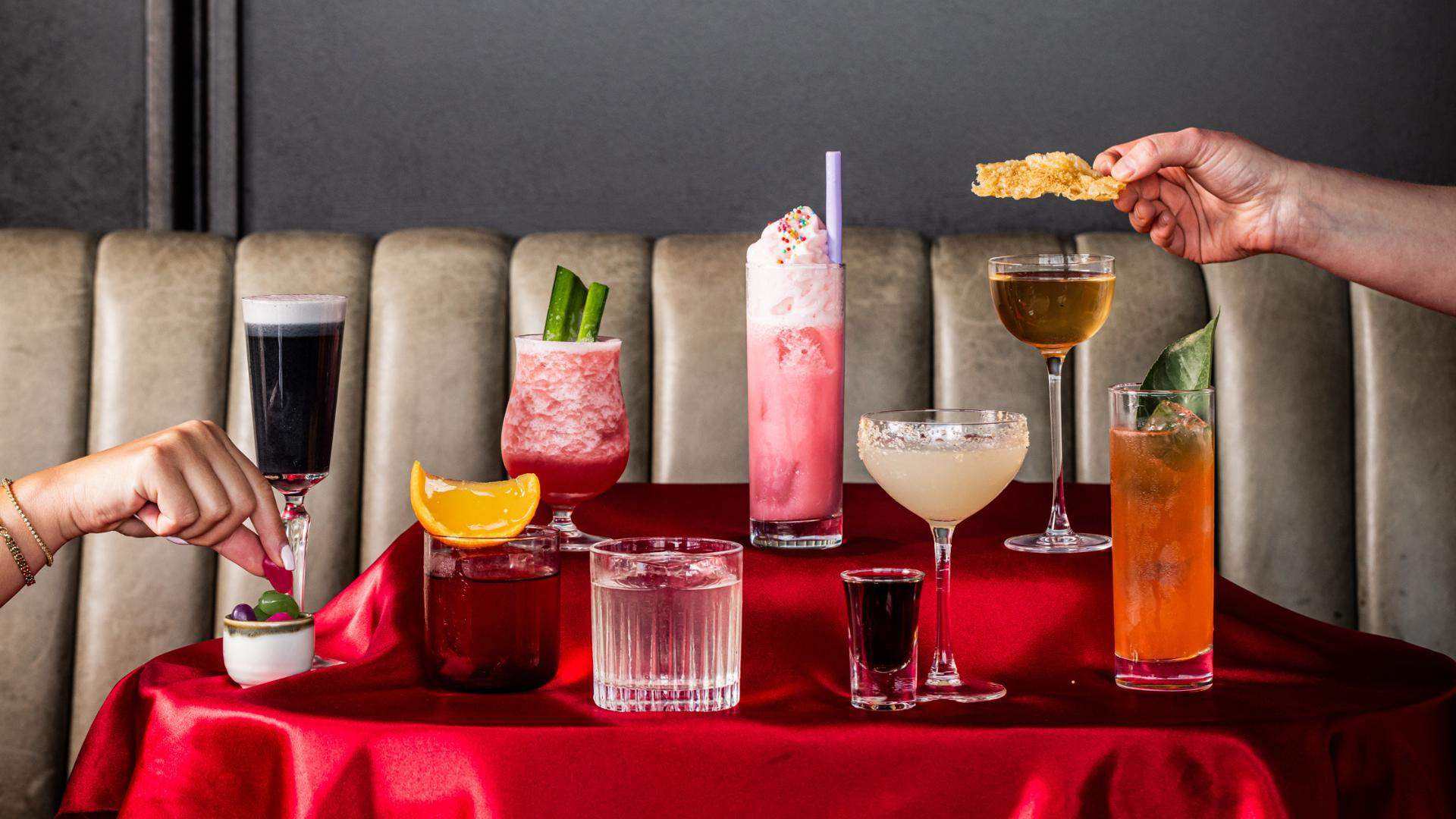 You could go for the Half Time Orange for something more citrusy. It's a boozy homage to the simple snack we munched at sporting events, but with a grown-up twist. Made with Patron Reposado, blood orange, sweet vermouth, carrot and tamarind-infused Campari, it's garnished with an edible jello orange wedge. Another fruity option is the Fruit Cup: a boozy fruit slushie with peach, cranberry and cognac garnished with a house-made fruit roll-up.
Do you love the smell of freshly cut grass? Opt for the Livin' is Easy cocktail. It's a floral concoction made with mandarin vinegar, house-made karkalla rose geranium cordial, Bombay Premier Cru gin and Aperol. It's served with a spritz of cut grass scent and a plantable card — perfect for the plant daddy of your group.
Did you spend your childhood by the beach waiting for the ice cream truck? There are a couple of options to relive those memories. The Salt Kissed Sun is a milkshake-inspired cocktail made using coconut-washed rum, house-made macadamia orgeat, banana and pineapple whey and calvados. Served with a mini suncream bottle, because of course it is. Save the Day is Smoke's take on a classic 99. It's a raspberry horchata with vanilla whey, vodka and Saint Feliz aperitif shaken, strained into a highball and topped with raspberry and vanilla foam with 100s and 1000s or a flake.
Last is the ironically named Pick Me, in honour of the oft-maligned black jellybean. It is an anise-flavoured and jet-black cocktail made with Monkey Shoulder whiskey, absinthe, green chartreuse, house-made black sesame, fennel blackberry syrup and egg white shaken and garnished with, you guessed it, jellybeans.
There's no word on how long the menu will last, so head down to Barangaroo and relive your summer childhood with a twist.
Find out more details on the Smoke website.
Concrete Playground Trips
Book unique getaways and adventures dreamed up by our editors