FOOD & DRINK
The Nine Best Bloody Marys in Sydney
Cure what ails ya with these gutsy concoctions.
Bloody Marys have the honour of being one of two cocktails that you can drink before midday without being judged (the other is the mimosa, obviously). They're that friend you have that slaps you in the face when you're hungover and yells at you to get up and stop feeling sorry for yourself, in cocktail form. But there's something about the tomato juice/celery/vodka combo that feels almost medicinal — maybe it's the fact that it contains vegetables and therefore you can kid yourself it's healthy, even when accompanied by miscellaneous fried things. Not to mention there's something distinctly Mad Men about them.
Healthy or not, they're a classic, and we've got some excellent ones right here in Sydney.

When you think about it, celery is a pretty weird garnish. Who has ever woken up after a big night and thought "Man, I could really go for a loud, crunchy vegetable right now"? It makes sense that Mary's, makers of some of the best hangover food in Sydney, a place whose motto is "Get fat", would be the ones to dispense with this tradition. At Mary's, if you order a Bloody Mary, you get a drink with a slice of plastic cheese blowtorched over the top, garnished with an onion and a slice of their famous trashcan bacon (named for the vessel they cure it in; don't worry, it's clean).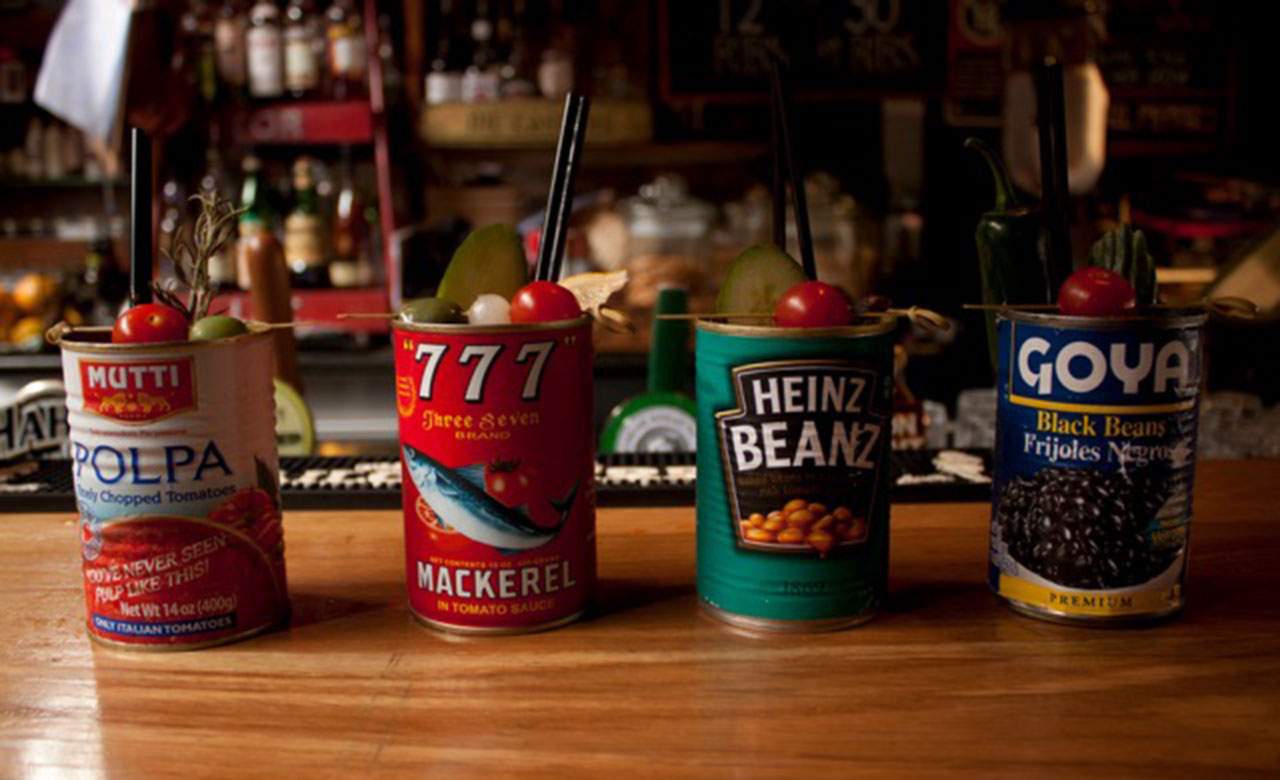 The Drink 'n' Dine team make consistently amazing Bloody Marys across all their venues. They're exactly as they should be — dense, pulpy and spicy enough to cure the fiercest of hangovers. The Norfolk is no exception. Here, they come come in a few different incarnations, all served in recycled tomato sauce cans, but our pick is the Bloody Asado ($16) with gin and chimichurri.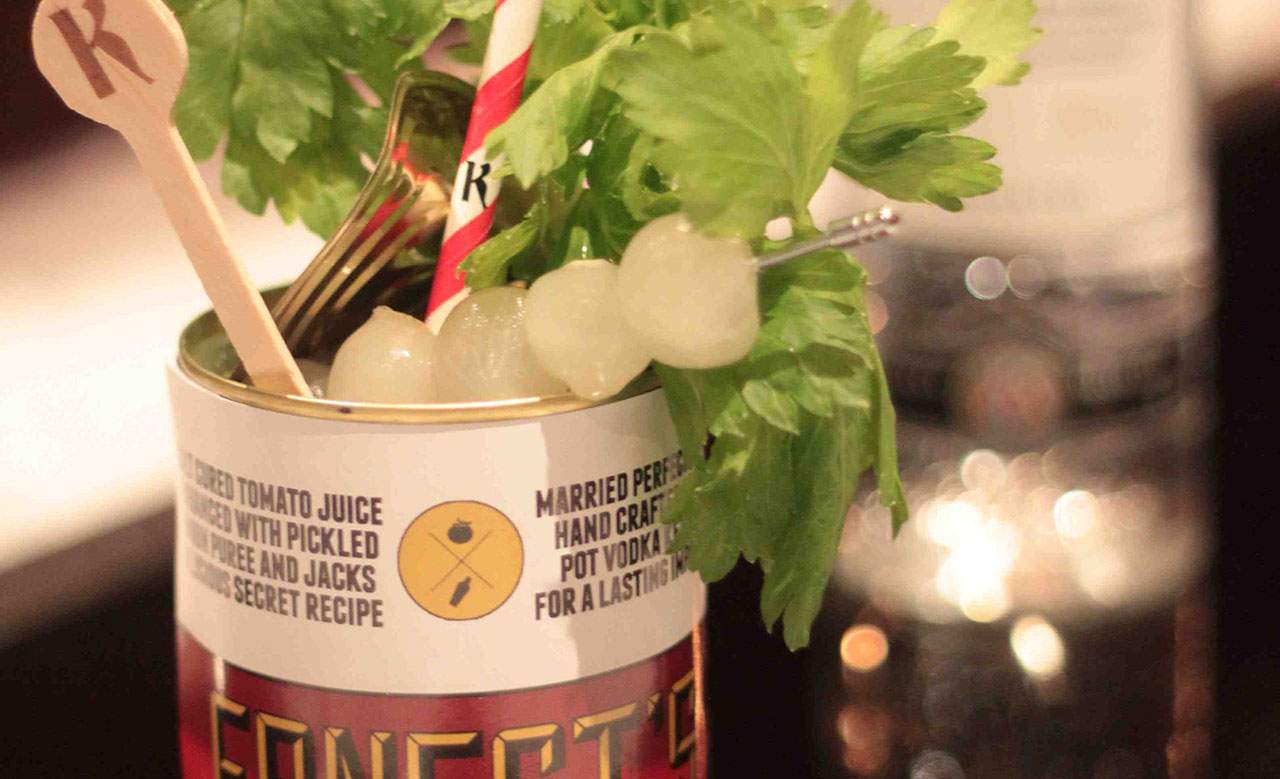 This one actually won the Best Bloody Mary title in a competition held by Ketel One vodka last year, and it's not hard to see why. On the menu it goes by the name Ernest's New Tomato Cocktail ($19), named for 1930s hotelier Ernest Byfield, whose venue The Pump Room is credited with making the cocktail famous. It's a pretty straightforward recipe: salt-cured tomato juice, pickled onion puree, house spice mix and sherry (which means it's one of the few that actually make you feel a little buzzed afterwards).The tabasco sauce comes on the side in an adorable mini bottle so you can make it as hot as you want.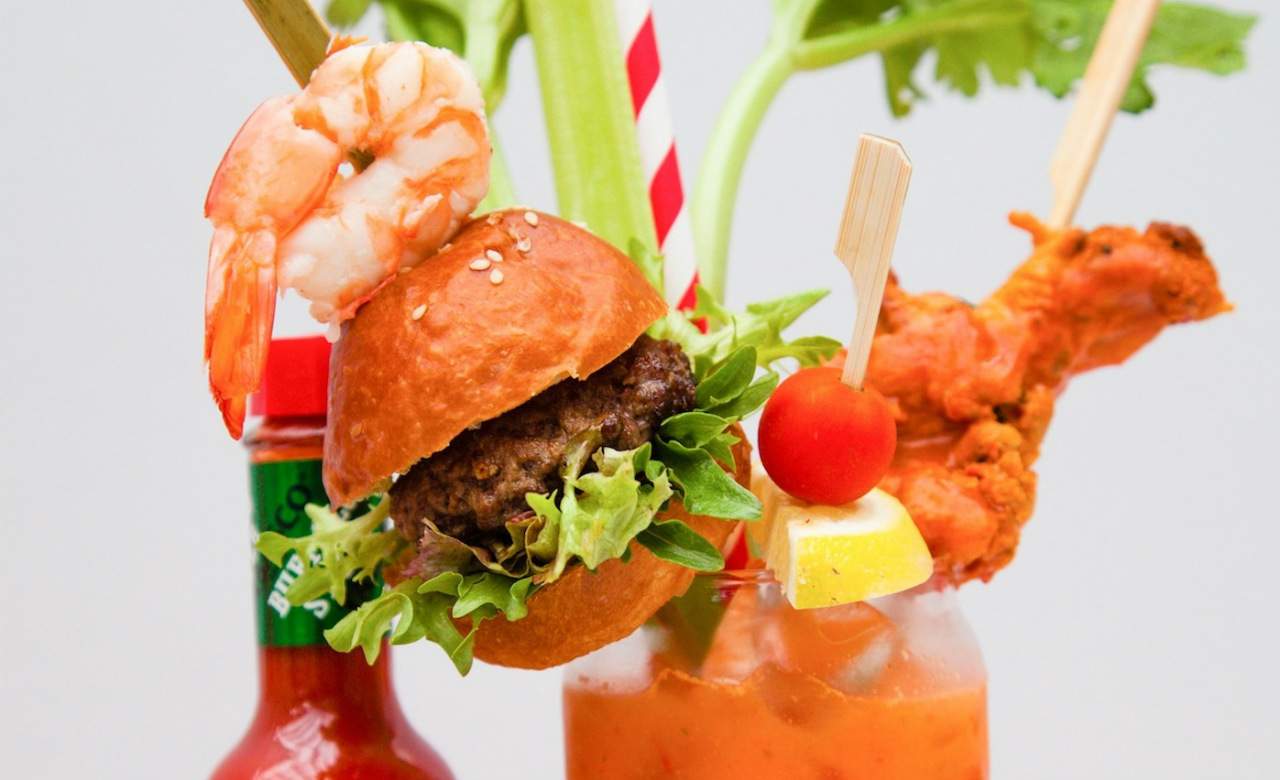 These guys have the honour of being Sydney's only bar dedicated entirely to Bloody Marys. You've probably already seen photos of their crazy concoctions going viral on social media. And we really do mean that in the plural — as well as the Classic, they also make Bloody-pretty-much-anything-else-you-can-think-of, each with a different quirky garnish like bacon or prawn. And if you want to invent your own Bloody cocktail, you can just order a shot of your choice and come up to the bar to have them mix it for you. But you cannot visit this place without trying the Bloody Hell ($25) at least once — most likely named for the first words out of your mouth when you see it. As well as the obligatory celery, it comes garnished with a buffalo wing, a prawn and a slider on skewers poking out of the top. The drink itself substitutes Tabasco sauce with chilli-infused vodka.


The Neighbourhood Mary ($17) is made with beef master-stock infused Mary mix, 'secret sauce' and garlic salt, with the stock giving it a soupy, vaguely meaty flavour. Team it with the Royale with Cheese ($21) for the breakfast of champions.

BILLS, SURRY HILLS
It's no exaggeration to say that Bill Granger is the man who invented brunch as we know it. His ricotta hotcakes, scrambled eggs and corn fritters may be what made him famous, but he doesn't disappoint on the cocktail front either. Bills' Spiced Bloody Mary ($18.50) puts an Asian twist on the classic recipe, using Clamato juice (clam and tomato juice — technically making it a Bloody Caesar), Korean chilli, coriander, lime and a cucumber.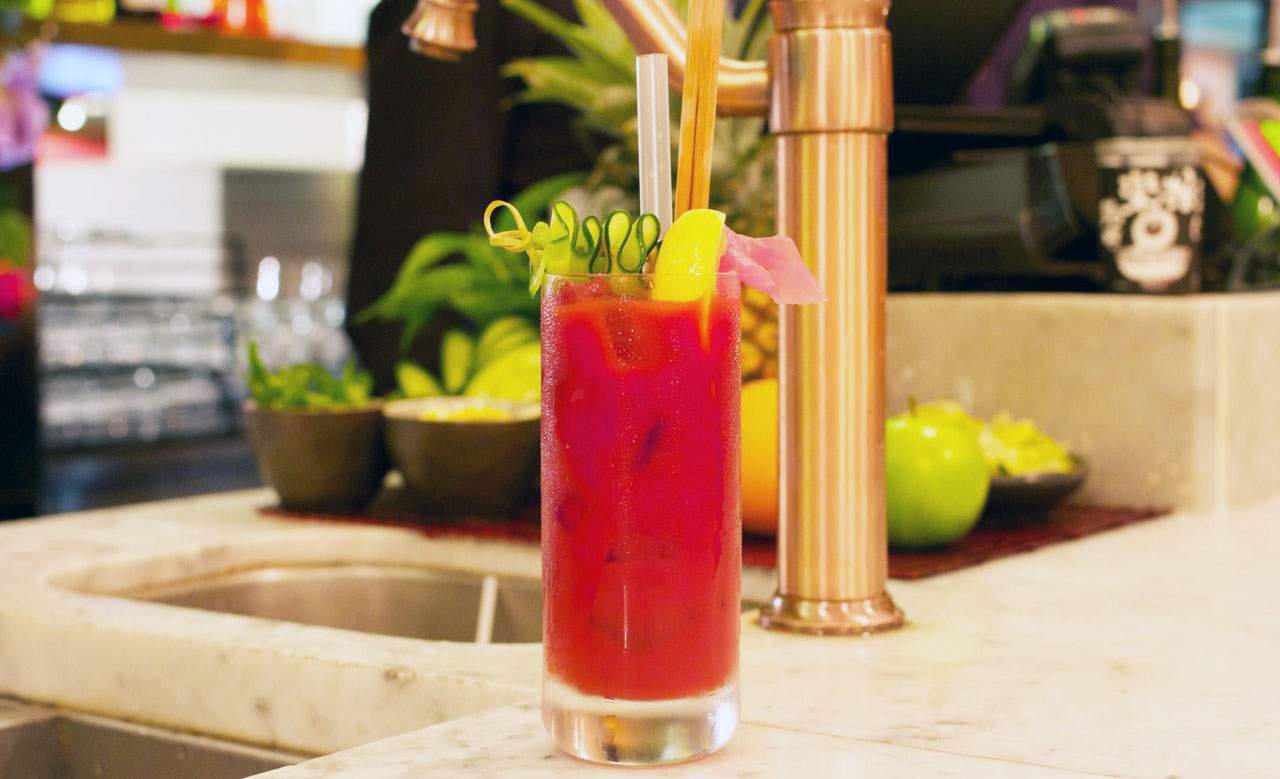 Most Bloody Marys are on the thicker side, similar in texture to gazpacho. But the Umami Mary is at the other end of the spectrum. It's more like a delicately flavoured Asian broth — light, tangy and easy to drink, with a pleasant, mushroomy aftertaste.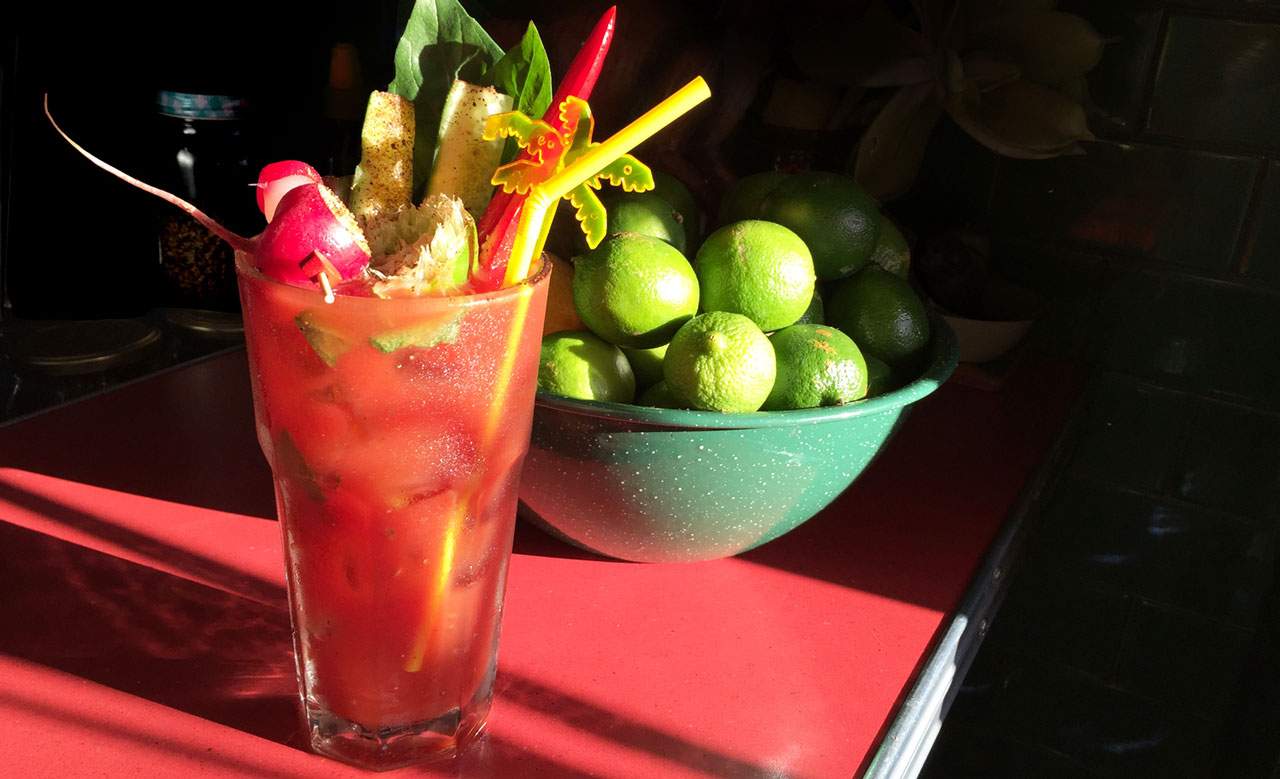 The Bloody Hell, as the name would suggest, is not for the faint-hearted. Although they do make a traditional version with vodka, we recommend the chilli-infused tequila if you want to kick it up a notch from 'spicy' to 'burny'. It makes your eyes water and your nose run, but in the best possible way.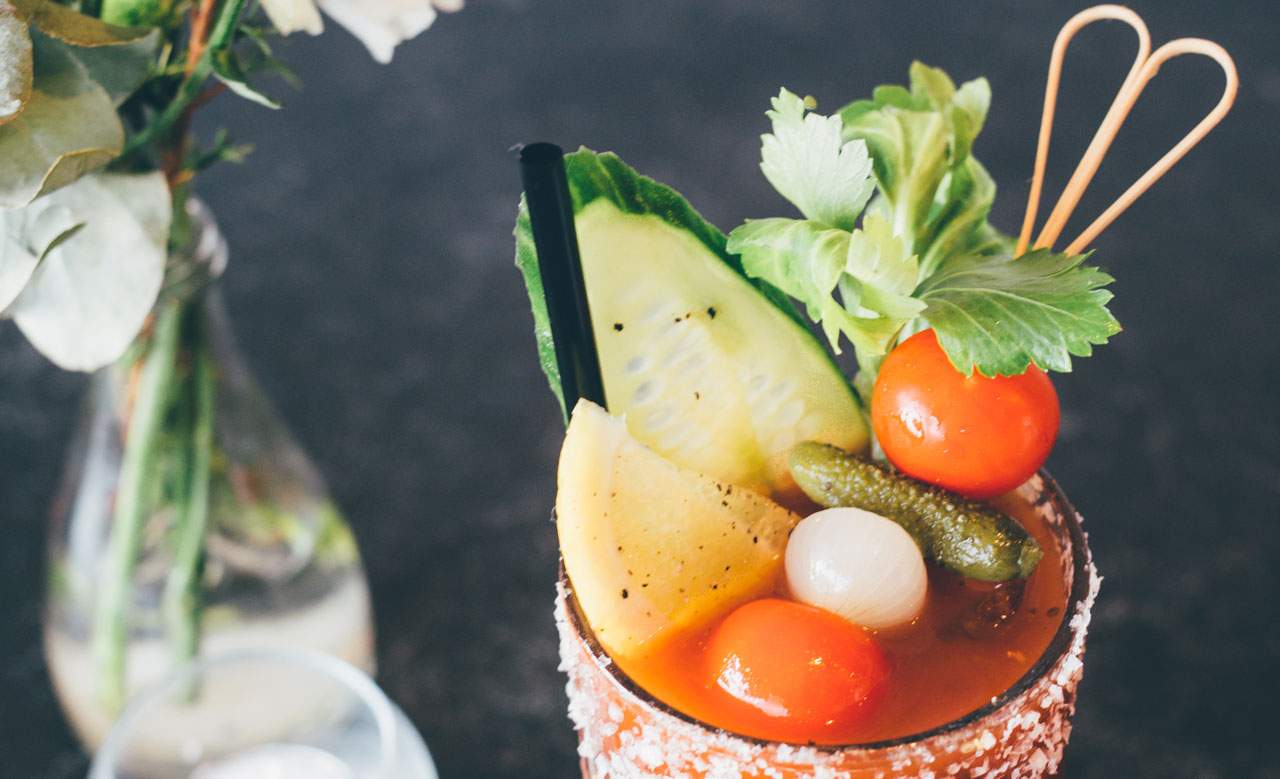 PORCH, NORTH BONDI
The first thing you notice about the Porch Bloody Mary ($16) is that it's an amazing colour — deep ruby red as opposed to the orangey-pinky-red colour that you usually see. Like the rest of the menu, it's refreshing and not too heavy, less spicy and more citrusy. Have it with the Green Breaky Bowl if you want to attempt being healthy, or the Devil's Breakfast if you just don't care any more. Be warned though, this place is extremely popular and there's usually a waiting list on weekends.

Published on October 27, 2015 by Anita Senaratna