FOOD & DRINK
White Bay Beer Co Is Balmain's First Craft Brewery Located in a 150-Year-Old Steel Mill
You can't have a cold one at its Rozelle digs just yet, but you can pick up some tins of its brews.
New hospitality venues have been few and far between during COVID-19 — for obvious reasons — but a few brave souls have powered ahead with plans and opened their doors. A new gin distillery has popped up on the lower north shore and the inner west has just gained another craft brewery. And it's the first microbrewery to call the Balmain Peninsula home.
Founded by three mates, Tim Fishwick, Tim Condon and Adam Trippe-Smith, who've been in the beer biz for years, plus Head Brewer Dennis De Boer, White Bay Beer Co opened in a Rozelle warehouse amid the global pandemic. "We started not knowing what the world was about to do," Fishwick told Concrete Playground. "If we had launched four–six weeks earlier we would've had beer in kegs and no-one to really sell it to. We were able to make a choice to put most of our launch beer into cans and see if the locals were keen."
Turns out the locals were thirsty, with online orders made a week before the brews were ready. When White Bay opened for takeaways on Friday, April 24, it sold over 100 cases in two hours. More were sent to nearby bottle-os. "The feedback from the community on the Peninsula has been so overwhelming," Fishwick told CP. "They are loving Dennis's beers in lockdown."
At time of launch, there were three brews available: the Union Lager, Sunny Pale and Embrace the Space IPA, which was the first of White Bay's rotational IPA series. Right now, you can nab the Euro-style lager and the sessionable pale (both $59.90 per carton) online, as well as some merch. Delivery is available across NSW and is free for surrounding suburbs. You can also pick it up from the brewery on Fridays, between 3–4pm.
By mid-June the boys hope to have three more limited-edition beers, including another IPA. By spring, the plan is to have three permanent brews, plus a selection of seasonal ones.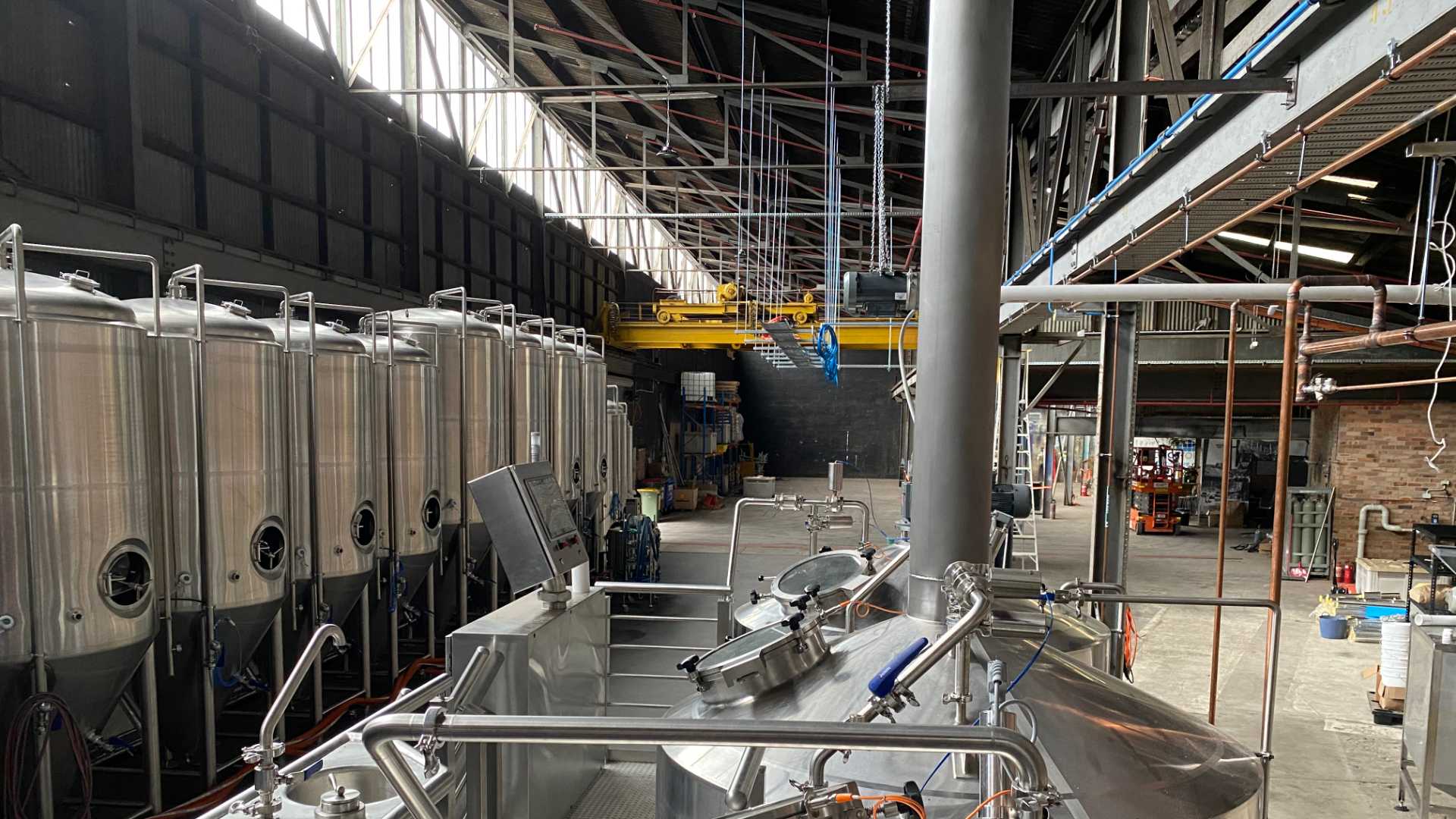 Located in a huge 150-year-old steel mill, White Bay sits in the shadow of the historic White Bay Power Station, ie the brewery's namesake. All this helped form the 'working classy' ethos, too. "We really wanted to be a modern brewery in a very much gentrified area of Sydney on the Balmain Peninsula," Fishwick told CP. "But we also wanted to tip the hat to the history."
With the site being so big (1400-square-metres), White Bay has the space for its scale to grow, which is somewhat a rarity in Sydney. So, while its selection is limited now, you can expect more craft brews further down the track. Plus, when things calm down, the plan is to have an onsite 100-person bar where you'll be able to get a cold one straight from the source.
White Bay Beer Co is located at 26C Mansfield Street, Rozelle. Orders can be made online, with delivery available across NSW and free for local suburbs. Or, you can pick up from the brewery on Fridays, from 3–4pm. 
Published on May 20, 2020 by Cordelia Williamson