Cult-Favourite US Burger Chain Five Guys Is Opening Its First Sydney CBD Store Next Week
Adding some inner-city burgers to your winter, the American fast food joint will open on George Street on Monday, June 6.
Burger fiends of Sydney scored a new go-to joint back in 2021, when US-born brand Five Guys opened its first Australian store in Penrith. But if you're keen on giving the chain's combination of meat and buns a try in the inner city, get ready to add a trip to George Street to your menu — with Five Guys launching its first Sydney CBD outpost, and second Aussie spot overall, on Monday, June 6.
Back in March, the brand revealed that it'd be opening at 383 George Street sometime midyear, if this news sounds familiar. Now, however, it has set the exact launch date. Setting up shop within Spiden House, the new store will span just under 323 square metres, seat 85 burger lovers, and blend the building's heritage-listed features with Five Guys' red-and-white colour scheme.
And, it'll be slinging burgs, fries, hotdogs, sandwiches and shakes — aka Five Guys' usual range — obviously. If you're wondering why the brand has built up such a following, the fact that its made-to-order burgers skew in the classic direction is one good reason. These burgs come with two hand-formed patties on toasted buns, with your choice of free toppings (including pickles, grilled mushrooms and jalapeños). Five Guys also does bacon cheeseburgers that add two strips of bacon and two slices of Kraft American cheese as well.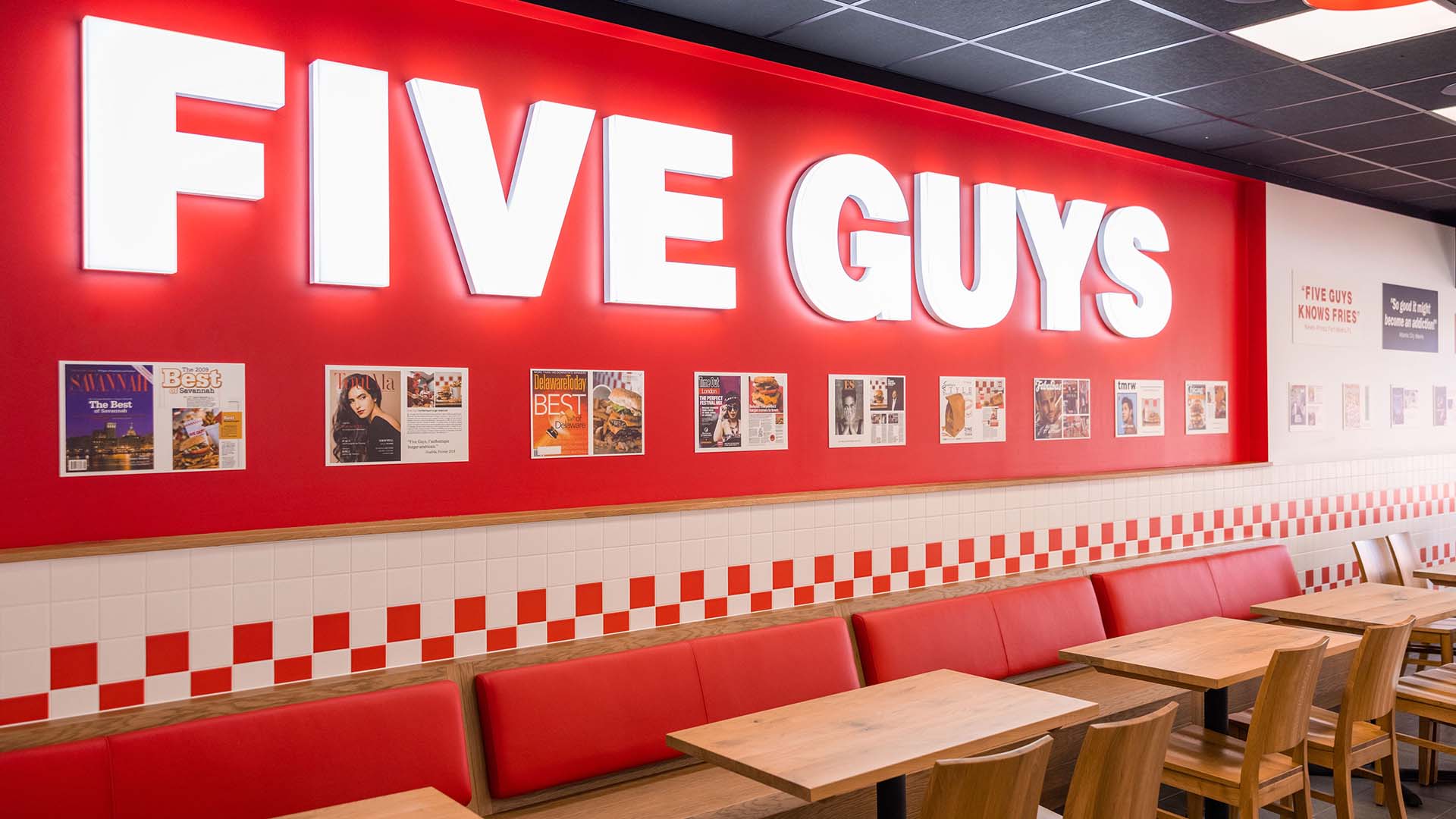 Prefer hotdogs, sandwiches (in veggie, cheese or BLT varieties), hand-cut fries (with or without Cajun spices) and vanilla milkshakes? They're all on the menu as well. Don't go thinking that the latter are boring, though — you can add bacon, bananas, peanut butter, salted caramel and even Oreo pieces to your design-your-own beverage.
As anyone with allergies should note, though, Five Guys only cooks its fries in peanut oil.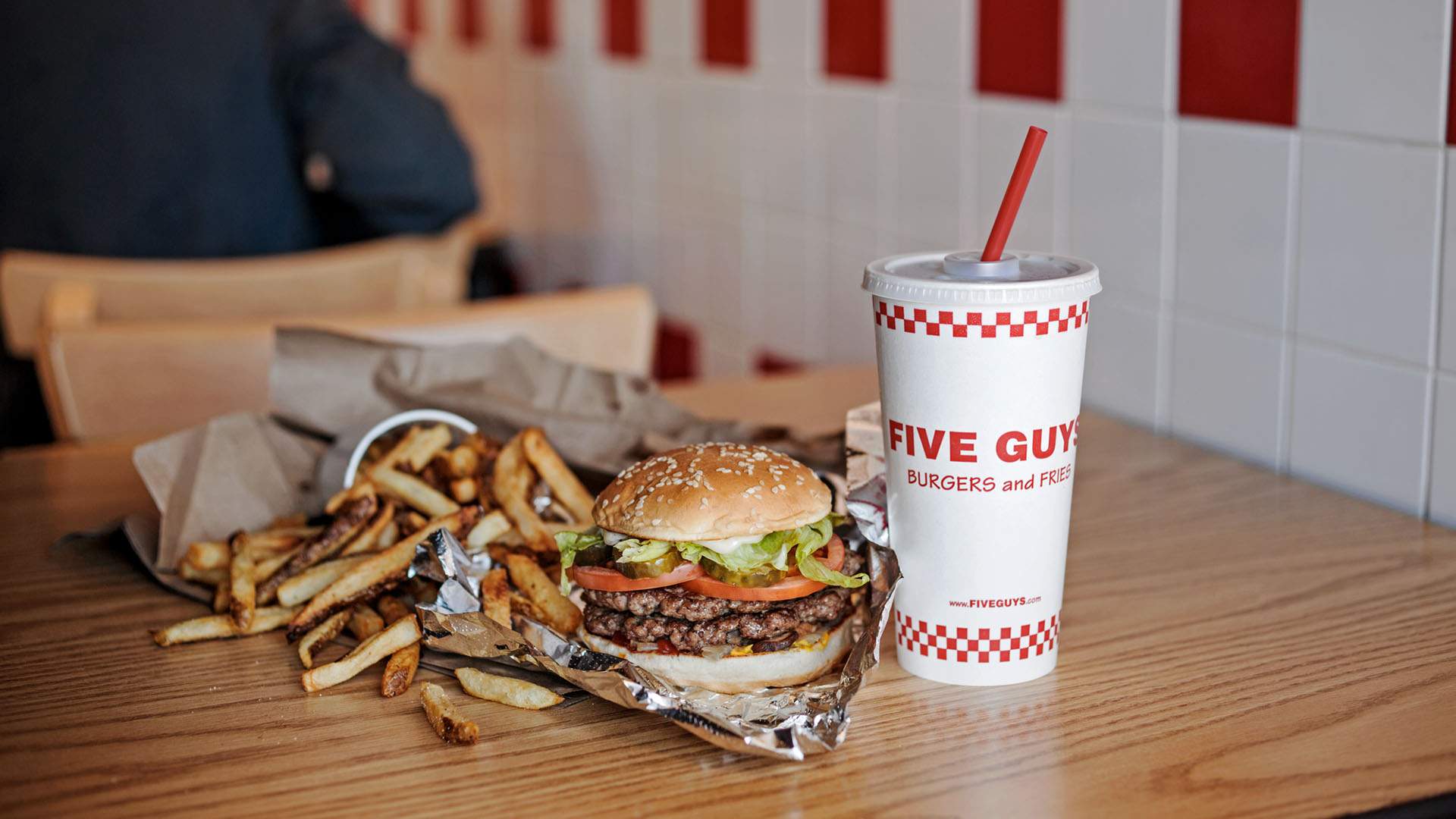 The popular chain already has more than 1600 stores to its name across America, Europe, the Middle East and Asia since starting back in 1986 in the Washington, DC area — and has amassed quite the reputation in the process. Even given the number of big-name US burger chains with hefty followings, such as Shake Shack and In-N-Out, it stands out.
More local Five Guys stores are in the works, too, in both Sydney and Melbourne before 2022 is out. Seagrass Boutique Hospitality Group, aka the folks behind The Meat & Wine Co, Hunter & Barrel, 6 Head, Ribs & Burgers, Italian Street Kitchen and Butcher and the Farmer, hold the master franchise for Five Guys in Australia and New Zealand — and while it hasn't revealed where more burgs will be coming everyone's ways just yet, setting up plenty of locations has always been the company's plan. When news that Five Guys was launching stores Down Under first hit in 2020, at least 20 spots were earmarked for Australia alone.
Find Five Guys' new Sydney store at 383 George Street, Sydney, from Monday, June 6 — open from 11am–10pm daily.